Twitch is a live streaming service that allows users to broadcast, watch, or listen to popular streams.
While it's well known for its video game streaming, the platform also offers a variety of other content ranging from music to cooking to interviews and many other categories.
In fact, creators on Twitch can live stream anything they want (within the limits of the law, of course).
Launched in 2011, the platform has since grown to become one of the most popular streaming platforms in the world with over 3.3 million broadcasters who are active every month, and over 30 million daily active users.
At any given moment, there are over a million Twitch viewers watching broadcasts on the platform, and 48 billion minutes' worth of broadcasts are watched every month.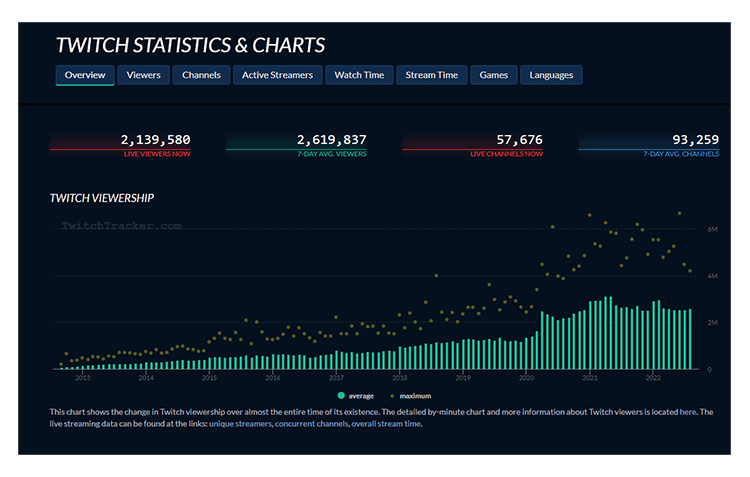 In today's world where many people are more entertained by watching others play games than playing them themselves, there are a lot of opportunities for skillful players to make money on platforms like Twitch while entertaining their fans.
Viewers on these platforms are more interested in the commentary and conversation than in actually playing the game, and for those who are adept at demonstrating that gaming skills, this presents tons of opportunities to create a full-time income.
If you're wondering how to earn money on the platform, read the rest of this review where we outline all the best ways to make money on Twitch.
Can You Really Make Money on Twitch?
Making money on Twitch is possible, but not necessarily easy. As with any other online business, it requires dedication and a solid strategy for you to be able to create a consistent source of income from the platform.
On Twitch you can earn money in a variety of ways depending on the type of user you are:
Regular User: Get donations from your fans using a third-party platform.
Twitch Affiliate: Earn from Twitch Bits, Twitch Subscriptions, and sell games, and other items from your Twitch page.
Twitch Partner: Earn from Twitch Ads when you become a Partner. You can run video ads before, during, and after your stream.
If you have a loyal community, you can make a decent amount of money from donations on Twitch. However, if you want to maximize your earnings, you need to make use of all avenues available to you.
Only Twitch partners and Twitch affiliates can earn from the methods outlined above. That's why it's in your best interests to work toward becoming an affiliate, then partner so you can make use of all monetization methods on the platform.
If you're wondering what the income potential is on the platform, here's a quick answer to your question:
Most small streamers can earn around $10 to $50 per month;
Experienced Twitch streamers make about $3,000 to $5,000 per month; and
The most successful broadcasters can make tens or even hundreds of thousands of dollars in recurring revenue each month from their subscribers.
The image below shows estimated income according to the number of viewers a channel has:
For your channel to qualify for potential subscriptions, you must reach Twitch affiliate status by attaining the following goals:
Have at least 50 followers.
Stream for a minimum of 500 minutes over at least 7 out of the last 30 days
Maintain an average of at least 3 concurrent views in the current or past month
Grow your audience to more than 50 followers
If you meet these criteria, you will automatically be invited to become a Twitch Affiliate, which will give you a few more earning opportunities, including Twitch Bits, Twitch Subscriptions, and the ability to sell games, in-game items, and T-shirts from your Twitch page.
The platform's top streamers are awarded the "Twitch Partner" title which allows them to access all the different ways to make money on the platform, including running video ads.
Just keep in mind that this is an exclusive program – invitation only – and you'll have to work hard to reach this level and enjoy the benefits that come with it.
Here's what you need to achieve to become part of the Twitch Partner Program:
Have a regularly scheduled stream that runs 3 or more times per week
Average 500 or more concurrent viewers each time you stream
Your content must conform to the platform's ToS and DCMA guidelines
Most of the content on Twitch is largely focused on gaming, but you can also find other types of content, such as daily vlogs, cooking, drawing, crafting, and anything else creators want to share with the world.
Best Ways to Make Money on Twitch
Making money on Twitch doesn't have to be hard. It isn't even necessary to have a huge audience to succeed.
Simply focus on consistency, connection, and creativity, and the rest will fall into place as you go along.
To help you on your journey, here are some of the most effective ways to make money on the platform.
1) Earn from Subscription Revenue
On Twitch, anyone can follow you for free, but the platform offers your fans a chance to subscribe to your stream if they would like to support you financially. You get day subscription options:
Tier 1: $4.99 per month
Tier 2: $9.99 per month
Tier 3: $24.99 per month
Average streamers take home 50% of the subscriptions while the platform keeps the other half. Big name broadcasters can get up to 70% of their subscription earnings.
This is by far the most commonly used monetization method on the platform. As a Twitch partner or affiliate, you can sell subscriptions in different tiers so you can provide more products to your fans.
For example, you might sell a subscription that gives them access to exclusive additional content. Another tier might allow them to request the type of content they want and you can create custom content specifically for them. This way, streamers can generate more income from each subscriber.
2) Make Money Through Twitch Bits
Bits are the platform's own "in-game" currency. It's a virtual currency with a value of one cent ($0.01) for each Twitch Bit.
These can be purchased by users and given to streamers through the cheering mechanism on the platform.
They work like tips and each time a viewer gives "cheers" to a creator, this adds $0.01 to their account balance which can then be redeemed for cash via PayPal when it reaches a certain threshold.
Users can give individual Bits or hundreds, thousands, or even tens of thousands of Bits at once.
Only streamers who are part of the affiliate program can receive Bits.
As a bonus, followers who use Bits to tip on Twitch receive special badges as they hand out Bits, and viewers have an option to attach a message to the cheers they give. They can use "cheermotes" which are animated emotes.
For streamers who are particularly skilled at what they do, this can become a lucrative source of income on the platform.
As an incentive to get even more viewers to donate, broadcasters can set up stream alerts that display each viewer's name and action. This serves to bring more character to the stream and also shows viewers that you (the broadcaster) will go the extra mile to show that you value them.
Pro Tip: Add incentives to earn more Bits on Twitch by creating conditions for them. For example, a gamer might tell viewers that if they donate a specific amount, they will drop their weapons and armor to make the game more interesting.
3) Sell Games and In-Game Items
Another way to make money on the platform is to sell games and in-game items. Although the direct sale of these items was initially limited to broadcasters who were Twitch partners, recently, it is been expanded to include Twitch affiliates, as well.
You can earn 5% of the revenue from purchases that originate from the channel page. Whenever a broadcaster is streaming a game that's available on Twitch, viewers will see an offer to buy the game or specific in-game items.
This offer appears on the channel page just below the video window. If a viewer clicks on the offer and proceeds to make a purchase, the streamer gets paid 5% of the total amount.
Keep in mind, some games like Roblox have their own internal marketplace where you can sell in-game items too.
4) Advertising Revenue
Ad kickbacks are yet another effective way to create consistent income on the platform. Broadcasters can receive a percentage of ad revenue from any ads that play on the channel's videos or streams.
Twitch ads work in a very simple way. Like YouTube, the platform uses CPM (cost per mille) to calculate revenue from ads. CPM simply denotes the amount you'll be paid for every thousand views on your channel.
For the majority of streamers, this number ranges between $2 and $10. Pre-roll ads are shown before viewers can join a Twitch stream. Additionally, partners have the ability to trigger mid-roll ads at any time during the stream.
For instance, if a gamer needs to grab something to eat or take a bathroom break, they have the ability to show ads whenever they like.
Twitch streamers can make between $0.002 and $0.01 per view depending on a wide range of factors, such as:
Number of concurrent viewers
Viewers' genders and ages
Viewers' geolocations
Type of content or game being streamed
Seasonality (ads are generally worth more during the holidays)
From the figures above, it's clear to see that ads aren't the most profitable way to make money on Twitch, especially if you're just starting out. But, as your audience grows, and if you have an enormous amount of viewers, your revenue from ads can quickly add up!
5) Win Prize Money
If you're particularly gifted at gaming, you stand to win a ton of prize money on the platform. Skillful players have many opportunities available to them, including playing in professional eSports leagues, some of which enjoy dedicated television channels.
These streamers often make good money from winning championship games (in addition to the money they earn from their Twitch streams.
An example of such a player is Kuro "KuroKy" Takhasomi.
He is a captain and support player at Team Liquid Dota 2 and performs very well in eSports Championships.
He makes more money through this avenue than he does from other Twitch monetization methods like subscriptions and donations.
In fact, he has the highest overall earnings from eSports playing – totaling $4,097,926.95, and he is considered to be among the top five Dota players of all time.
6) Take Donations on Twitch
A lot of Twitch users are eager to support their favorite broadcasters by "tipping" or donating money on the platform.
Even though you can't accept Bits until you become an affiliate, you can still accept donations through third-party services. For instance, you can use platforms like Patreon, PayPal, DonorBox, or Streamlabs that allow you to add a "donate" button on your channel.
These services will take a small percentage of your donations, and you can withdraw your money in a variety of convenient ways.
To make the most of this strategy, add a donate panel to your profile's "About Me" section and promote your donation link via chat using a service like Moobot or Nightbot.
Another way to incentivize viewers to donate is by offering in-stream services. For example, a musician might take song requests from donors.
7) Publish to Other Sites
As counterintuitive as it sounds, you can make money on Twitch by directing your audience to other websites.
For example, you can direct your followers to your website, a steam account where you sell mods or games, social media, or other landing pages where they can purchase your product, service, online course, or buy something using an affiliate link.
Many Twitch streamers redirect their audience to YouTube or Instagram as a way to make extra money and grow their following on those platforms. They also leverage their presence on different social media sites by promoting their Twitch streams to followers on those platforms.
An example of a streamer who does this effectively is "RealSummit1g". He often shares highlights from his Twitch stream on his Instagram account.
Publishing to YouTube can be particularly effective because not all of your Twitch subscribers will be able to tune in whenever you live stream.
So, you can use video editing software to trim your streams and then publish them as videos on YouTube as a way to open up a whole new opportunity for ad revenue.
Trim those videos even shorter and at them to TikTok, Instagram, or Snapchat as highlights.
8) Affiliate Marketing
Sign up to become an Amazon Associate, and you'll be able to include specific product links within your chat on Twitch.
You can also use the same links on other channels, including your blog, social media, email, and so on to get even more sales.
Each time a viewer uses your links to buy that particular product, you will receive a commission. Over time, this adds up to create a reliable source of passive income. Many popular broadcasters on Twitch use this as their main method for earning money on the platform.
In addition to using Amazon to find products, you can also set up affiliate programs for unique products or software through the manufacturer.
9) Brand Deals and Sponsorships
No matter what you stream, whether it's gaming, cooking, music, etc., there's a brand that wants to access your audience.
As a streamer, you can coordinate with brands in your niche to bridge the gap between the products and services they offer and their target customers.
You will get paid through free products, whether it's clothing, streaming gear, preview copies of games, etc. Alternatively, brands may decide to simply pay you a certain amount of money for posts or mentions within your content.
Twitch doesn't set this up for broadcasters, but there are a lot of programs designed to help you with this by matching you with the right sponsors for your stream.
For example, HelloGamers and PowerSpike at two services that connect sponsors and streamers. The platforms also facilitate meetings with agents at conventions and help gamers network with them through their respective companies.
10) Merch
When you start building an audience on the platform, some of them will be willing to subscribe to your channel, which means there's a good chance that they will also want to show their support by purchasing your merchandise.
It's a great idea to create T-shirts, hoodies, stickers, mugs, calendars, laptop cases, mouse pads, and other items that you can offer to your engaged fan base.
Note any in-jokes or special quotes that your followers will appreciate and print them on a variety of products. As your channel grows, so will this revenue source.
Ninja, a popular streamer on the platform, sells branded hoodies and other merchandise:
11) Offer Services to Other Twitch Creators
As an independent streamer, you'll likely learn a lot of new skills while learning how to make money on Twitch.
From growing your Twitch brand to getting more subscribers for your channel, all that information can be put to good use by offering your services to help other streamers achieve success on their channels.
Choose one specific area where you excel, and then market those skills to other broadcasters or trade them for any other services you need.
For example, if you're good at graphic design or animation, other Twitch broadcasters may pay you for your services or someone might offer to do your video editing for YouTube and Instagram so you can upload game compilations or portions of streams and earn more on those social media channels – it's a win-win.
Alternatively, you might offer content coaching to other streamers. If you find entertaining easy, you can watch other streams and then give constructive feedback on how they can become more natural entertainers themselves.
By helping others produce better content, you will create a brand for yourself as a great content coach which will lead to even more opportunities for you on the platform.
Who Are the Highest Earning Twitch Accounts?
Listed below are some of the highest earners on Twitch. Each of them makes money using one of the primary income sources available on the platform, including donations, sponsorship, affiliate links, tournament winnings, and selling customized merchandise.
Estimated Earnings: $25 million
Richard Blevins is the streamer behind the Ninja channel. He is the first player to gain 10 million followers on Twitch, a feat that was largely due to him streaming the Fortnite game when it was at its peak.
With almost 20 million followers, Ninja is one of the highest earners on the platform, and he's sponsored by big brands like Red Bull. He also sells his own line of merchandise as a way to make money on Twitch.
Estimated Earnings: $20 million
Although it's been a while since PewDiePie has been live on Twitch, you can still watch all of his best archives, VODs, and highlights on the platform. A recent Twitch leak showed how much this streamer earned on the platform – an impressive $20 million over the course of two years from 2019 to 2021.
Estimated Earnings: $12 million
Canadian-born Michael Grzesiek (aka Shroud) is well known for his supremacy in the gaming world.
With over 10 million followers and his Twitch channel, Shroud has been ranked as the seventh most followed channel on the platform (according to Wikipedia).
He's also prominent on YouTube where he has over 6 million subscribers. Most of his content is focused on battle arena games, and his videos have racked up billions of views on both platforms.
5 Tips to Earn the Most Money on Twitch
As you've seen from the content above, anyone can earn money on Twitch. But, only a select number of people and the majority of income on the platform.
If you want to join the elite, you need to follow some best practices to give yourself your best chance.
1) Network with Other Twitch Streamers
If you want to open yourself up for opportunities, spend time networking and supporting other Twitch streamers. If you engage them and are active in their chat, chances are they will visit your channel, and follow you as well.
2) Engage Viewers
Anytime a new viewer joins your channel, make full use of the opportunity to convert them into true fans who will not only subscribe to your stream but also promote it to their friends and purchase your products or services.
How? By engaging them in any way you can – reply to their comments, ask questions, share tidbits, crack jokes, and keep the conversation going.
3) Cross-Post
Another effective strategy for earning more on Twitch is to build a following on other social media accounts. You can achieve this by cross-posting. Some fans will follow you on Twitch, but others might follow you on Instagram or subscribe to your YouTube channel.
Use an app like Hootsuite or Buffer to make it easier for you to post the same content to different platforms so potential viewers don't miss out on anything important.
4) Be Receptive to Feedback
Over time, your audience will grow and change. You might find yourself creating content that they don't find appealing. For this reason, you must always ask, and be receptive to feedback, particularly if you're trying something new. Cross-post content to social media and encourage followers to provide you with feedback through short, fun polls and surveys. This way, you'll always know what your followers like and what they don't.
5) Optimize Your Profiles
Your profiles on all social sites must always be up-to-date and relevant. The majority of sites only allow a single link, so maybe consider using Linkin.bio, Linktree, or any other link hub.
Summing Things Up
Creators can stream their content on Twitch and monetize it in a variety of ways, making it easy for everyone – beginners and experts alike – to achieve success on the platform.
Twitch is most commonly associated with video game streaming, but you'll find a lot of other kinds of streaming on the service these days.
If you love the social side of gaming (or whatever stream you do), you have a good chance of monetizing your content on Twitch. By following the tips outlined below, you can create a healthy income from creating content streams on the platform.
There are a variety of monetization methods available to you, including affiliate marketing, selling customized merchandise, getting donations from your audience, being sponsored by brands, or winning tournaments.
However, it's important to note that although all the types of income listed here are technically available to all Twitch streamers, you have to have an audience to make money using these strategies.
If you are an exceptionally skilled gamer, building an audience will not be hard. But, even as a beginner, you can still succeed on the platform and start making money by following the tips in this article.