Steam is a popular distribution platform for online video games. Users can buy and download games to their account and the platform offers plenty of earning opportunities for all.
Created by Valve in 2003, Steam has since grown to become one of the largest gaming platforms around. In fact, the Steam games market size reached $6.6bn in 2021 – and the site currently has over 120 million users.
This phenomenal level of growth was partly due to the boost in game sales brought on by the Covid pandemic. However, opportunities are still growing in the post-pandemic era. Whether you're designing or playing games, from premium games to in-app purchases, Steam offers a ton of opportunities for anyone who wants to make money on the platform.
With that said, let's take a look at how to make money on Steam.
Can You Really Make Money on Steam?
Anyone can make money on Steam, but it's important to realize that this is not a get-rich-quick scheme.
The platform provides a range of monetization methods, and you can choose any or all of them to create income for yourself. However, like any other business, you have to work at it if you want to be successful.
This guide will provide you with different ways you can use your passion for gaming to make money on the platform, whether it's through making and selling your own games, creating mods for raving fans, or networking on the platform to offer your freelance design skills.
Steam is the place to make money for all game enthusiasts, including:
Game players
Game designers
Game developers
Game coders
… and many others.
For example, gamers have the option of earning, buying, selling, or flipping in-game items. Tech-savvy coders can create and sell new games, and anyone skilled in graphic design can offer freelance design services to developers on the platform.
Even if you don't possess any of these skills, there are creative ways for you to engage with the community on Steam (or third-party platforms) and earn cash.
In short, there are a lot of profitable and fun ways to earn money on the platform, and you can simply choose what works for you according to your preferences and skills.
Now that you know that making money on Steam is possible, here's a list of the different ways to go about it.
Best Ways to Make Money on Steam
This is arguably the most important part of my guide on how to make money on Steam so pay close attention to figure out the best approach to earning an income with the platform.
1) Start a Complimentary Blog
If you've been following me for a while, then you know that my number one recommendation for making money online is to start your own blog.
There are many reasons why I'm such a big advocate for this business model. But mainly, it's because it's easy to get started, and you can build it into a healthy source of passive income in a relatively short time.
If you know your way around Steam, then you can create a blog, helping other aspiring players to make the most of the time they spend on the platform.
For instance, you might create articles helping others
Stake out their territory;
Scavenge for food; or
Beat the elements in any chosen game.
You might even feature discounts, demos, and upcoming releases by partnering with game developers in your niche.
Remember, while you can earn credits on Steam, your Steam Wallet funds can only be used on the platform. So, having a blog where you can offer products and/or services will allow you to create a more reliable source of income.
This is a far more lucrative way to make money online, but if you are set on using Steam, there are still ways you can earn, and the following tips look at some of the most effective methods.
2) Get Free Steam Wallet Codes
For gamers, Steam provides the perfect opportunity to transform your hobby into a moneymaker. There's no better way to make money online than to get paid for something you love doing.
You can earn some cool cash while having fun on different platforms by getting free steam wallet codes.
A Steam Wallet is a sort of digital wallet that you can use to purchase stuff through Steam's platform. Unfortunately, you don't have the ability to transfer money from Steam to your PayPal or bank account. This means that whatever goes into your Steam only comes out in the form of a game.
There are a lot of different websites and apps that provide rewards whenever you perform certain activities.
When you amass enough points, you can redeem them as Steam Wallet Codes (unless you want to withdraw cash, instead).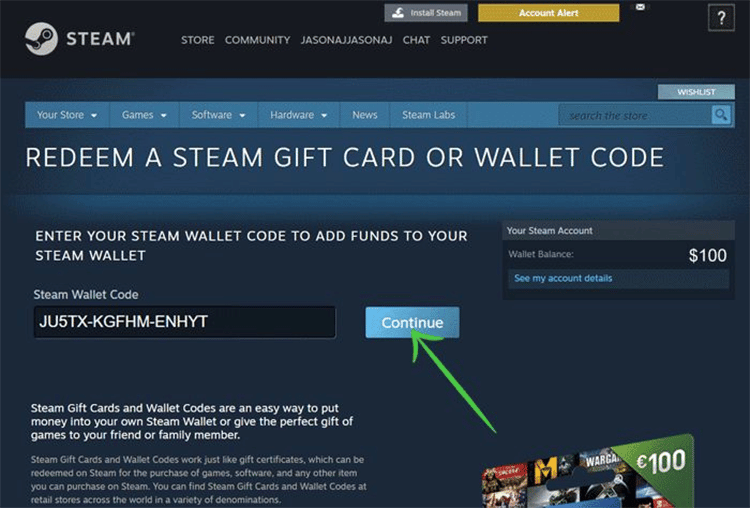 Some of the gift card apps that allow you to earn Steam Cash for free include:
Mistplay: Play new Android mobile games to earn free Steam codes.
Swagbucks: Earn more by playing games or taking part in surveys on this popular reward site.
Gamehag: Play PC games to earn Soul Gems and redeem them for Steam items, codes, and more.
Bananatic: Like Gamehag, Bananatic lets you earn free Steam prizes by playing different games.
Reddit Steam Threads: Reddit communities often run giveaways for free codes for Steam games.
AppNana: This is another app that lets you play new mobile games to earn rewards.
These sites are a perfect place to find free wallet codes to boost your Steam money. If you're an avid game player who usually spends money on in-game items, you'll be able to save your hard-earned cash and use these free codes instead.
And the best part? Steam wallet funds don't expire, which means you can save them up and only use them whenever you please.
3) Sell Items and Item Drops
This method can earn you hundreds or even thousands of dollars. When you play Steam games like Counter Strike Global Offensive or Dota 2, you can often find or receive various in-game items which you can then sell at the Steam Community Market. 
Prices range from a mere $.10 to over $1,000 for extremely rare item drops.
Although there isn't any way to take these items out of the virtual game world, you can still get paid for them in different ways. Think stocks, cryptocurrencies, or games with NFTs (non-fungible tokens).
You can sell anything at all that other players will find valuable. The value of any specific item depends on supply and demand in the market.
On the Steam Community Market, you'll find a graph that shows the price fluctuations of different items to make it easier for you to determine the value. This is a great feature that allows you to decide whether or not to hold onto items or sell them so you can maximize your profit.
4) Sell Your Trading Cards
On Steam, you can sell your trading cards for credits. This is much like the Pokémon or baseball cards we use to collect as kids, except that these are digital trading cards provided by video games as a way to reward players for exceptional performance.
These cards may contain upgrades, characters, maps, rare items, etc. so, if you love playing games, you can simply collect these cards and then sell them to your connections on the platform.
Each game has its own system for how cards are distributed. On some games, you can get cards just for logging in and playing.
On others, you have to play consistently for a certain number of days. Yet other games reward you for clearing levels, reaching certain scores, and various other in-game achievements.
Here are a few participating games that give trading cards:
CS:GO
Farming Simulator 22
Dead by Daylight
Forza Horizon 5
Rainbow 6 Siege
Apex Legends
Inscriptions
The Sims 4
5) Hold and Sell Pre-Release Content
There are certain cases where pre-ordering a game unlocks exclusive content, skins, crates, or various other in-game items, many of which are in limited supply. There's a good chance that other players will be willing to buy these items from you.
This is a great way to earn money on Steam because you can hold and sell prerelease content that other players will find extremely valuable.
So, if you know your way around the platform, you can preorder games before they come out on the market and get early bird rewards.
Make sure you hold on to these prerelease items, then watch out for price fluctuations to ensure that you sell it for the highest price possible in the future (especially if the game becomes extremely popular).
In principle, the fewer gamers have these items, the more you can expect to make from selling them on Steam Community Market. 
6) Create and Sell Mods in the Steam Workshop
This is one of the most popular ways to make money on Steam. The platform lets you create and sell mods in the workshop.
Although most games these days offer stunning visuals and well-designed plots, mechanics, and features, there's always another way for you to play your favorite game, and that's where modifications come in.
These can be used to take your gaming experience to a whole new level. Fortunately, a lot of game developers leave lots of room for more creators to come up with ways to spice up their games.
Mods can include things like:
Characters/character interactions
Custom Maps
Missions/Quests
Weapons designs
Game Abilities
Skins
Stories
… and much more.
A lot of game developers allow their fans to build their own modifications and share them with the Steam community. Once you've built these mods, you can then sell them for that particular game.
Creating and sharing mods can help you build your development skills and gain you tons of followers on Steam. Many of these followers will be willing to pay for your mods, which increases your earning potential on the platform.
Some may even give you donations as a way to support you and ensure that you continue to work on new mods.
Average pricing for paid mods ranges from $0.25 to $5.99. Although this may not seem like a lot of money, if a lot of people purchase mods, over time, it can add up to a very nice stream of passive income.
7) Sell Cosmetic Crates
Cosmetic crates are small packages containing valuable items for a game, such as skins or add-ons that can be placed on characters, profiles, or weapons. For the most part, these are rare and valuable and you can earn a lot by selling them on Steam.
You get cosmetic crates by playing games regularly, but you can also pay for them with in-game currency.
Some of the most popular Steam games that are well known for dropping cosmetic cases include:
Counter-Strike: Global Offensive (CS:GO or CSGO)
Playerunknown's Battleground (PUBG)
Team Fortress 2
Payday 2
H1Z1
These and many other games are well known for regularly dropping cosmetic cases. Keep in mind that these games drop more valuable crates (and on a more frequent basis) to those who play continually.
Those are also the same players who are likely to find unique and rare items, such as booster packs or CSGO skins.
8) Sell Freelance Design, Art, or Coding Skills
If you are skilled at designing and coding, then you might be able to offer your services to game developers on Steam. You'll be paid for helping them build games to sell on Steam Direct. This is a great way to make money for freelance developers and coders.
You can liaise with other game developers to come up with awesome games for the Direct market. To get started, simply spend some time networking in Steam forums where you will connect with gamers who are looking for developers to collaborate with on their projects.
The same strategy also works if you are adept at art or graphic design. You'll be able to earn money on the platform by creating original artwork for game designers.
You can also sell your freelance art, design, and coding skills on marketplaces like Fiverr. The advantage of selling your services on these platforms is that you get to set your own prices for your services and choose from a variety of options for cashing out. You also get protection from fraudulent chargebacks.
9) Design and Sell Your Own Game
Similar to the strategy outlined above, you can use your design skills to create and sell your own game on Steam Direct.
This idea isn't for everyone, but it's very valuable for those with coding knowledge and video game development experience. In fact, it's arguably the best way to earn the most money on the platform.
There's no guarantee that your game will sell, but if it does, you stand to make a lot of money on Steam. Games on Steam sell for $1 – $60 on average. The more games you can sell, the more money you'll make.
And if your game becomes very popular, you can expect to make hundreds of thousands or even millions of dollars from the game, as these high-grossing games did:
If you are just getting started, you might consider partnering with established game developers or asking for sponsorships.
This method has unlimited earning potential, but you must create a solid strategy for growing your streaming channel, reaching out to game developers and brands willing to sponsor your stream, and generating sales for your new game.
Here's the process for listing your developed game on Steam Direct:
Sign digital paperwork
Pay the application fee ($100 per submitted game)
Build your online store page
Upload builds
Configure Steamwork features
Price your game appropriately
Wait for approval
Release the game
After approval, anyone on the Steam platform can buy your game, which means more money in your pocket.
10) Offer Video Game Coaching Services
If you are exceptionally talented at any video game on Steam, then you have the opportunity to earn from your skills. Offering your coaching services is a creative way to make money on Steam. Players who want to improve their gaming skills will be happy to pay you for your expertise and guidance.
You can start selling your skills online on the Steam community forum or on sites like Fiverr, GameSensei, Reddit, etc.
Conduct a simple search for "video game coaching" and you will see that there are plenty of people offering services ranging from $20 to over $100 per hour.
Here's an example of someone offering their coaching services for League of Legends:
The majority of players will take advice from gamers in the highest ranks of whichever game they're playing, so make sure you get to the top levels first so you can showcase your expertise.
Some of the most popular games where people pay for coaches include:
League of Legends
Starcraft 2
PUBG
CS:GO
Dota 2
Apex Legends
11) Live Stream Steam Gameplay On Twitch
It's possible to make money from your Steam audience using various other third-party platforms. For example, you can stream your gameplay on Twitch and then monetize it in a variety of ways, including ads, Twitch Bits, affiliate marketing, donations, or sponsorships.
Twitch has over 30 million daily active users, which makes it a great opportunity to earn money. If you already have an audience on Steam, you can link your Twitch and Steam accounts, meaning that your Steam viewers can watch your tournaments on Twitch while still getting bonuses through Steam.
Who Are the Highest Earning Steam Accounts?
The image below shows some of the most expensive Steam profiles. However, that's not to say that they are the highest earners. It simply means they've amassed a lot of items to boost their account's worth.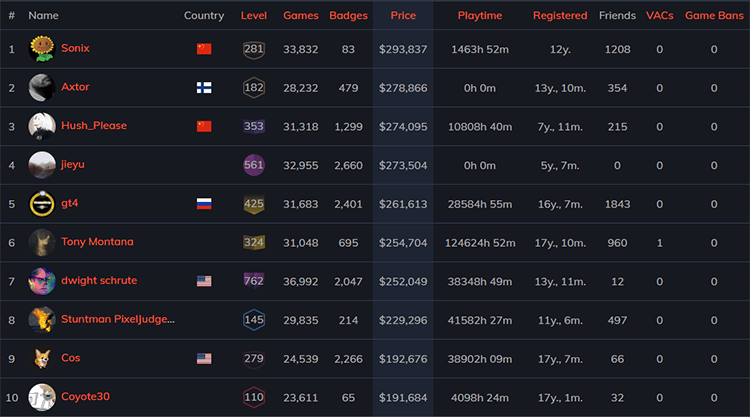 The real top earners on the platform are those that create and sell their own games.
The fastest way to make money on Steam is to sell your own game. If you have already developed a game, you can bring it to the Steam platform and post it for sale. Once you have a game on Steam, it opens the door up to earning more money with in-game purchases.
Based on the lifetime earnings of Steam users, we can divide them into five distinct categories, which are as follows:
The Learner – <$1k: These are developers who have released only 1 game that isn't doing too well.
The Hobbyist – $1-10k: These are developers whose games have sold quite a number of units, but haven't done as well as they could have with a solid marketing plan.
The Indie – $10-100k: This group has made some money from their games, but only just enough for a part-time income.
The Full-timer – $100k-1m: These indies have made enough from their game(s) for this to be a full-time career.
The Success Story – >$1m: These creators have made over $1m in gross revenue from their games. They're typically part of a team, not a solo developer. This group is definitely in the minority.
The twelve highest grossing games on Steam are as follows:
Tom Clancy's Rainbow Six Siege
Battlefield 2042
Destiny 2
Valheim
Counter-Strike: Global Offensive
Grand Theft Auto V
Player Unknown's Battlegrounds
Naraka Bladepoint
Dota 2
Dead By Daylight
Apex Legends
New World
3 Tips to Earn the Most Money on Steam
As you've seen from the tactics outlined in this guide on how to make money on Steam, anyone can start earning an income with it. However, that doesn't mean that everyone does. 
It's important to note that only a select number of people earn the majority of income on the platform. They do this by following specific best practices to help them maximize their earnings on the site.
Here are some tips to help you increase your earnings on Steam.
1) Increase Sales
There's really only one way to make more money on Steam, and that's to sell more games. The more copies of your games you sell, the more you'll be able to increase your revenue on Steam Direct.
As long as you've created a game that's fun to play, all you need is a good marketing strategy to get your game in front of as many relevant players as possible. Create a high-quality game trailer with visually appealing screenshots that will attract game players and entice them to click on your game.
2) Pick the Right Genre
This is an important step because if you create a game for a genre that is not very popular, you'll have a hard time selling that game to players.
So, make sure you stay on top of trends to determine what players want and what they are willing to pay for.
For instance, some of the top Steam developers have figured out that players like strategy, Sim, and FPS games. You too can focus on these genres when starting out. This way, you make it more likely that you'll be able to sell the game if it's in a popular genre.
3) Specialize
Top developers on Steam are successful because they specialize. Instead of creating games in different genres and categories, focus on a single genre that suits you well and is popular with your audience.
This will make it easier for you to build up fans, make connections, and increase your game development knowledge.
If you specialize in one genre, you'll also have a ton of assets (artwork, code, etc.) at your disposal from your previous games which will simplify your development process for future games.
The Bottom Line
Making money on Steam is possible, but it's not necessarily easy. Like any other online business, this requires you to put in the work before you can start to see real results.
If you spend a lot of time playing games on the platform, then you already have the foundation for making money on Steam.
You simply need to use some of the tips outlined in this guide on how to make money on Steam to develop a strategy or plan that you will follow so you can create a consistent source of income.