SoundCloud is an audio-based social networking platform where users can share their music and podcasts via uploading and streaming. It is considered one of the biggest music platforms in the world, with an estimated 150 million tracks — and that number is constantly rising.
With over 175 million monthly users, SoundCloud is a helpful platform for musicians looking to grow and advance their careers. Independent artists and creators can make money on SoundCloud from their original music and content through the Creator Program while promoting their releases and engaging with fans.
The SoundClound app offers an array of products for independent artists to promote their music, and there are several ways that you can make money.
That's exactly what this guide will show you – how to make money on SoundCloud.
How Much Does SoundCloud Pay?
Indie artists who live in SoundClound monetized countries can receive payouts that range between $0.0025 to $0.004 per stream. For every 1,000 audio plays, creators can receive a payout between $2.50 and $4. You can also make money on SoundClound via advertising through the Creator Program.
How to Get Paid on SoundCloud?
To be monetized, tracks must be streamed in monetized countries. Currently, SoundCloud monetized countries are the United Kingdom, Ireland, the United States, Canada, France, Germany, Australia, New Zealand, and the Netherlands. 
You'll also have to set up your chosen payment methods and verify your account.
6 Ways to Make Money on SoundCloud
These 6 methods will help you learn how to make money on SoundCloud and maximize your chances of being paid.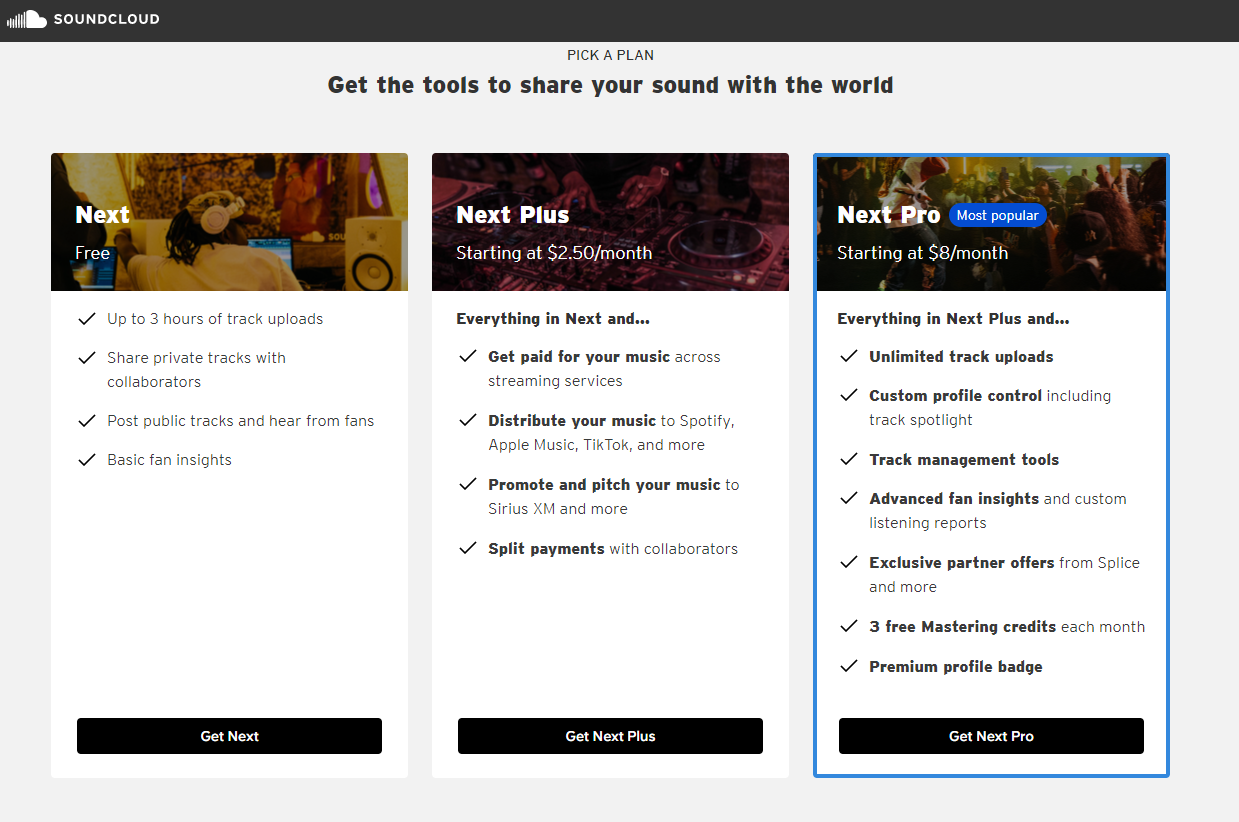 1. Unlock the Full Potential of your Account by Upgrading to Next Pro (Formerly Known as Pro Unlimited)
SoundCloud for Artists is the new centralized home for all things distribution, promotion, monetization, and more for indie artists who subscribe to the platform. In October 2022, SoundCloud announced that they've streamlined their artist dashboard and tools, while renaming all of their subscription tiers.
Currently, there are three SoundCloud subscriptions available to creators. There is a free account option called SoundCloud Next that allows you to share your original tracks, get basic stats, and receive feedback on your music. However, if you making money on SoundCloud is the goal, you will need to upgrade to either SoundCloud Next Plus or SoundCloud Next Pro.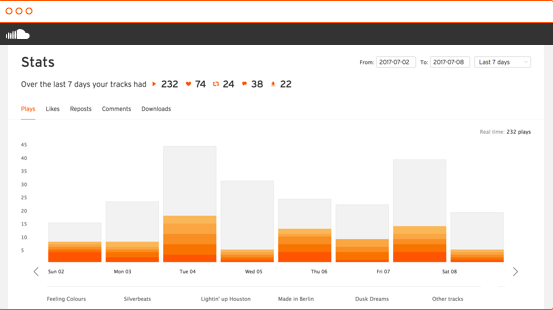 A subscription to the SoundCloud Next Plus tier starts at $2.50 per month. This option gives you the ability to distribute unlimited music to other platforms like Spotify, Apple Music, TikTok, and Instagram, and you will keep 80 percent of the SoundCloud revenue generated.
SoundCloud Next Plus also offers exclusive user features, including track background art, banner click-throughs, and featured profiles. And, you can promote and pitch your music to SiriusXM.
The SoundCloud Next Pro tier subscription (formerly known as Pro Unlimited) starts at $8 per month. Perks include everything from the Next and Next Plus tiers. Plus, you can save an unlimited number of tracks, gain access to SoundCloud's advanced insights and a tool to promote your music across the platform, and have the ability to replace tracks without losing stats.
Monetize your Account with SoundCloud For Artists (Formerly SoundCloud's Premier Program)

SoundCloud For Artists is the new name for the platform's monetization program. The SoundCloud Premier program is now a legacy program.
There are some requirements for you to qualify for content monetization on SoundCloud. First, you must be at least 18 years old, you must be an independent artist who owns all of the rights to your music (this includes publishing, distribution, and master), you must produce original content, and you must be a pro account SoundCloud member.
To be part of the SoundCloud for Artists monetization program, you must have zero copyright strikes when you enroll and have at least 500 eligible streams in the past month.
SoundCloud for Artists offers an independent creator the opportunity to earn a share of revenues from monetization of the original content that they own and license to SoundCloud. With this program, you'll be able to make money on every track you upload whenever someone listens to an ad on your music. You must have a Paypal account connected to your SoundCloud account to receive your earnings.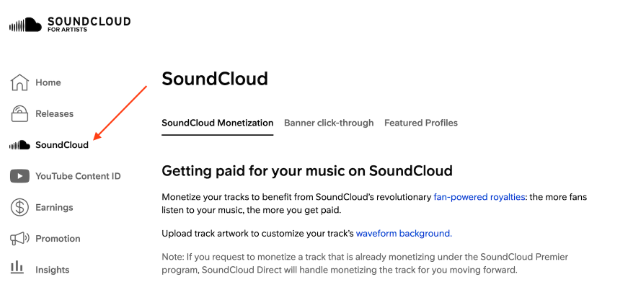 The features of SoundCloud monetization are:
Artists determine which content they control and what is subject to monetization on SoundCloud
Artists retain complete ownership of their content, while granting SoundCloud temporary rights to use it
The rights granted to SoundCloud are non-exclusive, so you can use any other platform to distribution service
Artists receive revenues based on their pro rata share of 55% of net advertising and subscription revenues received by SoundCloud, set forth in the "Payments and Statements" section of their website.
SoundCloud will pay out any royalties due during each calendar month that you participate in the program. You can end your participation at any time.
2. Promote your Account and Tracks on SoundCloud
Promotion for your SoundCloud account and tracks can be customized to target specific audiences, based on genre, age, location, and other parameters. When you have a Next Pro account, you have access to a DIY tool where you can pay to promote your content across the SoundCloud platform and drive up your plays within a set budget.
"Promote on SoundCloud is currently available to artists who have tracks that are monetizing on SoundCloud through SoundCloud Next Plus‍ subscription. As an artist, you can only promote your own monetizing content," per the SoundCloud website.
3. Title your Playlist and Add a Buy Link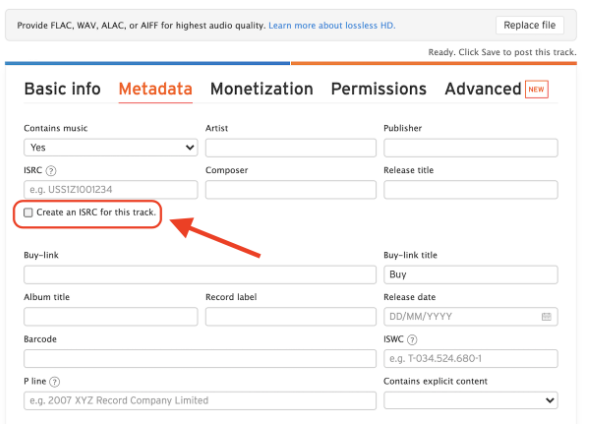 Make it as easy as possible for SoundCloud users who listen to your tracks to make a purchase. First, give your playlist and tracks some titles, then add buy links.
Add a Buy Link in your Track Descriptions
Adding a "Buy Link" when you upload tracks and playlists is the easiest way for your listeners to purchase your content on other music streaming platforms like iTunes or BandCamp.
Add a Buy Link in your Profile Bio
You can also add a "Buy Link" in your SoundCloud profile bio that directs listeners to a specific platform where you sell your music or where you are accepting tips or donations. When you have a Pro or Next Pro subscription, you can change the wording of the "Buy" button so it doesn't actually say "Buy."
Instead, you can add up to 22 characters to the link titles, which gives you the option to direct listeners to a donation or tip link.
4. Use Ads to Make Money on SoundCloud
Knowing how to make money on SoundCloud will require you to learn how to use ads to your advantage.
And, the only way to use ads to make money on SoundCloud is to be part of the premier program. To enable monetization, you must be accepted to the program (requires at least 500 plays in the previous month) and then you will get paid every time a user hear audio ads on your music.
5. Sell your Tracks with the Sellfy Store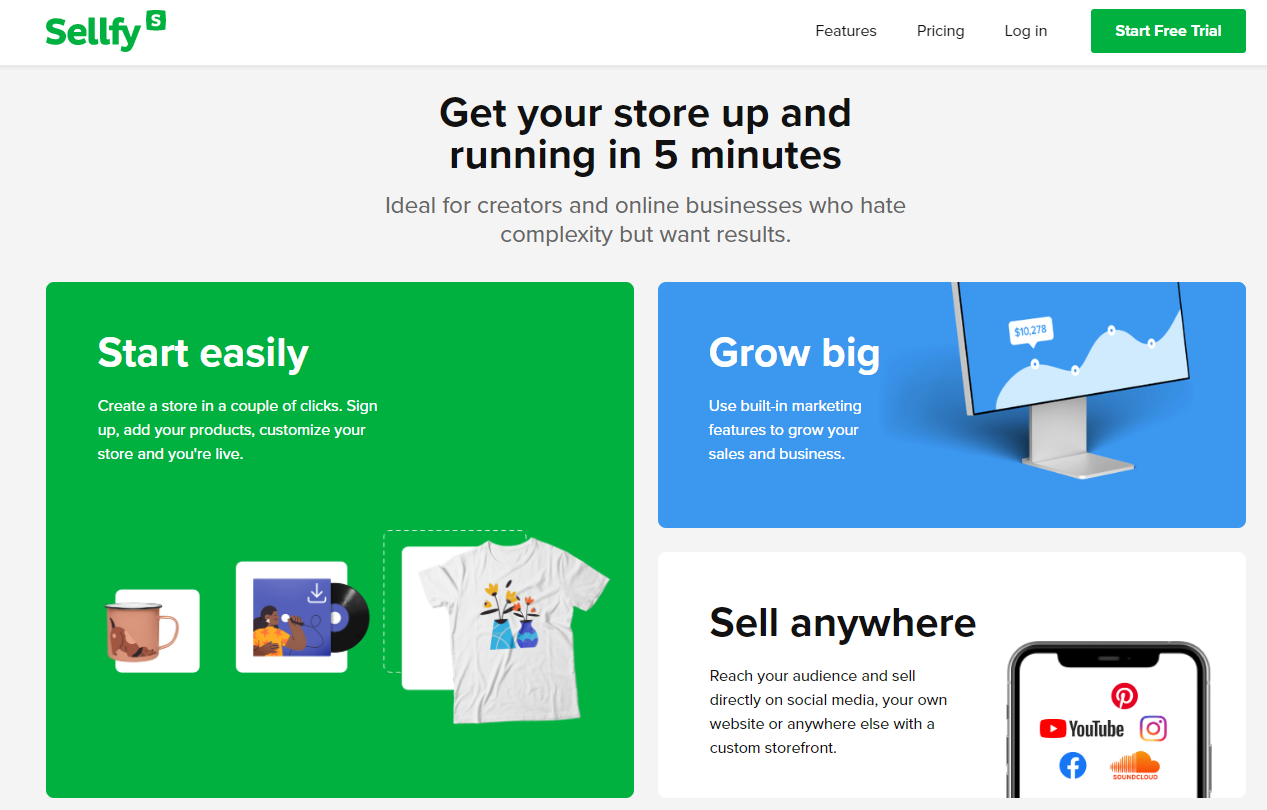 Use the e-commerce platform Sellfy to sell your songs, albums, or samples in a Sellfy online store. File hosting, delivery — everything's included. This is an all-in-one place for digital music distribution. You can also use this site to sell physical merchandise, and it only takes about five minutes to set up an online store.
Boost Sales with Sellfy's Built-In Marketing Tools
With Sellfy's built-in marketing tools, you can boost sales and grow your brand and influence. You can use Sellfy to sell multiple tracks and merch to your subscribers directly from your website, social media accounts, blog, or anywhere else you can think of.
Add links to your Sellfy Store from your SoundCloud profile, and use other channels to promote your store and boost sales. When you direct fans to sites outside of SoundCloud and they purchase your music from Sellfy, you will keep 100% of the revenue.
6. Utilize Fan-Powered Royalties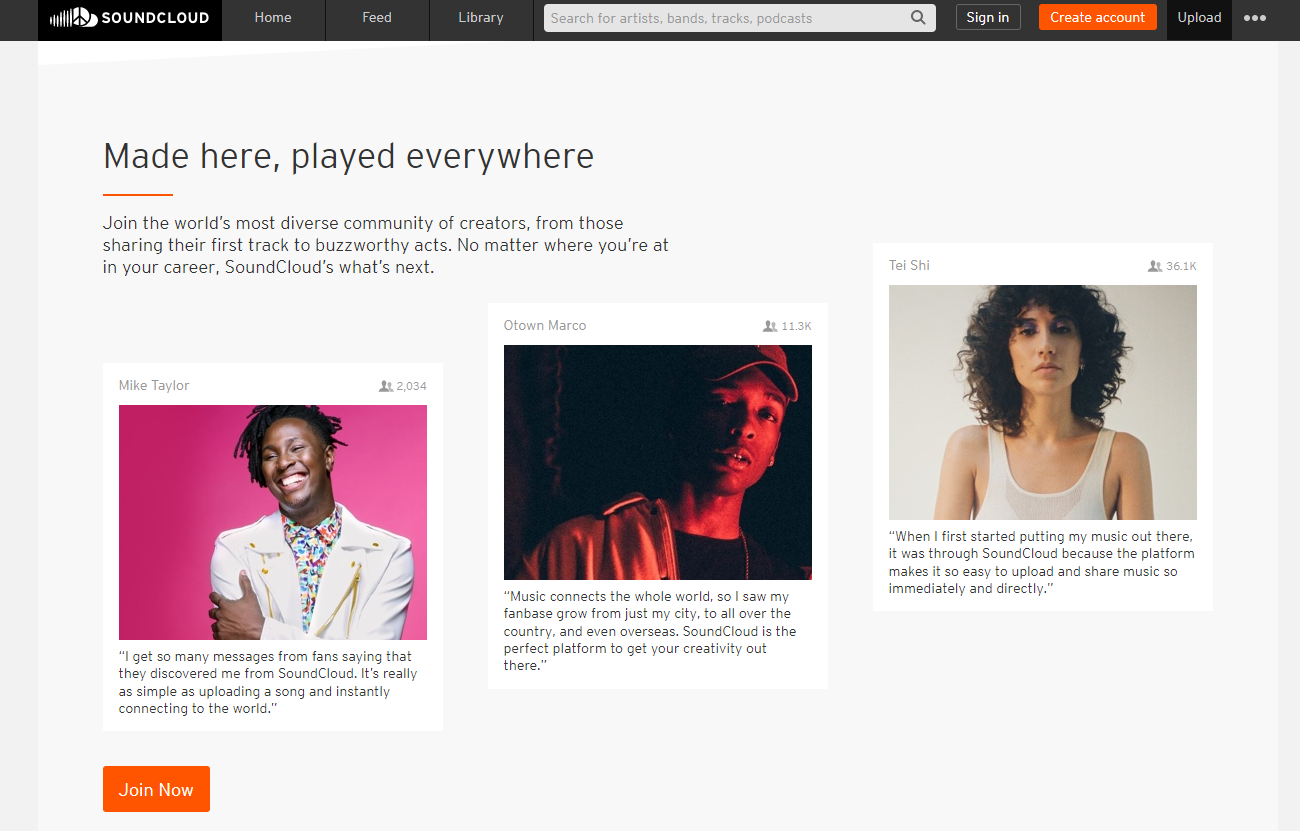 Earning money from streams and ads — fan-powered royalties — are the main avenues for income on SoundCloud. The more fans who listen to your music and hear the ads, the more you get paid.
Fan-powered royalties are an equitable and transparent way for independent musicians who are monetized on SoundCloud to get paid. Under the old model, money from an artist's dedicated fans would go into a giant pool that was paid out to artists based on their share of total streams. That, however, only benefits well known artists.
With fan-powered royalties, you are paid based on the listening habits of your fans. The more time your dedicated fans listen to your content, the more money you can make as an independent artist. To increase your chances of selling your tracks, there are things you can do to build up a good rapport and benefit from SoundCloud monetization.
Independent artists who monetize directly with SoundCloud — Next Pro subscribers in the Premier Program, Next Plus and Next Pro — are eligible for fan-powered royalties.
Tips to Maximize your Earnings on SoundCloud
Engage with your Audience
Engaging with your audience is key to building a following on SoundCloud. Talk to them in the comments, let them know about your upcoming projects, accept feedback, and make it easy for them to buy your songs.
Use Social Media to Promote your Content
Engaging with your audience doesn't have to be done exclusively on SoundCloud. Use other social media platforms to engage with your audience and to promote your content. Build your brand using TikTok, Instagram, Twitter, Facebook, and any other social media platforms and streaming platforms that you can think of.
Offer Discounts
When building your fanbase on SoundCloud, offering a discount can be a great way to get new listeners to buy your tracks. Or, consider rewarding your loyal fans by offering special deals in your Sellfy store.
Be Unique and Stand Out from the Rest
Standing out from the competition can be a challenge. In addition to your original content, you can be unique by adding a memorable photo to your profile and making your bio box interesting and worth the read.
Consider your titles and track descriptions too, and make sure they are well-written and without errors. Make your profile look as good as possible for it to stand out from rest and attract new listeners.
Produce New Content on a Consistent Basis
When building a fan base online, producing new content on a consistent basis is crucial. How much money you make on SoundCloud depends on the volume of work you put out there.
We hope these tips on how to make money on SoundCloud will help you launch your music career and build a fanbase. SoundCloud makes good money for talented artists who post original content and who are willing to promote their music with the right SoundCloud accounts and tools.