Launched in 2013, Patreon has grown to become one of the best crowdfunding services to help creators get paid online. It has become the most dominant driving force in the creative community, with all types of artists using the platform to engage their audiences, build relationships, and drive sales.
Some people only make a few bucks on Patreon while others make hundreds of thousands, even millions. All you need to succeed is a good strategy and some best practices to follow. And that's the reason I've written this article on how to make money on Patreon.
Read through it to help you find your place on the higher end of the spectrum and start bringing in consistent income right now.
Can You Really Make Money on Patreon?
Short answer? Yes, you absolutely can make money on Patreon. However, like any other business that you might consider starting online, making money on Patreon isn't necessarily easy.
You must put in the work if you want to succeed. Creators are getting paid for things they are already creating, such as songs, videos, webcomics, cosplay, fanfiction, etc. Every time creators release something new on the platform, they have an opportunity to be paid.
From writers and artists to bloggers, independent musicians, YouTube video creators, and everyone in between, anyone can use Patreon to make money.
An example of someone who makes good money on Patreon is the cosplayer who did a song for Critical Role. For $1, you can see her entire gallery. For $20/month, you get 3 signed prints, a wall calendar, a t-shirt, and a note.
However, I should point out that the majority of creators on the platform only make $1 – $1160, as shown by the graph below.
The good news is, if you follow the tips outlined below, then you'll be well on your way to joining the thousands of creators who sustain themselves with income from the platform.
Best Ways to Make Money on Patreon
If you want to make it with Patreon, you must first understand how the platform works so you can use the best moneymaking strategies for you.
The first way to make money on Patreon is to leverage your audience, and the second way is to offer something of value which appeals to a wider audience.
When leveraging your current audience, the more engaged the people are, the more money you can expect to make on your account. So, anyone who reads your website, listens to music, watches your videos, or follows you on social media has the power to make you on Patreon.
The second method of making money on Patreon involves building an audience that you can then nurture and offer your products or services to.
Either way, the tactics outlined below will help you set up a profitable Patreon account whose income will grow as your audience grows.
1) Create a Complimentary Blog
If you've been looking at ways to make money on Patreon, but none of them seem like the best fit for you, never fear. There are plenty of other options available to you.
In fact, I'm a big advocate of starting a blog because it's one of the few side hustles that allow you to create your own schedule, and work as much or as little as you want while building a source of passive income for the future.
So, my number one recommendation for making money on Patreon is to start your own blog.
Rather than interacting directly with your audience on Patreon, you might consider selling your artwork, music, content, crafts, etc. directly to customers on your own website. In fact, you can make use of a variety of other monetization methods to earn even more.
For example, you might become an affiliate and recommend other people's products to your audience. Whenever someone makes a purchase, you'll get paid a commission for your recommendation.
There are a ton of other ways to make money with a blog, and if you're not sure how to get started, check out my free Ignition course that teaches you everything you need to know from start to finish.
2) Earn Recurring Income with Patreon Memberships
Patron has several different types of fan support, one of which is memberships.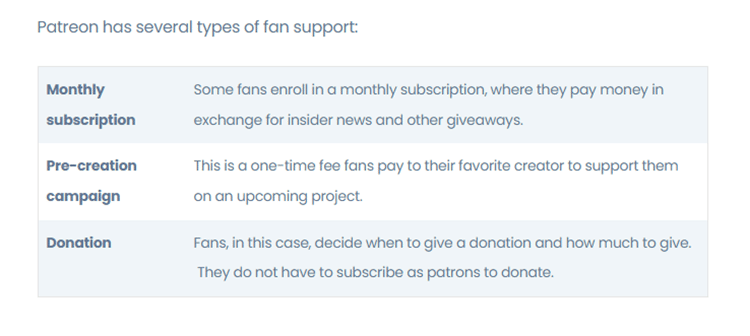 This business model performs particularly well on Patreon because it's straightforward and easy to implement.
Creators with a sufficient number of interested and enthusiastic fans can simply charge a membership fee to anyone who wants to participate in their community.
So, for example:
Bloggers can offer their best content on Patreon
Musicians might offer online training for members
A celebrity could offer freebies, giveaways, or insider news
Artists might establish a group for the purpose of exclusivity
A webcomic creator might let his fans name his next character
A consultant could create a peer-to-peer mentoring group
A coach might create a group that operates as a mastermind
… the list goes on!
Any supporters willing to pay that fee will receive unique rewards in exchange for their membership payments.
For example, some Patreon creators charge $1/month for access to premium content. Others charge $20 or more for custom content, live streams, unreleased songs, and various other digital items.
Yet others charge for tangible items, such as stickers, T-shirts, signed prints, notes, wall calendars, and various other merch.
Patreon caters to multiple subscription levels, which means that patrons can make multiple recurring payments.
Each subscription payment typically has a clear benefit tied to it. This makes it easy for patrons to choose how much they want to pay each month and know exactly what benefit they'll receive in return.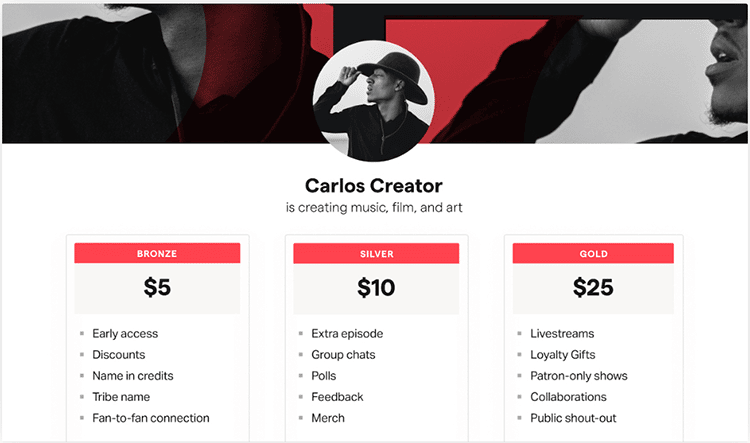 Note that this Patreon monetization method works better in some verticals than others. For example, influencers, musicians, and celebrities who already have huge followings and other platforms will likely have the most success – possibly making millions.
Whereas bloggers, course creators, coaches, and other similar content creators may not experience the same level of success.
3) Pre-Creation Campaign
If the creator wants to starting a new project but doesn't have the funds to do so, they can make an appeal to their audience on Patreon.
Depending on which Patreon plan you're on, you can create a campaign specifically for your project and fans can support you with one-off payments without having to subscribe to the monthly subscription fee.
One of the best things about this method is that it allows fans to give whatever they want, which means there's no cap on what you can receive from your avid followers.
4) Donation
Much like the pre-creation campaign tactic, donations allow fans to give money to their favorite artists and be in control of how much they want to give. The one major difference is that fans also have control over when they send their donation.
So, in addition to paying a subscription or supporting a campaign, fans also have the option of donating to their favorite artists at any time.
The one catch is that for the most part, donations don't include freebies. Of course, as the creator, you might decide to give something for each donation, anyway. It's all up to you.
Factors That Affect Your Patreon Income Level
As you've probably gathered from the tips outlined above, earning a good income on Patreon is possible. However, it's important to note that the amount of money you make will vary from one creator to the other.
Now that you know the different ways to earn on Patreon, let's take a look at some of the biggest factors that might affect how much you make on the platform.
1. How Well You Understand Your Audience: Successful creators on Patreon are those who understand their audience. They know exactly what they are interested in, what's likely to motivate them, and the type of content that they will be eager to spend money on.
So, to succeed on the platform, make sure you do your research. Engage with your audience, ask them questions about themselves or their interests. Do anything you can to get to know as much about your target audience as you can so you can provide them with relevant rewards for their memberships and donations.
2. The Niche You Operate In: Your niche is another factor that can have a huge impact on your Patreon earnings. What items/content are you creating? What type of art/music do you focus on?
You can't operate in a general genre and expect to succeed. You need to concentrate on specific topics within that genre in order to succeed. Answer the question of why fans should support you when others offer work that is similar to yours for free.
Your answer will be what differentiates you from most other creators in your niche. The more you can niche down, the easier it will be to build an engaged audience who will be willing to pay for your content.
3. How You Reward Your Patrons: When using the subscription or membership model on Patreon, you must carefully consider what you will give your patrons and return for their payments.
Make sure you choose rewards that your audience will feel happy receiving, otherwise, you'll have a hard time getting them to subscribe or make a donation. If you're going to offer multiple reward tiers, you must clearly distinguish what each level will receive and give people a great incentive to go for higher-level tiers.
Who Are the Highest Earning Patreon Accounts?
Over the past few years, creators on Patreon have earned over a billion dollars. Rather than relying on per-stream payouts or fluctuating ad revenue, they are able to create reliable income from their most avid fans.
Patreon takes a cut of these earnings (about 8%), but it's the smallest cut of any of the major platforms currently out there – some of which take up to 45%. It's easy to see why so many people prefer Patreon to other crowdfunding sites.
With that said, here's a quick look at some of the highest earning creators on Patreon
1) Kinda Funny Games – Funny Games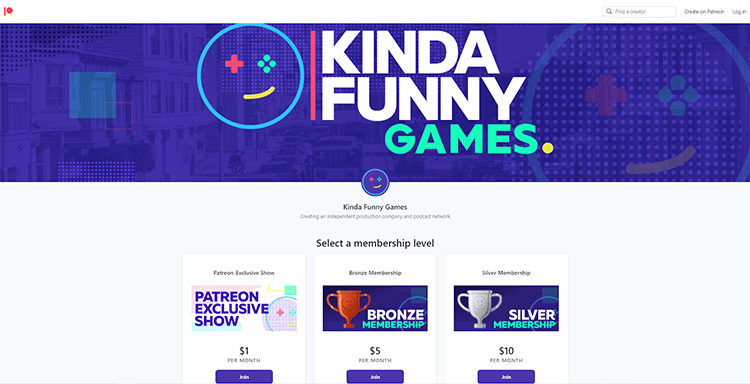 Number of Patrons: 4,539
Number of Levels: 9
Subscription Fees: $1 – $1,000/month
Monthly Income: Not Disclosed
After quitting their comfy jobs at IGN, Greg Miller, Nick Scarpino, Colin Moriarty, and Tim Gettys branched out on their own to pursue Kinda Funny, their beloved side gig.
In just a short time, they had two Patreon pages with thousands of patrons and a decked out studio in San Francisco where they record all their shenanigans.
This account remains one of the most popular on the platform with high-rated videos and a growing number of patrons.
2) True Crime Obsessed – True Crime Podcast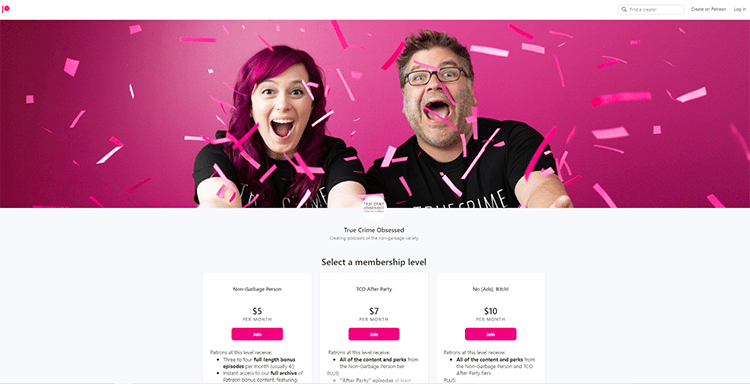 Number of Patrons: 47,083
Number of Levels: 4
Subscription Fees: $5-$20/month
Monthly Income: Estimated at +$50,000
This Patreon feed takes a deep dive into true crime docu-series like Serial, Making a Murderer, The Staircase, and The Jinx.
These are longer episodes that can't be covered in their regular podcast. They offer four subscription tiers ranging from $5 to $20 per month and have created a consistent source of recurring revenue, providing passionate fans with bonus episodes, admission to VIP meet and greets, and other perks.
3) Easy Allies – Video Game Streams
Number of Patrons: 5,677
Number of Levels: 13
Subscription Fees: $1 – $1,000/month
Monthly Income: $28,624
Easy Allies made over $40,000 within just 48 hours of launching on Patreon. The 9 members had previously worked for Game Trailers.com until the long-standing game review website shut down.
On their first anniversary on Patreon, one of the Easy Allies crew had this to say "Patreon has not only provided us with the financial stability to keep doing what we love, but the platform has also given us ways to get closer to our fans than we ever could before."
4) The Best Show – Comedy Podcast
Number of Patrons: 2,712
Number of Levels: 5
Subscription Fees: $1 – $50/month
Monthly Income: $16,017
In 2014, Tom Scharpling turned his weekly comedy show into a podcast. When he signed up on Patreon, fans who love is hilarious interviews with musicians and comedians followed him to support him to the platform to continue their support.
This laugh out loud podcast has five tiers that range from $1 to $50 per month. For $5, patrons can get bonus audio content and those in higher tiers can connect with Tom to ask him questions in a monthly on-air AMA.
5) The Flagrant Ones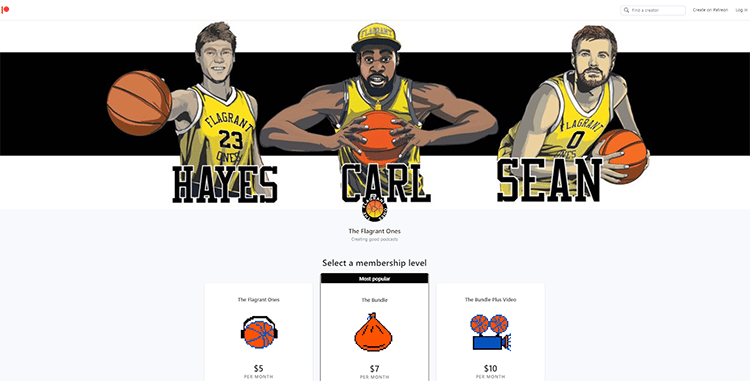 Number of Patrons: 6,271
Number of Levels: 4
Subscription Fees: $5 – $25/month
Monthly Income: $39,680
These creators are experts at all things basketball. They created a podcast where they offer a mixture of playful banter and locker-room talk while sharing astute basketball analysis.
In each episode, you'll hear in depth breakdowns of data and stats, as well as honest talk that's not censored by sponsors or networks since their podcast is for patrons only.
A $5 subscription unlocks the podcast. $10 gets you monthly live stream access, and for $25 you'll receive a video tier and other perks.
5 Tips to Earn the Most Money on Patreon
It's clear to see that anyone can make money on Patreon. However, not everyone makes the same amount from their accounts.
In fact, as with other platforms designed to help creatives make money, the money has concentrated at the top. This means that a select number of people earn the most money on the platform.
They do this by following best practices for making money on Patreon, some of which I share below.
1) Grow Your Audience
Getting more Patreon supporters is the first step toward making more money on the platform. As you noted from the tips outlined above, it's all about leveraging your audience.
So, if you don't have one, start building one. And if you already have an audience, but want to make more money, then start attracting more people to your page.
The more patrons you have, the more money you'll make – it's a simple numbers game.
Building an audience may take time, trial, and error, but it is possible. You'll need to carefully nurture your audience to ensure that it continues to grow over time.
Here are a few tips to help you increase the number of fans on Patreon:
If you have a website or blog, post about your Patreon page. You can display the Patreon logo prominently on your sidebar with a link to your page.
Ask the people who follow you on Facebook, Twitter, Instagram, YouTube, etc. to subscribe to your Patreon account.
Make a newsletter announcement about your Patreon and add the information in your email signature.
The trick is to share a link to your Patreon page far and wide.
2) Have a Great Intro Video
Introduce yourself on Patreon with a short intro video (max two minutes). Explain how your tiers work and why you're using Patreon as an artist.
Make sure you're clear on the benefits for your subscribers. Do your best to make an unforgettable first impression because your Patreon intro video can have a huge impact on your earnings on the platform.
3) Have Multiple Benefit Tiers
Offer multiple benefit tiers to give people ample opportunity to support you. You can check out Graphtreon to discover Patreon earning visibility.
Get inspiration from what other creators in your niche are offering so you can come up with offers that stand out.
By providing multiple membership options, you'll be able to persuade more people to support you. Just make sure each option is priced strategically so your patrons see value in it.
Depending on your Patreon plan, you can have different tiers of memberships with various monthly subscriptions: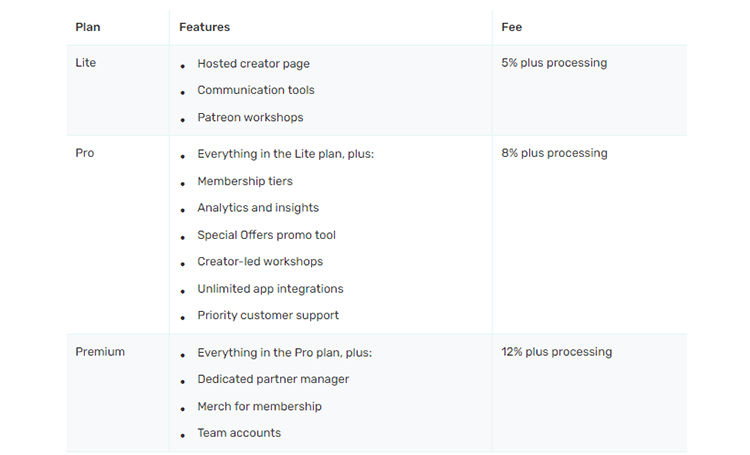 4) Leverage Free Patreon Resources
The platform has a ton of free resources and tools, some of which are educational resources like blog posts, tutorials, and workshops designed to help creators become more successful. Use them.
For instance, you'll find tons of videos on the Patreon blog with tips from some of the top-earning creators. There are also how-to articles and guides to help you convert more fans to patrons, as well as live workshops demonstrating different ways to get the most from the platform.
5) Constantly Create High-Quality Content
If your content isn't up to par, it won't matter how many ways you optimize your memberships, promote your Patreon page, and attract new patrons.
Remember, your Patreon fans follow you because of the free content you have already published. So, when you ask for their monetary support, you must deliver the same quality of content they've come to expect.
There's no specific type of content guaranteed to earn immediate success on Patreon, but most of the top-performing pages have high-quality videos, whether educational, informational, or simply for entertainment.
So, give yourself the best chance of success by incorporating videos into your Patreon page, even if it's just setting up a webcam to show some of your processes for creating content.
Wrapping Up
So, how do ordinary people make money on Patreon? The same way you make money from anything – by having a plan and putting in the work.
Go ahead and use the tactics outlined in this article to start growing your numbers on Patreon and monetize your audience in the most effective way.