OnlyFans currently has more than 50 million users and a million content creators. In 2021, the platform reached a company valuation of $1 billion and currently pays out more than $200 million to creators every month.
It's clear to see that this can be a lucrative platform if done right. It provides users with the freedom to do whatever they want, and monetize their content in a number of ways.
But, it's important to note that the internet is forever – and so while the platform doesn't impose a lot of restrictions on the types of content you can post, your images and videos are unlikely to ever be deleted.
This means your content will always be online – even if you use a fake name as many OnlyFans users do.
If you're considering creating an adult-themed profile on the platform, the dad in me has to insist that you first consider blogging, YouTube, or other business models that are just as lucrative, but can be a lot less regretful in the future.
I personally specialize in blogging and offer a free course on it as well.
That said, before we proceed with this guide on how to start making money on OnlyFans, let's be clear about something:
OnlyFans is not a porn site.
There are a lot of content creators who model without displaying nudity. There are also many other creators in a wide range of niches that aren't related to the adult industry.
The adult industry took to OnlyFans because of the unrestricted content policies that are in stark contrast to other social platforms like Facebook, Instagram, and Twitter.
But, while pornographic content does make up the bulk of the content on OnlyFans, there are a lot of other successful accounts run by creators who are making money with OnlyFans in a variety of other niches.
Some popular topics include:
Fitness Coaching / Workout Tutorials
Modeling
Fashion Tips
Lifestyle / Travel Blogging
Cooking Shows
Beauty / Make-up Tutorials
Meditations and Alternative Health
DIY Tutorials
Cosplaying
Recipes / Cooking Tips
Funny Videos
Influencer Vlogs
… and various other niches.
So, setting aside the discrimination for the moment, let's take a look at this platform from a business perspective so you can discover how to make money from your OnlyFans account.
Can You Really Make Money on OnlyFans?
OnlyFans is a social media site where users can sign up to support their favorite creators.
Content creators can monetize their content by charging a monthly fee for "fans" who follow their accounts. By paying a subscription fee, followers can get access to exclusive content on the creator's feed.
Creators on OnlyFans keep 80% of their earnings while the platform takes 20% of the money generated from the account.
According to recent reports, the top 1% of accounts make 33% of all the money. The top 10% of accounts make 73% of all the money.
It's estimated that the most popular accounts take home about $100,000 a month while median accounts only make about $180 a month.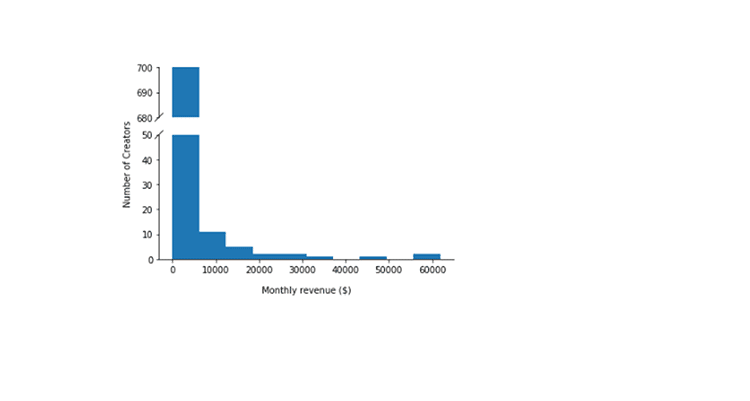 Of course, these figures don't take into consideration the platform's tipping system, which means the money sent to creators by fans in exchange for exclusive photos/videos, private messages, etc. remains undisclosed and therefore hard to obtain.
The bottom line is that making money is possible – but not necessarily easy.
As with any other type of online business, making money on this subscription platform takes a lot of hard work and nothing is handed to anyone.
But the good news?
With a solid strategy, content creators can move closer to their fans through interactive messaging which can be pivotal in helping them join the list of successful OnlyFans creators so they can start earning from various monetization methods (some of which we'll look at below).
Just as big brands invest resources in marketing to grow a devout following, so will a strong personal brand help creators on the platform to attract loyal fans with high-quality content and the fulfillment of a particular desire or fantasy.
Best Ways to Make Money on OnlyFans
The platform allows you to make money using everything from DMs to selling courses, affiliate programs, sponsored content, getting donations, and more.
The most common methods for monetizing content on OnlyFans include:
Subscribers: Charge people, a monthly fee to use your content.
Donations: Ask your fans for donations through Patreon.
Amazon Wishlist: Create an Amazon wish list to share with others.
Tips: People can send you tips for your posts through private messages.
Custom and PPV Content: People can request that you make custom videos for them or do private shows (PPV) with them.
The best way to maximize your earnings on OnlyFans is to use all 5 of these methods and possibly even others mentioned below.
1) Subscriptions
Subscriptions are among the most commonly used monetization methods on OnlyFans. Content creators can charge a monthly or annual fee for users to access their content.
Creators take home 80% of the revenue and the company gets the remaining 20%. There are individual subscriptions that start from $4.99 minimum and range all the way up to $49/month.
Most creators typically opt for $9.99 fee. You can also give discounts to regular fans or encourage action by creating limited offers or subscription bundles where users get temporary discounts for a specific number of months.
2) Direct Messaging with Fans
Another effective way to monetize your content on OnlyFans is to use direct messaging with your subscribers.
This method is used by a lot of influencers and popular artists on the platform. It ensures that you won't have to rely entirely on subscriptions as this alone will not bring in the millions.
You'll be able to squeeze out more revenue from the same number of subscribers by offering things like:
OnlyFans PPV Messages
Pay-Per-View Messages
Locked Posts
Locked Messages
…and so on.
This monetization strategy works in a very simple way. Fans pay a flat fee or per-message fee and you provide them with custom content in return.
You can send PPV messages to subscribers and price-lock these messages so people can view them only if they pay. There's also an option to send PPV messages to specific subscribers who request custom content.
Your messages can include photos, videos, audio tracks, etc. and you can charge whatever you want for the content.
For most people, this has proven to be the most profitable way to make money on OnlyFans, and if you are searching for alternative income streams, then this is a great one to consider.
However, it's important to note that, while lucrative, this source of income can be extremely time-consuming.
Most creators have to spend large portions of their day answering fans, and if you have tens- or hundreds of thousands of fans, you might want to look into outsourcing this service to ghostwriting freelancers or agencies who can answer fan messages on your behalf.
3) Ask for Tips
Another way to monetize your OnlyFans account is to ask fans to send you tips by clicking the "$" icon beneath your posts. Alternatively, they can tip you through messages.
Whenever you post high-quality content, simply ask your fans to tip you if they enjoy your content.
You can also use the tip feature to sell custom content and PPV messages. You can sell any items, whether digital or physical in exchange for tips, including things like:
Meal plan PDFs
Workout video tutorials
Physical books, e.g. recipe books
Photos, videos, and audio content
Branded merchandise
… and any other products you own that you want to sell to your fans.
If you want to sell multiple products, you can make things easier for yourself by creating a tip menu where you list all your items for sale as well as the tip fee. Pin this menu to your profile and ask your fans to let you know what they're tipping you for so you can send them the right products.
4) Redirect to Other Platforms
Another way you can monetize your audience on OnlyFans is to redirect to other platforms, as most of the top earners do.
As previously mentioned, OnlyFans is not a porn site, and much of the content that's popular here is also popular on other social sites like YouTube, Instagram (which can be very profitable as a standalone business), etc. You can even redirect your followers to your personal website.
Take advantage of the platform's features that take it to the next level with more personalized approaches, including custom content, private messages, etc. to create even more success on other platforms.
Let fans follow you on other platforms for free content and subscribe to your OnlyFans account for premium content.
For example, if you take a look at Bella Thorne's bio, you'll see that she doesn't make money only through OnlyFans, but uses redirect links to take her fans and subscribers to other platforms, including Amazon, Spotify, etc.
This allows her to monetize her popularity using different work and promos and you can do the same with your OnlyFans account bio.
Of course, if you are just getting started, simplicity is probably your best course of action. But, once you've amassed a healthy following, you can monetize your account using YouTube, Vimeo, and other social media platforms.
5) Go Live with Your Subscribers
Live streaming is yet another lucrative way to make money on OnlyFans. Simply set a date and time for going live with your fans. You can use this method to make money in two ways.
First, ask your subscribers to tip you during your OnlyFans live streaming. Viewers can offer whatever fee they like if they feel generous or entertained.
This is a great way to generate income on the platform, and you can take it a step further by establishing goals, such as a limited amount that you're trying to achieve with your stream – especially if you're raising funds for a cause, such as a charity.
Second, you can use a payment gated stream. With it, you'll be able to put your live stream behind a paywall so you can have an entry fee, and only subscribers who pay it can view your live stream.
6) Affiliate Marketing
As a content creator, there are many opportunities for you to make money through affiliate marketing.
Simply find programs to promote in your niche, and whenever a sale is made through your recommendation, you'll be paid a commission.
One of the best things about becoming an affiliate is that you can sell virtually anything through various platforms like Amazon Associates, Share-a-Sale, etc.
Depending on your niche and audience, you can sell everything from:
Online courses
Email hosting accounts
Web hosting accounts
Hotel bookings
VPN registrations
Recipe books
… and anything else that's relevant to your audience.
If you're going to use this as a way to monetize your OnlyFans account, keep in mind that you must consider commissions (the percentage you'll earn for each sale or promotion).
For instance, if a $100-product offers 10% commission, it means you'll get $10. Also consider the cookie lifespan. If the product has a 30-day cookie duration, it means that after someone clicks on your affiliate link, you have 30 days for them to make a purchase or else you won't get the commission for that sale.
7) Sponsored Content
As your OnlyFans account grows, brands in your niche will want to work with you to promote their products or services to your audience. Getting sponsorship is a great way to promote brands that resonate with your content and make money at the same time.
Once you've built your audience, be proactive, and rather than waiting for brands to seek you out, take the first step and reach out to them to propose mutually lucrative partnerships.
Just keep in mind that this type of monetization method takes a lot of hard work and research. Today, everything is profit-oriented, which means you'll have your work cut out for you keeping big brands happy, so make sure you have a solid strategy before you get started.
A great way to ensure success with this monetization method is to first test out how your fans will react to a certain product or service by offering it through an affiliate program.
Who Are the Highest Earning OnlyFans Accounts?
As you've seen from the list above, there are many ways to make money on OnlyFans. Although studies show that the average creator only takes home about $180, there are some who are doing extremely well on the platform, with net incomes in the hundreds of thousands and even millions.
Here are some of the highest-earning OnlyFans accounts to give you inspiration.
1. Blac China
Estimated Earnings: $20 million/month
Angela Renée White, aka "Blac Chyna" is a 34-year-old model, reality star, and influencer who has been involved in a high-profile relationship with Rob Kardashian.
Her OnlyFans subscription rate is $19.99 per month and subscribers gain instant access to photos, videos, and other exclusive OnlyFans-rated content, much of which has a foot fetish theme.
2. Morgan Edwards
Estimated Earnings: $2 million
Morgan Edwards, known to her fans as "Kitty K" has generated over $2 million on the platform in under two years. She built a business with over 5,000 subscribers who pay nearly $70 per user for three months of access to her content.
3. Jem Wolfie
Estimated Earnings: $900k/month
Popular OnlyFans creator Jem Wolfie is a fitness model from Perth. The Aussie influencer reportedly got kicked off Instagram once for "lewd content" (although she has since returned), so it's easy to imagine what her exclusive OnlyFans photos and videos must have in store for her fans. Her subscription fee is $5/month is estimated to earn close to $1 million every month.
Singer, rapper, dancer, producer, and reality TV personality, Erin Carter, rose to fame in the 90s boy band era. Today, he's one of the top earners on OnlyFans.
So far, the performer has managed to maintain this status by providing his loyal followers with exclusive pictures and videos of himself where he shows off his talents. His subscription costs $11.25/month and he makes half a million dollars on the platform each month.
Tips to Earn the Most Money on OnlyFans
Now that you know some of the top earners on the platform, it's clear to see that while everyone has the ability to earn money as a creator, only a select few earn the majority of the income.
In order to join the successful elites, it goes without saying that you must create the kind of content that works best on the platform, and that is engaging content with captivating images, entertaining videos, etc.
Some of the content categories that get the most views (aside from adult content) include:
Fitness Coaching
Cosplaying
Travel Blogging
Fashion / Modeling
DIY Tutorials
Beauty
Recipes & Cooking Tips
Gaming
Funny Videos
But beyond sharing high-quality and engaging content, you also need to follow best practices so you can maximize your earnings on OnlyFans.
1) Optimize Your OnlyFans Bio
Make sure your OnlyFans bio is optimized with a memorable name for your account, as well as a clear and concise description of the type of content you post so you can attract your target fans. Also, post your monthly or yearly subscription price.
2) Use Mass Messages to Offer Exclusive Content
The OnlyFans mass messaging feature allows you to provide your fans and subscribers with exclusive content.
Rather than posting content on your feed for your future subscribers to see, simply send a message, photo, or video to all your current fans using this feature.
Only your current subscribers will have access to the content, making it exclusive, and they won't miss out even if they don't check their account for a few days.
3) Post Consistently
You must post content regularly on your profile so fans always have something to look forward to when they check in to their accounts.
If you go for long periods of time without posting, fans are more likely to lose interest and cancel their subscription. So make sure you post something every couple of days, even if it's just a status update or a photo to show your fans that you are active. This will make them feel that they are getting their money's worth for their monthly subscription.
4) Interact with Your Fans
In addition to posting regularly, you also need to interact with your fans. If you want to maintain your OnlyFans subscriber count.
Have conversations with fans who reach out or reply to you and engage them to show you care about your subscribers and followers. The more engaged your fans are, the more likely they will want to continue paying for your membership.
5) Create a Custom Welcome Message
Another way to make your subscribers feel valued is to send them a custom welcome message when they subscribe to your OnlyFans account.
This is easy to set up and you can automate the message by activating the feature on the platform.
Simply navigate to "Settings" and click the "Chats" tab. Find "Welcome message for new fans." Activate this tab and upload or record your new welcome message (video, text, audio, or image), and it will be sent automatically to all your new subscribers once you hit "Save".
Wrapping Things Up
I hope this article has helped you determine how to create a profitable OnlyFans account. This can be an extremely lucrative way to make money online by providing your fans with exclusive content.
Due to the social site's unrestricted content policy, it is very popular with creators in the adult industry. But, in addition to adult content, it also hosts a lot of successful creators from a range of other genres.
Just remember to be patient. Treat your OnlyFans account like you would any other online business; not as a get-rich-quick scheme, but as a way to build a strong following and monetize your content in a variety of lucrative ways.
With the right marketing methods and monetization strategies, anyone can make money on this platform – even those who aren't in the adult industry.
With that said, if you are considering alternative ways to make money online, check out my free course on how to start a blog.