Mercari is a Japanese e-commerce platform that began in 2013 as a second-hand online marketplace that could be easily accessed with a smartphone.
Over the past decade it has grown into one of the internet's most popular selling platforms, with many categories of items for sale: clothing, electronics, collectibles, and more. The Mercari app currently has over 20 million active users.
Mercari's mission is to "create value in a global marketplace where anyone can buy & sell." The platform connects millions of people across America to shop and sell almost anything.
With that in mind, the site can be a great place for a side hustle to earn extra money. Here's how to make money on Mercari in 3 simple steps.
Best Way to Make Money on Mercari

Selling on Mercari can be a hit or miss, so having a strategy for successful sales is key. There is a lot of competition from other sellers on a site like Mercari. If you want to build a profitable reselling business instead of using the site as a creative way to declutter your home, then you need to prepare and make a small investment in the proper tools.
If you are interested in reselling or flipping items for profit on Mercari, you will ultimately need things like a label printer, a small shipping scale, a mannequin or nice hangers, a photo background, and mailers.
Gather a few basic shipping supplies in advance so you're not left scrambling after making your first few sales. Now it's time for the first step in learning how to make money on Mercari.
1. Prepare Your Stuff for Sale
Before you can start selling and making money on the Mercari app, you have to create your account and then prepare your stuff for sale.
Create an Account on Mercari
Creating an account on Mercari is free, and takes just a few minutes. You can use an existing Facebook account to sign up with the Mercari app. Or, you can sign up with an email address, a unique display name, and a password.
Take Photos of Your Stuff
Brand-name clothing, shoes, and electronics are three of the most popular categories on Mercari, so these are excellent categories to begin selling if you're new to the platform.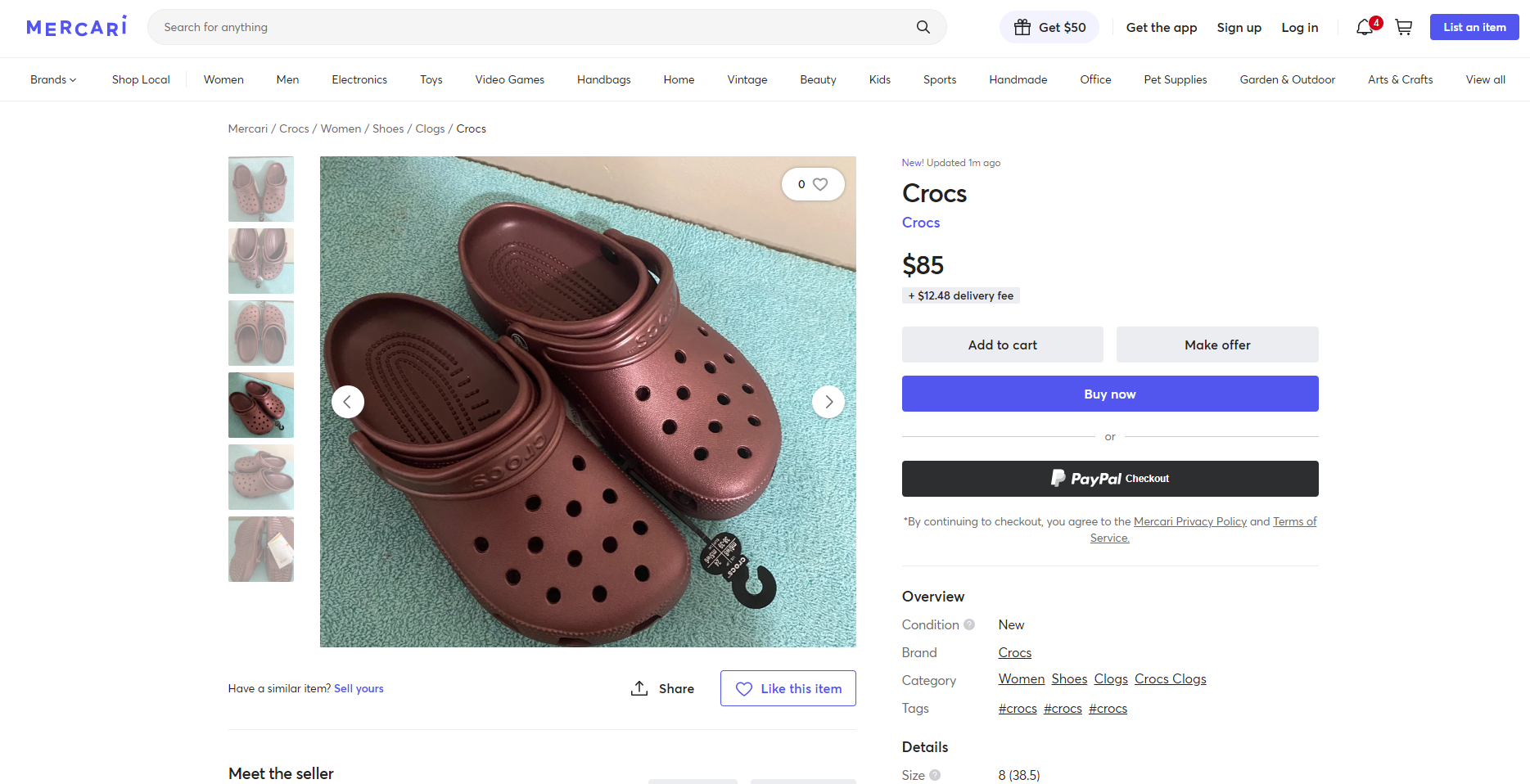 To create a listing, take a few photos of your stuff and show every side of the items in good light. Because Mercari was created with the idea of easy use with a smartphone, you can take photos from inside the app. Or, you can use your camera app and upload them.
Good lighting is important for taking great photos. Use natural light when possible to capture the best images, and use neutral backgrounds so the focus is on the item for sale. Use a variety of angles — start with a wide shot, snap your main photo, then get in closer to get the details.
Add a Title to Your Listing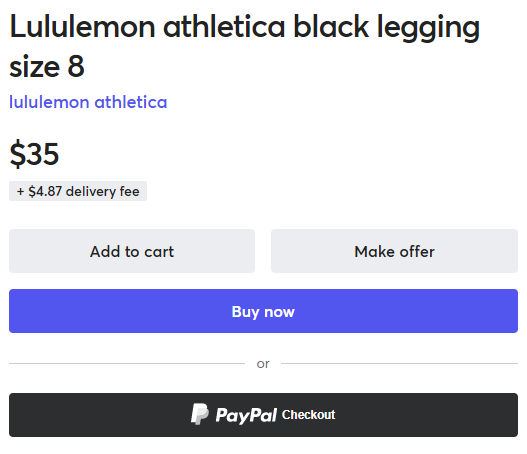 You have 40 characters for the title of your listing. Try to say as much as possible using keywords, like the brand name, the item name, color, and possibly size.
Write an Accurate & Sincere Description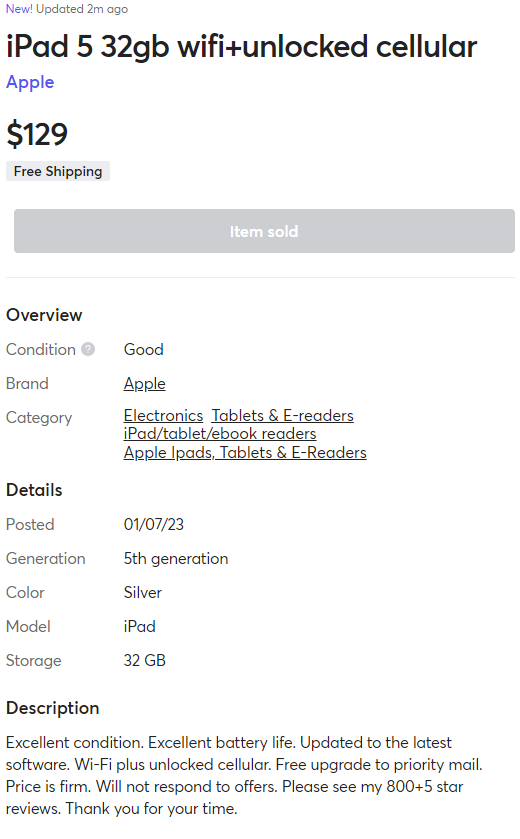 You must write at least five words in the product description, but if you want your items to sell then you will need to put in more effort than that. You actually have 1,000 characters for your item description — and you can add up to three hashtags.
Use this space to write an accurate and sincere description that includes important details like the brand, the style, the model name, the color, the condition, the fabric, the size (consider adding measurements), and whether or not the item is used.
Remember, keep your descriptions brief, accurate, and easy to understand. But remember, Mercari doesn't tolerate keyword stuffing. So don't overdo it.
Choose a Category for Your Listing(s)
When creating your item listing, you will need to choose a category that it is listed in. Based on your item title, Mercari will recommend a category. Verify that you agree with their suggestion before finalizing the listing.
There could be products that you will not find an appropriate category for. In that case, choose "Other" and be extremely detailed with the product title and description.
Select a Brand
Mercari has thousands of brands already listed in their system. If by chance the brand of your item isn't an option, you will be forced to put it under a different (yet similar) brand. You will also have the option of listing the brand name separately in that case, which is a must.
Note: Brand-name apparel and other merchandise definitely sells faster than brands people are unfamiliar with.
Explain the Condition of Your Item(s)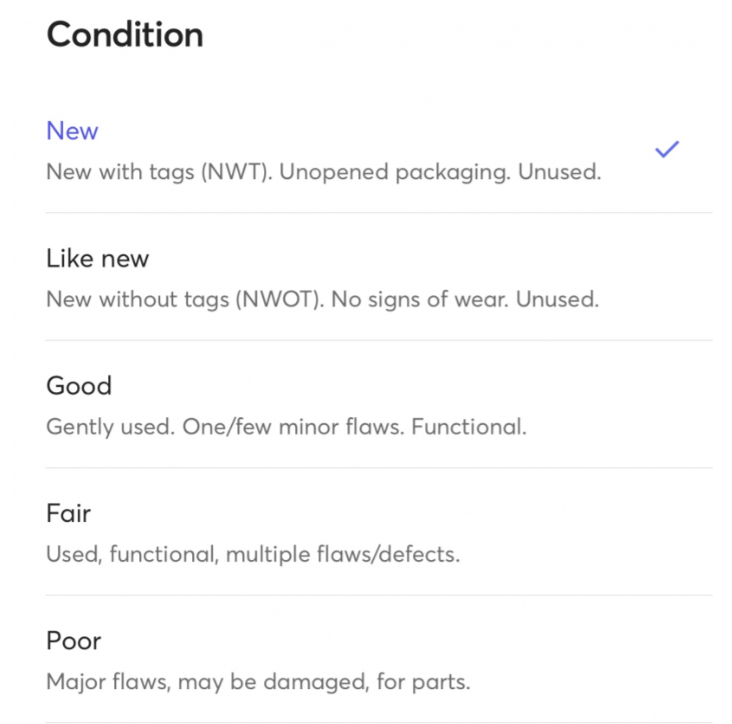 Mercari does have a custom rubric for stating the condition of an item, and there are common abbreviations you can also use.
NIB = New in box
NWT = New with tag
NWOT = New without tag
EUC = Excellent used condition
VGUC = Very good used condition
GUC = Good used condition
PLAY = Minor holes and/or stains
SZ = Size
The description should indicate if the item has any flaws or defects. And, to make the post even more sincere, you can include details about when you bought it and what you liked about it. Just make sure to include all the information that potential buyers need to know about the item.
Provide Necessary Shipping Information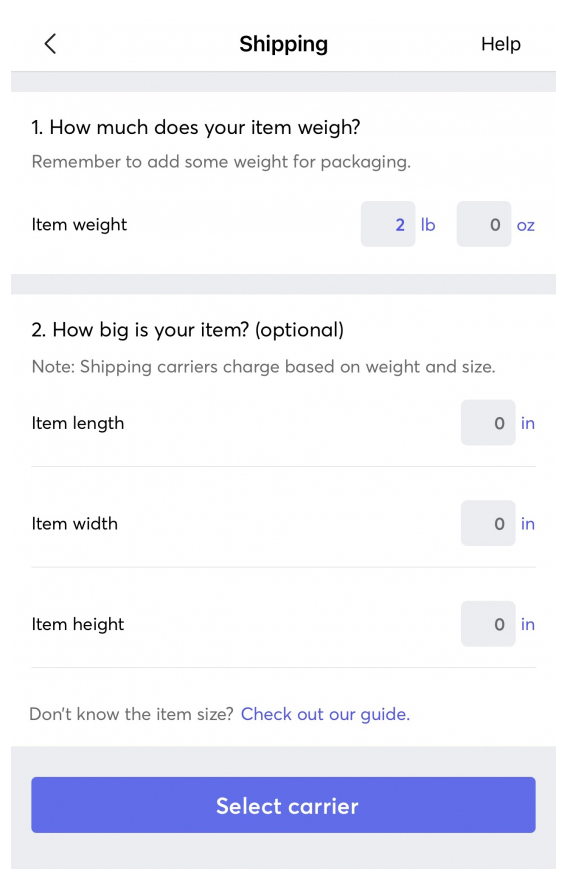 Before you can post your listing, you will need to provide the necessary shipping information for the item. This will include details like product weight and package dimensions. You must also choose whether to ship with a prepaid Mercari label or use your own shipping label.
To create a prepaid label — which are up to 63% off retail carrier rates — you will need to select a carrier when providing the necessary shipping information for your listing.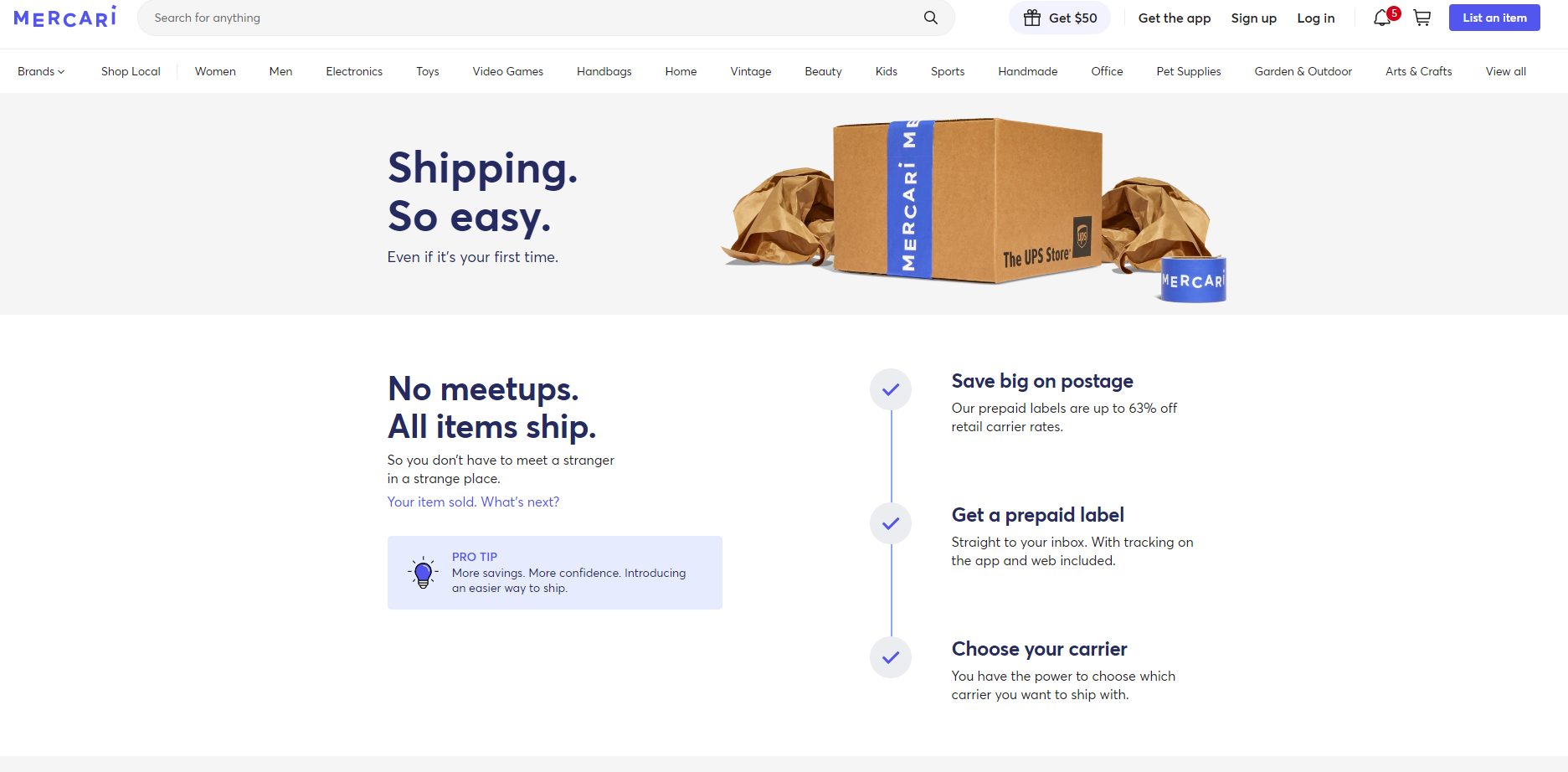 According to Mercari, your item is five time more likely to sell when you offer free shipping. To do this — but still pass that cost on to your customer — just build the shipping cost into your item price.
2. Get Paid for Your Stuff
Once your item sells, the next step in the process is to get paid for your stuff. But, before we get into how that process works, we must cover pricing on Mercari in detail.
Pricing
When you list an item to sell on Mercari, you will be required to set a price. The success of your sales will be determined by your pricing. Adding a large markup from your cost will make it difficult to make a sale. At the same time, selling your items at a price point lower than cost is pointless.
This means you must choose a price point for your items that will both resonate with buyers and make you a profit at the same time. Doing your research on pricing is crucial to being successful on the Mercari app.
You can negotiate with most Mercari buyers and accept a lower price than what you have listed. But making a deal that will lose you money just to appease a customer is not the way to run a successful business.
Like we mentioned earlier, you can add in the price of shipping to the price of your items so you can offer free shipping to your customers. So, take that into consideration when pricing your items.
Mercari's fees are 12.9% + $0.50. That breaks down to a 10% seller fee and a 2.9% + $0.50 payment processing fee. There's no fee to list items.
Smart Pricing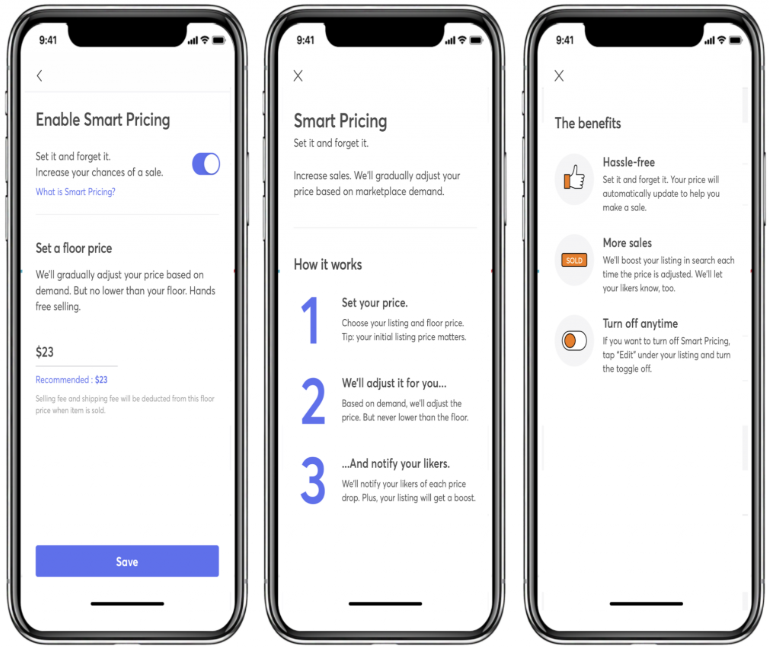 Smart pricing was developed by Mercari after they recognized that pricing strategy to make a profitable sale wasn't very straightforward — as people usually tend to overprice their belongings.
This real-time price guidance system was integrated with the listing process and the search results to reduce all the pricing related hassles of a Mercari seller.
The Price Suggestion feature recommends a viable price range for your item listing on Mercari platform. It also includes a qualitative suggestion — e.g. the sale may be slow or speedy at a certain price point.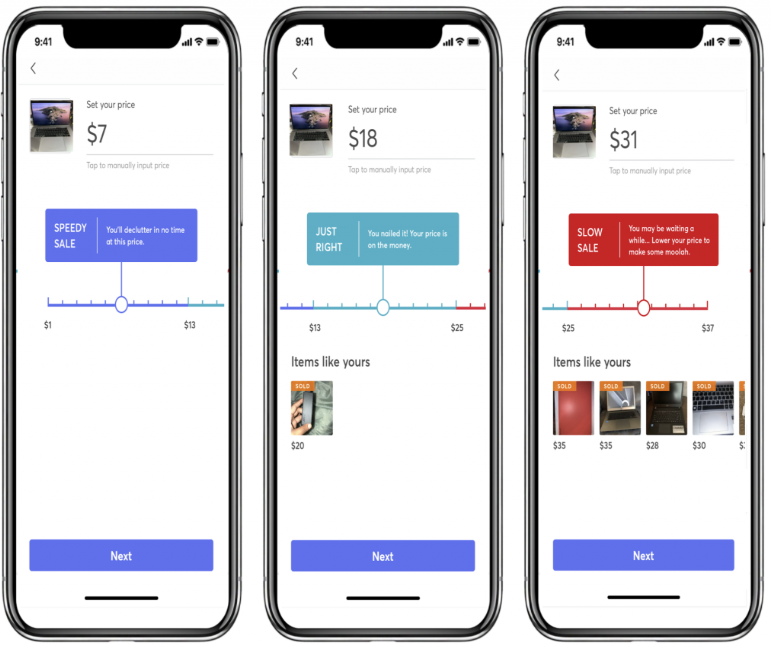 When you enable smart pricing, you can set your listing and forget it while increasing your chances of a sale. You set a floor price, then Mercari will adjust that price based on demand. However, it will never go below your floor price.
Sellers are asked to input two prices — the standard listing price and the floor price — which is kept secret between the seller and Mercari. Then, they use these two price inputs and the price guidance system built using AI algorithms to tweak the price of your item until it gets sold or hits the floor price.
Getting Paid
Getting paid on Mercari takes minimal effort. After the buyer pays and has rated you, you're all set to complete the transaction. Your funds will be automatically added to your Mercari account balance. Then, you can either cash out or apply the amount to any purchase on Mercari at checkout.
When you cash out, you have the option of using Instant Pay or Direct Deposit.
Instant Pay: Get paid in just minutes at any time of day. Get a deposit straight to your debit card. $2 fee for cash out.

To initiate a cash out with instant pay, you'll need a valid debit card and government-issued ID. Instant Pay is only available in the latest version of the Mercari app.
You can use this option for up to $500 per month, once per day.

Direct Deposit: Get paid within five business days. Get a deposit straight into your checking account. Free for transfers over $10.

To initiate a cash out with direct deposit, you'll need a valid bank account with the account holder's name, a checking account number, and a routing number.
3. Ship the Stuff You Sold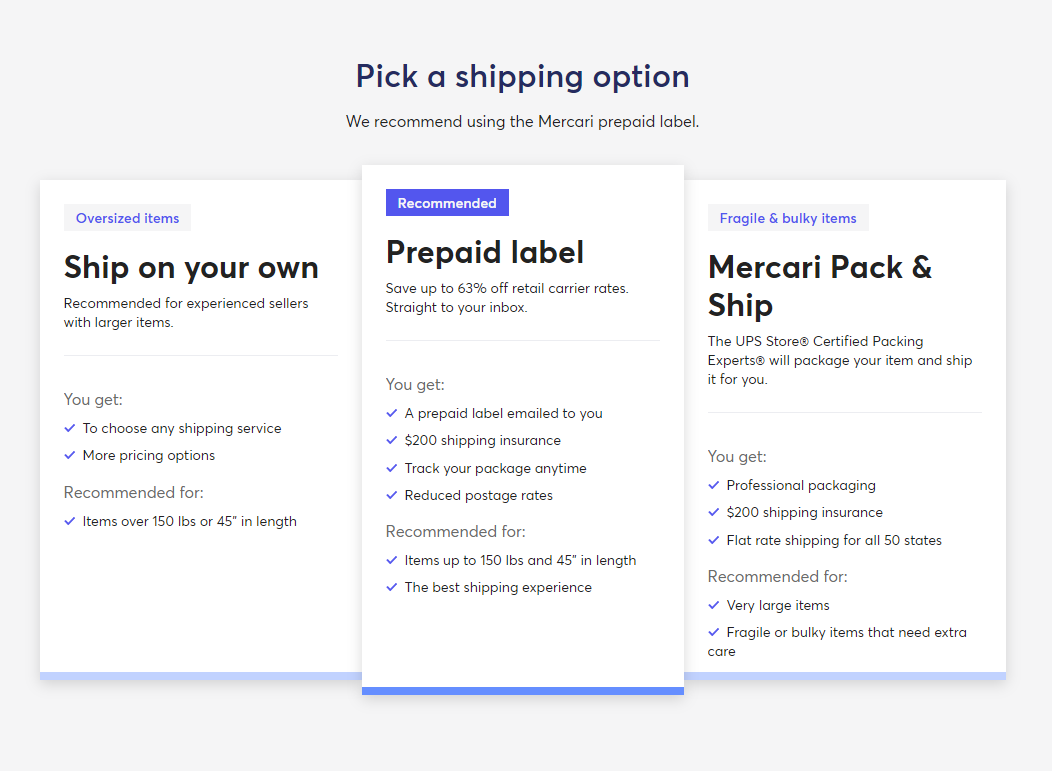 Mercari works hard to make sure shipping your items is as fast and easy as possible. They partner with USPS, UPS, and FedEx to make sure you get the best price on every package.
When you list an item, you can choose whether to ship with a Mercari label or use your own shipping label.
Shipping Mercari: When choosing the prepaid label option, you'll need to identify who will pay for the cost of shipping.If you want the buyer to pay, the cost of the label will be added at buyer checkout. If you want to offer free shipping, the cost of the label will be deducted from the sales profit.When a buyer purchases your item, a Mercari prepaid label will be automatically created and sent to your email address. You can also find your shipping label under the Order Status page to easily download and print it out.As long as you follow the Mercari Shipping Protection guidelines, your package is protected for up to $200.
Shipping on your own: When using your own label, you'll need to provide a valid tracking number to help confirm the item's delivery and make sure you get paid on time.When you ship on your own, the package doesn't qualify for Mercari Shipping Protection. Instead, you must purchase insurance through your shipping carrier.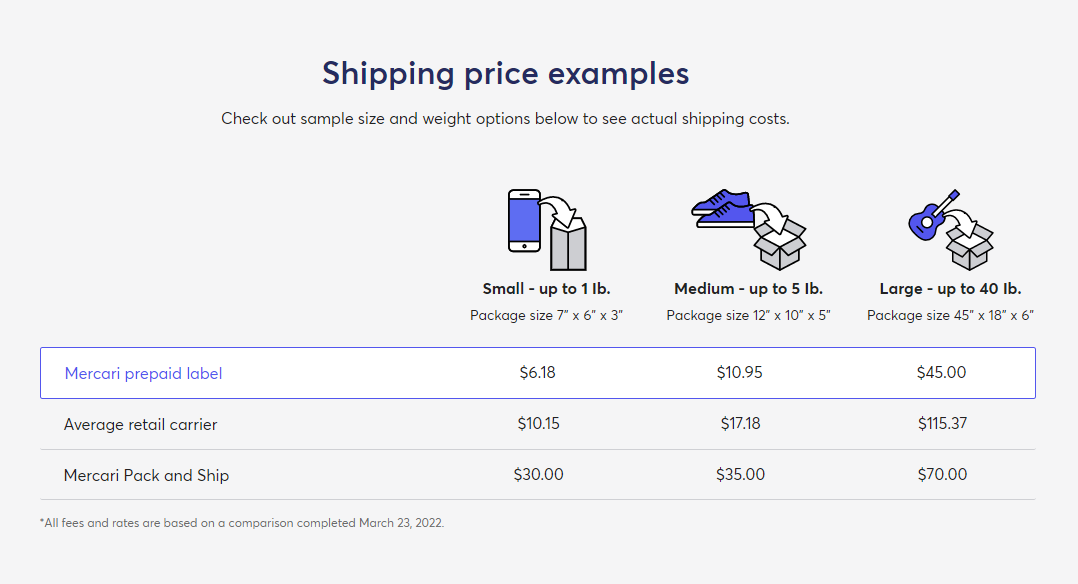 Safe shipping begins with choosing the right box. Mercari recommends choosing a sturdy box with about 2 inches of extra space on each side of the item to allow plenty of room for padding.
Wrap each item you're shipping individually and package the items with the heaviest on bottom and the lightest on top. Package the item with care so it arrives at your customer's home safely, and attach the shipping label with the tracking number. Mercari suggest shipping the item within three days of the sale. If you're experiencing a delay, let the buyer know.
How to Increase Sales on Mercari
Avoid Selling Garbage
There's a difference between selling slightly used items on Mercari and selling garbage. After every transaction, you will be rated by your buyer. Avoid selling garbage if you want to make more sales.
Be mindful about what you are listing for sale, and be truthful about the condition of your items. Sometimes, people do want to buy something in poor condition for parts. Just be honest and upfront about your item's condition. Negative reviews may prevent future customers from buying anything from you.
Never sell junk on Mercari just for the sake of listing it. Stick with known brands and items that are in decent shape. For anything else, you can have a yard sale or use Facebook Marketplace to try and make a quick buck.
Consider Having Flexible Prices
Unlike online marketplaces like eBay, Mercari has their smart pricing feature which makes it extremely easy to have flexible prices on your listings. Pricing is the key to success on this platform, so consider using that tool and having flexible prices to sell more items and increase profits.
List Your Items During Prime Buying Hours
Because Mercari promotes new listings and pushes down old ones, you should have a strategy for when you list your items. In addition to regularly reposting listings, you should list your items during prime buying hours. Which, according to recent research, is on Wednesday and Thursdays between 10am and 11am and again between 8pm and 9pm.
Try listing a batch of inventory around these peak times to see if it makes a difference.
Relist Non-Selling Items Constantly
Mercari's algorithm features recently posted items at the top of their feed, and they push older listings down lower in the search results. After a couple of days, a potential buyer will be less likely to see your listing — especially if you are selling a popular brand.
To make more money on Mercari, you should constantly relist your non-selling items so they are closer to the top of the search results. Just remember to make sure you delete the original listing quickly so you don't have duplicate listings for just a single product.
Take People Up on Reasonable & Acceptable Offers
When selling on Mercari, expect to receive offers on your items.
Mercari buyers can make offers to sellers and begin negotiating on price.You might think it's a good idea to stay firm on your listing price. You might even put in an item's title or description that your listing price is firm.
However, people will still send messages asking if you will take a lower price. Use your discretion on this. Don't be afraid to take people up on reasonable offers, as long as you aren't losing money on the item.
But before you agree to lower your price, check out the potential buyer to see how active they are on the selling sites. If they are into retail arbitrage and trying to flip your item, you should be aware of this.
Get Verified
By uploading a picture of your government-issued photo ID, Mercari lets you verify your seller profile. When you verify your account, you get a Mercari verification badge on your seller profile, which can help build trust with potential buyers.
Don't Be Lazy When it Comes to Listings
The product listing is where you make your sales pitch, so don't be lazy when creating them. Like we told you earlier, good photos and honesty about product condition are essential.
The same can be said for managing your listings. Don't get lazy. Keep up with your listings so you know what's selling and what's not. Delete old listings, relist unsold items, and stay in communication with potential buyers.
Be Creative But Honest
Your ultimate goal when selling on Mercari is to convince people to buy, while giving them as much information as possible to make an informed decision. It's good to be creative with your product descriptions, just always be honest.
Use Cross-Posting Software
Crossposting means posting your item for sale on Mercari, then relisting it on other marketplaces as well. This is a common seller practice with apps like Poshmark, Depop, and eBay.
You can use an app like Crosslist to make this process even easier and to make more money. There are several professional services available for crosslisting.
Treat Mercari Like a Business

If you want to sell items on Mercari and earn some extra cash, you must treat it like a business. If you don't, it will never be more than a hobby. Buyers don't just magically appear and your items won't automatically sell. Making money on Mercari requires some work, and treating it like a business will make you even more successful.
There is a new Mercari Pro Seller Program that's currently in Beta. You have to have some serious sales to apply and get in, but there are some serious perks. They include:
Pro Seller Badge: Appears on your seller profile.
Bulk Import Tool: Import and sync your listings from eBay.
Inventory Management: Use tools like bulk deactivation and advanced listing search.
Enhanced Analytics: Offers deeper insights into your best-selling items on Mercari and profile performance.
Free Promotion: Get your listings promoted on third-party platforms for free.
VIP Service: Provides 24 hour support and an account manager.
Be Nice to Buyers
There is nothing easier than being nice to buyers, both in electronic communication and when shipping your product. Add in a personalized thank you note or message (and maybe even a personalized coupon) when you ship your item for an extra dose of nice and to encourage a repeat customer.
Try to Get 5-Star Ratings & Useful Mercari Badges
Boost your sales on Mercari buy putting some effort into getting positive 5 star reviews, badges, and nice feedback from buyers. To get positive reviews on Mercari try:
Answering all questions from a potential customer
Be timely when responding to customers
Be friendly when you deal with customers
Ship your item as soon as possible
Bad reviews and frequent cancellations will cause serious damage to your Mercari selling efforts.
Send Offers to People Who Like Your Listings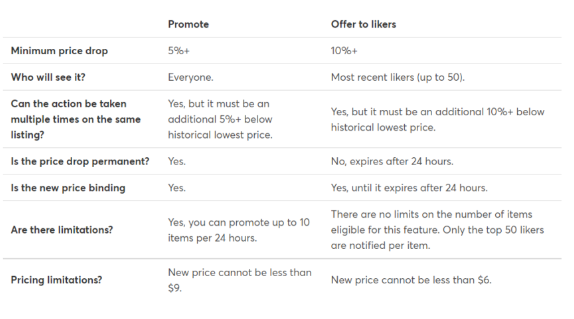 Mercari will notify you if someone sends likes your item. So, be prepared to send an offer to them in an attempt to create a sale. Another trick is to use the Promote and Offers to Likers features to promote your listings.
Promote: When you reduce your listing price by at least 5%, Mercari will boost your listing visibility and notify everyone who liked your item about the lower price. You can promote up to 10 listings per day.
Offers to Likers: When you reduce your listing price by at least 10%, Mercari sends a notification to your previous 50 likers.
Develop a Community/Following
In addition to getting likes, Mercari also notifies you when you get a message or an offer. Use any contact with a buyer or potential buyer as an opportunity to develop a community/following on social media. You can create a Facebook group or use a platform like Instagram to help promote what you are selling on Mercari.
Be Personable
Just like when you are doing business with someone in person, you want to be personable with your customers whenever you communicate with them online. Drive sales with excellent customer service, and be willing to negotiate.
Offer Item Bundles
If you are listing similar or connected items on Mercari, consider offering item bundles to increase your sales. Or, include a line in your description that lets shoppers know you've got related items listed, and encourage them to create a bundle offer.
You can also list bundle-friendly items with complementary sets, multiple listings in the same category, and similarly sized items people might want to buy as a set.
Give Discounts for Bulk Purchases
Another option is to give discounts to a customer for bulk purchases. Smart Offers lets you do this for shoppers who have sent you an offer. Or, you can offer a discount to anyone who likes your product or sends you a message.
Don't Rush It
Successful selling on Mercari will take some trial and error. Do your research on products and pricing, and don't rush the process. Making money on Mercari will take time, strategy, and effort. But anyone can do it with the right plan and plenty of patience.
Mention Whether or Not You Have Pets
You have up to 1,000 characters for your listing description, so this is an excellent place to let buyers know that you have a pet free and smoke free home. When it comes to successfully selling used items — especially clothing — whether or not you have pets is vital information.
Be Wary Of Scams
Scamming is a common nuisance on all buying and selling platforms — including Mercari. Even as a seller you must be wary of scammers because there are fraudulent buyers who may try to steal from you.
Buyers routinely lie about the condition of an item to get a refund. Or, a person buys your item and you send it, then they open a return for some unrelated/untrue reason. But instead of sending back your item, they send you a worn-out version of the same thing or some random old piece of garbage.
Mercari can be a great way to declutter your home or earn quick cash. There's also the possibility of turning it into a full-time job if you put in the work and do your research.
Opening an account and creating listings is free, and they've made the online selling process extremely easy. We hope these tips and tricks will help you figure out how to make money on Mercari.