Discord is a messaging app with millions of users from around the world. It's a great place to build a community that shares the same interests as you do. Considering it's a free platform, many people don't know that it's a great way of making money.
But there are actually many ways to do so, especially if you run (or plan to run) a server. These range from earning commissions on affiliate links to earning money from the server itself with premium memberships. Want to know how to make money on Discord? Take a look at these proven methods to get started.
Best Ways to Make Money on Discord
1. Sell Services or Products
Discord servers are great places to sell products and services to your community members. While some servers disallow selling products, others are specifically designed for them. Some people have used Discord for thrifting used items, and others have sold specific services. No matter what you want to sell, you're sure to find a place for it on Discord.
Settle on What you Want to Sell
To start, you need to decide what to sell. Are you going to sell used items you don't need anymore, video games, or other products? Or maybe you offer services you want to sell, like marketing? No matter what it is, you should keep what you're selling consistent with your server's identity. If you make a garage sale Discord server and start selling 3D printed items, you likely aren't going to get as many sales.
Set Up a Payment Method
Next, you'll need to set up a payment method. It's usually best to use a method that's convenient and widely used, such as PayPal or Venmo. The easier you make it for your buyers to pay you, the more successful transactions you'll have.
Real-Life Example
One example of a Discord server devoted to buying and selling is Freelance Marketplace. As of the writing of this article, it has 2,906 members. Freelancers post the services they offer, and buyers post the services they need. There are many themed channels to appeal to different types of freelancers, such as writing, developing, and designing.
2. Utilize the Power of a Donation/Tip Jar
There are a variety of different platforms you can use to accept donations in your Discord server. You can set up accounts on donation platforms like Ko-Fi or Buy Me a Coffee and send the donation link to your members.
3. Create Paid Channels in Your Discord Server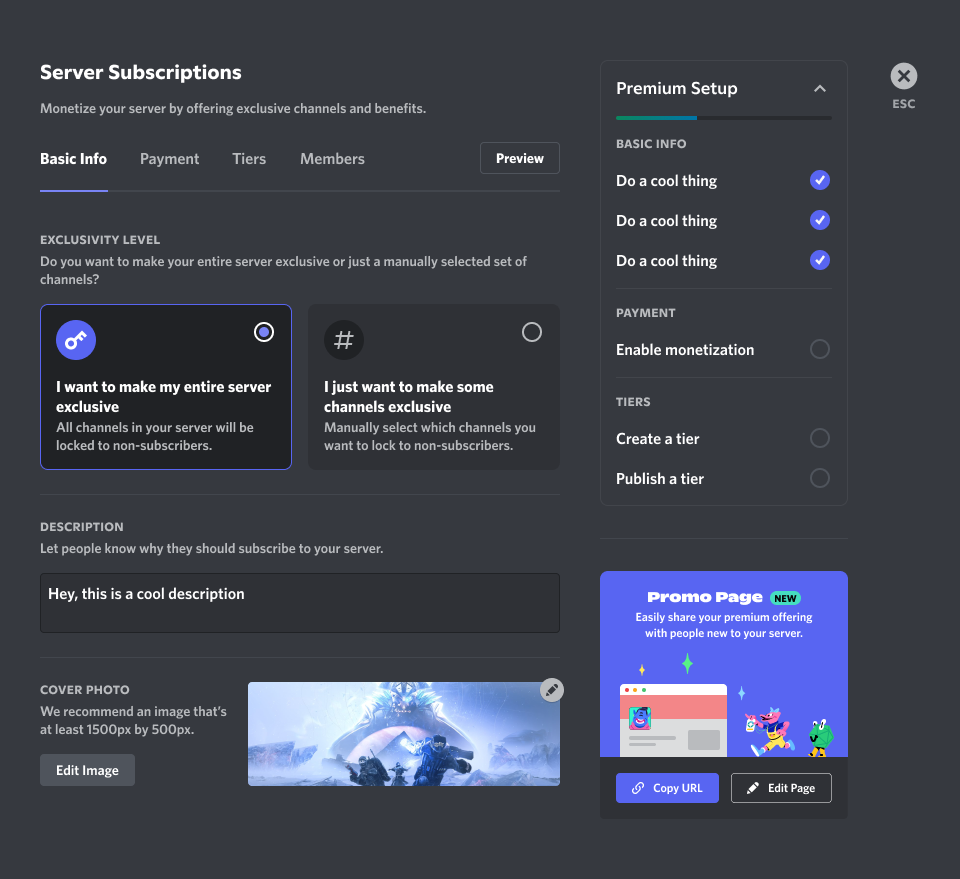 Discord allows you to set up monthly server memberships.
Not every server can set up server subscriptions. You'll need to meet the requirements listed in their support article. Also, Discord server subscriptions are currently only available for US users. It is unclear when they'll add eligibility for other countries.
If you're eligible, you can either set up subscriptions for the entire server or just for specific channels. For the purposes of this monetization method, we'll only be looking at channel-specific subscriptions.
You can set up the subscriptions to be tiered if you want, up to a maximum of 3. The price range for these is between $2.99 and $99.99, and you get to set the rewards that your subscribers receive. You can also choose how many channels you want to lock to free members.
4. Make your Server Available Only to Paying Members
While Discord does offer server subscriptions, they do have some limitations — particularly the location you have to live in. If you want some more features, LaunchPass may be a good option for you. Here's how to set up LaunchPass:
Create Your Server
Creating a Discord server is simple. All you need to do is log into your account (or sign up, if you haven't already) on desktop or mobile. On the left side of the screen, there will be a plus button. Click on the button to start setting up your Discord server. Here's a rundown of the set-up options in order:
Start from a template or create your own: Starting from a template will give you a few pre-set voice and text channels related to the one you chose. The gaming theme, for example, gives you two text channels (#general and #clips-and-highlights) and two voice channels (Lobby and Gaming). You can always rename or delete these later.
Choose whether you're creating the server for a small group of friends or a larger community: In this case, you would choose the larger community since you're gathering a community of paid members.
Set up a name and an icon: The name you choose can be changed later, and the icon is optional. The icon appears on the left side, above the plus button. If you don't choose an icon, it will show up as the server name's initials.
After that, you'll be taken to your server. Leave this page for now and navigate to the LaunchPass website.
Connect LaunchPass
On the LaunchPass home page, click "Connect Discord."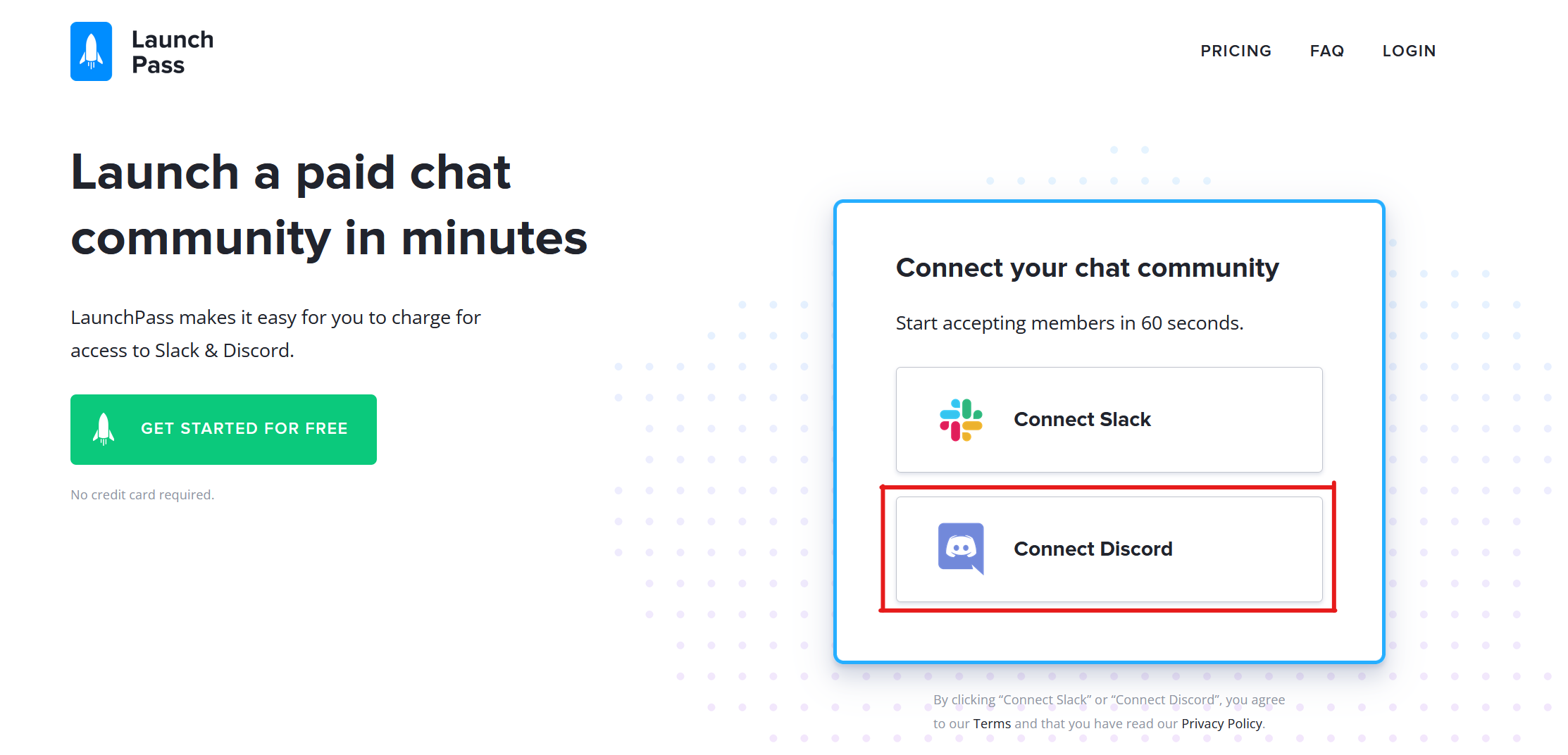 It will take you to Discord and ask if you want LaunchPass to access your Discord account. Above the "Continue" button, click the drop-down menu to choose the server you want to connect to LaunchPass. Then click "Continue."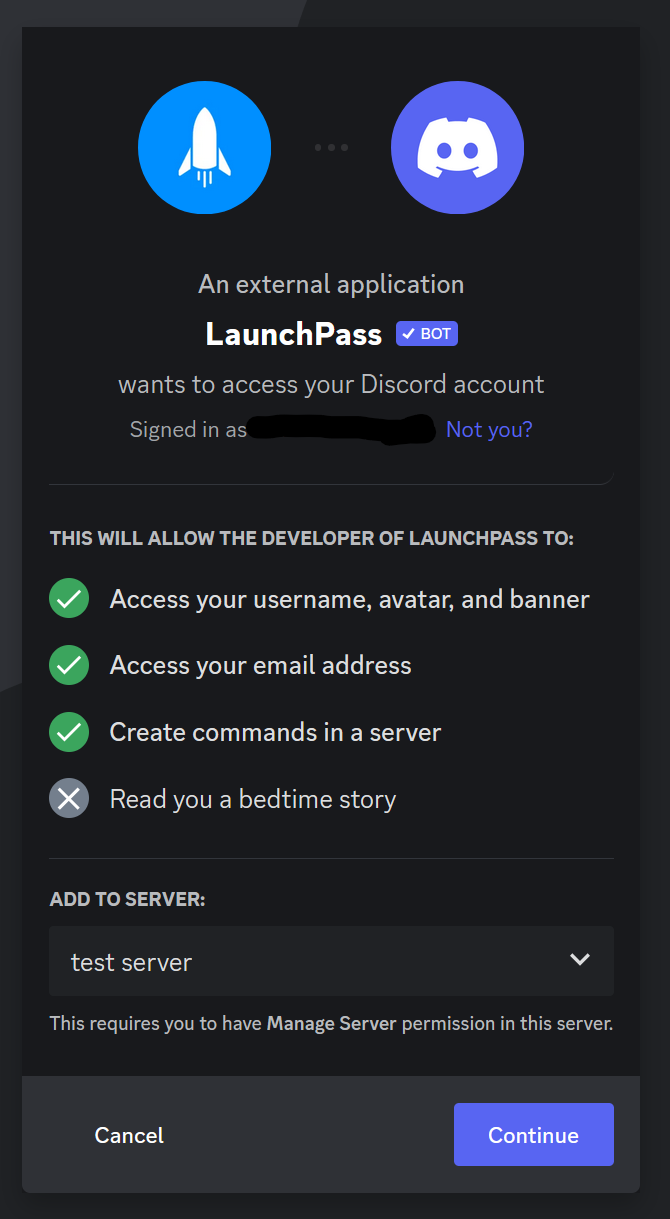 You'll need to confirm whether you want to give them admin permissions using the tickbox. Click "Continue" again, and you'll need to confirm your information and a few other details. There will also be links to the Terms of Service and Privacy Policy. Once you're done on this page, click the "Ready for Lift Off!" button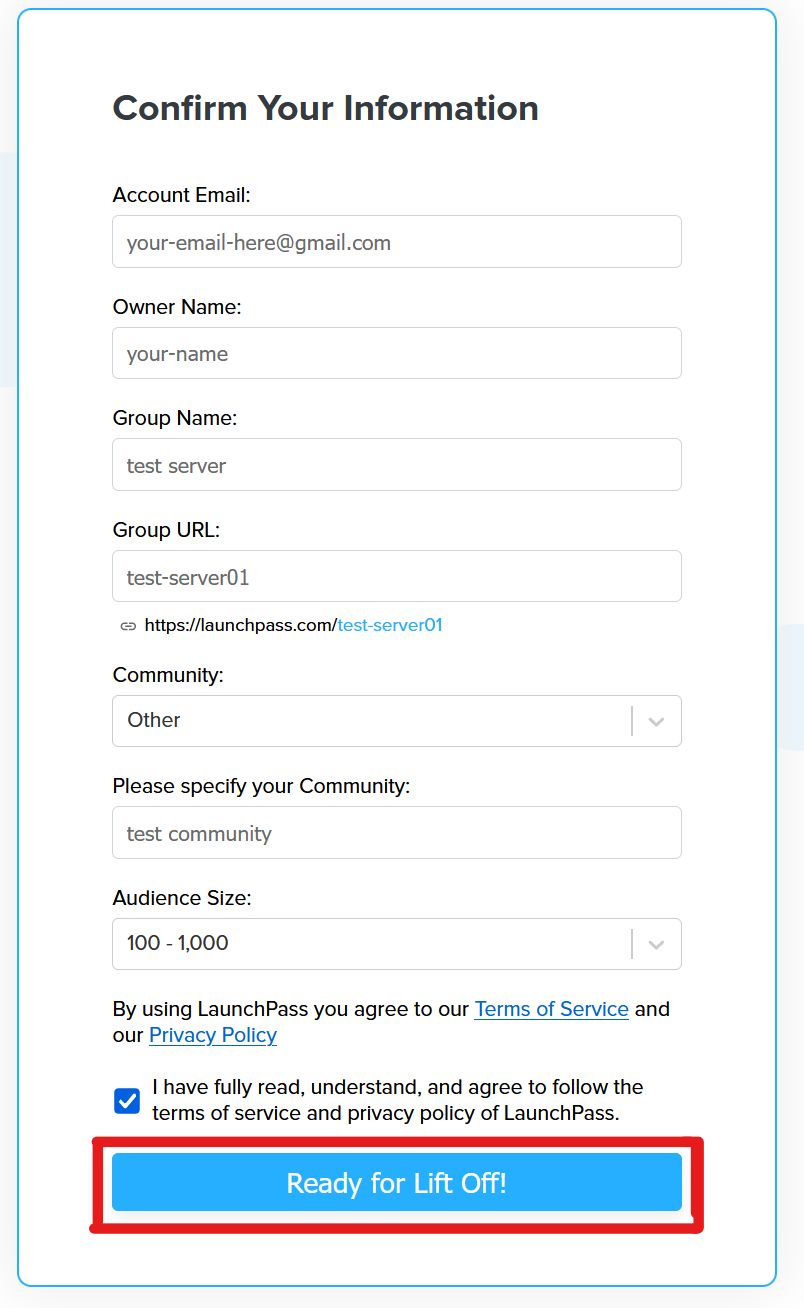 On the next page, you can choose whether to make it a free or paid access server. Click the "Paid Access" option.
You'll then need to set up your sign-up page. You can set the business name, the offer name, and the URL at the top. You can also choose to create a new welcome channel by typing in a name, or you can use the dropdown menu to use an existing channel. If you're creating a new channel, it will say "New channel:" before the name. You can also set up roles to assign to subscribers. If you haven't set up any roles, it will create a new role if you type something in.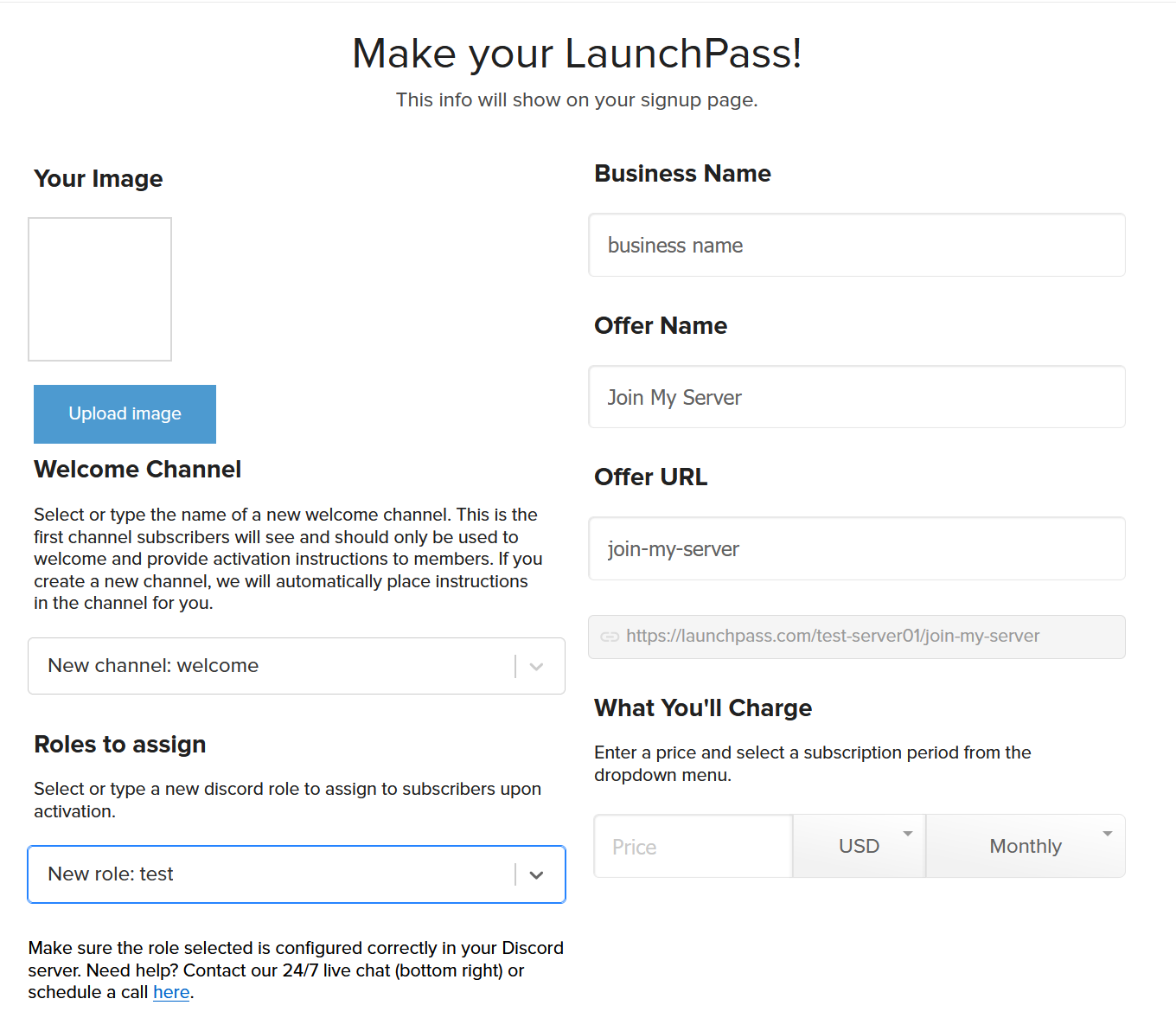 To the right of this, you can set how much you'll be charging and how often to charge. If you choose "One-Time," it won't be a subscription. Your subscribers will simply pay the fee and have access. All of the other options set up a subscription. If you choose a monthly subscription you can optionally set up an annual price for it, and vice versa for annual subscriptions. You can also set a free trial period for subscriptions if you choose to do so.

Below this, you can add extra information through an optional video and the description. At the very bottom, there is a set of premium features. These options are grayed out unless you've already paid for the LaunchPass Professional plan.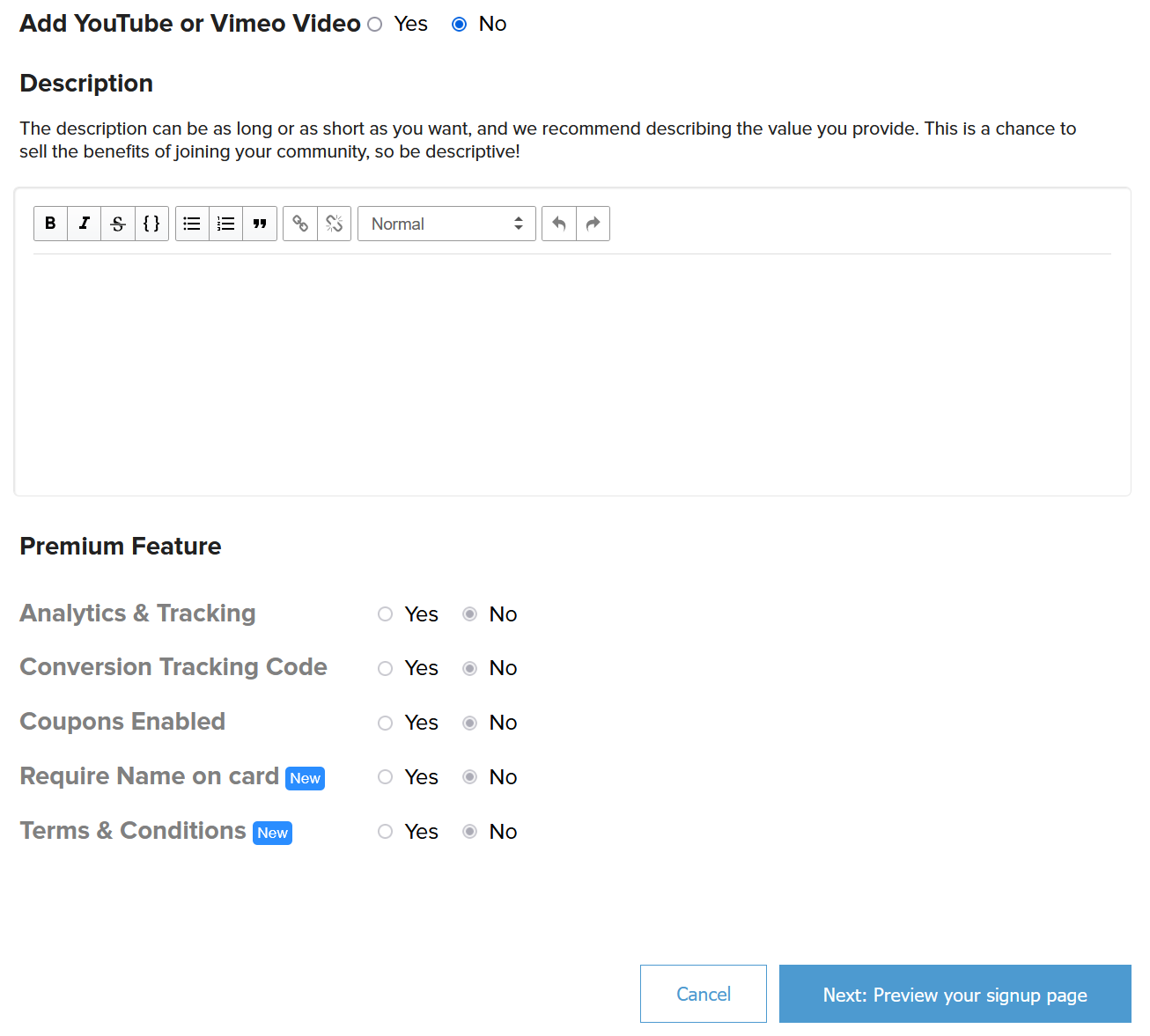 Click "Next" to preview your landing page. Here, you can edit the background, button, and text colors. You can also go back to the previous screen if you want to change any of the details you specified before, like the description. If everything looks good, click "Publish."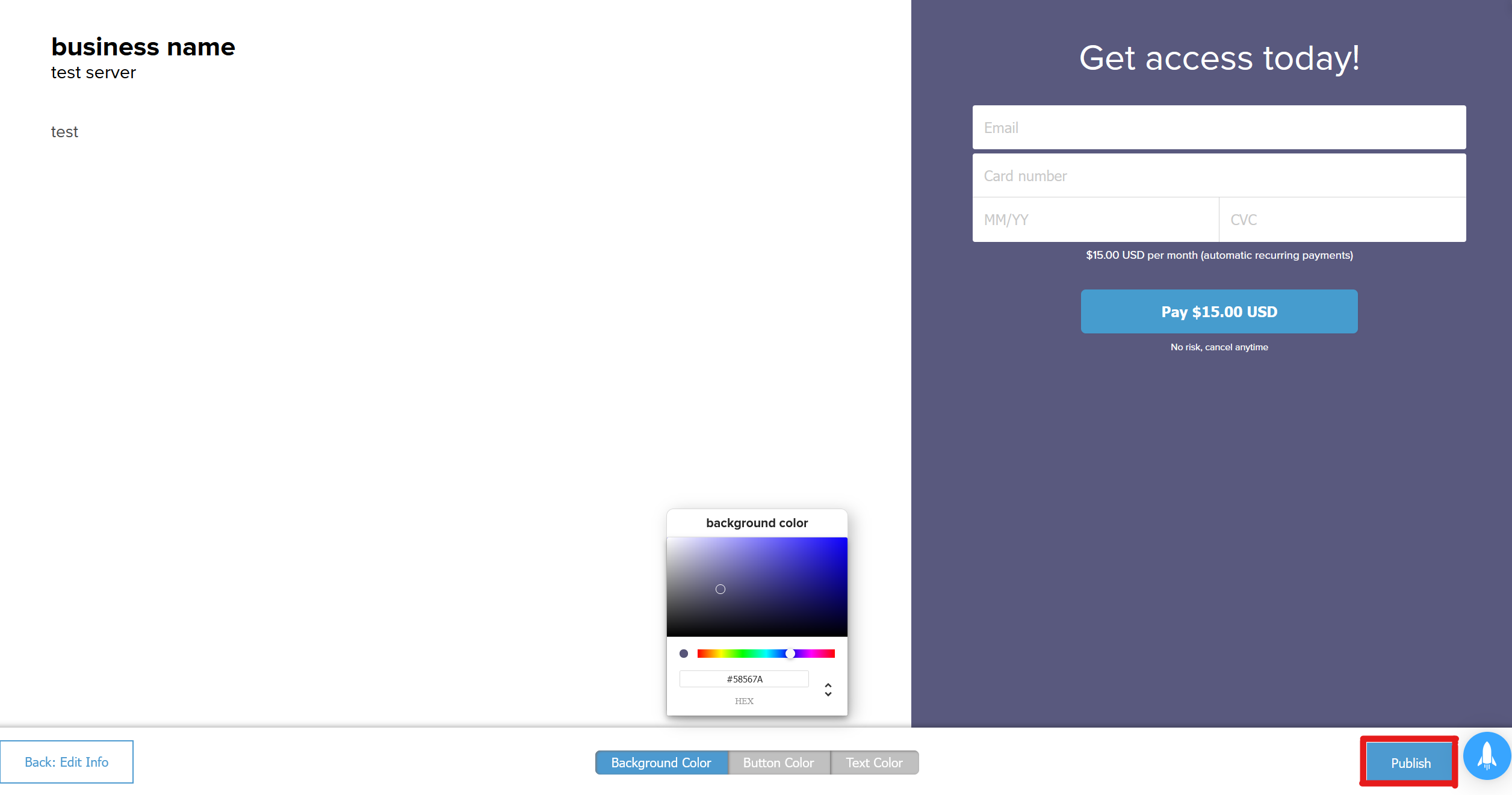 LaunchPass will give you a link to your page and prompt you to share it. Click the X button.
Begin the LaunchPass Trial
You need the LaunchPass Professional plan to start accepting payments, but there is a 14-day free trial. To start the trial, click on the red banner that says, "Link your bank, and start your 14-day free trial to activate this page."

Click "Select Plan" on the Premium plan in the center. (This is the same as the Professional plan). Enter your information and click "Start Trial."
Receive Payments
Once your trial has been confirmed, click your browser's back button. Click the link in the upper left corner that says "Link your bank to get paid."

Click the blue button that says "Connect with Stripe." There will be a prompt on the screen to enter your email. If you already have a Stripe account using your email, you'll be prompted to log in. Otherwise, you'll have to create an account. Enter a password in the password box and click "Continue." Then you'll set up two-factor authentication using your phone, the Google Authenticator app, or a security key. After setting this up, you'll get an emergency backup code that you can copy or download. Keep this in a secure place, since you'll need it if you ever lose access to your password and second authentication method.
After this, click "Connect" to connect your account. Then you'll need to enter some information about you and your business, including linking your bank account.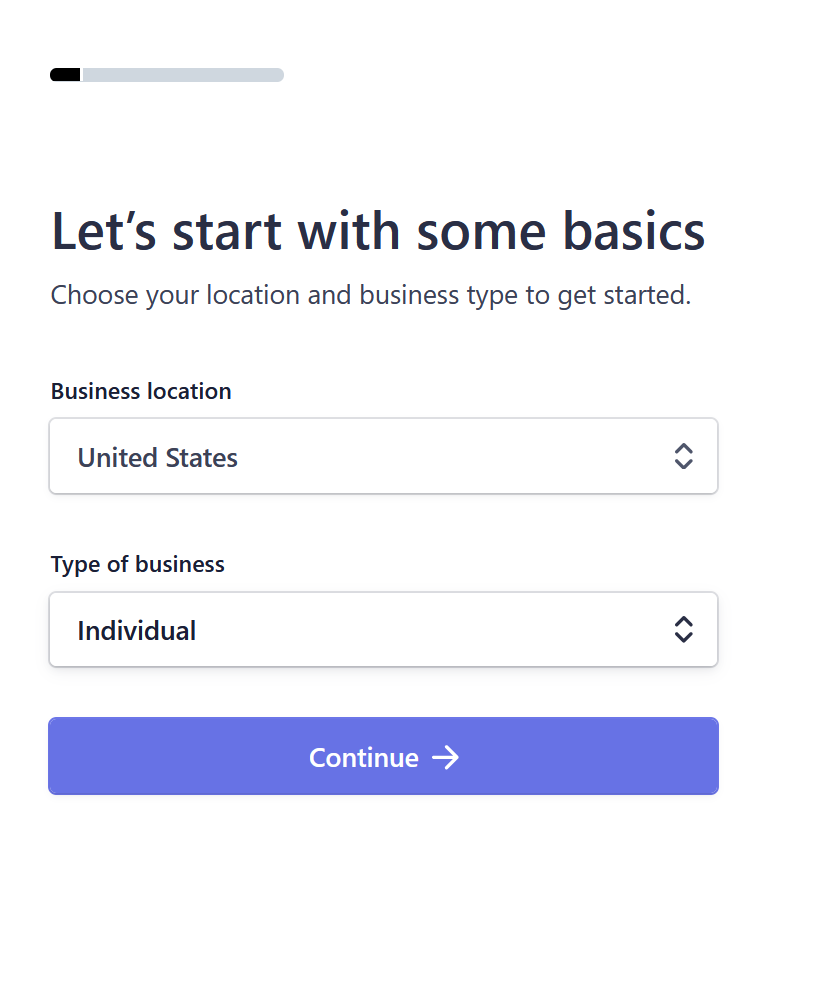 Once you're done, click "Agree and Submit" to finish connecting your Stripe account with LaunchPass.
5. Sponsorships
Sponsorships are a great way to make money in Discord. With a sponsorship, you just need to start working with a company. You'll agree to promote them in exchange for compensation.
Sponsorships are typically difficult to secure for smaller Discord servers. You may need to have a few thousand members before going after sponsorships since companies want to know they're getting their money's worth. Still, they can be incredibly lucrative, especially if you work with larger companies.
6. Offer Premium Features on Discord Only
If you run another free platform, such as a YouTube channel, you can use Discord as a place to offer valuable content like tutorial videos and advanced tips. If you're a content creator, you can also allow your members to particicipate, such as voting on the next video. This is a great way to sell your Discord community to your fans and entice them to pay for a premium membership or a subscription through LaunchPass.
7. Offer Consultation Services
Do you have expert knowledge in a specific area that you'd like to share with the world? You can show it off on your Discord server. One of the best ways to monetize consultation services on Discord is to use the server memberships feature to lock off specific channels. You could set up a channel exclusively for consultations, where your community members ask you questions and you answer them. You could also promote your off-Discord services through links.
8. Advertise Other Servers on Your Own
If you have a large, active community built up, you can offer advertising services to help out other discord server owners. The easiest way to do this is to find out if any of your Discord members have servers. You can also seek out smaller servers outside of your own on platforms like Disboard.
9. Link your Patreon Page in Discord to Promote Unique, Paid Content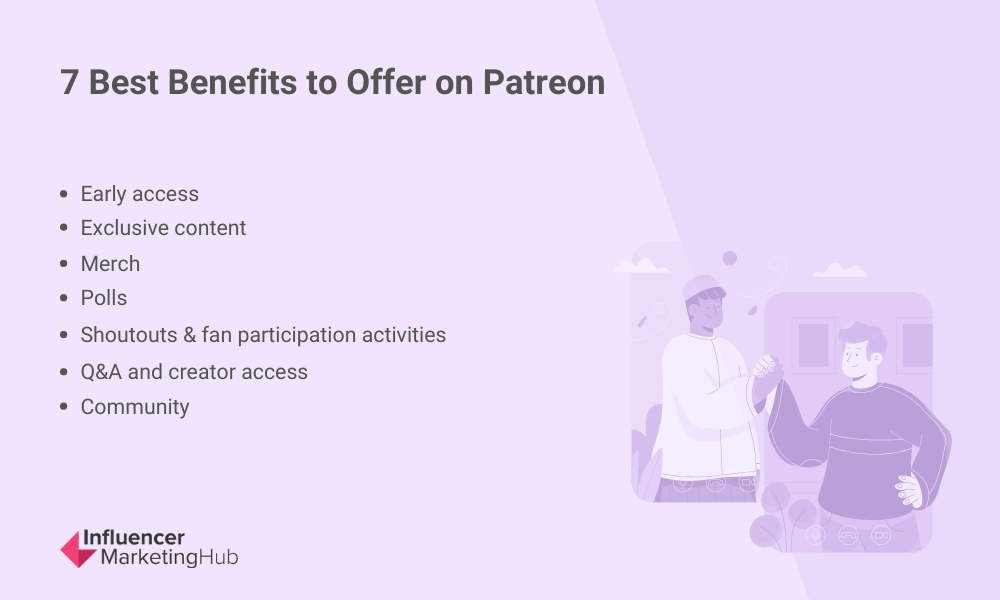 Patreon is a go-to platform for creators to monetize exclusive content through paid subscriptions. There are many types of rewards you can give your patrons, from free merch to shoutouts to one-on-one calls with you. It's a great way to give your most enthusiastic Discord members unique experiences. All you need to do is set up a Patreon account, then link to your Patreon page in your server.
10. Use Discord Nitro

Discord Nitro isn't a direct way to earn money, but it can lead to greater profits with all the additional features and community engagement benefits you get from it. Nitro subscriptions allow you to stream in HD, upload larger files, send longer messages, have unique backgrounds, and more.
You can also unlock more entertainment opportunities through activities, which others can join whether they have Discord Nitro or not. These activities include classic games like checkers, chess, and poker, as well as some unique games like Letter League, SketchHeads, SpellCast, and more. All of these can make your Discord server more lively, leading to better member retention.
11. Be an Affiliate and Promote Your Links in Discord
Affiliate marketing is a great way to earn passive income. All you need to do is become affiliate partners with a company, then you can promote your links in your Discord server.
If you decide to go this route, make sure to provide a clear affiliate disclaimer saying that you'll earn a commission from purchases at no extra cost to them. This is not just to follow your own region's laws, but also laws that apply internationally. The Federal Trade Commission, for example, stated that "If posting from abroad, U.S. law applies if it's reasonably foreseeable that the post will affect U.S. consumers.
It's also a good idea to post an affiliate link that is relevant to your server in some way — that way, your server members will be enticed to click on it. If you run a gaming server, for example, you could promote an up-and-coming Steam game that you think your audience will like.
Selling Game Keys and In-Game (In-App) Purchases
Some game companies and mobile app developers have affiliate programs. These are typically pretty rare, however. The best luck you'll have is with online retailers that sell games and DLC. One that does both is Amazon. The Amazon affiliate program allows you to earn commissions on games they developed (Amazon Games) as well as digital and physical video games sold on there. Here is a quick rundown of the commission rates:
Amazon Games: 20%
Digital Video Games: 2%
Physical Video Games: 1%
These rates may be subject to change, so make sure to check Amazon's website before signing up.
Other game retailers with affiliate programs include GameStop, Green Man Gaming, Best Buy, Walmart, and more.
Promoting VPNs
If you've been on YouTube recently, you've probably heard of a VPN or two. VPNs, or virtual private networks, can encrypt data and mask your IP address. This leads to greater security, especially on public Wi-Fi networks. Most of the major VPN companies such as NordVPN, ExpressVPN, and Surfshark all have affiliate programs you can join.
Promoting Paid WordPress Themes and Plugins
Starting a WordPress site is free, but there are certain themes and plug-ins people may want to pay for to take their site to the next level. Websites that sell WordPress themes such as WPZoom, aThemes, Elegant Themes, Artisan Themes, all offer affiliate programs. Plugin sellers do as well, such as WPForms, MonsterInsights, AIOSEO, and OptinMonster.
12. Employ Bots for Tipping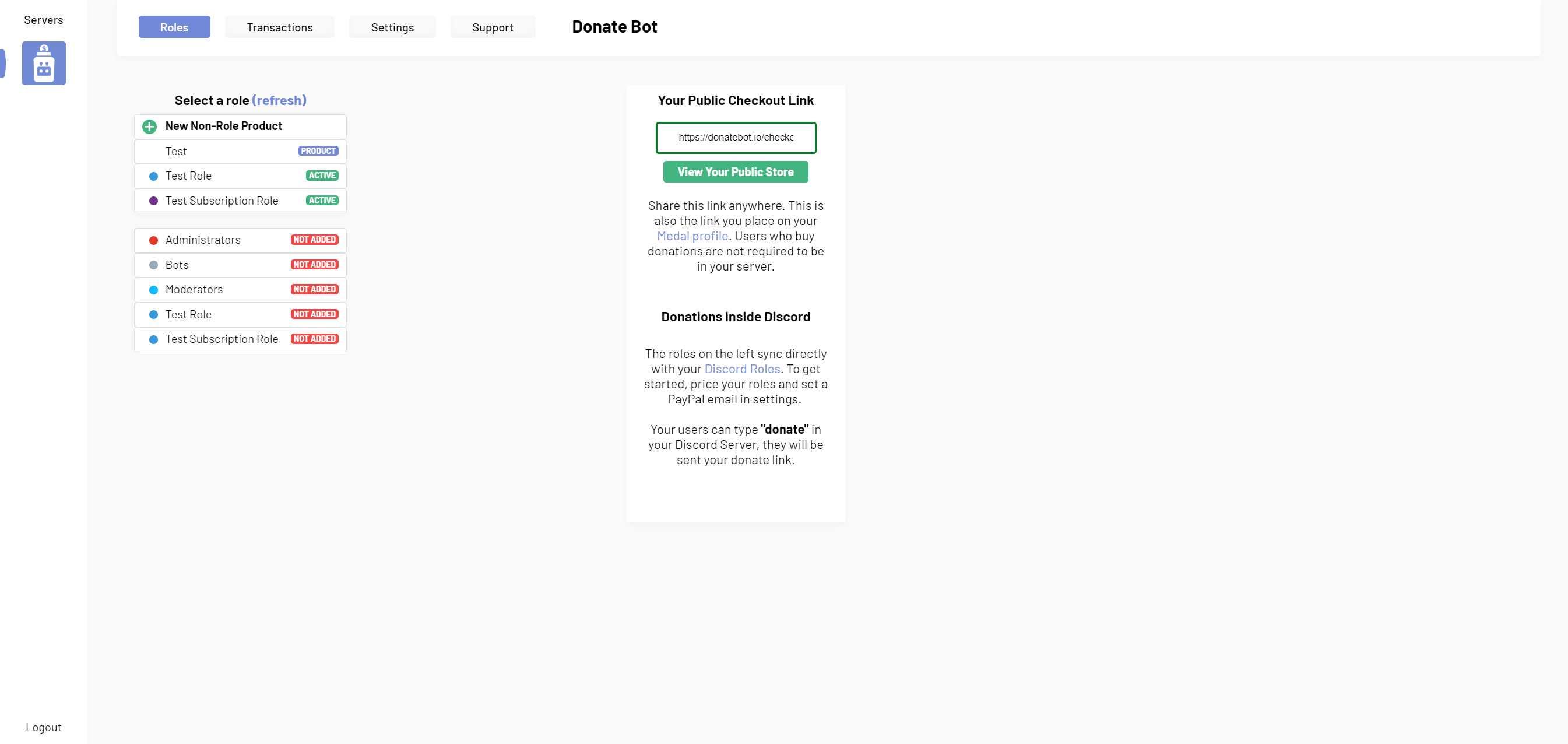 Besides the donation methods I mentioned before, you can use Donate Bot. Donate Bot integrates directly into your server and allows your members to pay you as a subscription or as a one-time payment. It connects to a PayPal account to send you the money. You can offer special roles in exchange for donations, both as a thank you and an incentive to donate.
13. Create and Sell Servers
Selling a server, as in passing ownership to someone else, goes against Discord's Community Guidelines. These state, "Do not abuse Discord products in any way, such as selling or purchasing an account or server, or participating in fraudulent Nitro incentives or Boosting activities."
But you can create multiple servers and sell (market) them. If you have a set of related servers, you can cross-promote them to gain a larger audience in each one. If you use one of the other monetization methods on this list, such as LaunchPass, you'll give more attention to them and hopefully make more money.
What is Discord?
Discord is a popular video, voice, and text chat application hosting hundreds of servers. These servers cover many different genres, but all of them involve a community with a shared interest in something, whether it's studying or playing video games. Servers range in size, from a small group of friends to thousands of members from across the world.
How Does Discord Work?
Discord is relatively simple to use. All you need to do is sign up for a free account and join a server. Some servers are invite-only, while other servers are free for everyone. And as we covered before, some servers are locked behind a paywall and require a subscription to join.
Once you join a server, you just need to read the rules, and you can start chatting with others through channels. There are two types of channels, text, and voice. On voice channels, video chatting is optional, depending on whether your camera is on. Discord also allows for DMs (direct messages) with other members of the server.
Why Discord?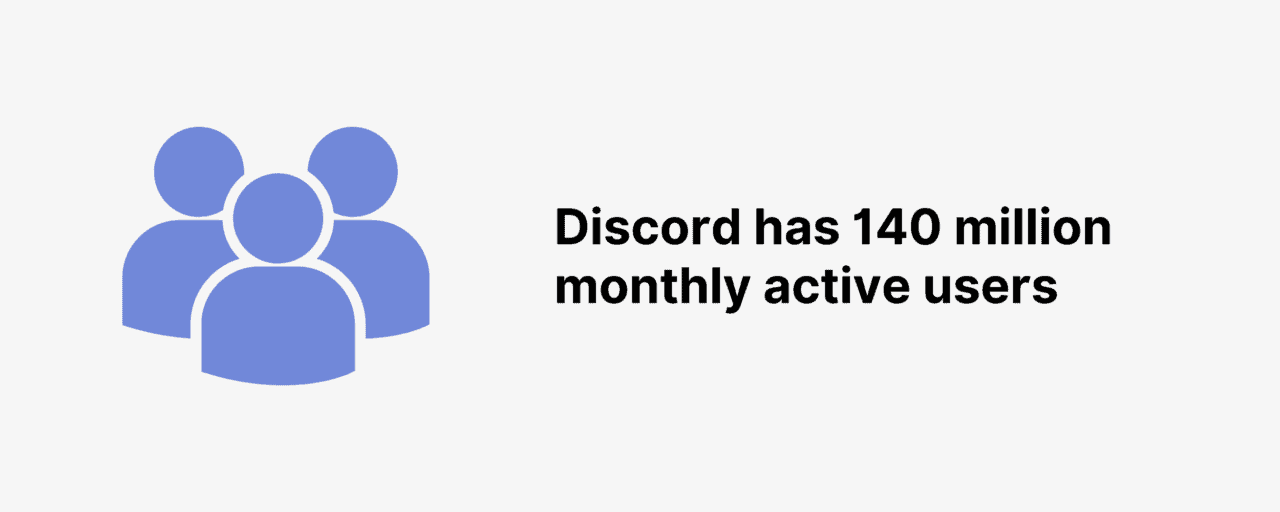 Discord has grown in popularity over the years. As of 2021, it has amassed over 140 million monthly active users. The most popular servers on the platform are part of the gaming community, with servers such as Among Us and Roblox reaching the top 10. Many YouTuber-centric Discord servers have gained traction on the platform, with the first and third most popular servers (respectively) being MrBeast Gaming and Mythapt.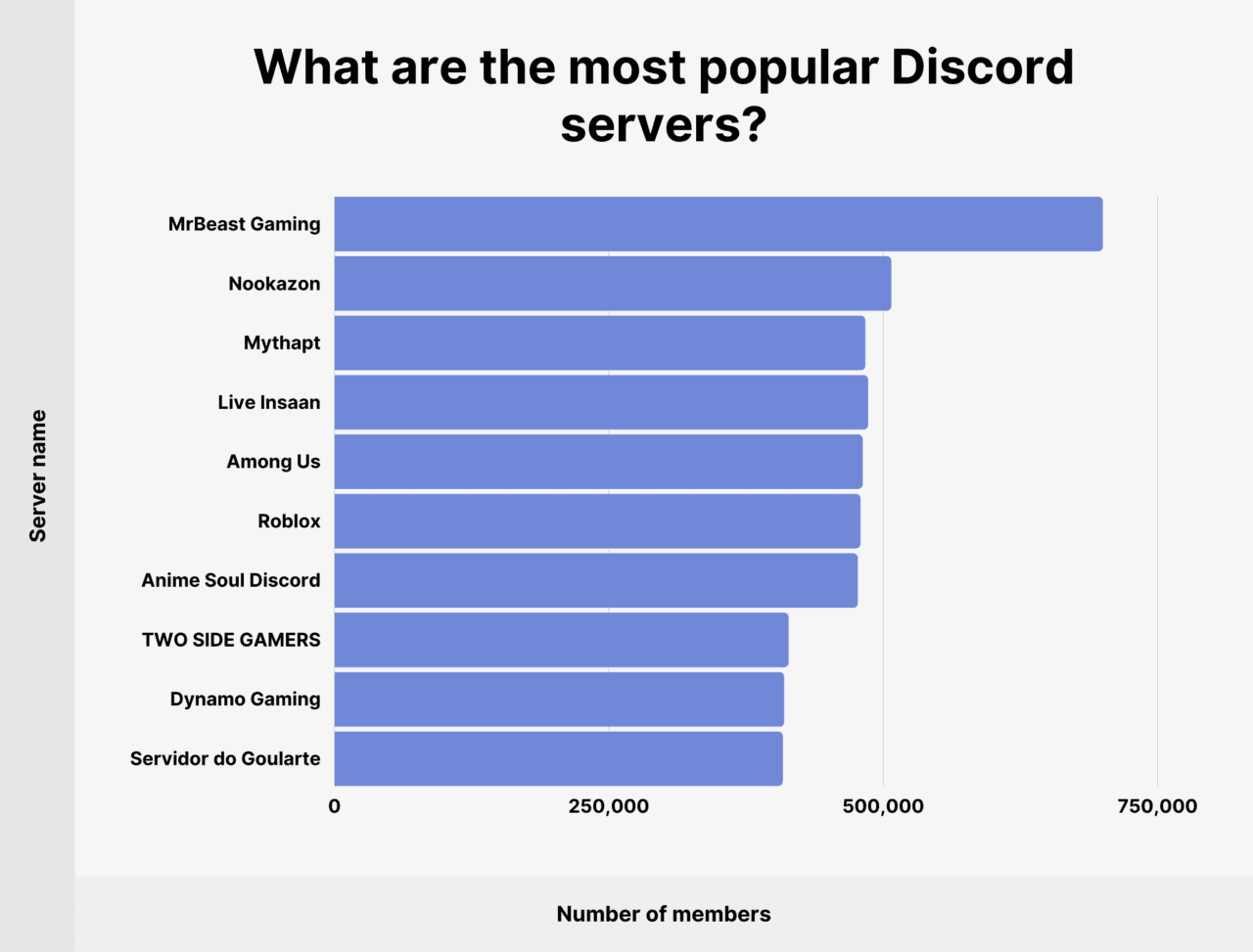 Discord lets anyone 13 and up join, but the largest share of the audience is young. A Statista survey showed that of three age brackets (18-29, 30-39, and 40-49) the highest percentage of users were from the youngest group. If you're looking to appeal to Gen Z and millennial audiences, Discord may be the right place for you.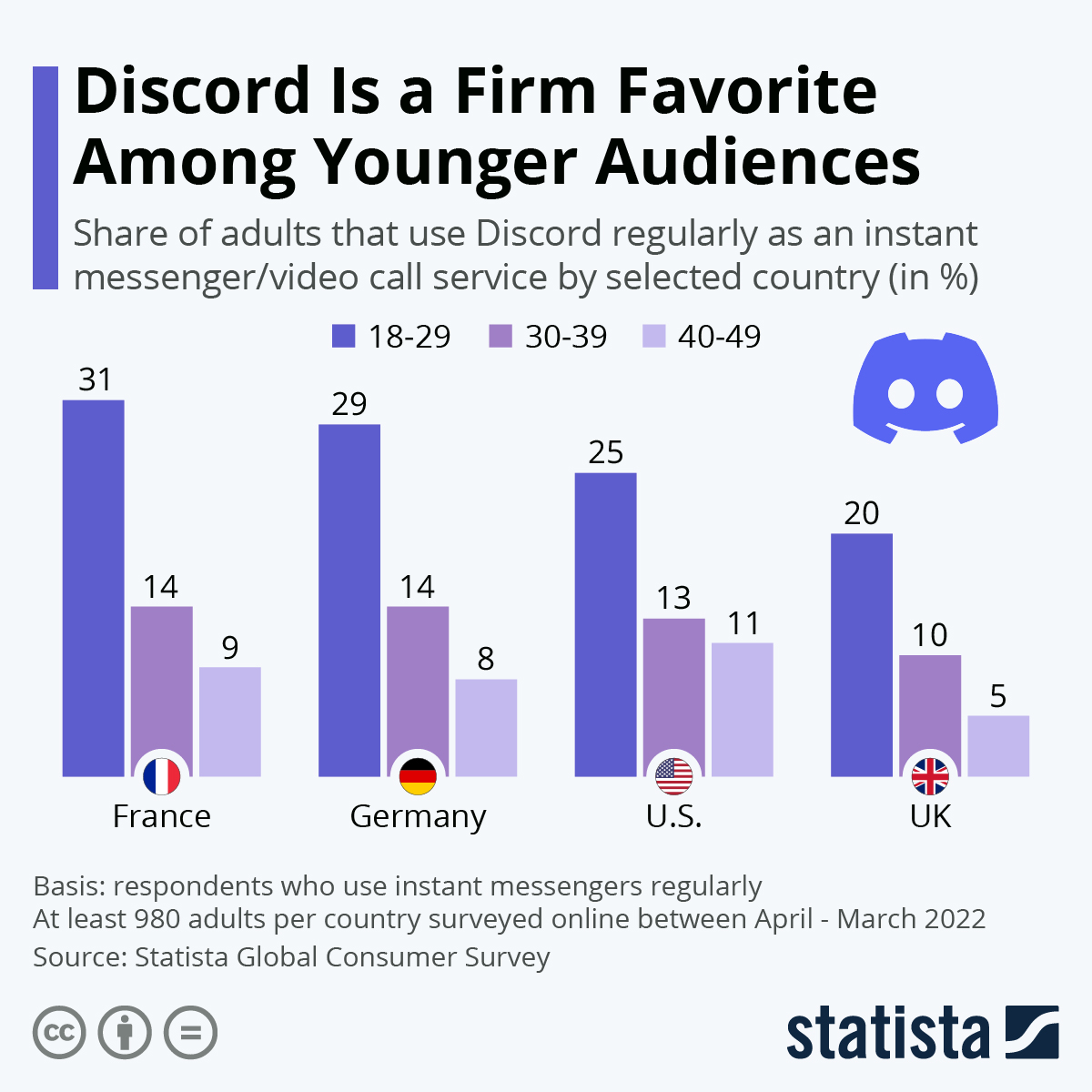 There are also dozens of revenue streams if you're a Discord server owner. I hope these tips and strategies help you to build a profitable, thriving community.