Bright Data was founded in 2014 and was formerly known as Luminati Networks. The software has a wide variety of applications but is most widely used by businesses that are looking to grow with valuable, data-informed insights.
In this Bright Data review, I'll take an in-depth look at this proxy network and analyze all the important things to know about it.
Ron's Thoughts
Proxy networks come in all shapes and sizes but they need to be powerful in order to be effective. Bright Data is one such proxy network. It comes with numerous different solutions, whether on a pay-as-you-go basis or a subscription-based one. It can also be used in a wide range of industries due to highly actionable data, ethical data collection, and hundreds of 3rd party integrations. If you're looking for an affordable, efficient proxy network, Bright Data is the best choice.
Biggest Pro:

Highly Actionable Data

Biggest Con:

Lack of Dedicated Support Options

Annual Discount:

Yes - Up to 10% Off

Price:

Starts at $15/GB

Promotion:
Is Bright Data Worth It?
According to a 2021 Allied Market Research report, "the global big data and business analytics market size was valued at $198.08 billion in 2020, and is projected to reach $684.12 billion by 2030." Businesses highly value data as a means of staying competitive, keeping track of customer journeys, analyzing trends, and forecasting sales.
Of course, in order to be useful, data must be current and accurate, which is only possible with the right tools. That's where Bright Data comes in.
For example, if they're using the data to gather competitive intelligence, they may realize that their prices are too high or that they're missing out on a significant marketing opportunity. They then have the opportunity to adapt quickly and keep up with the times, increasing customer satisfaction overall.
On the topic of data collection, this can be a time-consuming process. Companies that don't use Bright Data may develop their own tool to scrape the web, but this takes time and requires a lengthy debugging process to get right. If there are any issues with the code, it may cause the program to fetch results that they didn't ask for, leading to incorrect conclusions.
Bright Data does have solutions for developers, but nothing they offer forces you to start from scratch. They have code templates and functions you can start using right away. Or, if you're really pressed for time, you can even get the company to collect the data you need for you, which will update on a set schedule.
Who is Bright Data Good For?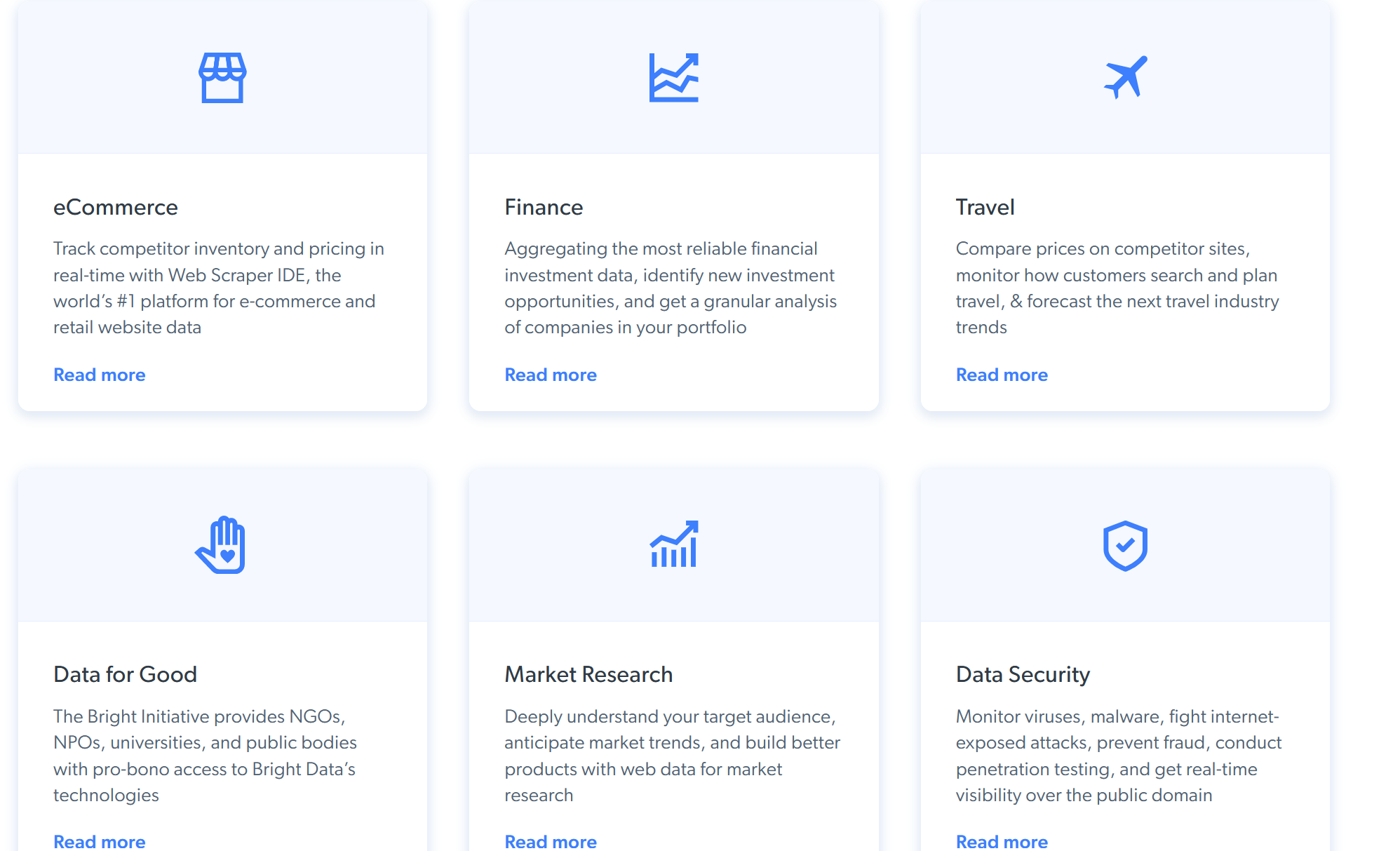 It's time to go a bit more in-depth at this point of my Bright Data review.
Bright Data is practical for an unprecedented amount of use cases. Here are just a few specific groups that may benefit from using it:
Investors: Investors are always looking for the next opportunity. Rather than needing to spend hours and hours of research trying to find them, Bright Data can find investment opportunities for you. It can also analyze current market conditions so you can see how risky the current market is and analyze trends.
Insurance companies: Using social media data, insurance companies can determine how risky certain customers are and detect potential fraud. They can also collect data on competitors from the web so they can see how their prices and policy terms compare. Given this data, they can stay competitive.
Real estate salespeople: The real estate market is always changing, so having a data collection tool to help you out is vital if you're in this industry. You can analyze market trends and check the current market conditions to get an edge over competitors. You can also compare prices and predict future sales.
Social media marketers: Social media marketing is all about staying relevant in an ever-changing internet culture. With Bright Data, you can stay ahead of trends. You can also find specific users, like if you're looking for people who engage with your content the most or popular influencers that may work well for influencer marketing campaigns. You can also analyze ad performance to see how your customers respond to them.
Travel companies: With Bright Data, travel companies can get real-time insights on competitors, which can help with pricing strategies and social media marketing campaigns. They can also pay closer attention to customers to identify currently trending travel spots and forecast future ones.
Bright Data Functionality
1. Web Scraping IDE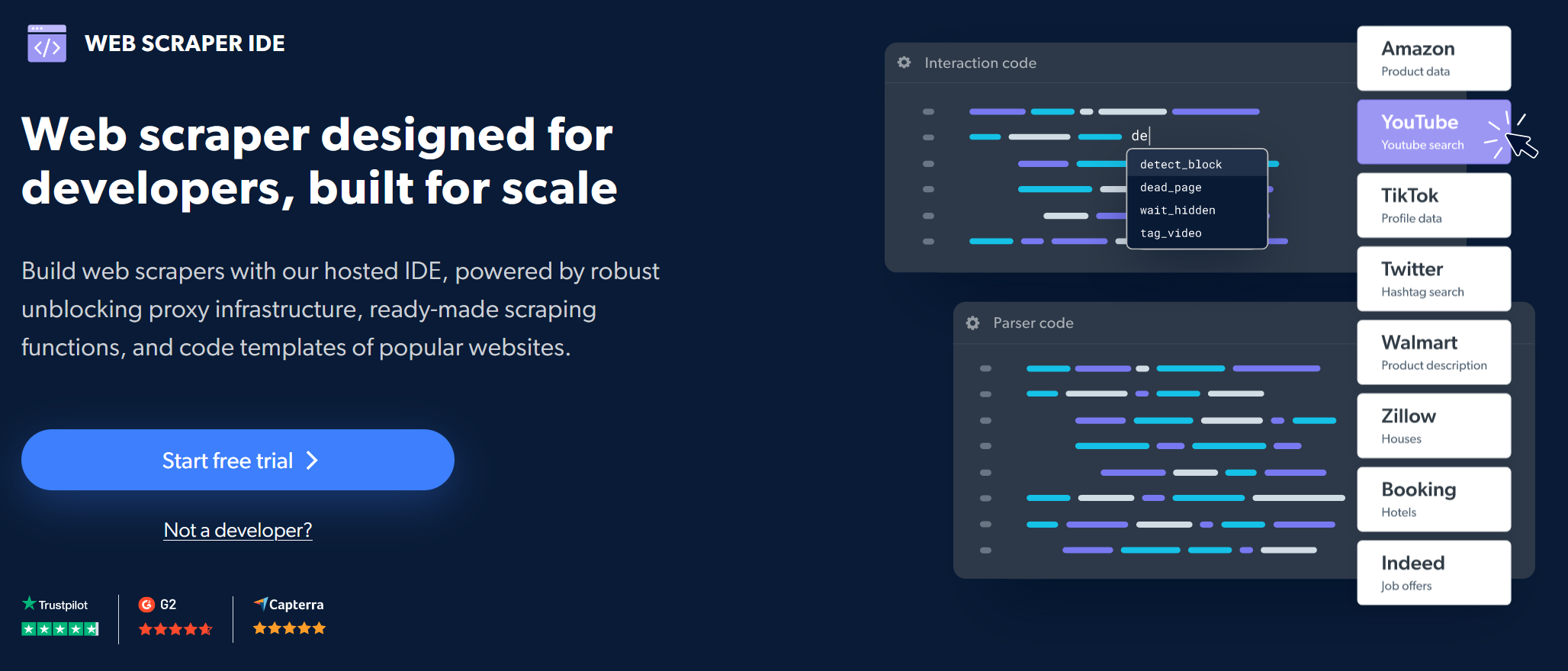 Bright Data allows developers to build their own web scrapers using their hosted integrated development environment (IDE). Using Bright Data's unblocking infrastructure, you can scrape the web without dealing with captchas, website blocks, and other restrictions you may face when collecting data.
They also have many features designed to make developers' jobs easier. Two of these features include code templates and premade JavaScript functions that can help cut down development time. Debugging is also significantly easier on Bright Data's web scraping IDE. With the live preview, you can debug errors as you code. There are also built-in debugging tools so you can identify and fix any issues with your web scraper.
2. Bright Insights
Bright Insights is a solution designed specifically for eCommerce companies. With Bright Insights, you can gather large amounts of data quickly and easily with the power of AI. For example, you can calculate your market share, which Bright Insights does by scraping product data from major eCommerce platforms, and finding all the data relevant to said products. Once the data is put together, it will return your market share for specific product categories.
You can also use Bright Insights to gather competitive intelligence by comparing their data with your own, allowing you to adjust your sales strategy accordingly. You can also see the market conditions in general, such as how competitive a product category is right now to see if you should target that category.
Bright Insights has many other features as well, including:
Compiling monthly reports that show how your business is doing
Comparing pricing against competitors
Discover new products you should be selling to stay competitive
Get real-time alerts on competitor products that are similar to yours
Get notifications when a product is de-listed or de-ranked
Find products of yours that people are talking about most
Compare marketing strategies with competitors
And more
Overall, Bright Insights is incredibly valuable for any eCommerce company looking for ways to grow and improve. With its marketing, sales, product, and competition data, you'll have all the information needed to create growth strategies.
3. Residential Proxies
Residential proxy networks allow you to use one of Bright Data's 72+ million IP addresses. Many websites have location-based blocks that require you to be in a specific country. Using these IP addresses, you can avoid this block by acting as a user from said country. For example, if you're trying to access websites in Germany, you could use one of their 1,003,263 German IPs to access the sites with ease. Below is a breakdown of IP addresses from their most popular locations: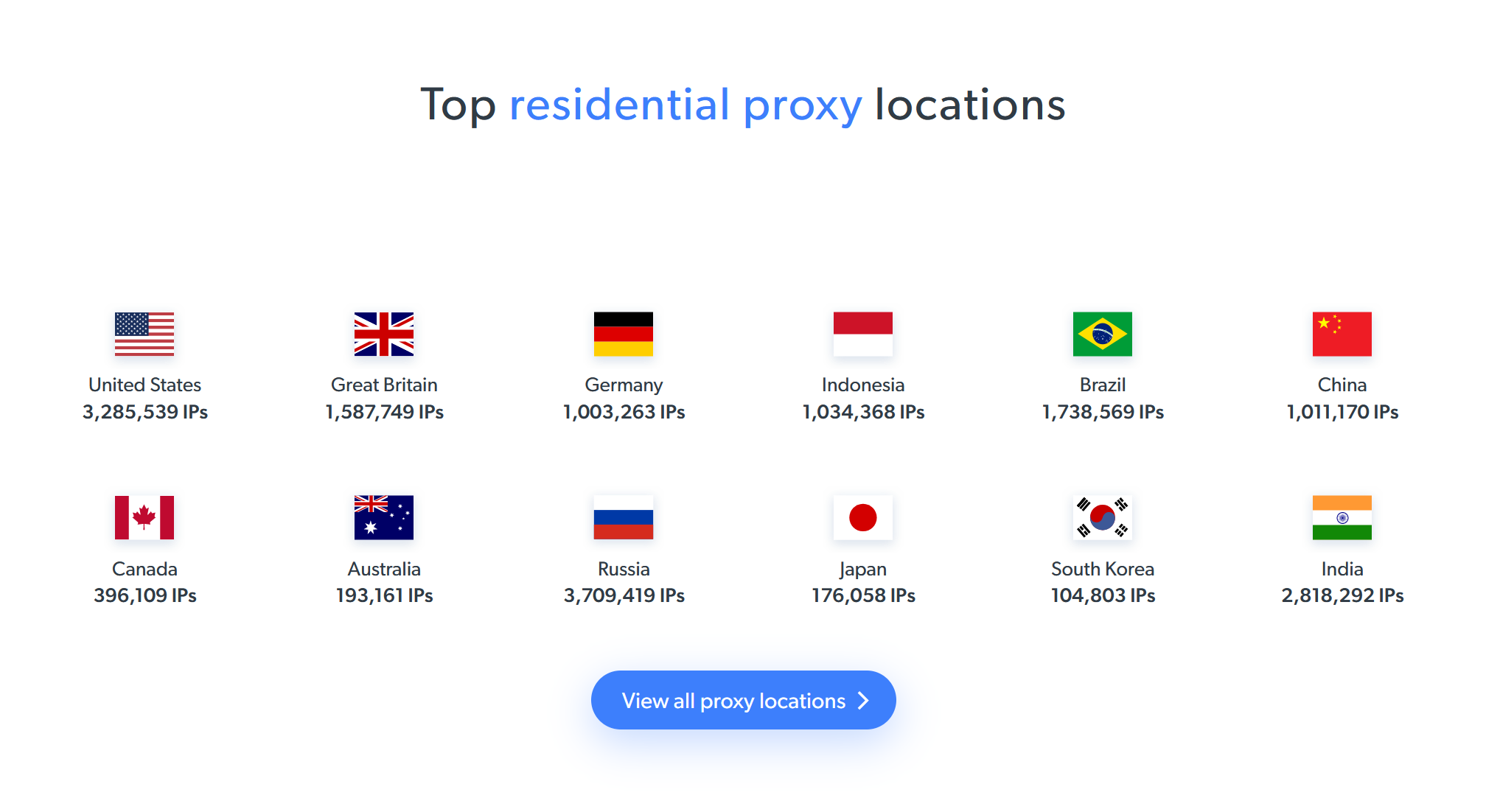 Bright Data's proxies boast a 99.9% success rate, so chances are you'll be able to avoid blocks and get the data you need.
4. ISP Proxies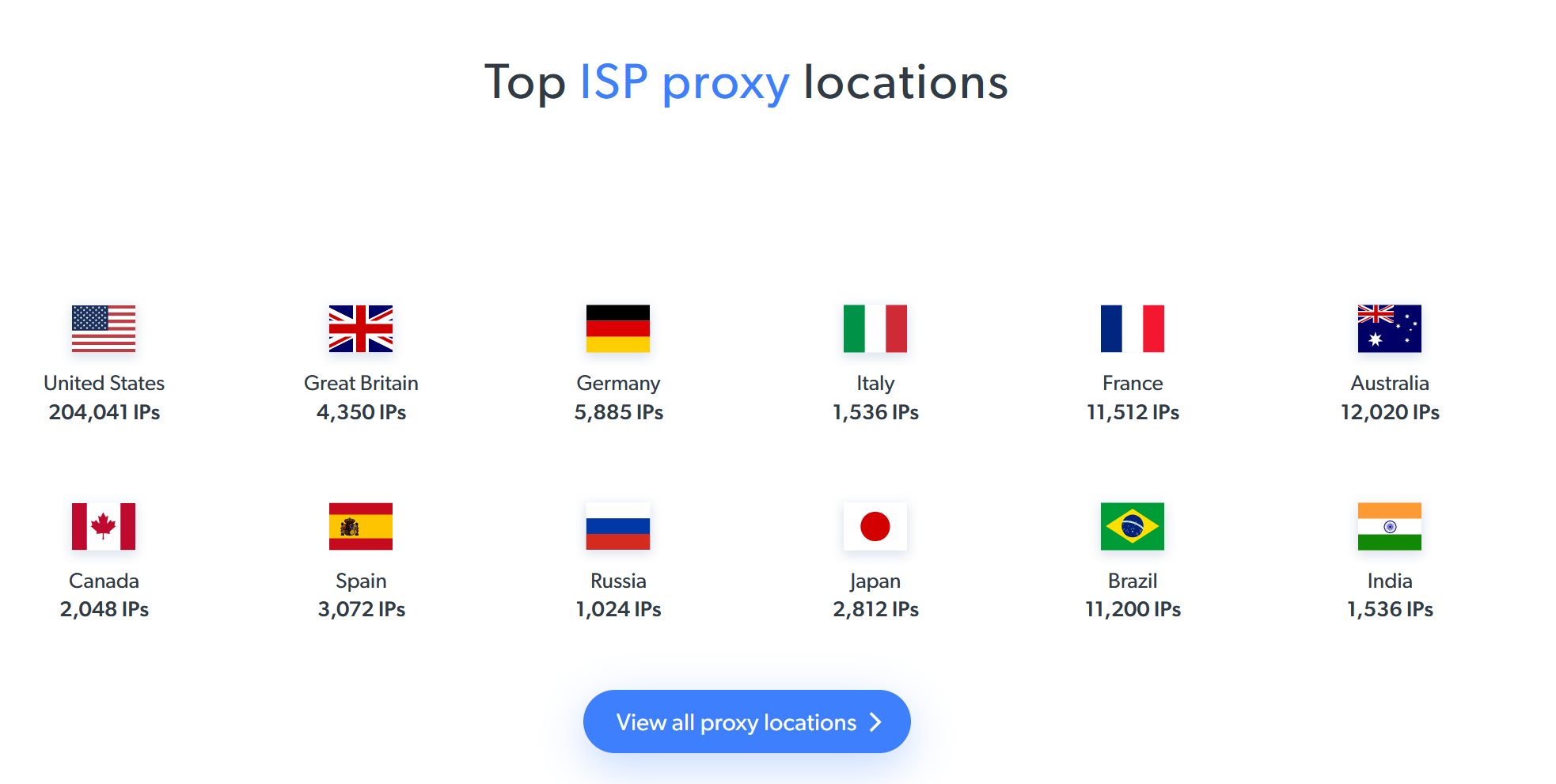 Bright Data has a network of over 700,000 ISP proxies. ISP proxies are similar to residential proxies, but instead of using them temporarily, you get to keep the ISP proxies you pay for. They are specifically designed for commercial use, but they allow you to act as though you're a user from a specific country.
5. Mobile Proxies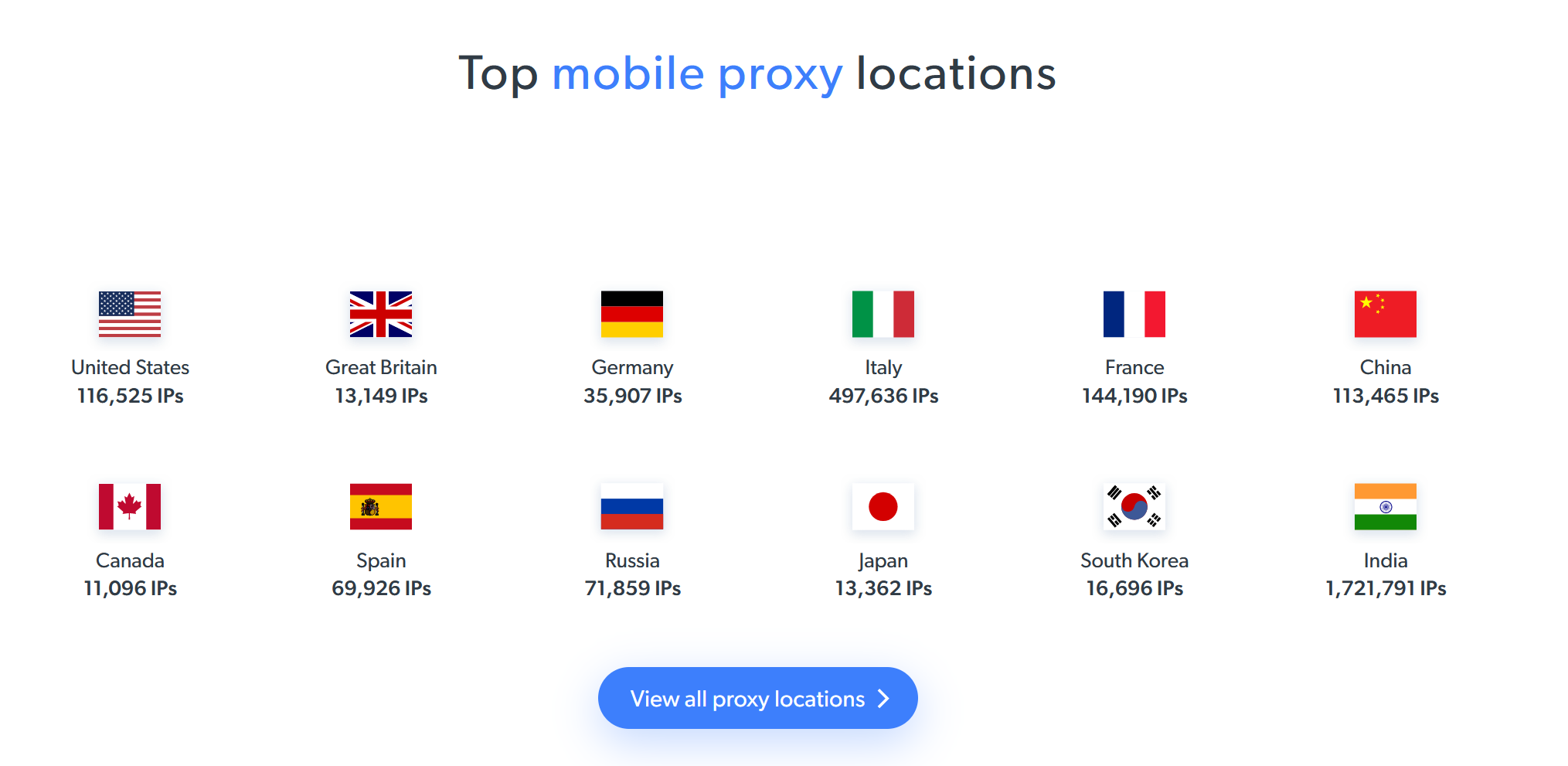 Bright Data has mobile proxies as well. These allow you to act as a mobile user, which is useful if you're trying to test your business's mobile app to make sure it offers a good user experience.
6. Datacenter Proxies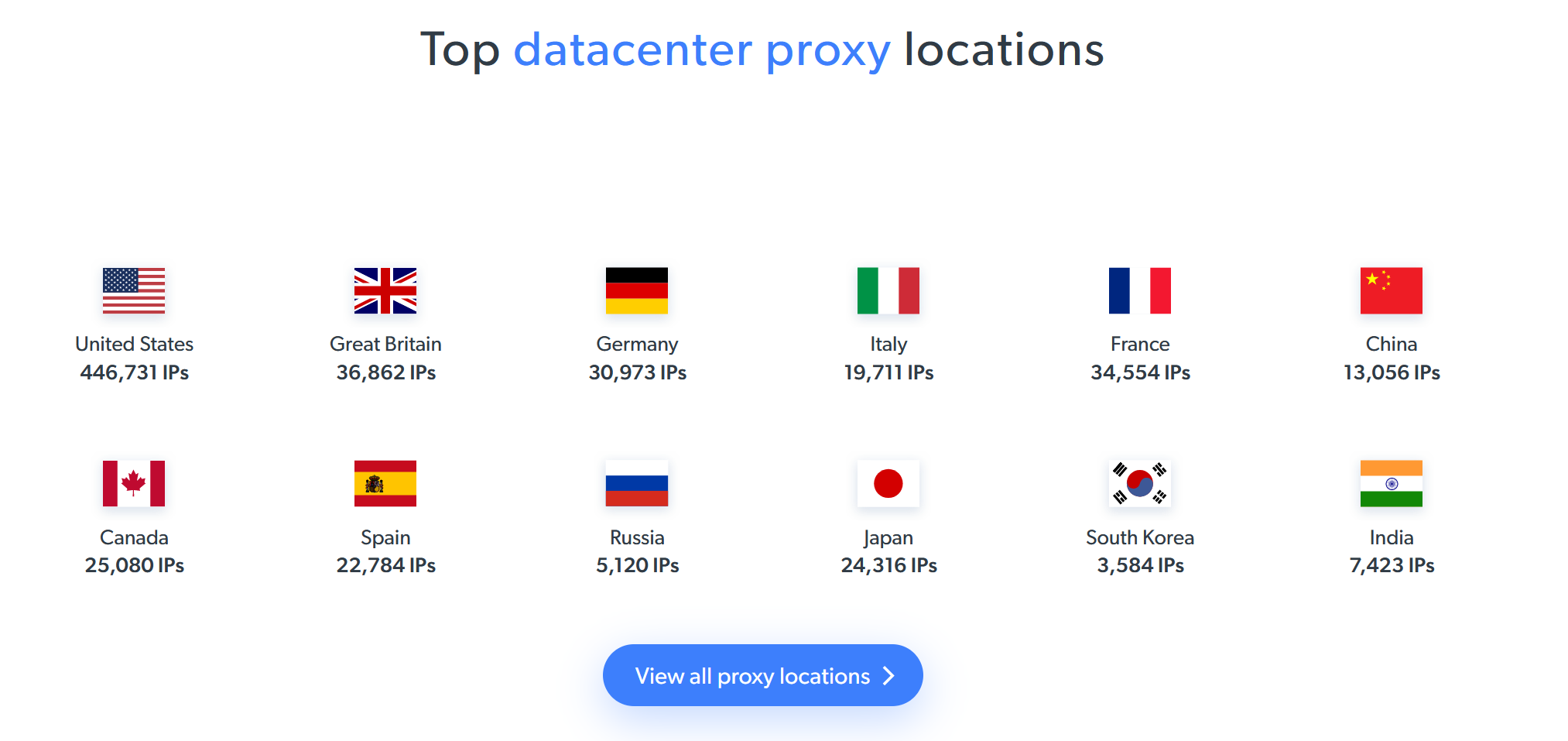 Datacenter proxies are IP addresses that are assigned to a server. These are the fastest type of proxy network and allow you to change your IP's location easily. Bright Data offers both shared and dedicated proxy networks.
7. Web Unlocker
Bright Data's Web Unlocker is an advanced proxy solution that can unlock even more sites than proxy networks. If you have trouble accessing certain websites you need to scrape data from, this may be the right solution for you. The Bright Data proxy manager will automatically use a residential or datacenter proxy, bypass captchas, and adapt in real-time to avoid detection from bots. It can also set delays between requests and limit the number of requests per IP, which will prevent your IP from seeming suspicious.
8. Scraping Browser
The scraping browser is similar to the web unlocker in that it allows you to bypass blocks like captchas, but this functionality is built into a browser. Because of this, sites can still be interacted with post-unlock. You can click on the site, take screenshots, and more. The unlocking process is handled automatically, saving time compared to setting up a different browser for web scraping.
9. SERP API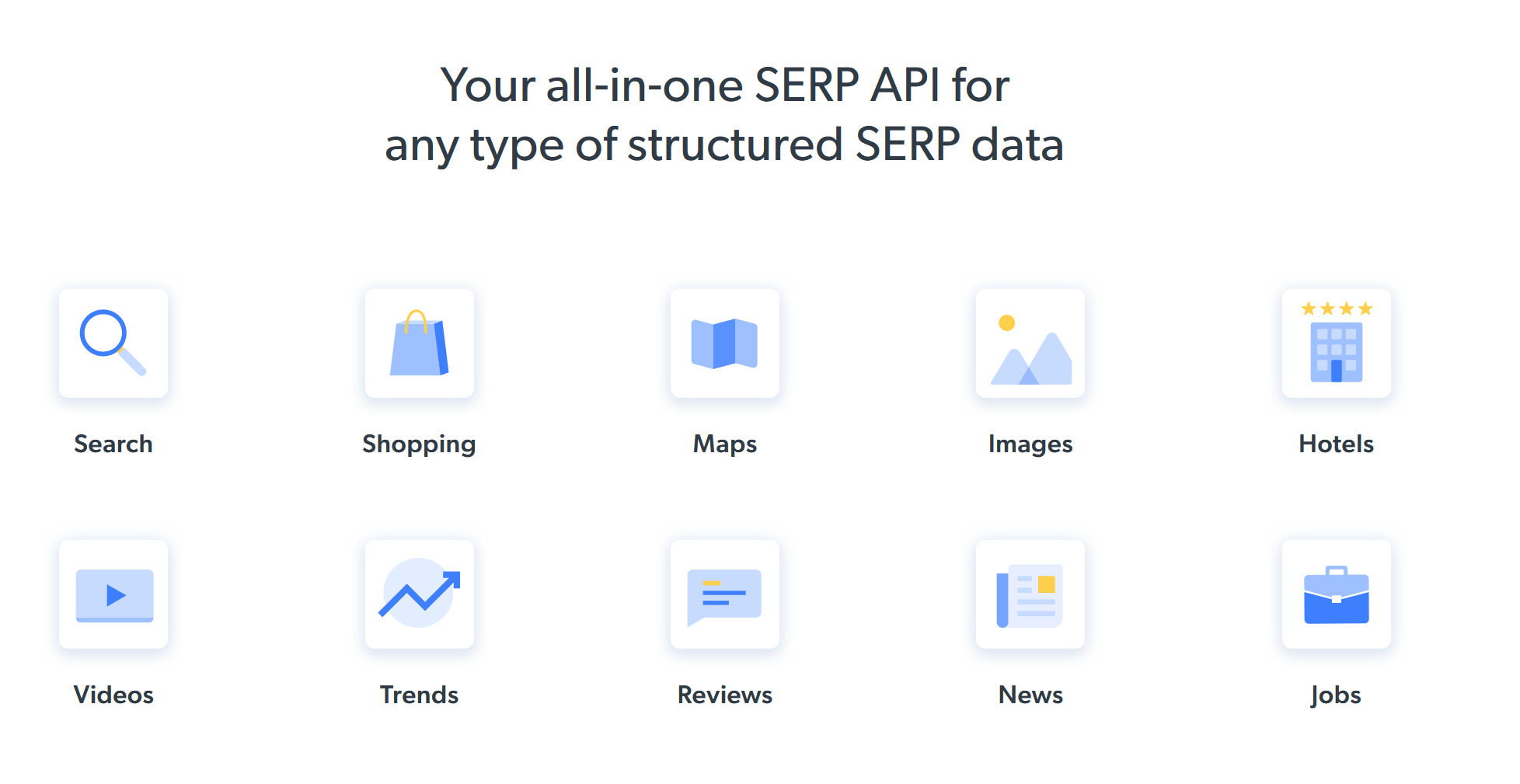 Search engines are notoriously difficult to scrape data from, but with Bright Data's SERP API, you can do it in a matter of seconds. This is useful for search engine data collection from a user's perspective. You can see all the search results based on your parameters with links, page titles, meta descriptions, and more. You can also do it from different locations as well without getting blocked.
10. Proxy Manager
The Bright Data proxy manager is designed with developers in mind. It allows for whitelisting/blacklisting IPs, getting request logs (useful for debugging), and setting up custom rules.
11. Proxy Browser Extension
Bright Data's proxy browser works with Chrome, Firefox, and Microsoft Edge. It allows you to change your location quickly as well as the type of proxy network used (datacenter, residential, etc.).
12. Datasets
If you'd rather not build your own web scraper or use the web scraping tools, you can request datasets directly from Bright Data. Bright Data can give you up-to-date information updated on a schedule. Sites you can get data from include Amazon, Craigslist, Google Maps, Airbnb, Yahoo Finance, and many more. You can even enter a custom domain to get data from.
Bright Data Pros and Cons
While it would be great to find a data scraper and proxy network provider that's all pros without any cons, unfortunately, that's not realistic. So this section of the Bright Data review revolves around the benefits and drawbacks of this software.
While Bright Data has many pros going for it that may entice you to choose it, there are also cons you may want to consider before making the leap. Here's a look at both sides of the coin.
Pros of Bright Data
Many Different Solutions: Whether you want a pay-as-you-go residential proxy network, done-for-you data collection, or a simple proxy browser extension, Bright Data has options for everyone. They cater to developers, companies, and entrepreneurs alike.
Wide Variety of Use Cases: Bright Data's data collection tools can be used for many different industries and purposes. For example, you could collect data on competitor's products and see how they stack up with your own. You could also use the data as an investor to make calculated decisions on where you should invest your money next.
Actionable Data: The data Bright Data collects is highly actionable. If you find out that you're wasting money on certain ad campaigns, you can adjust your strategy right away to avoid further losses.
Ethical Data Collection: With Bright Data's solutions, you won't have to worry about complying with data collection laws like GDPR and the California Consumer Privacy Act of 2018 (CCPA). Bright Data already complies with these laws and has the necessary certifications to prove it. Also, the IPs used for proxy networks are all ethically sourced. For example, their residential proxy IPs are from real users who were compensated for allowing Bright Data to use their IP addresses. At a Bright Data user level, the company implements a know-your-customer (KYC) process to ensure they aren't using the platform illegally.
Many 3rd Party Integrations: Bright Data proxies can be integrated into many different third-party platforms, including multi-accounting browsers, web scraping tools, and more. And with the open-source API, the amount of integrations is practically limitless.
24/7 Email Support: Whenever you have a question. Bright Data's team is always ready to answer it via email.
Scalable: Bright Data's solutions are incredibly scalable. Whether you run a midsize company or an enterprise, you can get the right data. Bright Data makes this possible with its different payment tiers, from the pay-as-you-go plan to the customizable Enterprise plan.
Large Proxy Network: Bright Data has an incredibly large proxy network, with millions of IPs available from countries all over the world.
Cons of Bright Data
Limited Customer Support Options: While the 24/7 email support is a plus, there's no dedicated customer support chat or phone line for customers who prefer other communication options.
Learning Curve: There's no working around it: Web scraping is a complicated process. Setting up proxy networks properly, making requests, and other such tasks can seem inaccessible to newcomers. While you can still request datasets any time, those who prefer taking a more DIY approach may struggle to find their footing amidst all the complexities.
Bright Data Competitors
At this point you have a good idea of what Bright Data offers, but how do they stack up against the competition? Are the pricing structures similar? Do they have the same amount of proxy networks? Let's take a look at three competitors to show how they compare.
Smartproxy
Smartproxy is a proxy service provider for businesses. Much like Bright Data, they offer residential, datacenter, and mobile proxies, but they do lack ISP proxies. They have a network of over 50 million IPs (compared to Bright Data's 70+ million) and have a 99.47% success rate.
Smartproxy has a different pricing structure to Bright Data. They have four subscription tiers for each type of proxy (residential, mobile, datacenter, and dedicated datacenter) rather than having five tiers with monthly prices that remain the same no matter which type of proxy you choose.
Besides proxies, Smartproxy also offers five different scraping APIs, including social media, SERP, eCommerce, web, and no-code scrapers. These have four different tiers to choose from depending on how many requests you need to make. The only exception is the no-code scraper browser extension, which only has a Lite plan, limited to 13,000 requests.
Oxylabs
Oxylabs is a proxy network and scraping API provider. Much like Bright Data, they offer ISP, mobile, ISP, and data center proxies. They also offer SOCKS5 and static residential IPs. As for the scraper APIs, they offer four different types: SERP, eCommerce, web, and real estate. They also offer a web unlocker, which is AI-powered and allows you to bypass most blocks to data collection by allowing you to act as a real user.
Most of Oxylabs' solutions operate based on a subscription model, with different prices depending on the type of proxy you get. The scraper APIs all have the same starting price. The only one that's not a subscription is the residential proxies, which operate on a pay-as-you-go model.
Other than that, one of the main differences between Oxylabs and Bright Data is that they don't cater to developers by providing an IDE. They also don't sell done-for-you solutions like Bright Data datasets.
Web Scraper
Unlike the competitors listed above, Web Scraper doesn't make a distinction between its scraping API and proxy networks. All of these are integrated into a single web scraper tool. This limits you to scraping the web only, but it does mean that you can pay one monthly or annual subscription for everything you need. With Web Scraper, you can automatically scrape data from dynamic websites and export the data in different formats, such as a CSV file or Google Sheets document.
Another difference between Web Scraper and Bright Data is the support available. They do offer email support, but only for paid plans and not the free browser extension. The first two paid tiers, Project and Professional, get email support, and the next two tiers get priority email support.
Pricing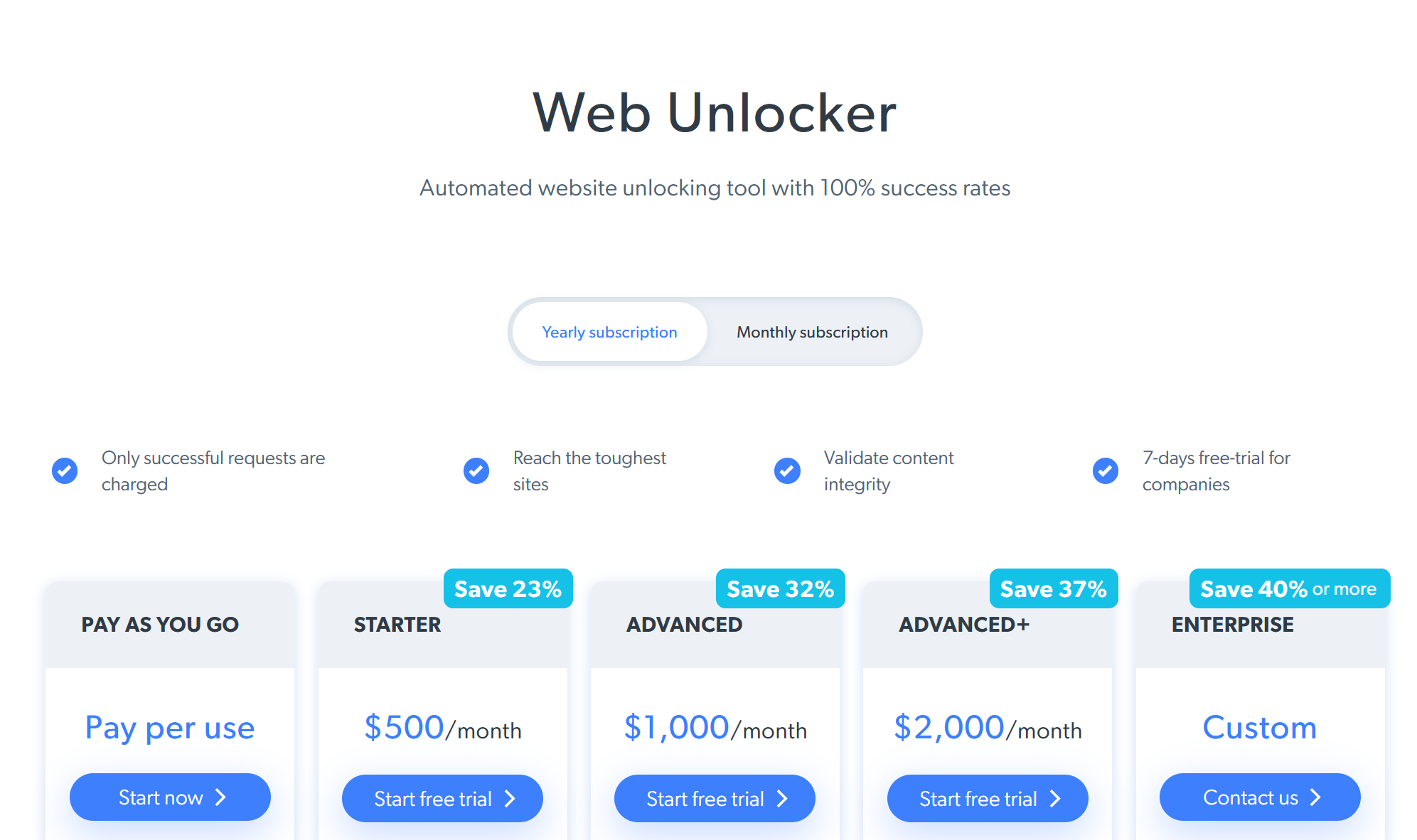 Bright Data has four different types of subscriptions depending on what features you need, including:
Web unlocker
Scraping browser
SERP API
Proxy networks
The pricing for the web unlocker, SERP API, and proxy networks is the same per month. There are five different tiers:
Pay as You Go: This is the only option that isn't a subscription. For the web unlocker and SERP API, the pricing is $3 per CPM. CPM stands for "cost per mil," which essentially means that you pay $3 for every 1,000 requests that you make. Meanwhile, the proxy networks are priced based on what type of proxy you're using. You can see a breakdown in the image below: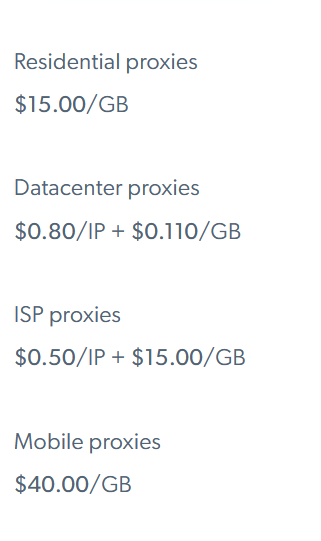 Starter: This is the first subscription tier, which is $500 a month. It allows you to make 217,391 successful requests with the web unlocker or 222,222 successful requests with the SERP API (when billed yearly), and includes a dedicated account manager. You also get reduced pricing per gigabyte on the proxy networks. These prices are as follows: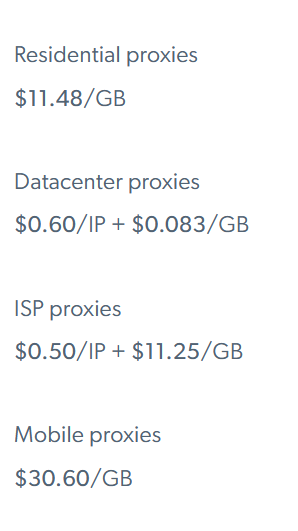 Advanced: The advanced tier is priced at $1,000 a month. It also includes a dedicated account manager. For the web unlocker, you can make 492,610 successful requests, and for the SERP API, you can make 476,190. The pricing per gigabyte reduces further with the advanced plan. Check out the breakdown below: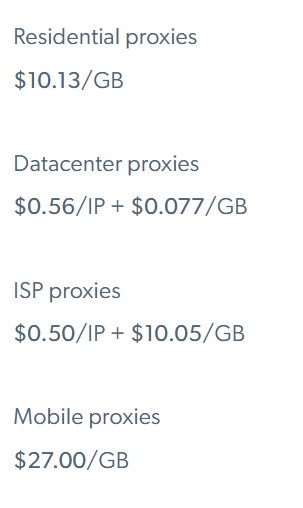 Advanced+: The advanced+ tier is priced at $2,000 a month. It allows for more than double the successful requests — 1,025,641 for the SERP API and 1,058,201 for the web unlocker. The pricing per gigabyte on the proxy networks goes down even more, as well: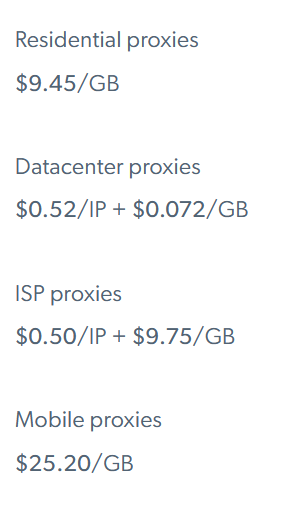 Enterprise: The Enterprise tier doesn't have a specific listed price. Instead, it's customized based on how many requests you need. You'll need to contact customer support to get this plan. Besides custom pricing, it also includes support from data experts and a premium service level agreement (SLA).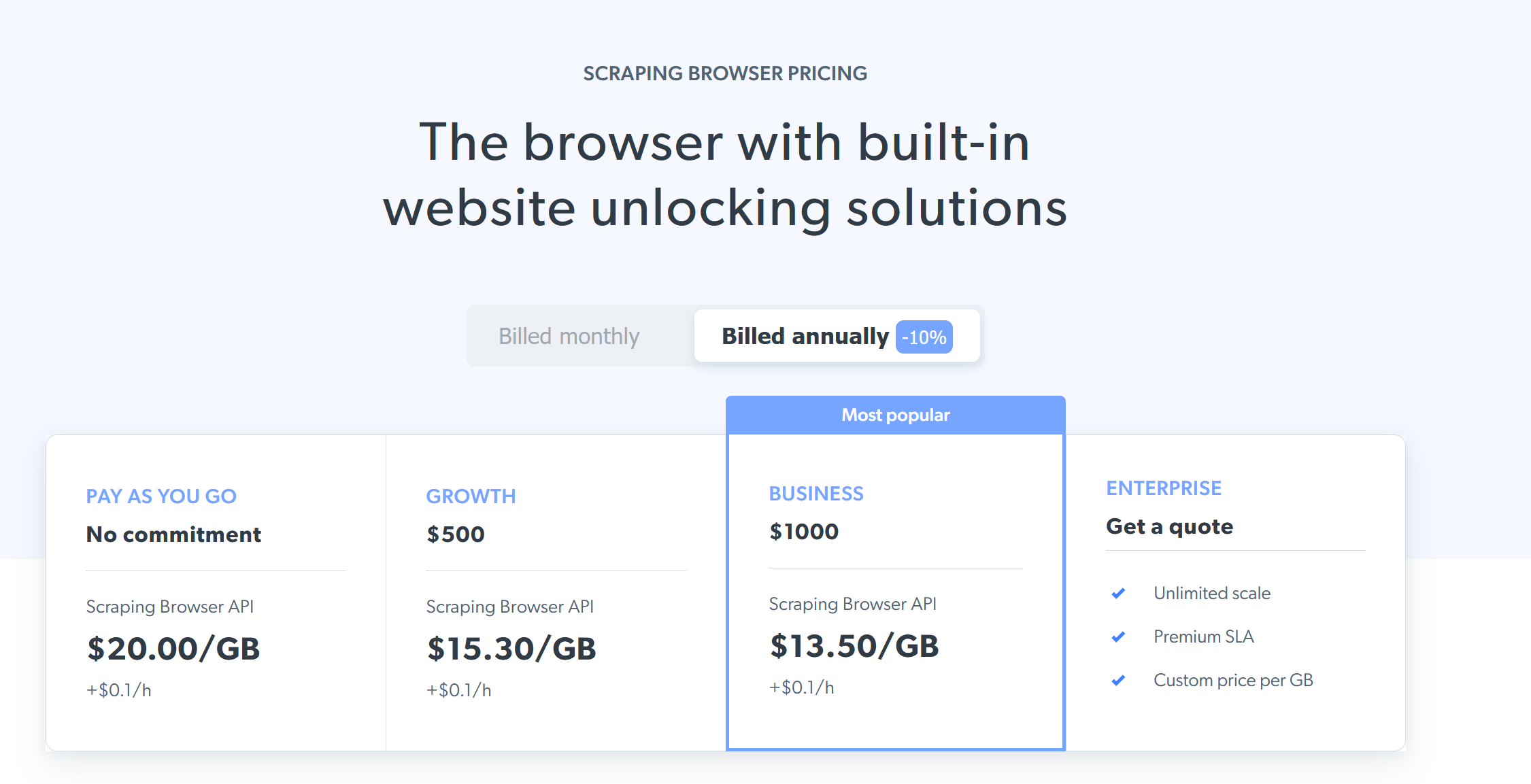 As mentioned, the scraping browser uses a different pricing model. Most tiers are still subscription-based, but there are four tiers instead of five. They are as follows:
Pay as You Go: This is the only non-subscription plan. There's no commitment, and you'll pay $20 per gigabyte plus $0.10 per hour.
Growth: The Growth plan is $500 a month, which breaks down to $15.30 per gigabyte and $0.10 per hour (when billed annually).
Business: The Business plan is listed as the most popular plan among Bright Data users. It's $1,000 per month, which is $13.50 per gigabyte and $0.10 per hour.
Enterprise: The Enterprise plan for the scraping browser is very similar to the Enterprise plan for the previous solutions. It features custom pricing, a premium SLA, and scales with your company's needs.
Product Support
Bright Data offers 24/7 email support for all customers. You can find the contact information on Bright Data's contact page. You can get even more product support by getting one of the $500/month plans for the Web Unlocker, SERP API, or proxy networks. With these plans, you'll get a dedicated account manager.
System Requirements
Bright Data has many solutions, but the proxy manager is one that's ready to download. If you have a Windows computer, you can simply click this link to download it for free. Before you do, make sure your PC meets the following requirements:

The minimal requirements are the basics you'll need to run the program, but you'll get the best performance with the recommended requirements.
The proxy manager is also Mac-compatible. There is no download link; instead, you can get it by following the instructions in the photo below.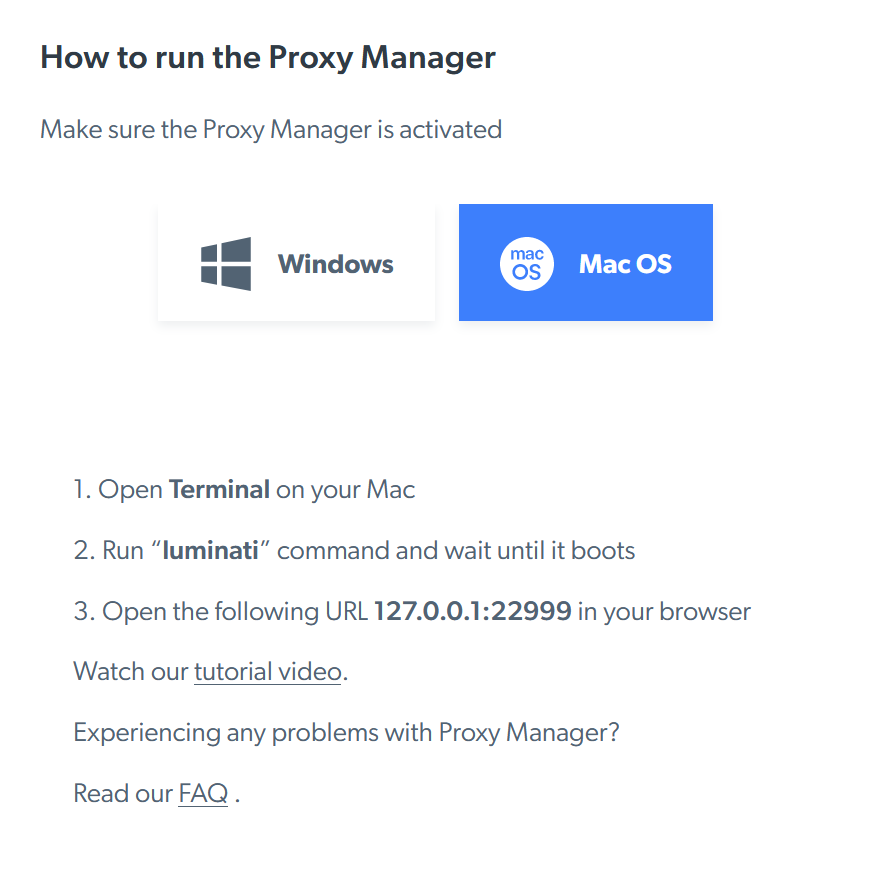 Integrations
Bright Data can integrate with many third-party programs. Here's a look at some of them and what the integrations can do:
AdsPower: AdsPower is designed for managing multiple accounts, such as on social media platforms. You can change the account with one click, saving time logging into each account. It also automates the browser, making it seem like each social media account operates independently on different devices. With AdsPower integration, you can use the Bright Data proxy network services in AdsPower.
Undetectable: Undetectable Browser is also useful for multi-accounting, which can be used for social media marketing, ad management, and more. The Bright Data proxy network services can integrate into Undetectable.
Apify: Apify is an automated web scraping tool that can integrate with the Bright Data proxy networks.
Incognition: Incognition allows you to create multiple accounts as virtual browser profiles, each with a unique fingerprint that makes it seem like you're accessing the web from different computers. Bright Data's proxy network integration makes it easy to change your location and create custom rules on Incognition.
Besides these, the Bright Data proxy manager is open source, meaning that it can integrate into any third-party app to use as a proxy server. Here's a guide for how to do just that.
Is Bright Data Legit?
Bright Data is a legitimate, ethically compliant data collection solutions provider. If you're a business that wants to gather public web data efficiently and use it to grow, then you'll benefit most from Bright Data's various tools.
Of course, you don't just need to take my word for it. Bright Data offers a 7-day free trial so you can check it out for yourself. Sign up for a free Bright Data account and start your free trial today.
And that's a wrap on this Bright Data review!