According to recent website design statistics, 89% of website users leave a website that offers a poor user experience. That's why it's crucial for online businesses to have a positive design that makes it easy for visitors to navigate and find what they need on the site.
This means everything should be on point – from your design aesthetics to the layout and navigational structure of the site.
Your website should also be mobile-friendly and have fast performance, otherwise, your visitors will bounce from your site and go to your competitors instead.
You can avoid this by using a reliable platform to help you build, launch, and maintain a successful website. One such platform is BOWWE.
Continue reading this BOWWE review to learn more about who this website builder is good for, what its functionalities are, its pros and cons, how good its customer & product support are, and what sort of integrations you can expect from it.
Ron's Thoughts
BOWWE is a great website design tool with numerous features that can be used to create a gorgeous, mobile-friendly, and fast website. Aesthetics play a big role in whether or not users will stay or leave your site quickly. BOWWE helps with that by providing you with plenty of templates that you can use to design the perfect website for your business. And, to top it all off, this website builder is very easy to use, requiring no prior coding or design knowledge!
Biggest Pro:

Very Easy to Use

Biggest Con:

Lack of eCommerce Features

Annual Discount:

Yes - Up to 30% Off

Price:

Starts at $12/Month

Promotion:
Is BOWWE Worth it?
BOWWE is a powerful design tool with features to help you build impressive, high-quality websites. It comes with a drag-and-drop builder that anyone can use to create unique, professional designs with no coding knowledge or IT skills required.
You can quickly build a website, landing page, portfolio, resumé, and Micro Page (alternative to Linktree) with this tool and publish your pages within minutes – even if you've never created a site before.
Thanks to this, you will be able to build any digital product: website, store, application, etc., all in one tool, with just one interface.
Once all functionality is built out, there's no need to invest time in learning many different tools.
Not only does BOWWE help you build beautiful websites in minutes, it also makes it easy to promote your site effectively so you can get the best results from your marketing efforts.
The platform makes it easy to:
Create a professional website
Make it easy for clients to find you
Boost conversions
Provide a seamless buying experience
Delight customers and give them a reason to return
You'll be able to save time by using one of the dozens of ready-made templates designed to help you achieve maximum conversions on your website.
Pick any of the optimized templates according to your industry, category, or goals and customize them to match your brand and style.
Used by over 30,000 people worldwide, this is a trusted and reliable platform with an impressive range of features as a website builder and web page creation tool with the drag-and-drop functionality, premade templates, optimization for search engines, and more that you can use for your own website with no code and without needing technical skills.
Best of all, you can try it for free with no credit card required, which makes the use of BOWWE a no-brainer for serious creators that we will be able to explore in this BOWWE review.
Who is BOWWE Good For?
BOWWE is perfect for anyone who wants to quickly create top-ranking web pages using a no-code, drag-and-drop builder with stunning templates, premade sections, and more in this BOWWE review.
You'll be able to grow your business with key integrations, customizable apps, SEO, and high-quality code.
Here are a few use cases to demonstrate what BOWWE can do for different creators:
Beginners: Beginner bloggers can create online content easily without the need to learn website development or coding skills.
Small Business Owners: The platform is ideal for business owners who want a stunning landing page optimized to increase conversions and sales.
Marketers: This innovative platform comes with built-in tools and integrations to make your marketing activities a breeze.
Designers: The site builder boasts clean code that is similar to what you'd get from professional coders, so you can customize your site with no limitations.
Solopreneurs: Integrate all your business tools and apps and run your entire online business from your BOWWE dashboard.
Agencies: If you need to create multiple websites to generate leads and data for different clients, BOWWE provides you with the perfect platform to do it all from one convenient place.
As you can see, the platform is built to support all types of creators – coders and non-coders – at every stage of website creation, from ideation and design to development, maintenance, and growth.
BOWWE Functionality
1. Ease of Use
One of this platform's biggest selling points is that it's extremely easy to use. It has an intuitive user interface that allows you to create any type of page you want with just a few clicks.
You can edit it fully and customize it to match your preferences and style. You also get effortless and quick website management without needing to hire a professional team for key placement of web pages – using BOWWE builder.
The AI-powered platform provides an exceptional user experience and has been developed in a way that makes editing a breeze.
Creating your next website will be a pleasure, and you'll get quick and stunning results in just minutes using BOWWE's superior website builder.
Here's how easy it is to get started creating a website with BOWWE:
Step #1: Create a Domain. The first step is to choose a name for your new website.
Step #2: Select a Template. Next, pick an appropriate template from the dozens of business categories on offer in the library.
There are tons of templates to choose from, allowing you to build stunning modern-looking pages based on the latest trends.
You'll be able to find high-performing and optimized pages that are relevant to your business sector.
The platform's team of expert designers takes the time to analyze every business sector in order to develop unique and effective templates for everyone, and I wholeheartedly suggest using the license tier for a few hours to get used to the BOWWE builder. You will know why many experts recommend BOWWE.
Step #3: Customize Your Pages. Now you can change the logo, fonts, colors, backgrounds, and styles using the simple drag-and-drop editor of Bowwe website builder.
And that's it. Once you're happy with how your site looks with beautiful templates, you can hit "Publish".
2. Beautiful & Speed-Optimized Templates for Search Engines
Rather than starting from scratch, you can choose one of the dozens of pre-designed templates on the platform, all of which are expertly created to suit businesses in different verticals.
Edit the template any way you want to match your brand and preferences.
With BOWWE, you get professional web design from idea to development – all within one unified platform with a license tier.
You can literally create anything you want by using hundreds of stunning themes and ready-made sections, widgets, and blocks.
You can even fine-tune your ideas pixel by pixel to get the exact look you want.
The only limit is your imagination. You can easily create any type of website you want, including:
Professional websites
eCommerce stores
Online course websites
Portfolios
Resumes
…and much more.
3. Mobile Optimized Pages
The pages you create using BOWWE will not only display better, but they can be run on any device smoothly.
Because of this, they receive higher rankings from Google and other search engines.
This is a great way to ensure that your site offers a user-friendly experience which will ultimately lead to more traffic and fewer bounces.
4. Custom-Made Pages for Your Business or Your client's business
Not sure where to start with your design? No problem. On the platform, you can also get custom-made pages just for you.
BOWWE web builder also supports plenty of trusted partners – agencies and freelancers – who will build you a custom template according to your company's needs and stay up-to-date on all of the latest web design trends.
Just contact the BOWWE website builder, and they will redirect you to one of their professionals, depending on your needs.
What's really important, is you'll get better quality websites thanks to automatically generating superior website code. Your website's quality will be as high as any site coded manually by a developer.
Not many people are aware of it, but high-quality code affects many other factors that determine the success of a website: SEO, performance, site speed, etc.
Best of all, it will have great efficiency and will achieve better results in all areas crucial for your or your client's business.
5. Top-Notch SEO Sites
If you have clients online, then having a website is one of the best ways to reach them – but only if they can find you easily online with landing pages, and link pages with the BOWWE website builder.
With the BOWWE platform, you can relax knowing your pages have superb SEO to help them ace the search rankings using this website builder.
The rapid growth of your positions in search results is yet another advantage provided by the platform's superior website code.
Your site will have a higher chance to rank on the first page of the SERPs (search engine results pages) and achieve much higher levels of traffic than the competition with BOWWE website builder with pre-designed templates to create pages like landing pages using custom designs.
The best part is that you don't have to be an eCommerce or IT expert to create an SEO-friendly website and promote your business online.
You don't even require web design experience because the intuitive dashboard guides you through the SEO settings to ensure that you have all the basics for great SEO in place.
6. One-Click Share
BOWWE has a powerful one-click publish feature that enables you to publish content submissions with a single click to all your other channels at the same time.
You can quickly post your content to your website, social media, and various other portals, making your marketing and promotional activities a breeze using the e-Commerce feature of BOWWE that can help any affiliate marketer for micro pages and landing pages.
7. Online-Booking System Feature of BOWWE website builder
BOWWE website has a booking engine that allows customers to book appointments in real-time on your website.
Your business can now be available 24 hours a day for your clients, so they never have to wait for service.
8. Marketing and Sales Tools
BOWWE comes with a wide range of tools to help you attract customers to your website. You'll be able to encourage visitors to book your services or purchase your products through the use of optimized templates and tools like:
Social widgets to integrate with social media so you can stay in front of your customers at all times, like website builders.
Add a portfolio to your websites to showcase your professional accomplishments and build trust with your visitors with landing pages because BOWWE provide readymade layouts.
Add a contact form to your site with one click, so customers have an easy way to get in touch with you.
Add a reviews section to let everyone know how much your current and past customers love your work.
Multiple language options allow you to internationalize your website so you can make it accessible to a larger global audience.
There are also unique tools to help you build trust and relationships with your website visitors, such as the trust certificate.
This is exactly the type of feature you need to give skeptical customers that extra push they need to convert. According to BOWWE's research, this single integration has been shown to increase inquiries on a website by up to 250%.
BOWWE Pros and Cons
Like all other software platforms, BOWWE website comes with its own set of pros and cons, some of which we look at below.
Pros:
Easy to Use: BOWWE is extremely easy to use, and you can create a stunning website in just a few minutes using one of the many expertly designed templates.
Great customer support – The BOWWE team is very attentive to the needs of users and is extremely effective in solving their problems.
Affordable Pricing: With just a small investment, you'll be able to ensure stable financial development in your future.
No Hidden Costs: The platform makes it easy for you to know exactly how much you pay and the features you are paying for. There are no surprises.
Free Applications: BOWWE provides applications for free to help improve the functionality of your website and develop your business, unlike other website builders.
Money-Back Guarantee: You can use the platform with zero risk to yourself. If the software doesn't meet your expectations, simply request a full refund within 1030 days.
Cons:
No Blog on Free Plan: The free plan doesn't come with built-in functionality for creating a blog.
eCommerce Features Unavailable: The site's eCommerce functionality is yet to be launched.
BOWWE Competitors
There's no denying that BOWWE is an awesome website builder, but it does have a few competitors that give it a run for its money. Some of its top rivals include the following site builders:
BOWWE vs. Webflow
Webflow is a great site for building custom blogs, portfolios, and eCommerce websites. It has many of the same features you'll find on BOWWE, and also boasts a powerful CMS (content management system) to rival WordPress, Joomla, Drupal, and many other popular CMS platforms. This makes BOWWE a very interesting and noteworthy alternative to Webflow.
BOWWE vs. Wix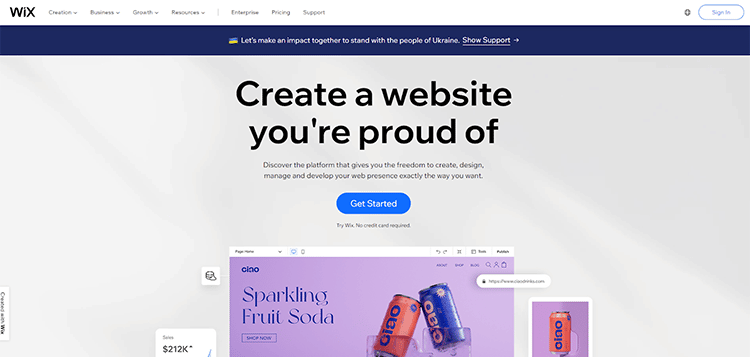 Wix is a website creator that is best suited for beginners and small business owners looking for an affordable platform that is easy to use.
With Wix, you can create stunning unique websites without the need to learn a single line of code. The software also has one of the best free plans with the most features you'll find out there.
BOWWE vs Duda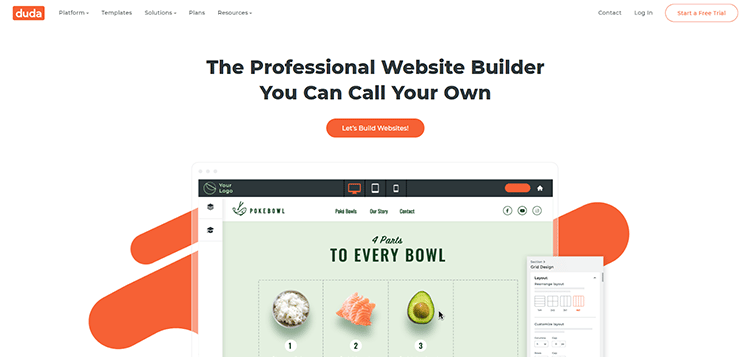 Duda is yet another BOWWE alternative that is worth mentioning. Trusted by over 18,000 web professionals and agencies worldwide, it's one of the best up-and-coming website building platforms that offer a host of business management features at an extremely affordable price.
This makes it a great alternative for BOWWE for anyone looking for a simple platform to build a beautiful and unique website.
Pricing
BOWWE has an interesting pricing structure that allows you to choose your plan according to the type of website you want to create.
You get huge discounts by signing up for a multi-year subscription.
The platform has growth-focused solutions for both businesses and individuals, including:
1. Micro Page
Free Plan: $0/month

Unlimited links & buttons
Text blocks and headers
Q&A blocks
Basic designed themes

Premium Plan: $6/month

Professional SEO Settings
Link clicks analytics
Premium designed themes
Customized design
Smart links to messaging apps
Pictures and videos
Map widget
Facebook pixel
Add internal pages

Business Plan: $9/month

Countdown timer
Remove BOWWE branding
Accept payments
2. Websites and Landing Page
Standard Plan: $12/month

Domain Hosting
Responsive, SEO-friendly pages
Custom templates tailored for specific industries
Animations and interactive elements
Powerful blog, and Premade widgets
Stock image database
Basic statistics
Social media and Google Analytics integration
Applications: Gallery, Google Maps, Contact form
Teamwork: 2 members, Basic team permissions, and Project comments

Advanced Plan: $20/month

Advanced Statistics
Multiple language versions
Phone / Video support
Applications: Custom code widget, Hidden subpages
Teamwork: 4 members, Domain access restriction

Professional Plan: $40/month

15 GB content hosting
Priority support
Remove BOWWE branding
Third-party integrations
Custom team roles
3. CV & Portfolio Builder
Free Plan: $0/month

Create 1 resume
Personal and professional website
20+ standard templates
Modify your CV and Cover letter

Premium Plan: $12/month

Remove BOWWE branding
Resume tracking and statistics
BOWWE offers a money-back guarantee. You have 10 days to resign after signing up for any of the upgrades, which means you can test out the software without incurring any risk on your part.
If you are still not sure which option to use, simply request a call on the website, and someone from the platform's support team will be in touch to assist you in making the right choice with basic features to create websites with the BOWWE builder service with unlimited pages, readymade layouts, and e-Commerce capabilities.
Product Support
BOWWE offers support in a number of ways, including:
Email
Phone
Book a Demo
Connect on Social
You get direct contact during the entire process of creating your website pages. At any time, you can contact the support team, and they will assist you in building your page.
Not only that, but the platform also has both internal & external specialists (freelancers and agencies) on hand with the expertise to help you boost your sales by providing you with advice on strategies to meet your sales goals.
Integrations
BOWWE provides access to multiple business applications, including:
A booking engine
Clients reviews
Vouchers
Portfolio
…and many others.
All of these tools can be easily integrated with your site for greater conversions and an improved bottom line.
Is BOWWE Legit?
There's no doubt that BOWWE offers a great website-building experience for users of all skill levels.
The platform has an amazing tool of drag-and-drop editor that lets you construct professional websites and landing pages in just minutes with no coding knowledge required.
The software produces professional HTML code which is SEO-friendly and has the same quality as a professional site developer.
You'll be able to expand your business, web design, and development easily thanks to the multitude of features on the site, including SEO features, powerful integrations, customizable applications, and handy widgets using this website builder.
Check out this customer review from one of the website's clients:
If you're ready to test out this platform for yourself, sign up for a free trial on BOWWE and start building your website right now.