YouTube is undoubtedly the biggest video streaming platform out there and like many others, I'm a huge fan. That said, one of the more frustrating things about YouTube is that they don't allow you to download files and convert them to WAV files to listen to on your phone or other listening devices.
In this guide, I've reviewed and compared the best YouTube to WAV converters by looking at their features, capabilities, and video quality retention following the conversion.
A WAV file maintains the best audio quality, and although it takes up a bit more space on the phone, it's an excellent option for listening on the go.
Also, while reviewing my list of the best YouTube to WAV converters, I wanted to ensure that everyone is aware of the strict terms of service that YouTube implements. So I have to recommend that you read through them before choosing any tools so that you comply.
What are the Best YouTube to WAV Converters?
Best Overall YouTube to WAV Converter ($11.99/year).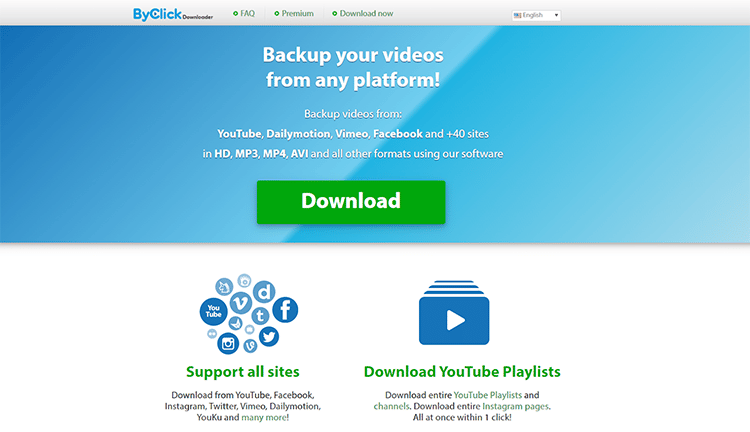 Theteam at ByClick Downloader is always working on new versions to keep you up-to-date with the latest software video converter and it's also one of the best YouTube to WAV converters out there. 
They have developed an easy-to-use video converter that has an auto-detect feature for converting videos, WAV audio files, video files uploaded or downloaded from YT to WAV audio format, and more.
This excellent feature has a pop-up message that automatically asks if you want to download the video you're watching. And with one click, you can download the video as an MP3.
Key Features:
Private Videos: Sometimes, you watch a private video you'd love to download. Well, now it's possible with ByClick Downloader. Get as many Facebook or YouTube private videos downloaded to your device.
Lightning Fast: They have super fast speed and maintain their security when converting to another format.
Download Quality: Apart from choosing the format you want, you can choose what quality you want and then track the progress of the downloads while you download YouTube videos.
Queue Downloads: You can queue your Top100 videos to be downloaded.
Premium Subscription: Premium features come with this plan, like adding ID3 tags and being ad-free.
Pricing:
ByClick Downloader has an excellent customer support, and if you purchase the unlimited license, it has no expiry date.
ByClick is free to use, but they have a paid premium service. There's a 30-day full refund for clients who are not satisfied with their product.
1. 1 year: $11.99
Ad-free
ID3 tags on your downloads
2. Unlimited: $14.99
Price discounted from $30 for a limited time.
You can upgrade to having the tool on 2 PCs at a 50% discount for a limited-time offer.
---
Best YouTube to WAV Converter for Downloading Private Videos ($9.95/month).
If you are looking for a tool that ticks all the boxes, then iTubeGo is the one for you. It stands out for being solid and reliable and does not limit you to the number of videos you can download.
iTubeGo is user-friendly and converts files seamlessly. As a dynamic tool, it can download from DailyMotion, YouTube, Facebook, and many other streaming sites with speeds of 10X faster than its competitors.
It also has the power to download multiple high-quality videos consecutively, including private videos.
Another stand-out feature is that iTubeGo automatically searches for subtitles; this is helpful if you plan on downloading any movies that have subtitles with a WAV converter and video converter available from iTubeGo
Key Features:
Watch and Download: You can watch videos online as they are downloading or listen to your podcasts while converting to WAV files.
Compatibility: iTubeGo is compatible with over 10,000 platforms that you can download from, including Spotify, Facebook, Vimeo, and Netflix.
Language Variance: Your downloads can now have subtitles in different languages.
SD and UHD Quality: Video quality options that iTubeGo provides are 480p, 2K, 8K, 1080p, and so much more.
Turbo-Fast Mode: A long 2-hour video may download in a few minutes.
Pricing:
You are offered free lifetime upgrades and free customer support with every plan. So try it out for free and get a money-back guarantee if you are unsatisfied.
ITubeGo is available for Windows, macOS, and Android users to convert videos.
1. 1-month Plan: $9.95
Only covers on PC
Billed monthly
2. 1-year plan: $24.95
Billed annually
It covers one PC with the video converter tool
3. Lifetime Plan: $29.95
Once-off payment for a lifetime subscription
Covers one PC
4. Family Plan: $39.95
A lifetime subscription to the video converter
Covers 2-5 PCs with YouTube to WAV converter in video or audio format
---
Best Value-For-Money YouTube to WAV Converter (Free).
Save The Video has a dedicated page on their website which tells you which websites you can download from, and boy, is it an extensive list.
They also enable you to download from various social media platforms like Facebook, Twitter, and Instagram, as well as social networks such as 9Gag, Disney, Reddit, and Buzzfeed.
With compatibility on Windows and Mac, they accommodate a vast majority of users, offering batch downloading and converting videos, audio, and URLs to over 400 audio formats.
Key Features:
Online Version: There's a free online YouTube to WAV converter although it has limited updates and features, it is still a good choice. There is a desktop version for a full range of features.
GPU Accelerated: This feature gives you up to 47x faster speeds for downloads and conversions like Youtube to WAC format or any audio format with great audio quality
Live Recording: You can record live streams as well as a webcam to save video files
Features: Such as merge, crop, and cut your video before you convert videos to keep only the content you want.
Platforms: You can use this WAV converter online service on Windows, Linux, macOS, or Android, making it suitable for all users.
Pricing:
This free tool is available online and you need not download or install any additional software to use it.
They use the revenue gained through their ads to cover the costs of running and maintaining the website. This also covers the support of website development.
---
Best YouTube to WAV Converter for Blu-Ray Options ($29.95/year)
This is a distinguished YouTube to WAV converter because you have the power to choose how you want to watch your DVD movies or HD videos.
It can convert audio and video files at speeds up to 6X faster than other converters and still maintain 100% original quality.
With Leawo Prof. Media 11, you can also rip and convert your videos to CD-quality files with excellent media compatibility that allows you to convert them into a wide range of file formats.
As their name suggests, they're an 11-in-1 media converter suite worth considering.
Key Features:
File Formats: With more than 180 formats to choose from, Leawo Prof. Media 11 has you covered for the choice of your converted audio and video files.
Pause and Resume: This feature allows you to pause conversions and resume them at your convenience.
Business Features: They have features suited for businesses such as multiple subsequent file conversions and removal of protections such as Cinavia.
Ripping: They're definitely one to compete with when it comes to their impressive video ripping software.
Blu-ray: A few of their outstanding features are that Leawo Prof. Media 11 boasts of their 4K UHD Blu-ray ripper, photo to Blu-ray burner, Blu-ray creator4K Blu-ray copy, and Blu-ray Cinavia remover.
Pricing:
Their software is available for both Windows and Mac users. Plans are either 1 year or a lifetime, and suggestions of additional resources are made when you are purchasing the software.
1. 1-year License: $29.95
Single-use computer
Unlimited technical support
Discount for repeat customers
2. Lifetime license: $39.95
Multiple computer use
Unlimited free upgrades
SSL secured with all your data
---
Best YouTube to WAV Converter for Accuracy (Free)
If you need to download and convert your videos at lightning speed, then Ytbto is your go-to software. And they're safe too.
Let's not forget that they're pretty accurate as well, and you don't have to worry about any bugs or difficulties while working with your files.
Ytbto also lets you swiftly download from platforms other than YouTube, such as Tumblr, Instagram, Twitter, and Pinterest, and convert them into formats like WAV, AVI, MP3, and MP4.
With no fuss, you just paste your video URL into the Ytbto site, select your file format, and taa-daa, you will have your file in a few minutes.
Key Features:
Device Compatibility: You can use your Mac or Windows device for Ytbto, and have your files accessed on your mobile or PC to download videos or WAV audio format and more.  
User Interface: Its minimalistic user interface is easy to use and there is no need for you to register with them or download any additional software.
Efficiency: Your YouTube videos will be downloaded and converted to WAV in a matter of seconds, with no ads to annoy you and slow down the process.
Simplified Steps: With just three simple steps, your video is downloaded and converted into WAV format.
Updates: Regular updates are installed to ensure you are always working with the latest technological systems.
Pricing:
Ytbto is completely free to use. Not only is it free, but you also get great customer support and free updates.
They also regularly update their system so you will not get disturbed by any bugs while downloading and converting your favorite videos. They are an online service, and you will not need to download any software to use them.
---
Best YouTube to WAV Converter for Accuracy (Free)
Ontiva is a cutting-edge tool that allows you to download in batches and convert into various formats. They are compatible with leading operating systems.
They are fast and offer services online and your videos are downloaded simply by pasting the URL in the search box, choosing your file format, and file destination.
They are also copyright advocates and will block you from downloading protected content by displaying an error message.
This ensures the sustainability of their website and respect for the creators of the protected content while using the YouTube to WAV converter.
Key Features:
Unrestricted: You have unlimited downloads and no restriction on the number of conversions, basically allowing you to let your hair down and get as much content as you like.
High-speed: Need fast speed? Ontiva works at high download speeds to give you files in a blink. No more waiting ages for your files to convert.
Online: You don't need to download any additional software because their system is online and their user interface is simple and easy to use.
GIFs: That's right! You can even make GIFs from your YouTube clips. Isn't that cool?
Viewing: With Ontiva, you don't even need to play the YouTube video first, simply just copy the URL and paste it into the search box without needing to view it beforehand.
Pricing:
This tool is free to use and there is no need to download any software or subscribe to their platform.
In fact, they recommend only using online YouTube converters to avoid picking up any viruses or malware if you download these tools. Ontiva also extracts audio from YouTube videos and transforms them into WAV for free.
---
Best YouTube to WAV Converter for Multiple Features and Tools ($49.99/Month)
WonderShare Filmora is another great YouTube to WAV converter and delivers above the rest in many aspects.
They have empowered millions of creatives worldwide since it launched in 2015. Independent reviews have rated it 9.5 based on its functionality. Pretty awesome, hey.
Not only do they convert YouTube videos, but they also have a powerful professional video editing feature that offers advanced video editing tools such as adding watermarks, inserting subtitles, and much more. Converting and editing have never been easier.
Key Features:
Queue-up: Batch downloading? Now you can simply queue up your list and leave it downloading in the background while you continue with other tasks.
Scheduler: You can schedule your tasks and system activities and have conversions running at the same time without losing quality.
Video Editing: As mentioned, it has professional tools that help you with your video edits as well as adding video effects.
Speed Control: WonderShare Filmora allows you to control your video speed; you can easily speed up the tempo or slow it down.
Easy-to-Use: Not only is it easy-to-use, but they also support major platforms, like Windows and Mac, to create your Blu-ray and DVD files.
Pricing:
WonderShare Filmora offers plans for individuals, teams and businesses, educators and students, and a bundle combination.
Each plan comes with a 30-day money-back guarantee, although you can try it for free before deciding to purchase it.
1. Annual Plan: $49.99
2. Perpetual Plan: $79.99.
---
Best YouTube to WAV Converter for Quality Service ($19.95/Year)
WinX HD Video Converter takes up very little space on your computer, but it's jam-packed with great tools and features.
They have over 400 conversion presets to choose from and 4K and 8K conversion support. Other popular inputs and outputs include AV1, WMA, MP3, M2TS, MP4, and MKV.
Need to trim our video? No problem, simply drag the start and end markers to the beginning and end of your video and trim your clip with ease unlike other Youtube to WAV converter software online (you can even convert YouTube playlists in audio and video formats).
Need to trim batches of videos? Not a problem either even after you convert Youtube videos.
Key Features:
Experienced: Established in 2006, they have almost two decades of experience under their belt. They are produced by Digiarty Software, which has a great reputation in the industry.
Recognition: Their quality service and robust tools come highly praised, and they're advocated by 200 tech authority sites like CNet, PCWorld, and TechRadar.
Codecs: Higher coding-efficient codecs coupled with an advanced compression kernel means that WinX will reduce your video size by 90% while maintaining the original quality.
Faster Upload: If you cut your video clip into shorts, then it becomes faster to upload to YouTube or share on Facebook, Instagram, and other platforms.
Deinterlacing: this function removes pixel lines that appear on the original video by way of decoding them.
Pricing:
It is great that WinX offers clients a 30-day money-back guarantee on their products, although their services and features are superior and clients will choose to stay with them.
They have plans for educators, government, and non-profit organizations.
1. Premium License: $19.95
Installed on up to 3 PCs.
Priority tech support
Full hardware acceleration
2. Ultimate License: $39.95
Lifetime subscription for 1 PC
Free lifetime upgrades
Support for the latest codecs
---
Best YouTube to WAV Converter for Functionality ($25.95/Year)
VideoProc stands tall when it comes to speed and processing. Their use of Level 3 Hardware Acceleration tech enables them to handle large batches of 4K video downloads along with other large files.
It comes as a one-stop shop for all your edits, downloads, compressions, conversions, and recorded videos.
VideoProc also makes full use of tools like NVIDIA, AMD, QSV, NVENC, and GPUs to optimize its functioning and efficiency when converting a Youtube Video.
If you need to trim videos, it's easy to trim, cut, or split your clip. If you need to record, it enables Mac/Windows screen and webcam recordings. You will also experience picture-in-picture and green screen modes with VideoProc.
Key Features:
Conversions: Your converted videos can be played on any device or platform with over 370 input formats and over 420 output formats.
Compression Diversity: If you have GoPro footage or content from your camera, you can easily compress them with any of their 6 options for reducing file sizes.
Watermark: Watermark your videos with text, image, logo, or timecode.
Color Enhancement: Enhance the beauty of your videos with fine-tuning brightness, hue, saturation, and contrast tools for any Youtube video.
Edit Tools: There are over 29 editing tools to use for your processing of videos, sharing them, and any further creation including rough cuts and when you convert YouTube videos.
Pricing:
Available for both Windows and Mac users, VideoProc offers free upgrades and instant delivery. You can cancel your subscription at any time and request your money back.
1. Premium 365: $25.95
Installs on 3 PCs and convert YouTube videos
A year's access to updates and features
2. Lifetime License: $39.95
One time payment
Lifetime access to full features
3. Family License: $57.95
Installs on 5 PCs
Full version license code delivered instantly
---
Best YouTube to WAV Converter for Gadget Compatibility (Free)
There have been over 180 million users who have trusted Freemake since it launched in 2010.
They have been praised for being reliable and safe, without any time limitations or any need to register with them and use YouTube to WAV converter and even download videos from other platforms or download YouTube videos.
Their software is free and you can use their video downloader, DVD burner, DVD ripper, and audio converter and convert a YouTube video to WAV or any format.
Freemake uses over 500 formats and gadgets to convert movies and videos. It also supports 3GP, FLV, MOV, Divx, AVI, and WMV (not only YT to WAV format). Its user interface is so simple to use and even a complex video can be downloaded in 3 clicks.
Key Features:
Various Visuals: Convert videos from DailyMotion, YT to WAV format and more, and Vimeo, to formats such as MP4 and AVI among many other formats. You can then upload these files to iTunes or iOS. 
Rotate Videos: Easily rotate your videos 90 or 180 degrees, merge them with other videos, and remove black bars.
Subtitles: You can add subtitles to your videos in SRT, SSA, and ASS formats. Want to be unique? Add your subtitles with special characters and Unicode.
Gadget Compatibility: You can play your converted files on a range of devices like BlackBerry phones, Sony PSP, Nokia, Google Android tablets, iPhone, and Xbox consoles.
Speeds: TechRadar and Tested.com have tested the speeds of Freemake and deemed them as a faster downloader compared to any other online video converter.
Pricing:
Freemake is..well..free. All their tools are available to use online without having to pay, register, or download other software. In just three simple steps you can successfully choose your desired format and download and convert your YouTube videos.
---
What are YouTube to WAV Converters?
At some point, we have all been exposed to YouTube and the limitless videos to view. Every so often you come across a video that you like and wonder if you could have the video downloaded off YouTube and saved to your device, be it a phone or PC.
The simple answer is to get a YouTube to WAV converter. The WAV audio file format is quite similar to the MP3 format in that they both have a significant role in the digital audio industry.
By using a YouTube to WAV converter, you can download and convert YouTube videos to audio files and store them on your device at the highest audio quality. WAV file formats are generally larger than other audio file types.
What is a WAV file?
A WAV file is an audio file that has been saved from a video, in this case, a YouTube video. You can download and convert from other streaming platforms such as TikTok, Vimeo, Facebook, Spotify, and DailyMotion using YouTube to WAV converter or using a video converter.
You can either have an uncompressed file or a compressed file that replicates the original master's tapes; audiophiles call these formats "lossless" because they don't lose any of the original recording's audio accuracy.
WAV files are lossless audio formats and are popular because they retain the highest quality audio.
Another point to note is that WAV files are fairly larger than other well-known file types because they're typically uncompressed. You may find a WAV file as large as 4 GB with a 32bitrate file size header because it contains a lot of information for the computer to produce.
The music recording industry prefers these file types because they have better quality and provide the topmost WAV format audio quality or even CD quality audio files when you download videos or when you are converting YouTube videos with a WAV converter or other converter to other audio and video formats
Why Should You Convert YouTube Files to WAV?
As we have seen above, WAV is an elite file type and is known for retaining better-quality audio. You may even notice that the file format you choose affects the playback quality or your device's ability to play the file.
Waveform was fashioned by Microsoft and IBM in the early 1990s and became popular and widely used in extracting speech and music from videos uploaded on to YouTube.
Because most Wav files haven't been compressed when they're encoded, they tend to take up a lot of space. WAV is powerful and can save YouTube videos with ease and in large batches too.
The best part is that you keep the original quality, which is better than an MP3 formatted file. It is pretty simple to convert your YouTube to WAV in a few simple steps and they can be further converted to MP3 files if you so wish.
What Features to Look For in YouTube to WAV Converters
Now that you are deciding to download and convert your YouTube videos to WAV format, here are some features to look for when you're choosing a suitable converter:
1. Paid or Free: Although most free converters have really good features and tools, the paid versions usually have better features and more premium tools, especially when converting large files or batch downloads.
2. Online or Offline: The offline converters normally require you to download software, this may take up a lot of space on your computer or mobile device.
3. Speed: Noone wants to sit around and wait for their videos to download or to convert. Rather choose a converter that can handle multiple downloads and still maintain great speed.
4. Supported Formats: The best feature of your converter should be that it is capable of downloading in various formats and compatible with different operating systems or playable on n different devices.
5. Additional Features: It is highly recommended that you go with a converter that has additional features and tools like editing, trimming, subtitles creations, sharing, and scheduling tools. This cuts down the number of other tools you have to install.
YouTube to WAV Converters Summary & Top Picks
Converting YouTube videos to WAV is not complicated, and a lot of tools offer it as an online feature, which is recommended over downloading and installing software.
Many WAV converters come with standard features, while others have enhanced features to accommodate professionals.
To get the most out of your YouTube to WAV converter, you should be sure that it is compatible with your operating system and that it can convert to the format and size that you desire. That's why it's important you're aware of what are the best YouTube to WAV converters.

Here Are My Top Picks of the Best YouTube to WAV Converters: