Have you ever been so overwhelmed with your workload that you found yourself staying longer at the office to wrap up? Well, there's a simple solution. Get a virtual assistant. I have been relieved of the time-consuming task of managing my email inbox with the help of a virtual assistant, and I know of many entrepreneurs who use the services of virtual assistants to handle their day-to-day tasks like marketing and bookkeeping.
In this guide, I've taken a look at a number of virtual assistant companies and compared them to each other. Read on to find out which are the best virtual assistant companies on the market.

Of course, you may not be totally convinced that you need a personal virtual assistant, or if they are even worth it, but I assure you they are.
If you stop and think about how much of your time is spent on tasks that don't help to grow your business – scheduling meetings, juggling email, managing social media, etc.?
While you're doing those repetitive and time-consuming tasks, you're not generating revenue.
Delegating these activities can free up your time so you can focus more on high-level strategy, business planning, and other things that actually move the needle for your business.
What are the Best Virtual Assistant Companies?
Best for Entrepreneurs and Big Businesses ($310/month for 10 hours).
In case their name was not a giveaway, Time Etc boasts of their excellent time management skills. Delegating your time-consuming tasks to Time Etc allows you to feel more focused and organized, and you can spend time on business strategies and hit your goals. This makes them one of the best virtual assistant companies of today.
If you are not sure that you need a virtual assistant, send over a task to Time Etc and they will complete it for free so that you are convinced of their quality work. No-obligations. They have saved clients over a million hours and received hundreds of 5-star ratings since they opened in 2007.
Key Features:
Vetted Assistants: Time Etc assesses all their assistants thoroughly. Only those with a college degree and a minimum of 5-8 years of experience become a part of their team.
Mobile App: On the go? Time Etc has a mobile app that allows you to communicate with them at any time.
Billing: With their 'to-the-second' billing, you are assured billing transparency and reporting, with an option to switch plans at any time.
Pricing:
Get a free trial before you commit. Plans range from $310.00 per month for 10 hours, to $1,680.00 per month for 60 hours with a dedicated assistant. Bonus feature: you can add extra assistants or share plans with your team, for free!
---
Best Virtual Assistant Services for Startups and SMEs ($499/month).
If you've just started a company and are looking to expand the scope of your work, or have a company and need an extra hand, Wing Assistant is an excellent choice. Their cheapest plan is perfect for small businesses because it comes with a wide variety of services and features specifically suited for such companies.
With a Wing virtual assistant, you'll get an experienced, professional individual that will take care of tasks that don't require too much training or expertise. Getting a virtual assistant to keep track of your calendar, schedule calls, and manage your invoices and payments will help you focus on other things.
Lastly, your assistant will answer phone calls, respond to emails, make travel arrangements, and handle internal support.
Key Features:
Personal and Team Calendar Management: Your personal virtual assistant will take care of scheduling and keeping track of daily calendar tasks.
CRM Tool Management: Wing Assistant's assistant will handle your CRM tools by storing & updating records and collecting information for marketing use.
Invoice and Expense Tracking: You won't have to worry about taking care of the financial side of your business on a daily basis because the virtual assistant will do it for you by creating & sending invoices or statements, recording company expenses, and tracking payments.
Pricing:
Wing Assistant has three simple plans and they are as follows:
Part-Time: $499/month: 1 user account, 4 hours/day availability Monday-Friday, 5-minute response time, 1 dedicated assistant
Full-Time: $899/month: 3 user accounts, 8 hours/day availability, Monday-Friday, 3-minute response time, 1 dedicated assistant, workflows
Full-Time 2X: $1699/month: 5 user accounts, 8 hours/day availability, Monday-Friday, 3-minute response time, 2 dedicated assistants, Workflows
---
Best Virtual Assistant Services For Specialized Businesses (Starting at $40/hour).
Belay has virtual assistants spread across at least 48 states in America and provides world-class services from specialists in industries like social media, website design, bookkeeping, and general virtual assistance.
During their detailed onboarding process, they carefully match you with the right assistant, fitting your needs. If their VA is not familiar with your specific software then Belay will train them for free.
You get a chance to meet your assistant in case you have questions for them, ensuring you are satisfied before starting. This is a great way to ensure that you're always matched with the perfect VA for your specific needs.
Key Features:
Report Writing: Having these handy reports allows you to make informed and key business decisions.
US-Based: Although they are spread across the continent, all Belay assistants are US-based professionals and work in different time zones for your convenience.
Services: Belay has a vast range of professional services including content writing, web maintenance, bookkeeping, and social media management.
Pricing:
Belay's pricing plans come in scalable packages that start as low as 30 hours per week. Hourly rates range from $40-$50, depending on what your needs are.
---
Best Virtual Assistant Services for Seamless Delegation (Free Trial, Then $6.50/Hour).
Delegation is crucial to business growth, and TaskBullet makes it as simple as possible for you to start delegating your day-to-day tasks virtually so you can free up more of your time.
For an affordable fee, you'll be able to choose from hundreds of vetted Virtual Assistants with the skills and flexibility to cater to your specific needs.
The platform has developed and refined an extremely simple delegation system that allows you to maximize efficiency so you can start seeing better margins in your business.
Key Features:
Wide Range of Services: TaskBullet has virtual assistants in multiple areas, including real estate, customer service, data entry, admin support, and more.
Highly Motivated VAs: All the virtual assistants on the platform are well-trained and highly motivated to excel in their areas of expertise.
Affordable Virtual Assistant Pricing: You only pay for the hours you need, so you won't have to worry about hidden fees or contracts. 
Pricing:
TaskBullet offers you a free trial before you commit to a paid plan. Plans range from $6.50 to $11 per hour for assistants from the Philippines, and US-based VAs cost $25 – $30 per hour.
---
Best Virtual Assistant Services for Small Businesses and Freelancers ($140.00/month for 10 hours).
Founded in 2012, MyTasker has a team of over 100 employees offering non-voice back office services in different industries. They offer a wide range of services related to admin assistance, digital marketing, web development, graphic designing, content writing and IT solutions.
Once you sign up, you get a dedicated account manager who monitors your tasks and continuously reports to you. You also get a user-friendly interface and top-notch customer support.
When you find yourself in a position where you have to deliver a project at a certain deadline and need more manpower, MyTasker has emergency support in place, and multiple VAs chip in and go the extra mile by working together to get the job done on time.
Key Features:
Expert Team: Your projects are handled by experts in their corresponding fields including IT personnel, web designers, digital marketing experts, and content writers.
Uninterrupted Service: Whether it is dusk or dawn, weekend or bank holiday, the MyTasker team works around the clock with optimum teams to keep your business running.
Pricing:
You have the freedom to choose your billing periods from monthly, quarterly, to half-yearly, and yearly. Discounts of up to 15% are offered on recurring fees and you either pay in advance or on a pay-as-you-go basis.
Join using my discount code for 40% off the first order: ONEHOURPROFESSORMT40
---
Best Flexibility when Choosing the Ideal Virtual Assistant for your Needs (Free Plan Available)
RemoteCo is a job board where you can find experts from numerous fields from Latin and Central America, which can help your business save money.
The information about each virtual assistant is clearly displayed on the website, meaning you'll very quickly be able to tell whether or not they'll be a good fit for your company. The site is very easy to use and their Free Plan is a pretty good way to get a feel for the service.
However, if you want to get the most out of RemoteCo, you should go for the Professional or Premium plans that come with a lot more features.
Overall, RemoteCo is a very impressive job board with an expansive worker database meaning you'll always be able to find exactly what you're looking for.
Key Features:
Maximum Flexibility: RemoteCo has a large database of virtual assistants that are looking for work. You'll be able to select the one that best fits your business needs.
Availability Information: Each virtual assistant is required to add their available monthly hours when creating their account on RemoteCo. You'll instantly be able to tell which virtual assistants are a good fit.
Detailed Virtual Assistant Data: Everything that you're looking for in a virtual assistant is clearly displayed on the website. You won't have to ask them for crucial information yourself which will save you time.
Pricing:
RemoteCo has three plans which are explained below:
Free Plan: 1 job posting, View job applications, Bookmark workers
Professional Plan: $99/month: Free plan features plus you get 3 job posting, Instant job approval, Contact up to 50 potential workers, See workers' profiles, Receive email newsletters
Premium Plan: $149/month: Professional plan features plus you get, Contact up to 500 potential workers, Time/web tracker, External application link
---
Best Virtual Assistant Services for Entrepreneurs and Professionals ($499.00/month for 40 hours).
If you need a dedicated virtual assistant then WoodBows is a good choice. There are just four simple steps in the onboarding process and you can get started the very next day! Now that's efficiency at its best.
Their staff have at least 10 years of experience in their corresponding fields and are all college graduates. You can choose an assistant from the USA, India, or the Philippines. One notable fact about WoodBows is that on average 98.9% of their clients are repeat clients, which says something about the quality of their work.
Services include web design, customer support, marketing professionals, and content developers, so if you need more than one service, this is a one-stop-shop.
Key Features:
Performance Guarantee: They are so confident in their quality of work that if you are not satisfied, they will double the hours you had paid for, at no cost to you.
Dedication: You get a dedicated account manager who gives daily status updates on your projects via email or phone, round-the-clock.
Security: Never worry about the safety of your company's information because they use advanced Data Encryption Technology.
Pricing:
You are spoiled for choice with four pricing and payment plans which are monthly, quarterly, annually, or semi-annually. Begin with a free personal interview, no contracts are required and you can cancel at any time.
---
Best Virtual Assistant Services for Small Businesses ($5.00 per hour).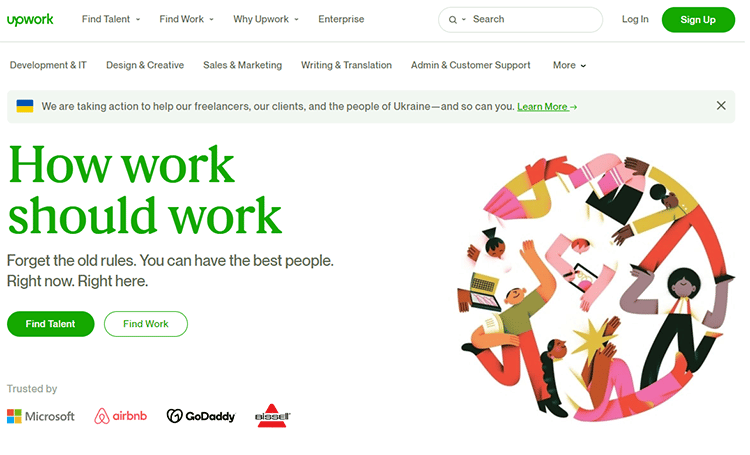 Upwork is easily the most affordable marketplace to hire virtual assistants. They provide services ranging from software and website development, to design and animation, and marketing.
Contractors are rated and reviewed by peers while previous clients can also rate their performance. You get to interview potential workers to match your needs and negotiate project terms and payments to suit your budget.
There are no monthly costs with Upwork and you get to negotiate rates and pay for the work which you approve.
Key Features:
Rating System: Their impressive 360-degree rating system not only allows clients to rate and comment on their VA's but VA's get to rate and comment on their clients too.
Multi-Lingual: Having assistants based worldwide means that there are different languages available and across different time zones to meet your needs.
Online Research: They conduct thorough online research for your projects and offer proofreading and editing services for all your important documents.
Pricing:
Pricing is dependent on the assistant that you hire. You can negotiate rates but there is a minimal hourly rate. Payment funds are kept in escrow so VA can see a financial commitment, but clients are assured payments are only released after work is completed and approved.
---
Top Virtual Assistant Services for Small and Medium-Sized Companies ($299.00/month for 20 hours).
A powerhouse company that has been mentioned in 30under30, CNN, and Forbes for their highly skilled staff who provide specialized administrative and clerical services in different industries.
They stand out for being cost-effective and flexible. If you happen to exceed your hours, a customer service representative will inform you and offer to upgrade your current plan.
If you are concerned about the safety of your company's confidential data, Uassist.me has comprehensive confidentiality policies that are enforced to give you peace of mind. They continue to provide this world-class BPO service to over 300 clients worldwide.
Key Features:
Payment Terms: Freely choose the hours your assistant is needed and pay for only the hours you use.
Staffing: All the staff at Uassist.me are college graduates who are fully bi-lingual (English/Spanish).
Services: Uassist.me offers services in over 60 industries, with over 350 qualified staff at your fingertips.
Pricing:
Schedule a free consultation to find out more about the platform's plans. You can then choose the plan that suits your needs best and only pay for the hours that you use. The company is transparent with its pricing and you can start from as little as $299 for 20 hours a month or have a dedicated full-time assistant for $1,499 a month.
---
Best for Small Businesses and Executives ($1350.00/month for 55 hours).
Adapting to your business needs and preferences is what Prialto does best. They seamlessly manage your high-value tasks with a team of well-trained and dedicated virtual assistants, refined with over a million hours of experience.
Some of their specialized services include lead generation, expense reporting, prospect development, and CRM data entry or maintenance.
Advance your business with Prialto's engagement managers who monitor your business progress and make suggestions to help optimize your operations to get the best ROI.
Key Features:
Team-Based: You get full support from a competent team, including a project manager and a backup assistant to keep work flowing uninterrupted.
Rankings: Prialto came highly ranked by Time Doctor, Boldly, and Investopedia in 2021.
Training: VAs get customized training for your company's specific systems and protocols at no extra charge and are always kept up-to-date with the latest technology stacks.
Pricing:
Plans are available for personal use, for your team of over 3 members, or for your organization with over 8 members. Get flat-rate plans and never worry about hidden costs or added fees.
---
Top Virtual Assistant Services for Large Enterprises or Teams ($1,788.00/month).
Having served over 7,500 clients since being founded in 2008, MyOutDesk has earned its reputation as the most trusted virtual staffing company. Whether it's a small startup company or a big organization, this VA service values and treats all their clients with high-class white-glove service and support.
MOD VAs provide the experience needed to close deals, generate more leads, and make more commissions within various industries such as healthcare, real estate, consulting, finance, biotech, and construction.
Need more time to handle important business? MOD can handle your travel arrangements, manage your calendar, screen your emails and calls, and tackle your content creation and social media presence, saving you time and money.
Key Features:
Cost Saving: You could save 70% by hiring a MyOutDesk VA instead of a full-time employee. Every year they generate $100m in combined revenue and cost savings for their clients.
Star Rating: In 2021 they received over 800 verified five-star business reviews, ranking them tops by TechRadar and Analytics Insight.
Personalized Plan: During your 1-on-1 consultation, you get to discuss your business problems and get a personalized plan to resolve them. They go the extra mile to give you a free 90-day launch plan with business strategies and guides to get you going.
Pricing:
Choose from their three plans, namely 3-months for $1,988 per month, 6-months for $1,848 per month, and 12-months at an unbeatable $1,788 per month. Save your company up to 70% by hiring MOD assistants and avoid long-standing company costs like retirement, benefits, and management staff.
---
Best for Individuals and Busy Professionals ($17.99/Month).
Fancy Hands has built its reputation around rapid service for on-demand short tasks. So if you need help with a single task or a small job, sign up with them.
You may find that you deal with a new VA each time or you could request a long-term relationship with your preferred VA, either way, you still get transparent service, responsive communication, usage tracking, administrative control, and flexible pricing.
One noteworthy feature is that your unused requests from the previous month can accumulate and roll over to the next month. You could also sign up for a plan that allows you to invite your team members to use your unused requests.
Key Features:
Account Integration: Unlike many of its competitors, they can easily integrate into your Trello or Asana accounts, enabling close monitoring of tasks.
Repeat Scheduling: Follow the simple steps to schedule either a once-off task to be done or schedule a repeat request so you don't have to worry about back and forth requests.
Accessibility: From the palm of your hands, you can submit your requests through their iOS and Android app, via email, through phone calls, or simply send a text message.
Pricing:
From as little as $17.99 you can send through three requests a month, or 30 requests for $149.99 per month. Their standard requests are 20 minutes' worth of work and you could earn discounts of up to 20% on yearly plans.
---
Best for Small Businesses ($10/hour).
Magic staff is all college graduates who are available around the clock to give you the best services for rush projects. It began in 2015 as a text-based service but has since grown into a highly recommended service provider for rush jobs.
Once you sign up, you are provided with a team of 15 VA's to choose from to help solve your problems, their weekly billing is $35 per hour, and billing stops once your task is completed. They offer services from day-to-day personal tasks or seemingly impossible professional projects.
Key Features:
Round-the-Clock: Services are provided any time of day, all year round with responsive communication through Slack, their iOS app, SMS, Telegram, or email.
Prompt Startup: Sign up for free, choose your virtual assistant, complete the onboarding process, and get started on work immediately.
Pro-Rata Rates: Conveniently pay only for the time when an assistant is working on your tasks, prorated to the exact minute. Easily upgrade your plan if you need to.
Pricing:
Get a hand-matched assistant to work with you in as little as 72 hours starting from $10 an hour. For personal use, you can get a managed account for $35 per hour, or a dedicated account manager for your business at $2,000 per month.
---
Best for Busy Entrepreneurs and Solopreneurs ($29.95/month for 5 tasks).
Based in New York, OkayRelax has a small enthusiastic team that specializes in non-voice back office/BPO services, as well as voice services.
Reduce your workload and stress levels by handing over tasks such as gift purchasing, content writing, social media management, scheduling, calendar management, and research tasks to their skilled virtual assistants.
Ever thought of hiring someone to help you look for a job? Well, OkayRelax takes the burden off your shoulders and deals with your resume creation, targeted job searches, applications, interview confirmations, coordinated schedules, and full reports.
Key Features:
Gift Purchasing: Say goodbye to endless hours wasted hunting for the perfect gift. OkayRelax does the research and presents your available options, and shops for you while you relax.
Templates: Suppose your organization uses a document often, let OkayRelax create the document template for you and save you time from the repetitive document-making process.
Premium Customer Care: Uninterrupted hours spent between you and the VA, with feedback on what went wrong and what went right so that OkayRelax can perfect its services.
Pricing:
Whether you just need a little help with daily tasks or tailored tasks, there's a plan suitable for every budget. You can either pay-as-you-go or pay upfront for packages, and get huge savings on annual subscriptions. No subscriptions and you're welcome to terminate at any time from your client dashboard.
---
Best for Small and Large Businesses ($1,350.00/month).
If you need more complex tasks to be completed like project management, e-commerce support, bookkeeping, or marketing, Boldly will provide you with a team of highly-skilled virtual assistants who have over 15 years of experience in their respective fields.
Boldly is fully equipped to handle jobs for small or large businesses, as well as busy entrepreneurs. They conduct a comprehensive hour-long meeting to discuss your company needs and pain points and proceed to match you with a suitable VA either from their Uk or US teams.
Key Features:
Sharing Hours: Boldly allows you to share your hours with other users.
Native Speakers: It is a bonus when your VA provides multilingual support in English, Italian, Spanish, French, German, Dutch, and many more languages.
Dashboard: With your user-friendly dashboard, you can track and monitor everything that your virtual assistant does.
Pricing:
Click the "Get Started" button on the website and you'll be able to talk to the support team to determine the right plan for you. There are no extra charges for requests to do urgent tasks or adding extra users. With no startup fees, you get premium personalized services. $1,530 gets you 30 hours a month, while $3,060 gives you 60 hours.
---
Best for Executives, Entrepreneurs, and Big Companies. ($549/month for 12 hours).
If you have never worked with a virtual assistant before then Zirtual is a great place to start. Their qualified agents have strong academic backgrounds and are skilled in industries such as web maintenance, event planning, data entry, and marketing.
Assistants go through strict background checks and are experienced with smart tech like Lastpass security, and respond to your task requests within two hours.
At the convenience of an email, you can change your VA, update your company needs, upgrade your plan, or suggest new strategies for different outcomes. Their customer care and support is second to none, with your agents always ready to lend a hand.
Key Features:
Communications: You will always get quick responses and high-level communication skills from all the Zirtual agents.
Inbox Management: A lot of your time is spent filtering your email inbox and responding appropriately. Zirtual knows this and they are efficiently skilled in managing your inbox expertly.
Security: Have peace of mind knowing that your company data is kept securely with solid password-sharing tools.
Pricing:
No matter how small or large your tasks are, there is a plan available, at an affordable price. From single user plans for $549 for 12 hours a month to team plans for $1,699 for 50 hours of work per month. No long-term contracts are required and you can easily switch between plans according to your needs.
---
Best for Small Businesses and Startups ($65/month for 5 hours).
Established in 2000 in India as an all-male company, their mid-sized team of 200 now-gender-blended assistants provides non-voice back office/BPO services and voice services to busy individuals, startups, and entrepreneurs across 30 countries worldwide.
They go the extra mile to keep clients happy by doing mundane family tasks, freeing up time for clients to spend more time with their family or to focus on other business needs.
Need a plumber for the home, family dinner reservations, or have trouble finding a cleaning service for your home? GetFriday does these tasks with ease.
If you know you will be overwhelmed with work and other pressing tasks you can simply upgrade your plan to get more assistance, or easily downgrade your plan if you know you will need less assistance, a 30-day notice period is required to switch between plans.
GetFriday has committed to social responsibilities and joined hands with charitable groups to help communities worldwide such as blood banks, schools, music academies, and addiction rehabilitation sites.
Key Features:
Specialized Work: All virtual assistants at GetFriday are graduates and they have separate teams of specialized staff who handle complex tasks.
Projects: You can choose to hire a VA for a once-off single project or for long-term projects.
Back-up VA's: Your work will never go unattended because they always have a back-up VA working with your dedicated VA to keep your work progress flowing.
Pricing:
Register on the website for a free quote. There are no hidden charges when you opt for the 7-day free trial, you can go on to choose if you want to purchase bulk hours or have a monthly subscription.
Save almost 50% when you subscribe for bulk hours. Packages range from Basic $65 for 5 hours a month to Plus160 $1,120 for 160 hours which works out to an impressive $7 per hour.
---
Best for Small Teams ($7.99/hour).
Recognized as one of the most premium VA companies, Remote CoWorker provides strategies to scale your business and holds your hand every step of the way.
You can conduct as many interviews with potential virtual assistants till you feel you have found the perfect fit. An account manager will oversee your dedicated VA's the entire running of your task from start to end.
Remote CoWorker guarantees you 80% more productivity when you sign up. They will actively monitor your tasks and appropriately integrate their technology and skills in order to boost results.
Staff at Remote CoWorker enjoy building relationships with their clients as they work hand-in-hand to produce the best business results.
Key Features:
Bilingual VA's: On average, only 1.7% of applicants get accepted. English is their main language of communication but many of the Philippines and Costa Rica VA's are bilingual.
Transparent Pricing: Remote CoWorker has transparent pricing policies and you pay only for the minutes that VA's are working on your tasks.
Interviews: Grab the opportunity to conduct face-to-face interviews with potential VAs that you wish to work with.
Pricing:
Every plan provides you with weekly reports, a dedicated VA, background checks, onboarding support, and an account manager. Part-time starter packages start from as low as $7.99 per hour while full-time bilingual assistants are $9.99 per hour.
---
What is a Virtual Assistant Company?
Small businesses, entrepreneurs, startups, or larger businesses sometimes need an extra hand to get work done and seek the services of a virtual assistant.
Virtual Assistant companies like the ones listed here have a vast collection of trained, specialized assistants in their database readily available to hire to help with things like managing a podcast, helping host webinars, online courses, and more.
Engaging with a virtual assistant company means they will match you with the best-suited, skilled assistant to meet your needs. This saves you time scouring through profiles and interacting with several potential agents to find your perfect fit.
Simply let a virtual assistant company know your needs and they will quickly supply you with the best VA at an affordable price.
What is a Virtual Assistant?
A virtual assistant or VA is a remote worker who provides administrative support and assists with social media, marketing, and various other tasks for businesses and individuals.
Virtual assistants have become quite important as startups and small businesses are turning to virtual offices to cut down on overhead costs of office rentals and full-time employees.
VAs are self-employed, independent contractors who typically provide specialized administrative services and support from a remote location like a home office.
They have access to company or personal data such as passwords, documentation, and calendars, and carry out tasks such as email management, bookkeeping, social media management, and event planning, freeing up time for clients to focus on other business aspects.
Virtual Assistants can be contracted to perform a once-off task, per hour, month, or longer and are generally paid an hourly rate. VA's are favored for their flexibility in work hours and can be part-time or full-time employed.
Types of Virtual Assistant Companies
In bygone years you would have to browse freelancing websites to find a self-employed VA, but times have since changed. It is much easier these days to find a virtual assistant by simply engaging with a VA company that employs agents and they will match you with a suitable VA.
Different services are provided by virtual assistant companies ranging from email management, social media management, real estate assistants, eCommerce assistants, accounting/bookkeeping services, marketing, and so much more.
What Features to Look For in Virtual Assistant Companies
There are scores of virtual assistant companies that will help clients with administrative and technical solutions and you should be comfortable with the company you settle with.
Of course, you will need to shop around as some will promise more than they produce, so here are a few features to look for when comparing the best virtual assistant companies.  
1. Diverse Service Range: While dealing with a Jack of all trades is not always the best solution, you should go with a VA company that offers a range of services.
Today you may only need your email managed but in the near future you may need social media management, so rather than contracting another virtual assistant company to carry out another task, go with a company that has specialized VAs in different industries and keep your tasks with one company.
2. Certifications: Working with specialized agents makes all the difference in your company, working with unskilled workers can cost you time and money (not to mention your business's reputation).
In order for virtual assistants to get certifications, they have to go through training and pass a skills test. Foreign language skills are advantageous if you conduct business internationally.
3. Communication Skills: Nothing is more frustrating than working with agents who lack communication or when information gets lost in translation due to language barriers.
Responsive communication is very important. As a business owner or entrepreneur, you should be kept up-to-speed with the progress of your tasks, ideally, a dedicated VA who is available to communicate around the clock will be best. If you conduct business globally then a company that has multi-lingual agents is a great idea.
4. Pricing: How much should you pay for VA services? Well, it depends on the type of work required. For example, if you need simple administrative tasks, it will cost less than tasks like eCommerce store design.
However, there are other services that charge a flat fee regardless of the type of work. Other companies only focus on administrative tasks provided by support teams from Asia and India that offer more affordable hourly rates.
You may prefer a long-term, US-based, and college-educated VA with years of experience, in which case you can expect to pay significantly more per hour.
Pro Tip: While you're sifting through the many different VA service company is available, it's a good idea to actually speak to the representatives about the types of tasks for which you want to use a VA.
This way, you'll know whether or not the service has the right type of assistant(s) available to help you in terms of your business hours, budget, and your time zone. Also, you must ask how the company guarantees its work and whether or not unused time is rolled over to the following month.
Summary And Top Picks
There is no need to be overwhelmed and burnt out because you have too many business tasks on your plate. Virtual Assistants have become a popular solution and are readily accessible at affordable rates.
Virtual Assistants are flexible with the hours of work that you require from them and ultimately free up time for you to focus on other crucial business matters.
Skilled agents can handle your marketing, bookkeeping, planning, phone calls, and other tasks that an executive secretary does without the additional costs of having a full-time employee. You too can get an affordable virtual assistant easily using the companies listed in this article.

Here is a short list of the best virtual assistant companies out there: