Teachable is an excellent learning platform for course creation. It offers tools not only for building courses but also for marketing and selling them.
But, as excellent as the platform is, many other platforms are just as impressive and worth considering.
Besides, Teachable may be a viable solution for many instructors, but, like most other platforms, it has a few shortcomings that might be solved by using another creation platform instead.
In this post, we take a look at some of the best Teachable alternatives and other platforms that are available out there so you can determine which is the right one to take care of your needs.
So, if Teachable isn't the right option for you, never fear. There are tons of viable and top Teachable alternatives without needing too many technical skills.
I've listed some of the best below to save you the trouble of sifting through hundreds of online reviews.
Pros and Cons of Teachable
The eLearning industry is rapidly evolving, and you need an online course platform that can cater to the demands and dynamics involved in delivering a successful online course.
Depending on your needs, consider the pros and cons below to see if Teachable is the right platform to provide that for you or if you're better served by going with a different alternative.

Where Teachable Excels
The easy-to-use drag-and-drop editor that requires no technical or coding knowledge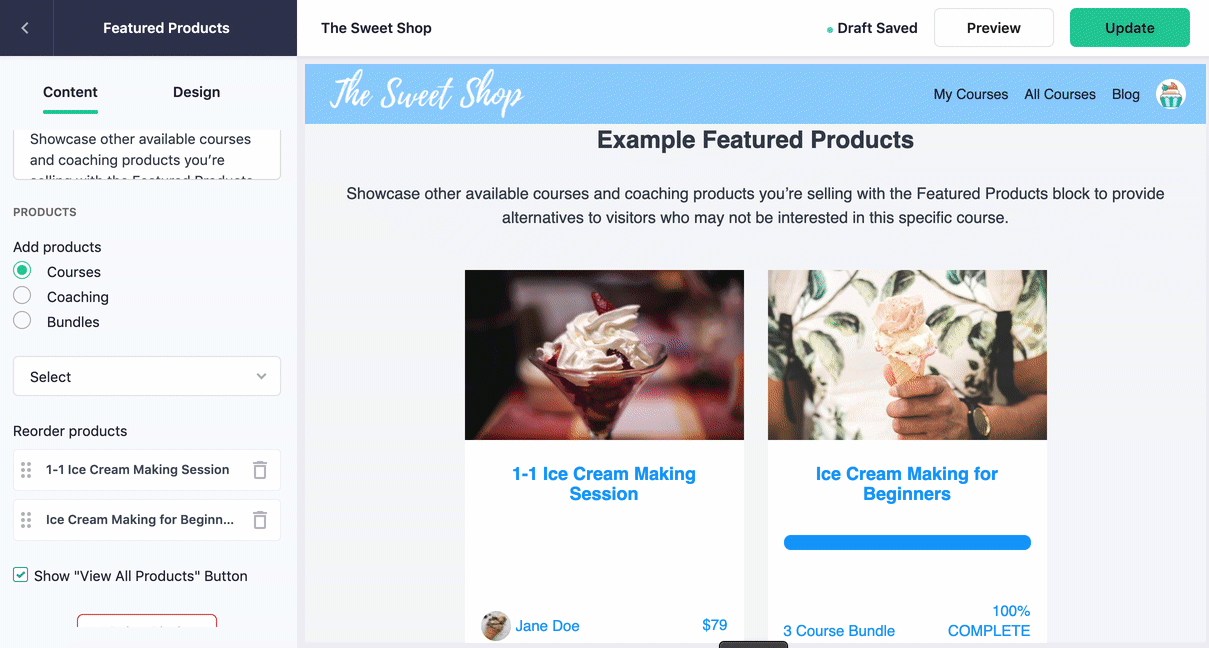 There are unlimited courses (as many courses as you can), students, storage for digital downloads, etc.
A free version of the software is available with no credit card required
Robust community support, forums, and events
Course completion certificates
Lucrative affiliate program
Trustworthy and secure course hosting platform
Where Teachable Needs Improvement
Lack of white label branding
No course certification features on the Basic plan
5% transaction fees, even on the Basic plan
Teachable branding on the sales page and login URLs
No email marketing features
I've written an in-depth Teachable review that you can check out here. As great as the online platform is, I feel it's worth looking at alternatives before purchasing.
Graphy is an all-in-one course software tool that helps individual instructors, businesses, and educational institutions create and sell online courses by launching websites and mobile apps.
The SaaS-based platform is a powerful yet affordable option to consider in place of Teachable. It comes with robust course creation tools and marketing and sales features to help you generate more revenue from your online course.
This DIY platform lets you white-label your own website or mobile app so you can build a stronger brand.
You'll find tons of student management tools designed to help you boost engagement among learners and provide them with an outstanding experience.
The feature-rich learning management system (LMS) has SCORM support. As a result, there's no need to integrate any third-party tools throughout the entire process of building, promoting, and selling your online course (unless you want to continue using your current marketing tools).
You can build any type of course or online school quickly and easily with the simple website builder that requires no coding knowledge. Host a custom domain, offer dynamic and advanced pricing options, and collect revenue globally.
Graphy Pricing
Graphy offers affordable pricing across all four premium plans, starting at $54/month for the basic plan or basic package – which includes unlimited courses, video hosting, videos & storage, extensive support, and can let you accommodate up to 10,000 active learners.
Those who wish to test the waters first can also opt for the Free Forever plan to access the core set of advanced features on the platform, absolutely free of charge.
Graphy is Best for
The platform is one of the Teachable alternatives ideal for course creators, entrepreneurs, and even large organizations who want a reliable and affordable all-in-one solution to manage and grow their online knowledge business.
Pros of Graphy
Wide Range of Courses: Graphy is designed for every type of course, including live courses, scheduled courses, and instructor-led courses – you can build your course as you like.
Content Protection: The platform ensures that you have the tools to deliver piracy-free, secure course content to your students.
Mobile App: Strengthen your brand with a no-code, customizable mobile app and website for your course.
Custom Course Certificates: Graphy allows users to issue custom certificates (for completion certificates and more) to the learners on all plans.
---
Like Teachable, Thinkific has impressive online course creation and membership features.
But, the thing that makes this platform a formidable competitor for Teachable is that it has a genuinely free plan that provides you with a top-notch drag-and-drop website builder.
It has page customization tools, landing pages, and many advanced features, including voiceover presentations and much more.
Another area where Thinkific excels over Teachable is the lack of transaction fees. You never have to pay anything to sell courses on the platform.
And while Teachable's drag-and-drop editor has more functionality, Thinkific has a great site builder that lets you create great designs without ever having to learn a line of code.
Yet another great thing about the platform is that it has built-in survey mechanisms, which means you don't have to use third-party tools to create surveys for your course.
It's easily scalable for multiple admins, instructors, and support staff, making the software ideal for building a successful online education empire.
Also, you can quickly get rid of Thinkific branding on your pages, unlike Teachable, where you have to sign up for the higher-priced plans to remove the platform's advertising.
Thinkific Pricing
Thinkific has a free plan that you can use to test-drive the platform's core features without committing to a paid subscription and basic plan.
Premium plans start from that $99/month, and you'll get all the basic tools required to build and launch your first course.
Thinkific is Great for
This all-in-one platform is one of the Teachable alternatives that is ideal for instructors who want to create an outstanding student experience and grow their course business through repeat sales and word-of-mouth referrals.
Pros of Thinkific
Free Plan: Thinkific offers a forever free plan with top-notch tools for creating and marketing your courses online.
Mobile-Friendly: The course platform focuses on making its sites mobile-friendly to ensure your content looks good on any device used by your students.
Instant Payouts: You get instant payouts, so you never have to wait for your course revenue.
Exceptional Classroom Experience: This course software is great for anyone who wants to replicate the online classroom experience.
---
LearnWorlds is a powerful platform with reliable tools to help you create and manage a successful online school with a community feature for students.
When it comes to community building, this platform outperforms Teachable.
It has a custom mobile app to facilitate an improved student experience, and you can build your own community or social network with features such as comments, likes, etc.
LearnWorlds also has an impressive website builder with powerful tools to help you create genuinely unique online course pages.
You'll be able to boost retention rates using social media management features, including private groups, profile pages, comments, and likes, making discussions more productive.
This platform is considered by many to be a great alternative to Teachable thanks to its offering of course material like interactive videos, transcripts, SCORM support, and HTML5 support.
LearnWorlds Pricing
Pricing starts at $24/month for the Starter plan, and you can sign up for a free plan and free trial to test out the software.
However, it's important to note that most of the platform's core features are available in the second-tier plan, including memberships, advanced customization options, custom certificates, and affiliate marketing.
LearnWorlds is Best for
The platform is one of the Teachable alternatives that is ideal for instructors who want to create private groups for discussions and build robust communities or social networks around their online courses.
It's also perfect for anyone who wants superior marketing features, including email marketing, affiliate marketing, upsetting, cross-selling, and coupons.
Pros of LearnWorlds
Robust Marketing Tools: LearnWorlds has course-centric tools such as memberships, coupons, native certifications, etc., that will make your marketing efforts a lot easier.
Enhanced Student Experience: You'll find a huge collection of community-building features to help you provide a great student experience, including discussion forums, and create quizzes, and much more.
Unlimited Courses: There's no limit to the number of courses you can create professional-looking courses and publish on LearnWorlds, making it great for scaling your knowledge business without incurring additional costs.
---
Podia promise that the platform can help you turn your passion into income by providing you with everything you need to create courses, market, and sell courses online, webinars, create course compliance certificates, offer digital downloads, digital marketing, affiliate program, and memberships, and when you create membership sites, etc.
You never have to worry about the technical side of building an online knowledge business because Podia takes care of all of it.
You get the simplicity of design merged with high-performance to ensure your success as an online instructor.
Moreover, the platform provides you with powerful email marketing tools that allow you to broadcast emails to students, offer drip campaigns, and much more.
Unlike Teachable, Podia allows you to brand your online course or online school website with top-notch white-labeling features.
But, it's important to note that all of this comes with a bit of a trade-off in design flexibility as the platform doesn't have the same features as Teachable's Power Editor.
Podia Pricing
Pricing for Podia starts at $39/month, and you'll get unlimited everything on all the plans. There are zero transaction fees, free migrations, and 24/7 support, including daily live Q&As.
Podia is Best for
This course platform is one of the best Teachable alternatives for content creators who want an affordable way to build an online knowledge business without needing more technical knowledge.
This all-in-one platform will provide you with a cost-effective solution to deliver immense value to your learners, from individual instructors and multiple instructors to small businesses and growing enterprises.
Pros of Podia
Simple User Interface: The all-in-one platform has a neat, simple, and straightforward interface. Even complete beginners will find it easy to navigate and find the features they need.
No Transaction Fees: On Podia, you never have to pay any transaction fees when selling your courses online, making it an excellent alternative for budget-conscious creators.
Powerful Email Marketing Tools: There's no need to integrate third-party email software due to the platform's robust email automation system.
---
LearnDash is a WordPress-based course platform. If you are already using WordPress, this LMS plugin is a great Teachable alternative to consider.
It costs a lot less than other course creation platforms on this list and offers a ton of flexibility and countless third-party add-ons that help you customize your site and expand its functionality.
Because it's a WordPress plugin, LearnDash gives you exceptional design flexibility, marketing flexibility, and access to the CSS editing environment.
But, unlike other course creation platforms that are based on WordPress, such as LifterLMS or LearnPress, LearnDash has native payment integrations which means you don't have to worry about trying to duct tape another solution for that
You can connect the software to WooCommerce or another plugin like CartFlows, a popular WordPress shopping cart tool.
The platform offers a ton of additional features as add-ons, which makes the core plugin extremely lightweight while allowing you the freedom and flexibility of expanding the functionality of your online course website.
For instance, you can use other plugins for superior email marketing features, protect your content, create membership sites, etc.
LearnDash Pricing
LearnDash costs $159/year for a single site license. With each plan, you get unlimited courses, users, and storage. You also get a year of customer support (including live chat support) and updates.
LearnDash is Best for
This popular learning platform is used by everyone from Fortune 500 companies and major universities to training organizations, entrepreneurs, and even individuals who want to build successful course businesses.
Pros of LearnDash
WordPress-based Solution: LearnDash is a WordPress plugin that makes it a lot easier to learn for anyone already familiar with the WordPress CMS.
Robust Integrations: This learning management system has powerful integrations which afford you a ton of flexibility in creating a unique online course.
Affordable Cost: Compared to most other course platforms, LearnDash is significantly more affordable, with a low one-time fee and a reasonable yearly update fee.
---
Kartra is a popular platform for building and selling online courses. It's a one-stop-shop for everything from website building tools to checkout forms, lead generation tools, sales/marketing funnels and campaigns, an affiliate program, email tools, custom development memberships, and affiliate programs.
This impressive all-in-one software has everything you need to build, create and sell your online course, so you don't have to worry about finding individual tools and apps to try and create a seamless workflow.
Everything is available in one convenient place, which helps minimize stress and reduce points of failure.
In short, this platform is awesome for the Pro and great for every Joe.
It will empower you to create an advanced, customized, and complex automated marketing campaign with just a few clicks. The platform does all the hard work for you.
Kartra Pricing
Pricing for Kartra starts at $99/month. All packages have the entirety of the platform's features – the only difference being in the size of your contact list, how much content you create, and your traffic bandwidth.
Kartra is Best for
Kartra is ideal for anyone starting a new online business because it provides you with all the tools you need in one place.
Thanks to the different, growth-focused pricing plan, it's perfect for businesses of all sizes.
Pros of Kartra
Secure Cloud Software: There's nothing to download when using the software, and all your data and information, like digital downloads, are secure in the cloud.
Cost-Efficient Solution: Kartra replaces dozens of tools for creating, marketing, and selling your online course, making it an affordable solution for online business owners.
Easy to Use: Despite having a mind-boggling number of features, this platform is designed, so you never have to learn code or hire programmers to get any of the work done with a third-party code from other programmers.
---
This is yet another all-in-one online marketing software and Teachable alternative designed to help you launch, grow, and scale your knowledge business.
With it, you can set up a website, create courses, create course compliance certificates, build sales funnels, and send automated emails. In addition, create and manage your online course or online school website, and run affiliate programs.
You can automate virtually every aspect of your online business, which makes this software an entrepreneur's Swiss army knife, considered by many to be the best budget funnel builder and marketing automation software of all time.
Systeme.io has a modern, clean, and pleasing interface with a great user experience. In addition, the page builder is beginner-friendly, so you don't need any prior experience to use it.
You can easily customize your course lessons and landing pages with a few clicks, and the platform has a game-changing "share block" feature that allows you to share your pages and funnels, sections, elements, blocks, etc.
You can get started using Systeme.io with a free plan. Build sales funnels, set up a website or blog, build a membership website, and host a custom domain.
The free plan comes with unlimited emailing, file storage, and 2,000 contacts. Premium plans start from $27/month, and all payment plans come with 24/7 customer support.
Course creators, consultants, authors, freelancers, and small business owners offer free courses and anyone else who wants a reliable and non-tech way to build and sell online courses quickly and do digital marketing for your own online courses.
Pros of Systeme.io for Online Business and more
Free Plan Available: You can get started using this all-in-one marketing platform without having to invest any money upfront.
A/B Testing: Systeme.io offers A/B testing features that allow you to tweak and optimize your content offerings and marketing strategies to maximize your conversions and returns.
Prebuilt Templates: The platform has an impressive range of pre-designed templates that you can choose from, so you don't have to start from scratch creating your own.
---
This is yet another amazing course platform that makes a great alternative to Teachable. It's a simple tool that allows you to instantly start earning money with your knowledge, technical skills, and talents.
One of the main differences between the two is that Teachery doesn't charge a transaction fee on-course sales.
Also, Teachable only offers one theme, whereas Teachery has two website themes to choose from. And where Teachable offers a Power Editor, Teachery has a live editor.
Although lacking in some of the marketing features, you'll find on other online course platforms, such as memberships, email marketing software, course compliance, and in-depth reporting,
Teachery does offer a cost-effective solution that gets the job done, making it perfect for beginner online instructors.
The intuitive platform helps you craft your course content, so you don't have to figure everything out independently.
Everything is kept simple for you, and all the features are prioritized to ensure you have the tools you need to get through the process of creating, marketing, and selling your courses, even with no prior experience.
Teachery Pricing
Pricing for Teachery starts at $49/month for a plan that provides you with unlimited everything and limitless courses. You can sign up for a free 14-day trial on the website.
Teachery is Best for
As one of the other Teachable alternatives, the platform is ideal for beginner online instructors with zero technical knowledge who require uncomplicated tech, making creating online courses as easy as writing an email in Gmail.
Pros of Teachery
Simple Course Platform: Teachery is designed to make it easy for beginners to get their courses up and running.
No Transaction Fees: Unlike Teachable, this platform does not charge transaction fees for selling courses.
Two Website Themes: You have a choice between two expertly designed website themes for your online courses.
---
Yondo is a video platform that lets you create online video courses and sell them from your own branded online store.
This all-in-one video platform simplifies everything to make it easy for you to customization options for marketing (even email marketing) and sell your courses online.
Sell everything from online videos on demand to webinars, live one-to-one video consultations, and even online group classes.
This platform has all the tools to help you make your video course a success.
For example, you can sell your video courses as one-off purchases or time-based rentals. You can even have subscriptions and online memberships.
If you have a video-based course and video hosting, then this browser-based, mobile-friendly platform is what you need to sell it online.
Yondo Pricing
The platform's pricing and payment plans start from $69/month for the Starter plan, and you can sign up for a free 14-day trial to test out the software before committing to a paid plan.
Yondo is Best for
Professionals looking to expand their online services, particularly video course offerings, will find this platform extremely useful.
Pros of Yondo Online Course Platform
Branded Online Course Store: All your courses are listed on your own branded pages like landing pages to make it easy to create and sell your content.
Integrated Payment Gateway: Keep 100% of your revenue by integrating Stripe and PayPal.
3rd-Party Integrations: Yondo integrates easily with tools like Google Analytics, Dropbox, ActiveCampaign, MailChimp, etc.
---
This is a new, up-and-coming course platform and Teachable alternative with attractive features and competitive pricing.
It's an online course builder that is women-owned and designed to help you build a successful online business even if you have zero prior knowledge.
The platform prides itself on its ability to provide you with 2x the features at half the cost.
You can create a custom course using the online course builder. Alternatively, create a membership site to generate a source of recurring income for your business.
Send emails, set automation, create robust surveys and quizzes, A/B testing marketing funnels, and sell physical and all your digital products.
This platform lets you do everything in one place and for one affordable price.
Digital Course Hive Pricing
Premium plans start from $39/month for the Starter plan. You can sign up for a free trial on the website to get instant access to all the platform's features and see if it's an excellent fit.
Digital Course Hive is Best for
The platform is ideal for creators and entrepreneurs looking for an all-in-one software for websites, course creation, memberships, email automation, eCommerce, marketing funnels, etc.
Pros of Digital Course Hive for Online Courses
Custom Websites and Funnels: The platform has an easy-to-use drag-and-drop builder that lets even complete beginners build beautiful custom course websites, sales funnels, etc.
Pre-Styled Courses: If you'd instead not start from scratch, you're in luck. With pre-styled courses, most of the work is done for you, and all you need to do is pick a theme and customize it to your needs.
Powerful eCommerce Features: Will all the features, you'll be able to not only build a successful digital business but also sell digital products and physical products, and handle shipping as well, which means you don't have to integrate another platform, such as Shopify.
---
Summary and Top Picks
When searching for the best online course platform, most people look at course creation capabilities, student management, integrations, pricing, and customer support like live chat support.
You need a course platform that will help you create, market, and sell your course from one convenient place using tools that don't require any technical know-how.
Furthermore, you want a platform that offers robust customer support to instructors so you know you can always get help whenever you need it.
The course software you choose should also have powerful student management capabilities, so you can build engaging online courses and provide an exceptional student experience.
As a quick recap, here are my top three alternatives and why I chose them as top choices for online course platforms:
1. Graphy is the best platform for selling live, recorded, and interactive courses.
2. Thinkific: Best course software for budget-conscious creators.
3. LearnWorlds is the best course builder with an assessment engine and built-in social networks.
If you're ready to start building your online knowledge business, sign up for a free trial on any of these course hosting platforms to start creating your online course right now.