Streaming your on-screen content is a must for gamers looking to monetize their play-time and content creators of all sorts who want to showcase their talents. But finding the right streaming services for Twitch, YouTube, and other video-hosting platforms can be a chore. That's why my team and I tested dozens of different options to bring you the best streaming software for Twitch and YouTube:
If you're reading this post, it likely means that you're either a gamer looking to stream your content to the public or maybe both.
And why wouldn't you?
Having live interaction with your fans (or eventual fans for those just starting as streamers) is extremely important, and frankly, it's a lot of fun!
All you have to do is watch one of the live streams of Ninja, Tfue, or Shroud, and you'll quickly see why streaming can be such a great opportunity.
According to research, live streaming grew by 99% in just the last year alone, and by 2025, the global enterprise video market is estimated to reach $25.6 billion.
These insane growth rates make it clear that the video streaming industry offers massive opportunities for businesses and individuals willing to sit in front of a camera and interact with others.
But, with countless live streaming software options, how do you choose the best streaming software for you?
That's what we're going to cover in today's post. I've taken the time to dive deeply into most major live streaming platforms, so you don't have to. Enjoy, and let me know what you think in the comments.
Click here if you aren't sure what features to look for in a streaming platform.
What is the Best Streaming Software?
Whether you are a content creator who wants to try live streaming for the first time on Twitch or a business owner who wants to give like streams a try on YouTube, there's a suitable solution for you on this list or software with a free trial.
Best overall streaming software for Twitch & YouTube (Starts from Free)
OneStream is among the best streaming software options for live and pre-recorded videos.
With OneStream live stream software, you can publish and stream videos on multiple channels and over 40 social media platforms, including YouTube, Facebook, Steam, Instagram, Periscope, and Twitch.
You can easily schedule pre-recorded streams on social media up to 60 days in advance. Simply upload the video file, choose a date and time, and select the streaming destination.
You can stream videos on multiple platforms with various other streaming tools when streaming live aside from social media platforms. Configuration is easy and can start multicasting in no time with high-quality videos.
Key Features:
Embed Player: Embed live streams to reach wider audiences with ease.
Playlist Streaming: Queue and schedule pre-recorded videos and schedule them to go live in any order you choose.
Custom RTMP Streaming: Use the server URL and stream key to your custom destination.
Pros of OneStream:
Social media streaming to 40+ networks
Schedule pre-recorded videos streaming up to 60 days in advance
Use streaming tools like Zoom for real-time multi-streaming with high video quality
Add subtitles and captions to pre-recorded live streams
Live chat feature for single or multiple platforms simultaneously
Pricing:
You can use OneStream for free. Premium plans start at $10/month for the Basic Plan, with unlimited live streaming, pre-recorded streaming, and multicasting.
---
Best video streaming software designed for professional broadcasters ($15/month)
As one of the best live streaming software platforms, XSplit has two versions: XSplit Gamecaster, and XSplit Broadcaster, both of which come with a clean user interface that contains all the essential capabilities for most live streaming software needs.
The Broadcaster option is a high-end version of the Gamecaster, which only has the essentials required for streaming video games.
One of the major players on the online scene, XSplit works on Windows. As a result, it is ideal for streamers who require dedicated support, advanced settings, and a suite of tools designed specifically for video content creators.
Once you sign up, there's no need to look for any other extensions or plugins. Everything you need is right there in one convenient place. That is why XSplit is one of the best streaming platforms.
Key Features:
All-in-One App: XSplit Broadcaster is comprehensive streaming and recording live streaming platform favored by many content creators in sports, gaming, etc.
Robust Platform Support: The software supports stream on all significant and multiple platforms through native plugins and custom RTMP.
Limitless Customization: The platform's powerful user interface offers 100% customization. That's why it is considered part of the best live streaming platform.
Pros of XSplit Broadcaster:
Intuitive user interface
Easy to set up, customize, and use
Third-party app integration through URLs and files
Amazing 24/7 native support
Additional plugins can be used to extend the functionality
Pricing:
XSplit Broadcaster pricing starts at $15/month.
Twelve months costs $60, and you can get a lifetime license for $200.
---
Best open-source video streaming software (Free)
OBS Studio (Open Broadcaster Software) is my top pick for free streaming software. First, it's free – but don't let that fool you.
One of the best live streaming software tools is the OBS Studio platform that allows you to live stream to YouTube Live, Facebook Live, Twitch, DailyMotion, Hitbox, and many other sites.
Thanks to the easy-to-use interface of OBS (Open Broadcaster Software) Studio, beginners can use this tool. But as the best free streaming software, it's also perfect for advanced users who want high levels of customizability and don't mind setting everything up from scratch with the unlimited streaming feature and video recording options.
As a free live streaming software and one of the best live streaming software options listed, you can use OBS Studio on Windows, Linux, or Mac OS. In addition, you can capture sources such as whole screens, screen regions, webcams, direct game capture, etc., making OBS Studio a great Twitch streaming software. s
Key Features:
Extremely Flexible: OBS Studio has many features and capabilities like studio mode that are hard to beat, even compared to some paid software.
Hotkeys: You can set up hotkeys for virtually every action, such as starting or ending a stream, muting audio, multi-track audio recording, and switching between scenes.
Studio Mode: This feature instantly previews scenes and sources for last-minute adjustments, making it one of the top live streaming software choices.
Pros of OBS Studio Free Streaming Software:
The free and open-source streaming solution
Easy to use with unlimited streaming
Tons of online tutorials, video files, and guides
Lightweight with low CPU usage while video streaming
Extremely customizable
Pricing:
You can download and use OBS Studio for free.
---
Streaming software with the best free app store (Free)
Streamlabs Desktop is one of many Twitch users' popular and best live streaming software tools. This free streaming app is built on top of the OBS platform, focusing on ease of use and flexibility.
Streamlabs OBS is an all-in-one streaming solution ideal for both beginners and experts. Moreover, you can get additional features and interactions by upgrading to a paid plan.
The free live streaming software Streamlabs Desktop syncs with various platforms, including Facebook, YouTube, Mixer, Twitch, and other social media platforms. Furthermore, as open source software, it automatically adjusts all the necessary settings for optimal output, making Streamlabs Desktop a great Twitch streaming software.
Furthermore, you can personalize how your stream looks and feels, a feature that helps existing brands.
Probably one of the most incredible things about this platform is that it has its own app store.
The apps here will allow you to automate more, dive deeper into analytics, create more interactions with viewers, stream to multiple platforms, and more.
Key Features:
Streamlabs Desktop Dashboard: You can use this dashboard to manage all the software elements without opening your browser.
Themed Visual Layouts: You get themes for different games and genres to help you deliver a more personalized and immersive experience.
Widget Themes: Choose from various specific widgets designed for different broadcasts.
App Store: The ability to download apps for specific needs is a very nice feature.
Pros of Streamlabs Desktop:
Free to use and easy to set up
Massive library of add-ons and elements
Tons of functionality for creators
Easy on the CPU as
"Face Masks" bonus feature
Pricing:
Streamlabs Desktop or Open Broadcaster Streaming Software is free and open-source on Github.
Simply download it from the website, and you can get started with your live streaming and recording.
---
Best premium video streaming software (Starts from Free)
vMix is a top-tier live streaming software designed for power users.
It offers a growth-focused pricing system with powerful features, including instant replay, scripting controls, PTZ camera control, and a virtual scoreboard.
The software has a modern, super-slick interface with a more learning curve than other software for streaming, which is likely to agitate first-time users. 
However, the platform also offers fantastic technical support, and once you get the hang of it, this is a tremendous tool that will take your video quality and streaming to the next level.
Key Features:
Live Chat: The software has tools that allow you to view comments and reply to them on your live stream.
vMix Social: You can easily integrate content from Facebook Live, YouTube, Twitter, Twitch, and other social media accounts into your live stream.
Replay Feature: vMix also has a replay feature that allows you to show instant replays in slow-motion to increase engagement.
Pros of vMix:
"Lite" The free version of live streaming software vMix
Dozens of powerful features
Robust technical support
High-quality 4K output
Plans for every budget
Pricing:
vMix offers a 60-day risk-free trial for you to test drive the software.
Paid plans start at $60 (one-time purchase) for the Basic HD plan.
---
Best live-streaming platform with a very simple setup (Starts from Free)
Looking for a free tool to create professional live streams or recordings and grow your presence? Melon helps you do that in 5 clicks.
No complicated sign-ups and no downloads are needed for you or your guests. Used by thousands of people each month, ranging from F500 companies to creators to small business owners to specific industries. Reliable, cloud-based, lighting fast. Packed with features to make your live stream stand out and to grow your audience.
Key features:
Full HD: 1080p camera resolution, streaming output, and screen sharing;
Unlimited streaming to multiple destinations, including custom RTMP connections;
Unlimited customization: upload your own Overlays, Backgrounds, and Brand Colors;
Donations: earn an income during your live shows, and Melon takes 0% fees
Local Recording: raw recording with exceptional quality regardless of internet connection. Get separate video and audio tracks after the show in full HD
Pros of Melon App:
Alerts and reactions for better engagement with your viewers;
Chatbot to keep your chat clean;
Stream Forwarding;
Green Screen
Pricing:
---
Beginner-friendly broadcasting software (Starts from Free)
Restream Studio has everything you need to stream live from your browser successfully.
The Restream Studio is one of the best live streaming software, and the platform is a simulcasting broadcasting software with several solutions for creators.
Each plan is focused on helping broadcasters enhance their live streams so they reach their audience everywhere and better connect with them.
You can live stream on YouTube, Facebook, Linkedin, Twitter, and many other social media platforms simultaneously!
Restream Studio is compatible with Windows, Linux, Mac OS, and some leading gaming consoles as one of the best software for streaming out there.
Key Features:
Real-Time Channel Toggling: You get access to the super helpful real-time channel management feature when you upgrade to the paid plan.
Custom Destinations: You can multistream to over 30 platforms for free – although it's important to note that broadcasting to some channels may require a paid subscription.
Robust Analytics: All users can access metrics on the platform to track and analyze live stream performance, including average viewers, maximum viewers, monthly stream time, etc.
Pros of Restream Studio:
Insightful data from analytics
No time limit on live streams
Live stream directly from the browser
Tools to boost audience interaction
Multi-streaming capabilities
Pricing:
You can use Restream Studio for free.
Alternatively to the free plan, you can upgrade to the premium plans, which start at $16/month, to unlock more advanced features and remove Restream branding.
---
Best live-streaming platform for advanced users ($599, one-time fee)
Wirecast is by far the priciest option on this list. However, it's also one of the most potent tools for serious live streamers.
Wirecast professional live streaming software platforms cost $665, and you can upgrade to the Wirecast Pro version for $995.
I know, that's not cheap.
But, you do get total value for your money.
This is an all-in-one platform developed by Telestream for the live video streaming service and is designed to be simple for both beginners and professional live streamers alike.
You can capture, produce, and share content quickly and easily with it. The software mimics television studio advanced live production tools and can handle streaming any event, including big tournaments, concerts, and everything in between.
It's perfect for anyone already getting steady revenue from streaming and wants to take it to the next level.
Key Features:
Full Customization: Wirecast streaming platform offers a wide range of options to customize your live stream for a more personalized experience.
ISO Recording: The software archives all your live video inputs as they are (without modification) and keeps the video clip separate from composite program recording.
Stock Media Library: You get free access to over 500,000 media assets, including music, videos, backgrounds, and lower thirds.
Pros of Wirecast:
Ideal for beginners and professionals alike
Stream/record to multiple destinations
Excellent graphics, audios, and stock media
Quality, reliable, and timely technical support
Green screen and instant replay features
Includes a free iOS camera app to stream from your phone
Pricing:
---
Robust software from Twitch for Twitch (Free)
Twitch Studio is a software for streaming on Twitch and was also developed by Twitch. It was designed to help the platform's fans live stream games from the same platform.
Twitch is one of the best live streaming software platforms that are perfect for anyone new to the world of live streaming and who wants to stream directly to Twitch.
This free app offers a guided setup for all the devices and your streaming set up, including the webcam and your game feed. Developers have made enormous improvements like compatibility, themes, live chats, and more for the Studio to be the best Twitch streaming software.
With Twitch Studio's professional live streaming software, you get customizable templates to make it easy for you to hit the ground streaming.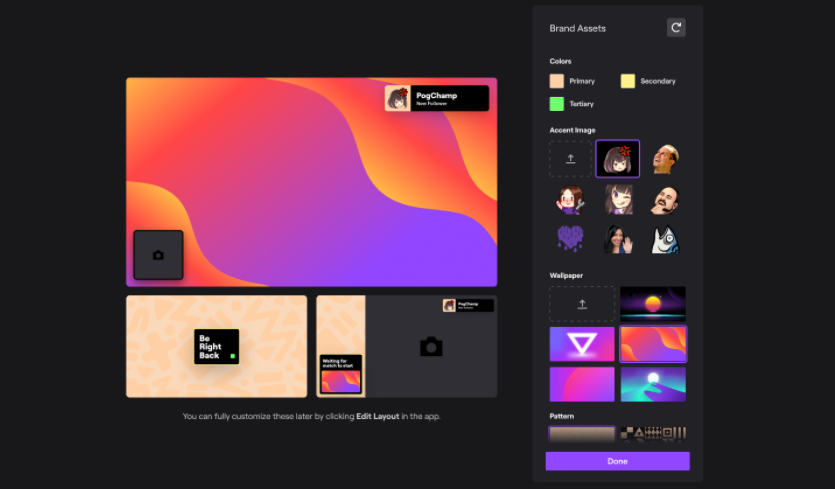 (Source)
It also comes with automatic hardware acceleration and access to step-by-step onboarding and recommended settings to help you make your streams look as professional as possible.
Key Features:
Content Mixing: You can easily connect your iPad or iPhone and share the screen to a live feed to mix up your content using the Twitch Studio live streaming platform.
Extensive Integration: You also get built-in activity feeds, alerts, chat, and much more to help you avoid the hassle of installing extra plugins.
Customizable Templates: The software has starter layouts and overlays that you can use to personalize how your stream looks.
Pros of Twitch Studio:
Straightforward, guided setup
Basic features included in the install
Simplifies technical features like bitrate selection
Offers multiple stream layouts for live streaming service
Compatible with Windows and Mac
Pricing:
Twitch Studio is a free live streaming software by Twitch.
---
The best in-browser video streaming software (Starts from Free)
Lightstream Studio's live streaming solution is one of the most accessible services to use because there are no downloads necessary. Instead, you can use the software directly from your browser.
You must head over to the Lightstream Studio website and connect the service to your preferred streaming platform.
You can then personalize your look, and you're ready to start streaming!
Lightstream will automatically detect the best streaming settings and monitor your internet connection for any hiccups so you can be confident to start streaming.
It's ideal for talk shows and podcast streams, particularly for content creators who travel and need access to their suite of scenes on the go. Speaking of traveling, my list of affiliate programs for travel bloggers may be helpful.
Key Features:
Live Support: You get live one-on-one support on the website through chat if you need assistance.
Remote Control: Use a smartphone to quickly start and stop your stream, switch between scenes, etc.
Invite Guests: You can host your live show with guests and conduct interviews, panels, podcasts, product launches, and more.
Pros of Lightstream:
No download or installation required
Encoding handled by cloud-based tech
Remote control feature using a smartphone
One-click "Guest Mode" feature to include guests
Live chat support
Pricing:
Lightstream offers two versions:
Free: $0
IRL: $99 per month
The free plan or free trial of the Lightstream live streaming tool lets you stream up to 3 hours and has max output quality of 720p 30 fps.
The premium plan can stream up to 12 hours and offers 720p 60 fps max output quality.
---
A fast, easy way to live-stream your gameplay (Free)
ShadowPlay is a tool that comes bundled together with NVIDIA GeForce graphics cards.
ShadowPlay is one of the best live streaming software tools on Windows and is designed primarily for gamers. So it's a sort of mix between software and hardware, making ShadowPlay part of the best Twitch streaming software tools.
Unlike most other live video streaming software platforms, ShadowPlay encodes using the computer's GPU (graphics processing unit) instead of the CPU (central processing unit).
This means that your computer's performance is left virtually unaffected, and all your CPU power can be used to provide an excellent game experience.
Key Features:
Broadcast Games: Quickly and easily broadcast all your favorite games on Facebook, YouTube Live, Twitch, and other social media platforms with just a couple of clicks.
Instant Replay: Instantly replay and record all your amazing stunts to help boost engagement with your audience.
NVIDIA Highlights: This feature allows you to automatically capture and save the critical moments in your games, including clutch kills, match-winning plays, etc.
Pros of NVIDIA ShadowPlay:
Fantastic tool for local recording
Uses GPU, not CPU, for unaffected performance
Shortcuts for easy gameplay capture
Instant replay and highlights feature
Low-impact game recording and live video streaming
Pricing:
NVIDIA ShadowPlay is free to download and use, similar to how a free trial works but without any time constraints.
---
Features to Look For in the Best Streaming Software Platforms
These days there are incredibly advanced live streaming tools, the majority of which offer intuitive, simple-to-use interfaces that make it easy for anyone – even complete beginners – to get started.
But, whether you're a novice or an experienced user, the best streaming software you choose will depend on the features you require.
So, here are some of the essential features to look for in streaming software platforms.
1. Compatibility
With streaming platform compatibility, you have to worry about two things.
First, Stream ingestion. If not configured correctly, this is what will cause lag while streaming. The good news is that mainly streaming happens over RTMP (real-time multimedia protocol). This allows you to use most live streaming software tools with major streaming websites and social networks. However, if you plan to use alternative networks for content delivery, you must check the server's ingest compatibility.
(Source)
Second, you want to ensure that your platform is compatible with your operating system. If you're a PC user, that's typically what most streaming platforms always build on, so you're fine. But if you're a Mac user, you want to ensure the streaming software tools will be compatible with your computer.
2. Integration
This gets technical, but make sure you choose a platform that allows you to integrate live streams into various services, digital media workflows, and cloud video applications. This will open up possibilities as you try to entertain your fans.
3. Multi-platform Live Streaming
(Source)
A streaming tool with extensive integration for social media sites will allow you to broadcast a live stream simultaneously on YouTube, Twitch, and various other platforms.
4. Advanced/ Additional Features
With the best live streaming software platforms, you get different tiers, different features, and different levels of complexity. It's best to consider this early on to avoid falling in love with particular software, only to find out later that it doesn't meet your needs.
5. Preview Editor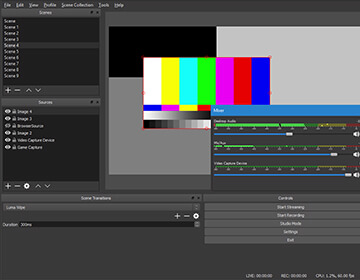 (Source)
This feature allows you to quickly make edits to your video clips or create new ones altogether before taking your stream live.
6. Multiview Feature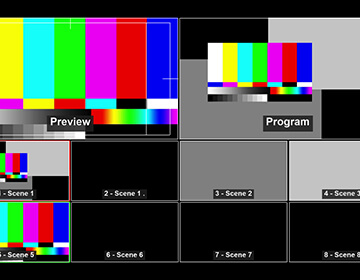 (Source)
Multiview allows you to keep a close eye on all your cams. You can easily switch or transition between multiple cams with a few clicks of the mouse.
7. Themes and Templates
Choose a streaming software with plenty of customizable themes and templates so you can personalize your broadcast and create an immersive live streaming experience.
8. Live Chat
(Source)
This feature is essential in helping you to boost audience engagement when live streaming. Live streaming tools like chat allows you to interact with your viewers and answer all their questions in real-time. This feature also gauges their reaction when broadcasting a live stream.
9. Real-Time Analytics
Being able to measure and track the success of your live stream is an important feature. So, choose a platform that gives you access to real-time stats from metrics like new subscribers, number of viewers, geography & demographic-based engagement, etc.
10. Pricing
The features above are some of the most important characteristics to consider, but there's also the issue of pricing.
Although this should never be the first consideration, you still need to choose a streaming software that offers all the features you need at an affordable price.
If you opt for freeware of the beststreaming software platforms on the list, keep in mind that you'll likely be sacrificing quality and advanced features that could go a long way in helping you make your live stream more professional and appealing.
How Does Streaming Software Work?
Now that you know which basic requirements you should consider when choosing the best streaming software platforms, it's time to look at how streaming software works.
The live streaming software is an encoding program designed to convert raw video input into a more convenient digital format for viewing over the air in real-time.
Although this process is simple, live streaming is a resource-heavy task.
Video streaming software platforms use a lot of the CPU's resources to convert live video for broadcasting continuously.
Moreover, live streaming platforms and tools typically handle more than just converting video.
They also take care of all the other "under-the-hood" tasks that go along with living streaming, such as uploading newly-converted video to broadcasting pl and adding overlays and extra effects before sending the video over the air.
That's why cloud software works great for this. When cloud-based tech takes a lot of the encoding, it makes the entire process more efficient as fewer resources are used.
As a general rule, the more influential the video conversion process, the more expensive the software (although, It's important to note that expensive doesn't necessarily mean better, as evidenced by our top pick, OBS Studio, a free version of streaming software).
What Equipment Do I Need to Live Stream?
Here's what you need for a simple live streaming setup.
Computer, Console, or Smartphone
The first thing you need is an audio or video source to allow you to provide material for your live stream. Your material will have a significant impact on each one of your best live streaming experiences.
This is the critical component of any streaming setup. But, again, smartphones offer an easy entry into live streaming since there's no need to consider additional hardware or software and they also offer other ways to make some cash on the side.
Xbox One, PlayStation 4, and other consoles also make viable options.
However, one of the most popular streaming software options for live streaming is a desktop computer which allows you to use a wider variety of hardware and broadcasting software with core features, such as adding overlays and creating unique scenes.
Microphone and Camera
Next, you will need a high-quality microphone to ensure your audio commentary is perfectly audible to your audience. Even with the best live streaming software solutions for Twitch, Youtube, Facebook, and more, your camera and microphone will affect how your audiences enjoy your stream.
Gamers can get away with using a gaming headset with a built-in microphone. However, most people should opt for a standalone mic.
Some popular choices include:
You also need to invest in a good quality camera and a capture card that you will use to connect a non-USB camera to your computer.
It's possible to get good results using a webcam, and this option is great because it doesn't need a capture card.
Here are some popular webcam choices:
In addition to the equipment above, you also need an encoder to package the input and send it to a platform, website, or network.
(Remember, streaming software is in there, too, as an option for encoding data).
You also need a stable internet connection that will allow you to transfer data efficiently to the destination and a streaming service that will serve as the destination and deliver output. If you have a lot of live streams you need to transfer at one time, you can use data pipeline software, but this isn't likely required by 99% of you.
Background, Sound Panels, and Lighting
There's also some additional streaming gear that you may require, such as sound panels, lighting, and background.
When streaming with a camera, you want to use flattering lights that make it easier for your viewers to see you.
You might consider using tools like softboxes with LEDs with low heat production to give you a gentle light without overheating or half cooking you in the process.
That's it for the basics of a live streaming setup.
As you gain more experience as a live streamer, you will begin to figure out what other additional gear you may need to add to your broadcasting system.
Now, let's take a quick look at how to start live streaming to your audience.
How to Live Stream (An Overview)
Here's a brief walk-through that explains how to use streaming software platforms. The process is generally the same across different software vendors, as most are very user-friendly.
For this example, I will use XSplit to demonstrate how to live stream on Twitch.
Step #1: Click "Broadcast" and select "Set up a new output." From the available options, choose "Twitch" as your output.
Step #2: Next, click "Authorize." Proceed to sign in with your Twitch account and click the "Next" button.
This is what the screen looks like:
Step #3: Verify your Twitch credentials and browse through the setup wizard to identify the best interest server, resolution, and connection speed.
You can then click the "Finish" button when you're done with that.
Now you can start broadcasting on Twitch and make additional income.
Best Streaming Software FAQ
What Does Streaming Mean?
Streaming means transmitting or receiving data (video, audio, etc.) in a continuous flow over a computer network with virtually no primary or intermediate storage within network elements.
The process allows playback to begin even as the rest of the data is still being received. The term "streaming" refers to the content delivery method instead of the content itself.
How to Enable Live Streaming on YouTube
1. Verify your YouTube account
2. Enable live streaming on YouTube
3. Wait 24 hours for live streaming to activate on your account.
4. Choose which avenue to use for live streaming: Web browser, Mobile Device, Software Encoder, or Hardware Encoder
5. If you are using live streaming software, download and install your chosen tool
6. On YouTube, click "Create a video post" at the top right-hand corner
7. Select "Go Live."
8. In the top navigation bar of the Control Room, click "Stream."
9. Add a title for your stream, as well as a description, and choose a privacy setting
10. Choose an appropriate category for your stream and then upload a thumbnail
11. Now, you can decide if you want to stream immediately or schedule the event for later
12. Hit "Create Stream, and a window will pop up with the stream name/key
13. Open your live streaming software and then paste the stream key into the appropriate field
14. If required, also paste the stream URL from YouTube, which you can find in the settings menu
15. If you're ready to start live streaming, start the stream on your paid or free streaming software
Once you're done streaming, you can end the stream through the software. A recording will be automatically uploaded to your channel's Youtube Live so your viewers can watch it on demand.
How to Live Stream on Facebook
1. Go to https://facebook.com/live/create
2. Click "Create Live Stream."
3. Select where your life broadcast will be posted
4. If you want your stream key to be permanent, select "Use a persistent stream key." If you don't select this, you will not use the same stream key again once your stream has ended.
5. Copy the server URL and stream key/persistent stream key, paste them into your streaming software settings, and start the stream from the encoder.
6. You'll be shown a previous screen where you can add a title and write a description for your Facebook live stream.
7. Click "Go Live Now" to stream immediately or "Schedule Live Video Event" if you want to stream your broadcast later.
Best Streaming Software for Twitch and YouTube Summary and Top Picks
Video streaming meets many needs in the virtual world and makes sharing content more interactive, engaging, and personable. It's one of the best ways to connect directly to your audience and build brand ambassadors.
But, with an ever-growing number of software providers, it's hard to know which is the best.
First, you'll need to consider whether it's built for live streaming, uploading pre-recording videos, or both. Then you'll need to look at how many outlets you can post to and how you can use the videos with your video editing platforms.
While Twitch and YouTube are two of the best places to stream your video content, you'll also want to consider Vimeo, Facebook Live, and many others to maximize your reach.
To take your streams to the next level, you'll enjoy the best video-editing, automation, and third-party integration tools at a price that doesn't break the bank.
Here Are My Top Picks for Streaming Software for Twitch and YouTube:
I hope this article simplifies that process for you and recaps what we've just covered. While many streaming software options are available, some are better than others. So, to make things easy and test out some of the best streaming software, look through this list and find those that offer a free version or free trial.
Test a few different options before you buy, and find which of these streaming software providers is best for you and your video content creation or gaming needs.