The best podcast transcription services cost-effectively transcribe audio into text. The best podcast transcription services are not only cost-effective, they also produce accurate transcriptions that you can use to create blog and other text-based brand content quickly and efficiently. To find the best podcast transcription services, my team and I tested dozens of options and certified these as the best of the best.
There is a debate raging about whether podcasts or blogs are better for your digital marketing strategy.
Some contend that blogs are a better marketing tool because they are less expensive to create, can be more easily optimized for SEO, and include visual elements that podcasts lack by design.
On the other side of the debate, podcast enthusiasts claim that podcasting is the way of the future. They are much more convenient to digest and are skyrocketing in popularity.
According to a study by Edison Research and Triton, only 11% of people in the United States listened to podcasts in 2006. However, by 2019, that number exceeded 50% for the first time, with 144 million people having reported listening to them.
However, this debate seems a little silly. Some people prefer reading a blog post, while others prefer listening to a podcast. I enjoy a good mix of both, and it's likely your audience does as well.
Thus, the best solution to this debate isn't picking one side over the another. If you have an active podcast, then you can use podcast transcription services to transform your audio into readable text that you can revise, format, optimize, and post to your blog.
This allows you to build two revenue channels capable of earning you tons of passive income.
But finding the best podcast transcription services can be difficult.
Whether using AI-powered podcast transcription software or a service that employs real human beings, you'll need a podcast transcription services that quickly, cost-effectively, and accurately transcribes all of your podcasts into easy-to-edit text.
My team and I tested dozens of different podcast transcription services taking all of this and more into consideration. After discovering the best of the best, we put together this list of the best podcast transcription services to help you make more money with your podcast and blog.
What is the Best Podcast Transcription Service?
Best overall podcast transcription service ($0.77/minute)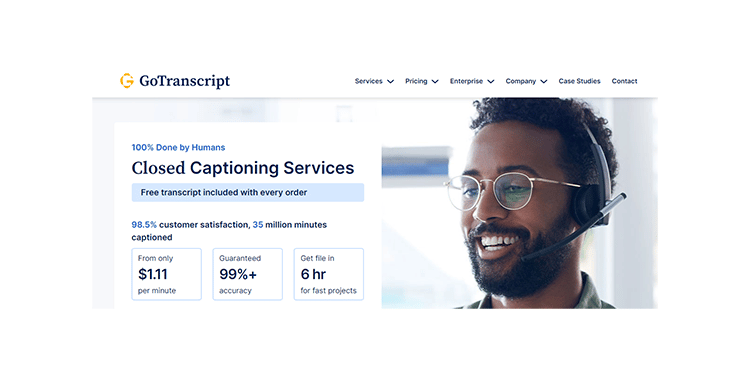 GoTranscript is a UK-based company with over 15 years in the business and it's one of the best podcast transcription services out there.
It's mostly known for outstanding services, the famed 99% (or higher) accuracy, and a global team of over 20,000 language experts in different industries, including legal, medical, financial, research, and academic transcription and translation.
The transcription market is highly competitive. Most modern transcription services charge too much and take too long, or they focus on cheap and inaccurate AI-based solutions. GoTranscript manages to offer exclusively human-based transcription with exceptional accuracy, great pricing, and satisfied clients from all over the world.
GoTranscript also offers closed captioning services for all sorts of online content, movies, documentaries, TV programs, and other content. For those looking to expand their audience, the company provides accurate subtitling services. With seasoned experts and native speakers of over 60 languages, the service can guarantee that nothing gets "lost in translation."
Its international team of experts allows GoTranscript to offer incredible turnaround times, even for large projects. Each order is split into sections and assigned to the most qualified workers. Once these sections are finished, the content goes through merging, editing, and proofreading to ensure every word is in its place.
Key features:
99% (or higher) accuracy regardless of the type of service or language
Fast turnaround times for all sorts of projects
Competitive pricing regardless of service type and language
Uncompromising confidentiality with 2048-bit SSL encryption and NDA protection
Voice-recording app (iOS and Android) for easy upload and ordering
Pricing:
GoTranscript has some of the lowest prices in the industry:
1. Transcription: from $0.77 per minute
Native transcription experts
99% accuracy
Strict quality control
2. Translation: $0.06 per word
Fixed price
Experienced native translators
Fast turnaround time
3. Subtitling: from $8.50 per minute
Native translators and subtitlers
60+ languages
Various formats available
4. Captioning: from $1.11 per minute
Compatible with most platforms
Highly accessible
Burn-in option
---
Best podcast transcription service by real humans ($1.50/minute)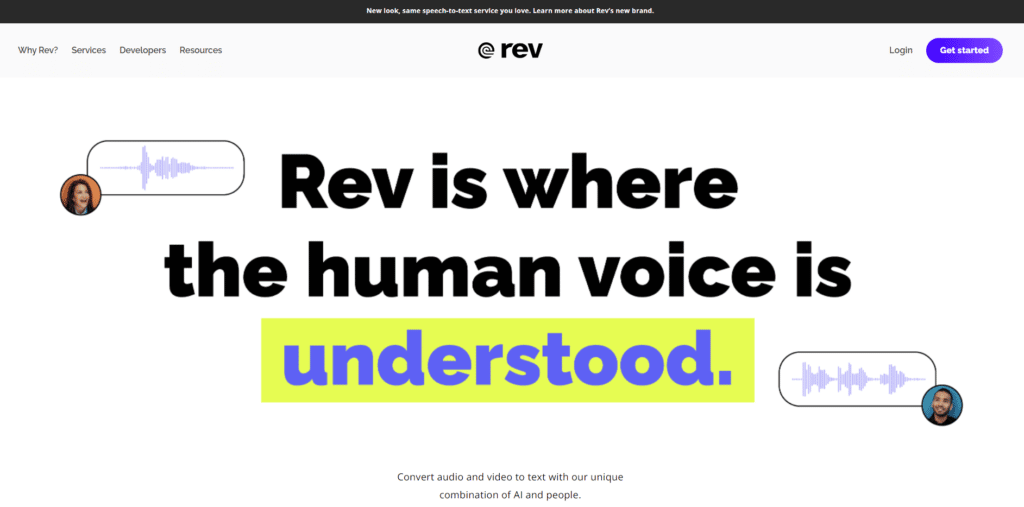 Rev.com is my favorite service for transcribing audio files. It's accurate and reasonably priced, making it super easy to transform all your other audio files into text-based formats that you can use on your site and get SEO benefits from.
Key Features:
Quick Turnaround Time: Rev.com offers a 12-hour turnaround time.
High Accuracy: The platform offers an outstanding 99% accuracy.
Affordable Pricing: Rev.com is an affordable service, starting at $1.25 per minute.
Pricing: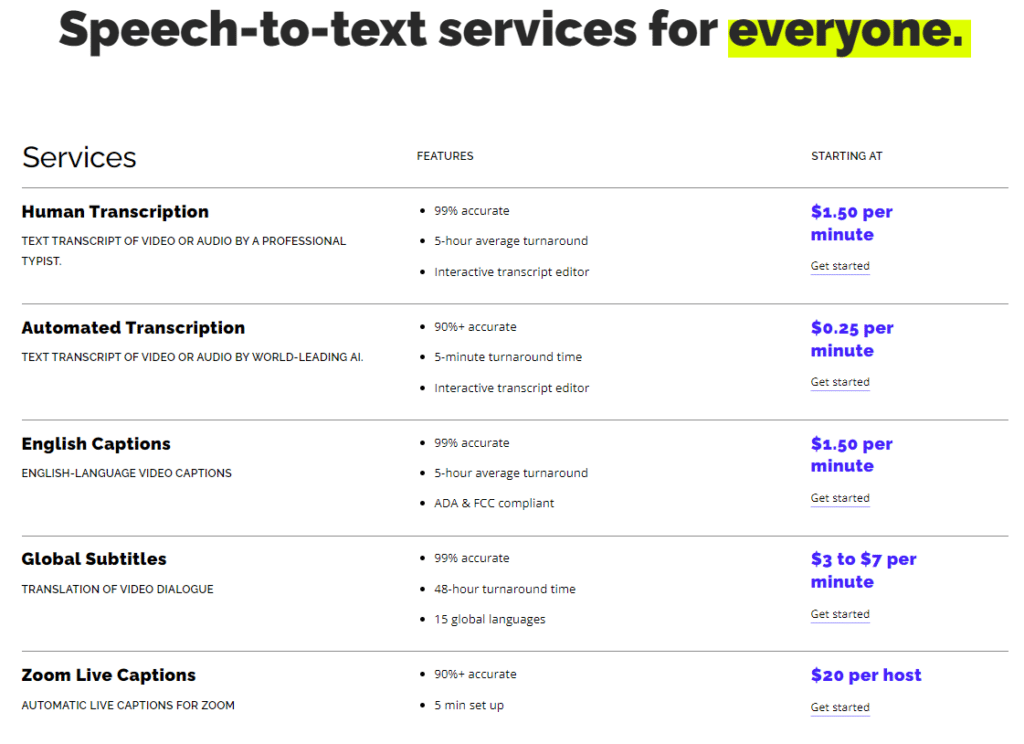 Rev.com's services are priced at just $1.50/minute, which is highly competitive for human-based services for podcast transcriptions. They also have $0.25/audio minute as an option, but this only promises 90% accuracy as it's a machine-generated transcript. 
You also get the following for no additional fee:
Rev.com offers a quick turnaround time with a free 12-hour delivery guarantee
If multiple speakers are on the audio recording, they can have the individuals tagged so you know who said what.
They can work with accents, which can be crucial if one of the speakers is from another area of the world.
---
Best podcast transcription service powered by artificial intelligence ($10/hour)
Sonix allows you to convert raw interviews into polished text with a quick turnaround time — usually in just a few minutes for one transcript. In addition, you'll be able to use the transcript together with your podcast audio for optimal SEO benefits.
Additionally, with a suite of valuable other services, you can easily upload Sonix transcripts to Google Docs to edit, revise, and format them for your blog or another digital marketing channel.
Key Features:
Free Trial: Sonix offers a 100% free trial with 30 minutes of free transcriptions.
Collaborative Tools: You can simplify your podcast production workflow and easily collaborate with your team on podcast production to help grow your audience.
Seamless Integrations: You can also integrate Adobe Audition in a few clicks or use Zapier to load a Sonix transcript into Google Docs immediately.
Pricing:
Sonix has three simple pricing plans, which are as follows:
1. Standard Plan: $10/hour
Pay-as-you-go
Perfect for project-based work
2. Premium Plan: $5/hour + $22/month per user
Subscription services
Ideal for more frequent needs
It comes with advanced collaborative tools
3. Enterprise Plan: Pricing provided upon request
Subscription services
Great for high-volume
It comes with advanced user control and billing options
---
Best podcast transcription service offering both human and AI transcriptions
Happy Scribe offers human transcription services coupled with Artificial Intelligence to help you transcribe audio accurately, quickly, and cost-effectively. Happy Scribe's YouTube transcription service is also useful if you want to transcribe YouTube videos.
The platform also offers translation services to over 120 languages. This means you can upload your audio to Happy Scribe, translate it with a quick turnaround time, and then translate your transcript into different languages to suit the needs of your target audience.
All of this and more on a single platform!
Key Features:
All-in-One Platform: One of the critical benefits of Happy Scribe is that you can transcribe audio, translate transcripts, and add subtitles to video podcasts in one convenient place.
AI-Powered: State-of-the-art AI, together with the best language professionals, offers you highly accurate results.
Multiple Languages Supported: You can transcribe and add subtitles in English, French, German, Spanish, and various other languages.
Pricing:
Happy Scribe has no hidden fees. You only pay for the length of the video or audio file you want to be transcribed.
When you top up your account, your credits on the platform never expire.
Pricing is as follows:
Automatic Transcription (with Subtitles): $0.20/minute
Human-Made (with Subtitles): $1.95/minute
---
Best podcast transcription service for iOS devices ($48/month)
Trint is a tremendous automated transcription service with easy-to-use editing software. It's ideal for more straightforward tasks. The tools on the platform make it easy for you to transcribe your audio and turn it into editable and shareable content in over 30 languages.
Key Features:
Trint App: With the platform's iOS App, you can capture high-quality content anywhere.
AI-Powered Transcription lets you record phone interviews with your mobile apps and then upload audio files in one click.
Free Trial: The platform offers a free trial, so you can test out the service before committing to a paid plan.
Pricing:
Trint's pricing plans are as follows:
1. Starter Plan: $60/month
Transcribe seven files/month
Add custom vocabulary
Identify speakers automatically
Capture video and audio files from iPhone and Zoom mobile apps
Search and play features
Highlight and strikethrough
Share transcripts for viewing and commenting
Export subtitles and other formats
Translate into 54 languages
Integrate Adobe Premiere Pro
2. Advanced Plan: $75/month
"Starter" features +
Unlimited podcast transcriptions
3. Pro Team Plan: $85/month per user
"Advanced" features +
Tools and secure workspaces to collaborate with teams
Edit simultaneously with others
Team management features
Centralized billing
---
Best podcast transcription service for short audio files ($0.25/minute)
Temi is an excellent podcast transcription service. It's simple to use and designed to provide quick and affordable transcripts for your audio or a video recording using high-quality speech recognition technology.
However, the automated transcription services aren't as accurate as other AI/human hybrid services, although it's excellent for improving the searchability of your podcast.
Key Features:
Simple Audio Transcription Process: The platform has a straightforward process for transcribing podcasts.
Speaker Identification: There are excellent speech recognition features for identifying different speakers on your podcast before or after you transcribe it.
Affordable Pricing: Temi offers inexpensive audio transcription options, making it ideal for small businesses and individual podcasters.
Pricing:
You can use Temi for free. Upload an audio or video file under 45 minutes and click "transcribe. "
The free trial offers you access to all the platform's features, and no credit card is required.
Audio Transcription: $0.25 per audio minute
No subscriptions
No additional charges
No minimum
---
Best audio transcription service for video files (Starts from Free)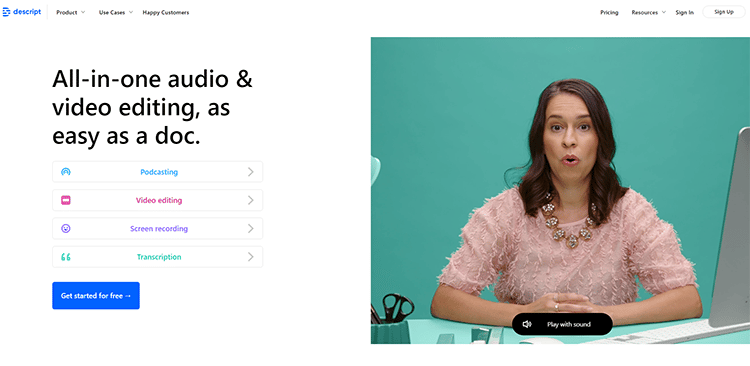 Descript is a cross-platform tool whose podcast transcription software is perfect for recording, editing, and transcribing your podcast. It allows you to upload, transcribe, and edit audio and video files.
It comes with powerful AI features that allow you to correct any mistakes quickly and offer 96% transcription accuracy.
The software also detects multiple speakers quickly, and you can transcribe an hour-long podcast in just three minutes!
Key Features:
Lyrebird AI: The podcast transcription software is powerful for a quicker turnaround.
Quick Turnaround: You can get your podcast transcribed quickly, thanks to the platform's quick transcription turnaround.
Editing Tools: Descript also has powerful editing tools that allow you to edit audio and video files easily.
Pricing: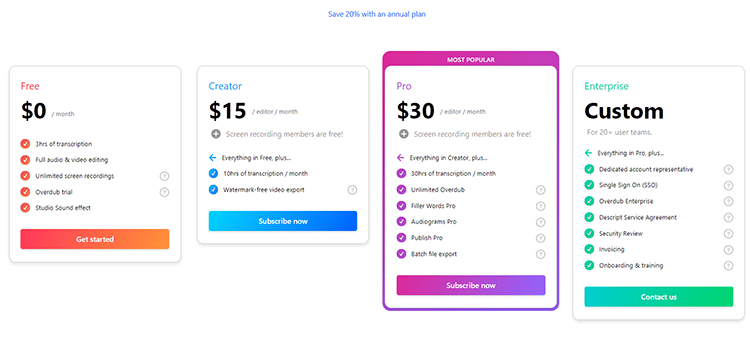 Descript has four pricing plans:
1. Free Plan: $0/month
Three hours of transcription
Full editing features for all video files and audio files
Unlimited screen recordings
Studio Sound effect
Overdub trial
2. Creator Plan: $15/month per editor
"Free" features +
10 hours of transcription/month
Watermark-free video export
3. Pro Plan: $30/month/editor
"Creator" features +
30 hours of transcription/month
Unlimited Overdub
Filler Words Pro
Publish Pro
Audiograms Pro
Batch file export
You can also get custom services by contacting the Descript team on their site.
---
Best podcast transcription service for marketers ($15/hour)
Simon Says is an excellent piece of transcription software designed for the masses. With it, you'll be able to implement transcription into your workflow quickly and upload your transcripts to your blog or other digital marketing channels without any hassle.
Upload your file into Simon Says, and the platform will provide you with a detailed transcript of your audio recording. Then you can edit speakers, search and replace words, and export your text into various files using this transcription software.
Key Features:
Search and Replace Feature: Quickly replace one word with a different one throughout your podcast transcript.
Easy Exports: Export your transcription into YouTube or Facebook captions, Word documents, SRT files, etc.
Free Trial: You can use Simon Says for free by signing up for a free trial.
Pricing:
Simon says offers simple plans, which are as follows:
1. Pay-as-you-go: $0/month
Ideal for infrequent users
$15/hour or $0.25/minute (depending on file duration)
Advanced AI functionality
World-class transcription editor
Expert audio and video editing apps, etc.
Video Subtitle Editor to preview and adjust captions on all your video uploads
2. Starter Plan: $20/month
Ideal for freelancers
Everything in the "PAYG" plan +
Includes 2 hours of credit/month (additional credit is $7.50/hour)
Team collaboration tools for audio and video editing
Reduced costs to transcribe audio and video files into text
3. Pro Plan: $35/month
Perfect for production pros
Everything in the "Starter" plan +
4 hours of credit/month (additional credit at $6.50/hour)
Enhanced Video Assembly Editor to transcribe and edit video files with your team
Import files up to 20 GB
Custom dictionaries for improved accuracy
Access the latest AI features and speech models
---
Best digital media transcription software for desktops (Starts from Free)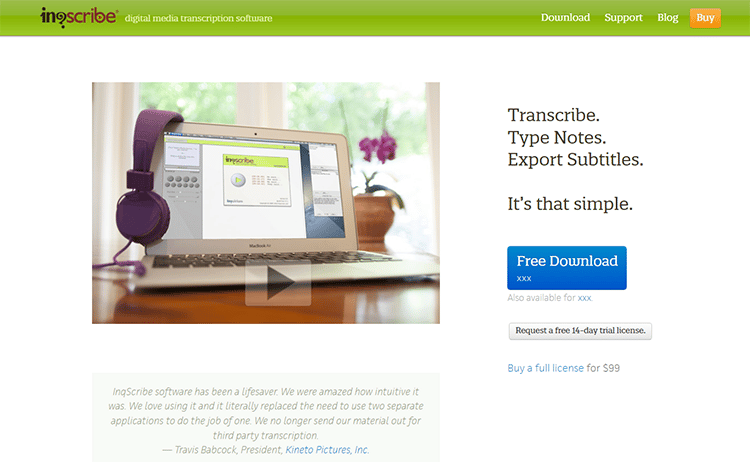 InqScribe can only be used on PC and Mac computers. You can install the software for free, but if you want to unlock features for printing, saving, and exporting your transcripts, you have to upgrade to the premium plan, which costs $99 for the individual license.
Key Features:
Affordable Solution: If you require regular podcast or video transcription services, then this is a great solution to consider.
Full Support: Transcribe virtually all audio and video file formats supported on the platform.
Multilingual Functionality: You will get excellent and accurate multilingual transcripts for your videos and podcasts.
Pricing: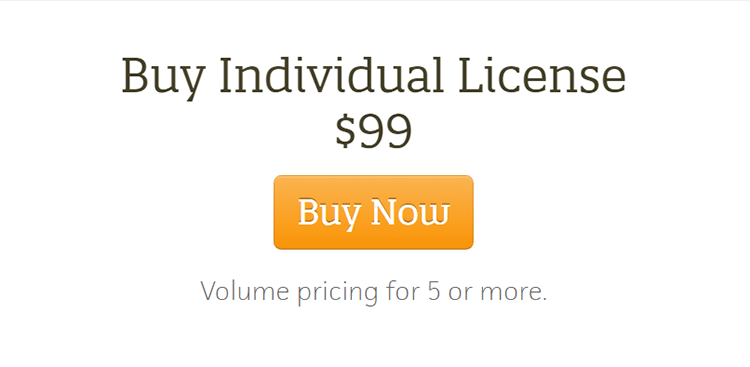 You can download the software for free. Sign up for a free 14-day trial to test out all the different features. An individual license costs $99, and you get volume pricing for five licenses or more.
1. Individual license: $99
2. Volume pricing:
10% off for five or more licenses
15% of for ten or more licenses
30% off for staff at academic/nonprofit organizations
$60 off single license for students
---
Best voice typing feature for automatic podcast transcription ($19/month)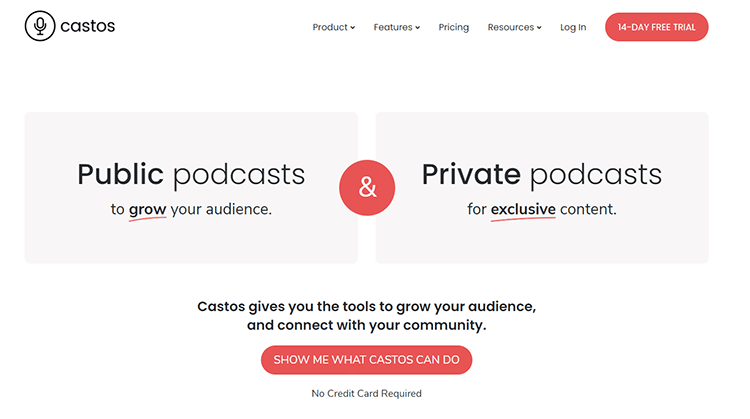 This platform is designed to help you save time when you transcribe your audio with the voice typing tool, allowing you to focus more on creating and marketing your podcast and maintaining your high audio quality.
You'll be able to get high-quality text files to maximize your SEO impact and improve your podcast's accessibility.
There's also easy billing, so you get one simple flat fee to transcribe and expand your brand's online visibility.
Key Features:
Free Trial: You can sign up for a free 14-day trial to test out any of the premium plans.
Downloadable Files: Download PDFs to use on your website or email.
Enhance SEO: Transcribe and share your audio with a wider audience to boost your reach.
Pricing:
Castos has a three subscription model and packages. This is a podcast hosting platform that gives you a ton of additional features with each plan:
1. Starter Plan: $19/month
A great standard package for podcasters who are just getting started.
Unlimited episodes
In-depth listener analytics
Up to 100 private subscribers
20,000 downloads/month
PDF text files for listener downloads
2. Growth Plan: $49/month
Ideal for podcasters focused on promoting their show.
"Starter" features +
YouTube Videos republishing functionality
Headliner Audiogram Integration
250 private subscribers
75,000 downloads/month
3. Pro Plan: $99/month
Perfect for podcasters who want enhanced analytics.
"Growth" features +
Video and audio file hosting
Advanced analytics
500 private subscribers
200,000 downloads/month
---
Best audio and text editing features for before and after transcription ($12/hour)
Audext has advanced transcription software designed to convert your audio to text quickly and accurately.
This app will help you save valuable time transcribing your audio files into usable, SEO-enhancing text material.
Automatic and professional options are available, and you can sign up for a free 30-minute trial on the website.
Key Features:
Fast Transcription: AI-powered features for quick and automatic transcription of all your podcast episodes.
Inbuilt Editor: Highlight active words, use the "find and replace" feature, and alter audio playback speed with the powerful editor on the platform.
Speaker Identification: Use this feature to quickly and easily identify speakers in interviews.
Pricing:
Audext has three subscription packages, each with a different cost:
1. Classic Plan: $0/month
This standard package includes 30 free trial minutes for seven days ($12/hour after that)
Free editing and sharing
24/7 support
2. Subscription: $30/month
"Classic" features +
2 hours of transcription included ($5/hour after that)
Cancel any time
3. Enterprise Plan: Custom pricing upon request
"Subscription" features +
5 hours of transcription
Custom price for each next hour
---
Additional Options for Transcribing Audio Files:
Types of Podcast Transcription Services and Software
To start the process, it is recommended to use podcast recording software to capture high-quality audio that will facilitate accurate transcription. From there, you'll need to give the audio file to a third party for transcription. This transcription will involve a human, AI, or a combination of both. The three most general methods for audio and video file transcription include:
Human Transcription Services
Human transcribers create the most accurate transcripts. However, hiring a human to transcribe audio costs more than AI. Usually, transcribing 1 minute of audio will cost at least $1 if a human is transcribing.
AI Services
Artificial intelligence makes transcribing a lot less time-consuming. It uses machine learning to upload audio and transcribe it with a quicker turnaround time. Many of these tools come in the form of web-based software developed by speech recognition experts who have designed the service so that audio is transcribed automatically and quickly.
Human and Artificial Intelligence Hybrid Services
Using humans and AI together is arguably the best method of transcription. Combining web-based software or an app-based platform with a human assistant ensures a quick turnaround time and accuracy. Thus, Human+AI services are quickly becoming the industry standard.
What Features to Look For in A Podcast Transcription Service
Listed below are the features to consider when choosing a transcription service for your audio content:
1. Speed
Fast and accurate podcast transcriptions are important for podcasters if you want to get your transcribed episode online as soon as possible and increase your content's online visibility. So make sure you choose a platform that offers reliable transcriptions at a fast speed.
2. Accuracy of Your Podcast Transcriptions
There is no point getting fast podcast transcriptions if the text is all nonsense. You must choose a platform with a high accuracy rate to have highly usable results. In other words, you need fast and accurate transcriptions.
3. Pricing
Different platforms have different pricing plans, and you must choose one that makes sense for your business according to your needs and budget.
For instance, if you are an individual who only transcribes a few files each month, there's no point in signing up for a subscription plan that offers many hours of audio transcriptions every month.
How Can A Professional Transcription Service Help Grow Your Podcast?
There are many reasons why you might consider transcribing your podcast episodes, but for the most part, transcribing your show is done to boost your marketing efforts.
Listed below are four ways a transcription service can help you grow your podcast:
1. Increase Search Engine Optimization Rankings: Transcribing your audio or video podcasts will help you rank on search engines. Google and other search engines scour your websites and digital marketing channels, searching for relevant keywords in articles, blogs, social media posts, and more. Unfortunately, these search engines aren't the best at searching for audio files quite yet. Thus, creating a transcript is a great way to create a piece of written content that Google can find.
2. Increase Accessibility: Scoring highly on search engines is one way to increase the accessibility of each podcast episode you create. Additionally, a podcast transcript can improve the accessibility of your content by allowing you to more easily generate content such as blog articles and even memes based on those the transcribed audio.
3. Get More Content Shares: By transcribing each of your audio episodes, you can upload both the audio and text on your blog. You can also take the text and upload it into social networks posts with links to the whole audio, increasing content shares while increasing accessibility to all of the content you upload and share across your digital marketing mix.
4: Build Thought Leadership: Transcripts can help make your content and brand messaging more accessible to a broader range of listeners. In turn, this helps you build thought leadership in your space.
Podcast & Audio Files Transcription Q&A
Do Audio File Transcripts Help Grow a Podcast?
In addition to transcribing podcasts, you can also transcribe other types of audio. For example, some software or a human-based only service even transcribe video files, translate podcast transcriptions, and add subtitles to videos on YouTube or other video-sharing platforms.

Furthermore, if you don't have the budget to transcribe your entire podcast library or even a whole episode, you can take parts of the audio and transcribe that into text.

This text can be strategically used to create hashtags or target keywords in your social network posts. In turn, also include a link to your audio podcast on SoundCloud, a video podcast to YouTube, or any other part of your digital marketing mix you are seeking to optimize.

Of course, you can use the text from the audio files for many other purposes. For example, you can use quotes to create memes or other images to share on Instagram, Facebook, Snapchat, and a whole litany of other social networks.

So, in short, audio transcripts can help grow a podcast. But they can also be used to create unique content that can be uploaded and shared across your digital marketing mix to increase your brand's reach.
How Can I Transcribe an Audio File for Free? 
Many of the transcription services outlined in this article offer free trials for their services. You can sign up for any or all of them to start transcribing your podcast for free.

There is also a variety of free web-based software you can find on Google for limited transcriptions, but these sorts of software often don't provide the best results.

Another way to transcribe your podcasts for free is to do it yourself. But I can tell you from personal experience that the transcription process is cumbersome and tedious. So I prefer to pay the experts.
How do I Turn my Audio and Video Files Into a Transcript?
There are four primary ways to turn an audio file into a transcript:

Manually transcribe it yourself
Use an Artificial Intelligence tool
Use a human-based service
Use a hybrid AI-human service

In the list above, I've included a variety of AI, human, and hybrid transcription software and services that you can use to transcribe an audio file, either in-person recordings, in a professional setting, recordings from mobile apps, or even for your podcast and YouTube Channel.
Can You Search Within a Transcribed Podcast?
When a podcast or other audio file is transcribed, it makes it easier for users to search within the episode. For example, you can target specific keywords or phrases and immediately be taken to the relevant time-stamped section of the show. Some software even helps you format your transcripts with headings and other tools to help your searches go more smoothly.
How do I Transcribe Apple Podcasts?
You can get transcriptions for any podcast, including Apple podcasts, by signing up on any of the services outlined above. In addition, Apple also provides searchable audio transcripts for eligible podcasts in iOS 13. This means that when you search for a specific term on a transcribed show, the app will look up the term in your podcast transcripts, titles, and topics.
Best Podcast Transcription Services — Summary & Top Picks
Transcribing a podcast from an audio file into a text file is one of the easiest ways to increase the reach of your audio, generate new content for your digital marketing mix, and optimize your SEO strategies across all of your channels.
However, to ensure you're getting the most out of your podcast transcripts, you need to make sure that you are using the most accurate, cost-effective, and time-efficient AI transcription software or human transcription services to maximize your ROI throughout the whole transcription process.
Here are my Top Picks for the Best Podcast Transcription Services:
Using the tools, software, and services found on this best podcast transcription services list will help you find a human, AI, or hybrid transcriber to transcribe all your podcasts and video files into text-based content. Then you can use your new content to expand the reach of your digital marketing strategies.