Podcasting is growing steadily, and research shows that more than 100 million adults in America listen to at least one podcast per month and that 55% of Americans listened to a podcast in 2020. I'm willing to bet your audience is in there somewhere. That's why this is an excellent time to start a podcast as a way to connect with and engage your audience so you can get your message across in an effective way.
The most crucial step to take when you want to start a podcast is to choose the best podcast hosting platforms. I've compiled a list of the top podcast hosting platforms to help you make the best decision based on your needs.
What Are the Best Podcast Hosting Platforms?
There are many great paid and free plan podcast hosting platforms to choose from.
But with so many options available to you, how exactly do you know which one is the best podcast hosting site for you? Finding the right podcast platform is like Cinderella finding the glass slipper that was the perfect fit.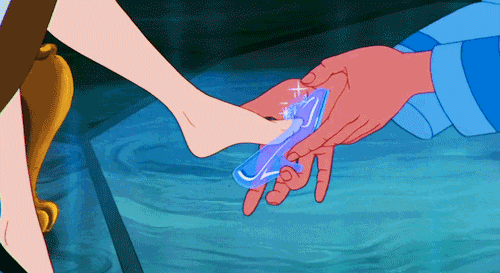 To help you answer the question and find your "glass slipper," here is our list of best podcast hosting platforms this year. This list includes podcast hosts with both paid and free options.
---
Best Overall Podcast Hosting Platform ($5/Month)
Libsyn is the original podcast host. They developed the first podcasting platform in 2004 (months before Apple even had podcasts on their iPods). Not only are they top-ranked because they are the OG, but they have also significantly evolved their toolsets for podcasters in the last couple of years.
Libsyn recently added Libsyn Studio, an all-in-one podcast creation and recording tool that allows you to make a podcast with no equipment other than your computer. It walks you through every step of the process. We tested it, adding only a USB microphone, and found that we were able to create a podcast from scratch in about 30 minutes. Quite impressive if you want to start fast.
Of course, they distribute everywhere – Apple, Spotify, Amazon, Pandora, Samsung, and more. But, one of the things we love most about Libsyn is that they provide guidance and information about podcasting from actual podcasters. They offer a full YouTube channel of video tools that teach, train, and coach at every level of podcasting.
Plus, overall, this podcasting platform offers the key things podcasters need to grow and make money. Features include the ability to create subscriptions and manage bonus content, add live reads and automatic ads to your podcast, and the ability to create ad-free episodes. And finally, the new interface they recently launched is super clean, intuitive, and includes the ability to launch video podcasts — something many other hosts don't support.
Key Features:
Easy distribution to hundreds of popular podcast apps — Spotify, Apple Podcasts, Google Podcasts, and many more.
Social podcast marketing scheduler — makes promoting your podcast very easy
Free custom podcast players & websites
Podcast audio AND video support
Integrated monetization options — subscriptions & advertising
Pros of Libsyn:
Podcasters helping podcasters, including a comprehensive guide to help you start podcasting, plus hundreds of educational blogs and videos with industry thought leaders.
Real, USA-Based Support: Amazing Customer Service and Support. Here are their ratings on TrustPilot.
Statistics that you can understand and may need later: Libsyn offers IAB Tech-Lab verified stats that can help you see how well your podcast is doing (what episodes do best where) and set you up with the numbers you need when you are ready to introduce advertising into your podcast.
Informed by Podcasters: The Libsyn Team includes four Podcast-Hall-of-Famers with a combined 100 years of experience. They know what it's like to take the first step, as well as every step along the way.
Robust Affiliate Marketing Program for any Libsyn customer!
Pricing:
Libsyn has a variety of podcast hosting plans for everyone:
1. $5/month
3hrs/162 MB storage.
IAB Verified Stats.
Basic Social Promotion.
Unlimited Bandwidth.
Ad-Free Podcast Website.
Custom Podcast Player.
Podcast Monetization, Subscriptions & Advertising.
2. $15/month
6hrs/324 MB storage.
IAB Verified Stats (Episode, Daily & All-Time).
Basic Social Promotion.
Unlimited Bandwidth.
Ad-Free Podcast Website.
Custom Podcast Player.
Podcast Monetization, Subscriptions & Advertising.
3. $20/month
10 hrs/540 MB storage.
Advanced IAB Verified Stats.
Geographic & Stats Export.
Social Promotion Scheduler.
Unlimited Bandwidth.
Ad-Free Podcast Website.
Custom Podcast Player.
Podcast Monetization, Subscriptions & Advertising.
---
Best podcast hosting platform for cross-promotion ($9/Month)
RedCircle is a podcast hosting platform that offers cutting-edge technology to empower creators of all sizes to earn more. They offer a free plan for podcasters just starting, plus affordable paid plans for podcasters looking to take the next step towards making a living doing what they love.
With RedCircle's monetization features, podcasters can create their audio empires by growing their audience and earning money through advertising, listener donations, and subscriptions. There are no contracts or exclusivity, to ensure podcasters maintain their independence. Additionally, RedCircle offers a hefty affiliate program for podcasters to earn commission by referring a friend.
Key Features:
Dynamic Insertion Technology: Enables podcasters to easily swap any audio files into your episodes, whether it's intro/outros, promotions, ads, etc
RedCircle Ad Platform: The RedCircle Ad Platform (RAP) is a technology-driven online marketplace that offers a full suite of advertising opportunities, including "Host-Read" and "Programmatic" ads
Cross-Promotion Marketplace: RedCircle enables podcasters to seamlessly pair up with another podcast and promote each other's shows to generate thousands of new listeners through a single campaign.
Pros of RedCircle:
Unlimited hosting & shows
RedCircle Ad Platform
Advanced Analytics
Unlimited Dynamic Insertion Technology
Customizable team seats
Generate video w/ one-click distribution to YouTube
Robust Affiliate Program
Cross-Promotion Marketplace
7-day free trial
Pricing:
RedCircle plans range from free to $30 monthly based on the features you are looking to access.
Each plan, including the free plan, gives you access to unlimited hosting, powerful analytics, and the RedCircle Ad Platform.
Find a breakdown of plan pricing below:
1. Core Plan: Free
Unlimited Hosting & Distribution
Access to the RedCircle Ad Platform (RAP)
Dynamic Insertion for RAP ads
2. Growth Plan: $12 monthly / $108 annually (25% discount)
Unlimited Podcasts
Unlimited Dynamic Insertion
Advanced Analytics
Instant Payouts
3. Pro Plan: $35 monthly / 360 annually (25% discount)
5 Customizable Team Seats
Premium Analytics
In-app Support
4. Enterprise Plan: Contact for pricing
Unlimited Customizable Team Seats
Dedicated Account Manager
The Most Comprehensive Analytics (including growth, revenue, and dynamic insertion metrics for your own ads)
Or Read my In-Depth RedCircle Review to Learn More
---
Best podcast platform for tracking analytics & KPIs ($19/month)
Transistor is a well-known professional hosting service that powers a lot of popular podcasts and has quality hosting plans.
The podcasting platform is one of the podcast hosting sites that offer a robust suite of analytics tools and everything else you need to grow your podcast audience and also has an option of private podcasting.
Simply record your audio, upload it to Transistor, and they will automatically distribute it to the major podcast directories, including Apple Podcasts, Google Podcasts, and Spotify.
Key Features:
Unlimited Shows: Transistor allows you to host unlimited episodes and several shows on your account.
Multiple Users: You can add multiple team members to a single account.
Easy Distribution: Instantly distribute your podcast to all major networks at the click of a button.
Create Branded Website: You can build a branded website using your own domain name.
Pros of Transistor
The platform offers advanced analytics and reporting
Simple migration tools to import from other hosting plans
Affordable, growth-focused pricing plans that are easy to scale
Free 14-day trial with full access to features
Allows you to host as many different shows as you want
Pricing:
Transistor offers a free 14-day trial. After that, plans start at $19 per month for the "Starter" plan, allowing 15,000 downloads per month, unlimited episodes, private podcasts, and analytics.
The "Business" plan costs $99 per month and allows for 200,000 downloads per month. You also get unlimited shows and episodes, analytics and collaborators, and enhanced private podcasts.
---
Best podcast hosting platform with a free plan (Starts from FREE)
Speakers make podcast hosting easy for everyone.
It's an all-in-one solution for podcasters, whether they're newbies who are just getting started or professionals publishing tons of content every week.
The platform is designed to make it as easy as possible for you to upload and share your podcast with millions of listeners, as well as connect with other podcast creators and advertisers on the platform's web and mobile apps.
Key Features:
Team Management Features: Spreaker makes it easy to work with your team and add collaborators.
Easy Management and Scheduling: You can manage and schedule more than one podcast in the same account.
Content Management System: Automatically distribute new episodes to all major listening platforms.
Strategic Monetization: Dynamic ad insertion for strategically monetizing episodes and shows.
Pros of Spreaker
It comes with a "live podcasting" option to interact with listeners.
Desktop app for Windows and Mac and mobile app for iPhone and Android
It has a dynamic ad insertion that enables a quick monetization program
The platform offers enterprise capabilities for large teams
Streamlined podcast distribution at the click of a button
Spreaker Studio allows you to record podcasts on the go
Pricing:
You can use Spreaker for free or start with the $6 per month plan ranging from $45 per month.
Each plan has multiple podcast hosting, programmatic monetization, and customizable RSS feeds.
The higher-priced plans include complete statistics, limited-access podcasts, and customizable player colors.
---
Best all-in-one podcast hosting platform ($8.25/Month)
RSS.com has helped thousands of podcasters around the world launch podcasts and has quickly risen to be one of the top podcast hosting platforms due to its competitive pricing and features.
What makes RSS.com stand out is that it offers unlimited episodes, audio storage and downloads, sponsorship opportunities and monetization options, cross-platform analytics, a free podcast website, episode scheduling, an embeddable podcast player, transcription options and more.
Pros of RSS.com
Unlimited episodes, downloads and storage
Cross-platform analytics
Stylish, dynamic public website for your show and episodes that's updated automatically.
Episode scheduling to maximize productivity and audience engagement
Ability to add custom cover art to your public profile pages, episodes, and chapters.
Custom embed player for easy sharing of episodes on external websites and blogs
Automatic creation and update of a fully-compliant podcast RSS feed compatible with all major podcast directories
Automatic and guided distribution of your show and episodes in all the major podcast directories including Spotify, Apple Podcasts, Google Podcasts, Spotify, Amazon Music and more
Episode player embed feature to share your episodes on your website
Podcast transfer tool that allows podcasters already hosting on another platform to seamlessly move their shows to RSS.com
Annual plans that save you up to 35%
Pricing
RSS.com's All in One Podcasting plan starts at only $8.25/month when you pay annually and $12.99/ when paid monthly.
RSS.com also offers a Student and NGO plan at $4.99/month and a Pro and Enterprise plans to meet the needs of popular podcasters, large enterprises, and podcast networks with 10,000 or more downloads a day without additional fees based on the number of downloads.
Or Read my In-Depth RSS.com Podcast Hosting Review
---
Best podcast hosting plugin for WordPress sites ($19/month)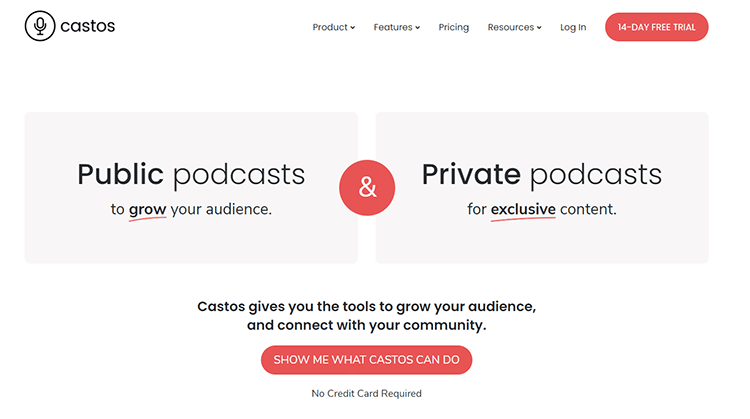 Castos is a full-featured podcast plugin for WordPress, unlike other podcast hosting companies. It's designed for use by people who already have a WordPress website.
To get started, all you have to do is sign up for the free plan trial, install the WordPress plugin on your site, and then add your new episodes into the podcast section within your WordPress dashboard.
You can upload your audio files, insert the description, and your podcast will be live on your website with a customizable media podcast player.
Key Features:
Podcast Analytics: You can easily track your performance and optimize for better results.
Customizable Podcast Webpage: You can customize the page to match your WordPress site colors and fonts.
Automated Transcripts: You get automated transcripts that help to boost your SEO reach and improve your podcast accessibility.
Manage Your Podcast from WordPress: You can do everything right within your WordPress dashboard.
Pros of Castos
Easily republish your podcast to YouTube
Unlimited storage and bandwidth
Easy, free migrations with one click
Unique RSS feed for each episode
Customized media player
Pricing:
The "Starter" plan costs $19 per month, and it comes with unlimited storage, bandwidth, and episodes.
The "Growth" plan costs $49 per month and allows you to include up to 250 private subscribers and republish your videos to YouTube so you can have a video podcast function as well.
The "Pro" plan is $99 per month, and it's ideal for broadcasters who want to access more analytics.
You can sign up for a 14-day free trial to test out the platform.
---
Best podcast hosting platform for growing your audience ($19/month).
This is one of the most straightforward podcasting interfaces you will find.
It's great for beginners, and it has growth features to allow you to expand your podcast, with private podcasting, a podcast player, and unlimited team members option.
You can embed the podcast easily on your existing website, or you can create your podcast website within minutes using the free plan site builder on the platform.
The templates are compatible with any device, and they come with an email capture form which is excellent to add people to your email list.
Key Features:
Easy to Use: The platform has a strict "no jargon" rule, making it easy for new podcasters to get their shows up and run.
Customizable Website: Includes a website builder to create your own podcast brand easily.
Audience Tracking Tools: Accurately measure important metrics, such as where your podcast listeners drop off from listening.
Built-in Calls to Action: Generate new leads and grow your audience with built-in CTAs, listener donation support, etc.
Pros of Captivate
Embeddable podcast player with the latest episode
Works with WordPress, Wix, or SquareSpace themes
Embeds directly on Twitter for instant playback
Includes deep-dive episode analysis for clearer insights
7-day risk-free trial with full use of features
Unlimited team members on your account
Pricing:
Captivate's plans range from $17 per month for 12,000 monthly downloads to $90 per month for 150,000 monthly downloads.
Each plan comes with many great podcasting features, and you can upgrade as your podcast grows.
---
Best podcast hosting platform for beginners (Start for FREE + Get $20 Amazon Gift Card)
BuzzSprout is a popular podcast host that allows you to submit your audio files to all the top directories where people are searching for them.
When you sign up on this dedicated podcast hosting service, you can potentially reach millions of listeners automatically as Buzzsprout feeds are compatible with directories like Apple Podcasts, Google Podcasts, Spotify, and more. Not only that but if you elect to buy a podcast hosting plan and stay on the plan for two months, they'll give you a $20 Amazon gift card absolutely free.
Key Features:
Podcast Directory Submissions: You can get your podcast and podcast episodes listed in all the top directories.
Advanced Statistics: BuzzSprout offers advanced podcast audience statistics that allow you to easily track your progress.
Automatic Episode Optimization: No need to worry about file types, ID3 tags, or bitrates. Simply upload your file and BuzzSprout as an automatic podcast website. It will optimize the episodes automatically.
Dynamic Content: This tool allows you to remove pre-roll and post-roll segments from episodes and send messages to all listeners simultaneously (regardless of which episode they are listening to at the time).
Chapter Markers: Buzzsprout podcast hosting has a cool feature that allows podcasters to include chapter markers in their podcasts, which is great for longer audio.
Pros of BuzzSprout
Free plan with unlimited bandwidth
Robust affiliate marketplace.
Wide range of podcast directories
Includes episode embedding and transcription
Award-winning customer care
Pricing:
BuzzSprout has four pricing plans, starting with the free plan, where you get two hours of upload time for free each month for up to 90 days. This is the perfect way to learn the ropes before committing to a paid plan.
The highest plan offers up to 12 hours of content each month for $24 per month.
Buzzsprout has a nice little perk as well for new podcasters.
They'll also give you a $20 Amazon gift card if you sign-up for one of their paid plans for two months when you use this link, not a bad touch if you ask me.
---
Best podcast platform for unlimited bandwidth (Start for FREE)
PodBean is an all-in-one podcasting platform that allows beginners and professionals to create high-quality podcast files or host video podcasts in just minutes.
It tops our list of the best podcast hosting for a good reason.
With this podcast hosting site, you don't need any prior programming knowledge or much technical knowledge at all.
It's straightforward to use and understand right out of the box and comes with a free podcast website. The ease of use is one of the main reasons it's listed so high on my list.
It has an intuitive dashboard and a robust support system. Moreover, everything is mobile-ready from the start, so you can be up and running in no time.
Key Features:
Unlimited Podcasting: The platform offers unlimited bandwidth, unlimited uploads, and storage space.
Reliable Media Hosting: PodBean offers fast audio and video hosting and a smoother experience for your fans.
Comprehensive Stats: Gather helpful insights about the performance of your podcast.
Customizable Branding: You can personalize colors, fonts, and layouts to match your brand or your own website.
Pros of PodBean
Easy platform to use for those just getting started
PodBean provides a free plan podcast website and website hosting with each new account
It comes with several professional themes for customizing your look
Includes an app on iOS and Android to publish episodes directly from your phone
Allows for easy integration with social media
Integrates easily with Patreon to accept membership payments from listeners.
Pricing:
PodBean has two pricing plans. The "Unlimited Audio" for $9 per month, and the "Unlimited Plus" plan for $29 per month.
This is nice because they don't limit you on the number of hours of audio storage like some podcast platforms do.
Podbean offers a free 30-day trial, so you can try out the software before committing to a paid plan.
---
Best podcast hosting platform for creator-focused podcasts (Start for FREE)
Firstory is a giving all-in-one podcast hosting solution that's perfect for beginners and experienced podcasters who want to grow their shows.
They provide unlimited storage and downloads/ bandwidth for free (including the free plan), usually a paid or limited feature with many long-standing podcast hosting solutions.
To start a podcast on Firstory, all you need to do is input your podcast name, author name, cover art, and the first episode (usually a trailer).
You can get your episodes published automatically on main directories like Spotify in just one click.
Suppose you're switching over to Firstory from another platform. In that case, all you need to do is paste your RSS feed into Firstory and paste your new RSS (provided by Firstory) onto the previous hosting platform.
You can also import all your past downloads data to avoid losing track of your progress and milestones.
The platform comes with an easy-to-use, straightforward interface that provides every podcast with a free podcast website.
The webpage is packed with Firstory-exclusive audience engagement and promotion tools like a cross-platform comment tool and voice messages inbox.
Firstory Studio also comes with a special Apple Podcasts integration that allows you to view your Apple reviews across all countries right from Firstory.
Key Features:
Free Unlimited Podcasting: The platform offers unlimited bandwidth, unlimited uploads, and storage space, all for free.
FLink Sharing: Save time promoting your podcast with an auto-generated universal link. Similar to Linktree, but made-for-podcasters.
Benchmarking Analytics: Firstory provides helpful insights that show your podcast performance compared to other shows.
Audience Engagement and Interaction: Gather feedback from fans, no matter where they're listening from, through the cross-platform comment and voice messaging tools.
Place Ads to Monetize: Easily swap, add and remove audio clips from published and future episodes using dynamic ad insertion, also for free.
Pros of Firstory
Easy platform to use for those just getting started
Firstory provides a free website for every podcast
Streamlines and optimizes the podcast promotion process with FLink
It comes with audience connection tools to strengthen your fanbase
Includes an app on iOS and Android to keep track of data analytics, new notifications, and updates on your podcast
Allows for easy integration with any website and blog
Listens to user feedback for feature improvements and developments
Free unlimited hosting and bandwidth to enable every podcaster to scale and grow your show
Pricing:
Firstory has a free plan with all the essential tools you need to start your podcast.
To unlock more features and enjoy better customization, you can upgrade to the Pro plan for only $15/month ($19/month if billed monthly).
This allows you to use FLink on an episode level, view categorical benchmark analytics, and customize the color scheme of your FLink, podcast website, and embeddable player.
Larger brands and organizations may opt for the Enterprise plan for 24-hour live support and onboarding guide.
Firstory offers a free 14-day trial, so you can try out the Pro and Enterprise plans before committing to a paid plan.
Or Read my In-Depth Firstory Review
---
Best Podcast Platform to Save Time (7 day Free Trial then $38/month)
Alitu delivers a complete podcast creation software with built-in group calling, editor, post-processor and hosting. Alitu's core features simplify the podcasting process allowing users to focus on their storytelling. Reduce your editing time to half that of your original processes. With a built-in transcription generator and full hosting suite, you can eliminate both extra costs and frustrations of using a multi-software setup typically needed to complete a podcast.
Key Features:
Fully automated AI-powered audio clean-up
Fast, accurate podcast transcriptions. Automated.
Record your podcast anywhere, with anyone
Publish your episodes in a single click, without leaving the app.
Pros of Alitu:
All-in-one software for podcast creation. Record, Edit, Publish and Host.
Virtually zero onboarding/learning curve
Speed up your podcast output 3x with a streamlined editor
Pricing:
Unlimited audio recording, unlimited AI audio cleanup, unlimited audio editing, Free hosting up to 1k downloads p/m, AI-generated transcripts, Royalty-free music library
Add on hosting bundles for extra downloads per month
---
Most affordable all-in-one podcast hosting platform (Start for FREE).
This is a free podcast host that offers unlimited podcasts, unlimited bandwidth, and storage.
It also has an extensive directory of shows and features for professional podcasters, essential in many best podcast hosting sites.
The dashboard is intuitive and designed to make it easy for anyone to upload, share, and track an episode, regardless of their skill level or technical training.
Key Features:
Easy Podcast Sharing: This platform makes it easier for listeners to find your podcasts thanks to embeddable audio players and your own website.
Social Media Integrations: You can easily share your podcast on Facebook and Twitter.
Podcast Statistics: The platform provides behind-the-scenes analytics so you can learn how your listeners consume your content.
Affordable All-in-One Solution: Podcasts.com is a simple and inexpensive platform with all the features podcasters need to manage their shows on one platform.
Pros of Podcasts.com
Free to sign up and host podcasts
Provides an easy solution that doesn't require programming knowledge
It has a large database of listeners, which makes it easy to build an audience
Offers a robust customer support system for new users.
Unlimited storage and bandwidth
It makes it easy to promote and share your podcast across social networks
Pricing:
It's all FREE! Free podcast hosting plan, unlimited everything, and no fees are included.
Do you need free but the best podcast services?
All you have to do to get started is register for an account on the site, and that's it.
---
An industry-leading podcast hosting platform for top brands ($15/month).
Simplecast is a reliable podcast hosting and one of the best podcast hosting platforms in the market today and an analytics platform used by many popular brands, including Facebook, Nike, and Harvard University.
The platform is designed for podcasters of all levels, from the biggest to the smallest shows.
You can publish and distribute your episode to millions of listeners with one click, making this platform ideal for beginners trying to build an audience.
Key Features:
Team Collaboration: You can easily collaborate with many team members in a single account.
Advanced Analytics Tools: Get in-depth audience insights and easily compare analytics across two or more episodes.
Fully Functioning Website: You also receive a fully functioning podcast website when you sign up for an account.
One-Click Publishing: With a single click of the mouse, your podcast can be in front of millions of listeners.
Pros of Simplecast
Multiple podcast players and web players
Unlimited storage and uploads
Customizable show website with a custom domain
Embeddable episode web player
It comes with email support
Pricing:
Simplecast offers a free 14-day trial. After that, the "Basic" plan starts at $15 per month, and this includes everything you need to launch a podcast.
The "Essential" plan costs $35 per month and has the most basic features.
If you want collaboration tools and even deeper insights, you could opt for the "Growth" plan at $85 per month.
---
An all-in-one podcast hosting platform for WordPress website builders ($77/month).
If you are new to podcasting, this podcast host is an excellent option for you to consider.
It features a simple workflow that lets podcasters access fully responsive podcast hosting and security. It also includes daily backups, 24/7 support, and built-in statistics.
The platform boasts a robust community of experienced podcasters to help beginners promote their podcasts and provide podcasting advice on ads, monetization methods, and other strategies.
Key Features:
All-in-One Platform: Create, grow, and monetize your podcast – all in one convenient place.
24/7 Support: The platform offers round-the-clock personal support from experienced podcasters.
In-Depth Knowledge Base: You'll also find many video tutorials and media to answer all your basic questions.
Drag-And-Drop Website Builder: Create and customize your podcast website quickly and easily using mobile-friendly themes unique to podcasters.
Pros of Podcast Websites
An intuitive user interface makes it easy for beginners
Simple podcasting platform workflow
Complete daily backups included
Includes robust website security
Download statistics and podcast media hosting
Pricing:
Podcast Websites plans start from $77 per month and provide you with everything you need to successfully launch your podcast, brand, and website.
The platform offers a no-hustle 7-day money-back guarantee.
---
Another great podcast hosting platform for beginners ($19/month).
This platform prides itself on getting your podcast on all major podcast networks, making it perfect for reaching broad audiences whether you are brand-new or have years of experience, unlike most podcast hosting sites.
It has an intuitive user interface that makes it easy to get started creating, uploading, and sharing your podcast.
Key Features:
Unlimited Storage: The platform offers unlimited storage and unlimited podcasts for each account.
Free Podcast Promotion: This podcast host helps promote your new podcasts to its massive listeners.
Podcast Submission: Your podcast is automatically submitted to all the major platforms for instant listening.
Detailed Analytics: You get in-depth analytics and reporting on your podcast audience.
Pros of PodServe.fm
Easy to use platform ideal for beginners
Free promotion to help you get listeners
One-on-one customer support
Full-service hosting and submission to directions
14-day free trial – no credit card required
Pricing:
Podserve.fm only has one plan priced at $19 per month.
It includes unlimited storage, unlimited podcast, and free podcast promotion.
You also get your podcast submitted to all major podcast platforms, and you will receive detailed download analytics and one-on-one customer support every month.
---
Best podcast hosting platform with fast, unlimited hosting ($49/month)
Unlike other podcast hosting services, PodcastGIANT builds the website for you.
There's no need to learn how to set up hosting, themes, podcast feeds, etc.
Simply pick one of the custom themes, send your content in, and sit back as the PodcastGIANT team launches your entire website.
This is an excellent platform for beginners with no technical experience building websites or hosting podcasts.
Key Features:
Fast, Unlimited Hosting: You get everything you need to build a successful and optimized podcast website.
Nightly Backups: You can sleep easy knowing that the website provides complete website backups every night.
Unlimited Podcasts: There is no limit to your podcast or bandwidth. You can upload as much content as you want.
SEO-Optimized: Your website is optimized for search engines so your listeners can find your content easily.
Pros of PodcastGIANT
The platform offers scalable, growth-focused plans.
They offer free setup for new users
Done-for-you podcast web hosts with each account
Affordable monthly pricing for unlimited uploads
Beautiful, optimized, and easily customizable themes
Pricing:
PodcastGIANT only has one plan for $49 per month.
They offer free setup for new users and provide you with a fully optimized website created using one of their many beautiful themes.
---
Best podcast hosting platform for reaching your audience faster ($25/month)
Resonate will help you save time by hosting your podcast in the same place where you do your post-production.
You can efficiently distribute your podcast to all significant directories at the click of a button.
The platform also has a robust insights dashboard to review detailed stats and track your growth.
You also get a podcast microsite automatically created as soon as you sign up.
Key Features:
One-Click Publishing: With Resonate, you can publish your episodes to all podcast directories at the push of a button.
Insights Dashboard: This allows you to track your growth and provides you with valuable data to optimize your marketing tools and strategies.
Free Migration: It's free and easy to switch to another podcast hosting platform.
Private Hosting: You can start an internal podcast or create a membership podcast at work.
Pros of Resonate
The platform offers professional editing and production podcast services
Live chat support from a responsive team
Full set of built-in private podcast tools
You can easily post everywhere with one click
Detailed analytics to measure audience engagement
Pricing:
Resonate has a price for any size audience.
They offer a 14-day free trial, and their plans start at $25 per month for the "Basic," which includes unlimited downloads, episodes, and show users.
You also get an embed player, detailed embed player analytics, and live chat support.
The "Premium" plan for Resonate podcast hosting cost $49 per month and includes everything in the "Basic" plan and a podcast microsite.
---
Best free website builder for hosting podcasts (FREE)
It's a free podcast hosting platform known for its website and eCommerce features. Squarespace free plan allows you to create and manage your podcasts.
You can use your built-in RSS feeds to publish to Apple Podcasts and a lot of other subscription services.
Your Squarespace website will help businesses find archived episodes and show notes, as well as other information about the podcasts.
All you have to do is set up a podcast blog page, add a blog post with your episode using an audio blog, and then submit your RSS feed for syndication.
Key Features:
Free to Use: If you're already using Squarespace for your website, then you can add a podcast for free.
Podcast Publishing: A built-in RSS feed allows you to publish on all major podcast hosting services.
High-Quality Website: SquareSpace offers high-quality, customizable podcast website host templates.
In-Depth Knowledge Base: There are a lot of videos and articles to help you get started podcasting with Squarespace
Pros of Squarespace
You can use it for free if you have already paid for a website through Squarespace.
The platform is extremely easy to use
Squarespace is a reliable and well-established podcast host
It's easy to submit your podcast to all directories
You can track your listeners with analytics
Pricing:
Squarespace podcast services are free to use for existing users.
---
Best podcast hosting platform built for marketers by marketers ($15/month)
If you are looking to grow social engagement, traffic, and revenue with your podcast, then this could be the perfect platform for you.
Trusted by many well-known brands, including One Up, Hey Digital, and Summatti, this podcast host offers a ton of helpful features, including audio inserts, auto opt-in, transcription, and one-click submission.
Key Features:
Audio Inserts: You can insert compelling audio CTAs (calls to action) in each episode with just a few clicks.
Auto Opt-in: Allow your listeners to subscribe to your email newsletter or download premium content by sending a blank email to a custom email address.
Transcription: Auto transcription allows you to easily convert your audio content into text so you can optimize for Google search.
One-Click Submission: With a single click, you can distribute your podcast to all the major directories and networks.
Pros of bCast
Custom domains to build traffic and SEO on your own web host property
Easily notify guests as soon as your podcast is live
Each account gets an automatically generated podcast website with integrated marketing tools
As an automatic podcast website, your Podcast is automatically published to YouTube
Integrated affiliate program for recurring commissions
Pricing:
bCast offers a 14-day free trial. After that, plans start at $15/month, with the "Starter," which offers one podcast, complete episodes, and unlimited storage.
You get 10,000 downloads per month, two hours of transcription, and audio inserts.
You can sign up for the "Growth" account at $35 per month or the "Legendary" plan at $75 per month if you want additional transcription hours, downloads, and sub-accounts.
---
A podcast hosting platform that includes a free WordPress site
Blubrry is a quality podcast hosting service that's been around since the early days and was one of the first to be given an IAB certification.
They have a track record that's unmatched by many, and although they aren't as popular as they once were, they're still a perfect and reputable solution with unlimited bandwidth.
Even more popular than Blubrry is their WordPress plugin called the "Powerpress plugin."
This plugin was one of the first to allow anyone with a website to run a podcast directly on it. You can learn how to do this here.
They've had so much success because their free WordPress website, including internal private podcasting, integrates seamlessly with their hosting and as that plugin grows, so does their business.
---
Best podcast hosting platforms for in-house analytics tools
Backtracks podcast hosting site and develops tools such as podcast analytics to help publishers succeed in podcasting.
It does this success by combining your storytelling skills with its in-house measurement and monetization expertise.
---
Best podcast hosting platform that makes growth simple
Megaphone podcast hosting company provides you with the most intelligent tools for publishing, monetizing, and measuring your podcast business.
You can monetize your content using dynamic insertion, like WordPress integration.
Obtain the necessary insights to enable strategic decision-making and scale your podcast presence as your business grows. Megaphone functions consistently without outages or downtime.
---
Best podcast hosting platform from a leading independent podcast company
Acast is a leading independent podcast company that helps creators and advertisers of all sizes reach listeners in the world's most immersive environment by allowing you to host your podcast on all of the leading podcast directories.
Make podcast discovery a breeze for all of your future fans and listeners by quickly and easily hosting your content on Apple Podcasts, Spotify, Amazon Music, and hundreds of other popular podcast listening apps.
---
Best podcast hosting platform for importing existing podcasts
Without losing subscribers, Fireside podcast hosting site can import your existing podcast from any existing podcast platforms or custom RSS feed with a single click.
Even though Fireside can import from any valid podcast RSS feed, we have custom importers for all podcast platforms, making it stand out among other podcast hosts.
---
Best podcast hosting platform focused on audio content management
The all-in-one platform for podcast hosting, management, distribution, promotion, commercialization, and measurement.
It saves you time and money by using a single solution for capturing, editing, distributing, monetizing, and measuring broadcast to a podcast.
Distribute and track podcasts securely for internal communications, employee onboarding, sales enablement, HR, and training.
---
Easily monetize podcasts with dynamic ad insertions and endorsements
While many podcasting hosting platforms focus on podcasters, Audiobloom is designed with both audio content producers and advertisers in mind.
With dynamic ad insertions and endorsements, Audiobloom attracts some of the highest-paying advertisers.
This attracts a diverse array of influencers and professional podcasters with whom Audiobloom collaborates to produce a library of diverse and always exceptional podcasts.
---
A free podcast host that allows you to create unlimited audio content
With Anchor free podcast hosting, you can create, distribute, and monetize your podcast for free.
Integrated uploading, recording, and editing tools simplify creating and publishing episodes.
With a single tap, you can distribute your podcast to the most popular listening apps, including Spotify, and host unlimited content for free, forever.
Unlock sponsorships or create a subscription to start earning money with your podcast as your audience grows.
They have advanced analytics and insights to assist you in understanding and expanding your audience than many podcast hosting providers.
---
Best podcast hosting platform with a diverse range of third-party integrations
Fusebox is a podcasting hosting platform designed with third-party integrations to help you expand your audience across a wide array of platforms. Using Fusebox is a great way to expand the use of podcasts strategically as part of an omnichannel marketing upgrade.
Podcasts on Fusebox can be integrated into WordPress and other website builders, online course platforms, email marketing software, and a diverse range of podcast directories including Apple Podcasts, Spotify, and more.
---
What Features Should You Look For in a Podcast Hosting Platform?
As you've seen, there are dozens of podcast hosting platforms to choose from. But what exactly should you look for when making your decision?
On the surface, it may appear that many of the podcast services are the same, but that isn't true.
Each of them has its own unique set of features to offer. By understanding what to look for, you pick the best one for you and your team members' needs.
Listed below are the factors to consider so you can choose the best podcast websites to suit your needs and help you achieve a successful podcast.
Storage Capabilities
Whether you are just starting out or moving to better podcast platforms, you need one with audio storage capabilities and unlimited bandwidth to cover your requirements.
The last thing you want is to run out of space to store your audio files from the media host, so choose a platform with unlimited storage and episode uploads so you never run out of hosting space.
Website Integrations
A podcast website is a central place where listeners can come to discover hours of audio on everything they need to know about your show, from finding out more about your brand to subscribing to the podcast and tuning in to your latest episode.
So make sure you choose a podcast host with the capabilities to integrate with your website and web hosting.
For instance, if you are using a WordPress site, make sure there is a dedicated podcasting WordPress plugin.
Audience Analytics
For you to grow your podcast engagement, you must understand your audience. With advanced podcast analytics, you need to know where they're listening, how long they're listening for, which platforms they are using, and so on.
Choose a podcast host with the right audience analytics tools and a simple podcasting WordPress plugin so you can discover all these insights and more for your WordPress site.
Monetization Support
Eventually, you will want to monetize your podcast. This means your podcast host should offer monetization support.
There are a lot of advancements being made in the industry about monetizing podcasts.
Just make sure you choose a host that offers support and technology for the types of monetization strategies you intend to use.
Content Repurposing Services
Most podcast hosts make it possible for you to add your podcast to all directories easily, but not all of them help you reach your audience on YouTube – which is where a lot of them are.
Listening to podcasts on YouTube is becoming more and more popular, and you must choose podcast hosting sites that allow you to republish to YouTube easily.
It's even better if they offer audio file transcription services.
Podcast Distribution – Where to Share
Once you've created your audio files on podcasting hosting platforms, it's time to share them on podcast directories so you can get more listeners.
Podcast directories like those listed below distribute your podcast to the listeners and help expand your reach to attract new audiences.
They also act as search engines to find the relevant podcasts by the title and description.
It's a good idea to submit your podcast files to all the directories.
Many people subscribe to these websites, so you should be on them if you want listeners to subscribe to your podcast.
1. Apple Podcasts/iTunes: One of the biggest and most popular sites for distributing your podcast. You can sign up through Podcasts Connect to add your podcast.
Add your podcast to iTunes here.
2. Google Podcasts: Your show is playable in the search results when you register on Google Podcasts. This makes it a lot easier for your audience to find your podcasts.
Submit to Google Podcasts here.
3. Spotify: This is one of the top podcast directories right now. To get listed on Spotify, you must fill out a simple form on your podcast hosting website, and they will do the rest for you.
4. TuneIn: This is yet another popular podcast app and directory available on virtually all platforms and devices. To submit your podcast, all you have to do is fill out the contact form on their site.
5. Stitcher: This is one of the largest podcast directories with millions of registered users. It's a great place to get your podcast listed to grow your listener base.
6. Blubrry: This is a well-known podcast hosting provider with a podcast directory where you can submit your show to reach broad new audiences.
7. Google Play Music: This podcast directory is the predecessor to Google Podcasts. However, it still has a massive subscriber base, and it's an excellent place to submit your podcast.
8. Spreaker: This is a podcast directory that also offers a few other podcast services, including podcast hosting, a podcast app, and desktop software. You can sign up for free to list your podcast.
Add your podcast to Spreaker here.
9. Digital Podcast: To submit your podcast in this directory, all you need to do is create an account and then paste the URL of your podcast feed. Choose a category, and you're done.
Sign up for Digital Podcast directory here.
10. iPodder: To submit your podcast, all you need to do is fill in a form with your email address, RSS feed URL, and category. Your podcast will be reviewed and then added to the site.
Submit your podcast to iPodder here.
11. SoundCloud: SoundCloud is yet another popular podcast directory. You can upload your MP3 files to SoundCloud using a free account.
Add your podcast to SoundCloud here.
You can also share your podcast on YouTube, Facebook
YouTube: Uploading your podcast to YouTube can help you expand your reach. Some larger shows tend to record their audio and then video recording.
However, you can simply use a static image (or an Audiogram) showing your podcast cover art in your video podcasts.
Facebook: If your audience hangs out on Facebook, then it's an excellent place for you to share your podcast player. You can share the entire show, or just sections of it, complete episodes, or even teasers.
Podcast Monetization – How to Make Money
If this is your first time creating a podcast, you may be wondering exactly how podcasts make money.
Below, we look at a few different ways to monetize your podcast.
Each of them has been time-tested and proven to effectively bring in a steady stream of income.
1. Start a Complimentary Blog
One of the best ways to monetize your podcast is to start a blog where visitors can come to find out more about your podcast, brand, products, and services.
Granted, you'll need a podcast transcription service to help make it so that your videos are available in text, but you can create a lot of written content this way.
You can then use various website monetization strategies to turn that traffic into dollars.
2. Referral Sponsorships
Audible.com, Website Magazine, Airbnb, and other companies offer commissions for any new customers you refer to them.
You can find companies in your niche that you can work with.
The great thing about this strategy is that since your links are "live" and active for a long time, the potential for earning per month and even years into the future.
3. Sell Your Own Products or Services
As a growth-oriented podcast host, a great way to monetize your podcast is to sell your products and services to your listeners.
This can be anything from coaching and consultation services to digital information products like e-books and courses and even physical products like branded merchandise.
4. Charge Guests
This is a controversial strategy for podcast monetization.
Some podcast hosts charge guests per episode, with some asking as little as $500 while others and up to $3500.
John Lee Thomas is an example of someone who can command that amount of money from his guests' thanks to the loyal audience he has built over the years:
Podcast Hosting Platforms: Summary And Top Picks
My team and I spent a long-time coming up with this list of the best podcast hosting platforms. We went through and examined each of these podcast hosting platforms extensively before deciding which are really have the best tools for podcasting.
When creating a podcast, there are a few things you need to consider like what capabilities you'll need to record, edit, distribute, and monetize your podcasts.
This means you'll need to look at things like what all of the native features of the podcast hosting platform, subscription costs and affordability, ease-of-use, third-party integrations with website builders like WordPress, the inclusion of native analytic and content management tools, and the robustness of the software's monetization features.
Taking all of these factors into consideration, we found these five podcast hosting platforms to be the best of the best.
Here Are My Top Recommended Podcast Hosting Platforms: