Every day, over 300 million photos are uploaded to Facebook – and that's just one of the dozens of social media platforms available today.
And believe it or not, many of those images are not selfies.
But not everyone is on Facebook and frankly, it's not the best place to store photos.
Because of the large volume of photos that individuals and businesses have, there is an ever-increasing need for the best photo management software to organize, enhance, and store their photos.
With the right photo management program, you will be able to easily find the photos you're searching for from thousands of digital images, avoid duplicate files, and easily share images – all in one central location.
If you need to organize and maintain huge repositories of image files, read the rest of this review to find the right photo management program with unique features that are specific to you.
What is the Best Photo Management Software?
Here are my top picks for the best photo management software, each of which offers features to take care of both organizational and even editing needs.
A free photo management software for quick and convenient image sorting ($20.99/month).
Adobe Bridge is the best photo organizer software and digital asset management app for anyone working across Adobe apps.
It's compatible with Windows and Mac OS, and while it's not the only tool offered by Adobe for organizing photos, this is a creative asset manager that allows you to not only quickly and easily edit photos, but also preview, organize and publish multiple images.
Who is it best for?
This photo management program is best for professional photographers who require powerful photo organizing software that has more sophisticated features and integrates well with other design tools.
Key Features:
Adobe Portfolio: The platform allows you to build a professional image library portfolio of your illustrations, in design, or images through PDF contact sheets.
Photo Downloader: Easily import all your image files or raw files and rename them during import or convert them to DNG files.
Adobe Camera RAW: This feature allows you to open raw images directly from Adobe Bridge or inside the Adobe creative cloud apps for editing.
Pros of Adobe Bridge:
The platform has strong organizational features
The software works across multiple apps
You can get it free as part of a Creative Cloud subscription
Easily edit keywords, labels, ratings, etc.
Advanced filters and powerful metadata search features
Pricing:
Unlike Lightroom, the other image management tool provided by Adobe, Adobe Bridge isn't a standalone editing tool. To get it, you need to sign up for Creative Cloud for $20.99/month.
What Are People Saying?
"Great unknown software not just for photographers. What I like best is that you can manage and organize photos in all your folders. You can also correct directly with camera raw without opening photoshop." Paolo F. – Trainer (G2 Review).
"A solution for the obsessive organizer when working on a small or large project." Brian S – Marketing Manager. (G2 Review).
"I love the organizational abilities that the user has when using Adobe Bridge. Without any problems, you can slide and move your photo and image files into any order that you like." B.V. – Artist Designer Illustrator. (G2 Review).
---
Best photo organizing software with affordable cloud storage ($9.99/month).
Adobe Lightroom is a photo management software with AI technology that helps you automatically manage raw files, and the photo library at once.
You can save edits done on your smartphone and you can organize and store all your images across any device.
When you sign up for Adobe Lightroom, you get 1 TB of free cloud storage and you can purchase more whenever required.
Who is Adobe Lightroom best for?
This photo management software is ideal for photographers and creatives who want a capable tool that allows them to edit images without having to use Photoshop.
Key Features:
Adobe Sensei: Adobe's AI automatically recognizes faces, locations, themes, objects, and colors in your pictures.
Image Labels: It comes with a wide range of organizational tools, including picture marks, ratings, and flags to help you instantly create albums with a single click.
Non-destructive Edits: This means you can save editing adjustments and preserve the original raw files.
Pros of Adobe Lightroom
Compatible with Windows, Mac, iOS, Android, and tvOS
Sophisticated photo organizer software features
The cloud-based platform works across all devices
Industry-standard for the photo collection organization
Powerful filters thanks to AI technology
Pricing:
You can get Adobe Lightroom as part of Adobe's Creative Cloud for $9.99/month.
What Are People Saying?
"It is the most accessible platform Adobe has to batch edit your photos. You can easily organize and categorize your recent uploads and sync some similar settings to have a cohesive look on all your photos." G2 Review.
"Extremely user-friendly, reliable software for saving images and backups. I think it's also nice to have so many presets. It can be challenging sometimes to piece together the entire thing on your own." Henry L. – Writer.
"With Lightroom, I can make my photos beautiful very easily and fast. For more complex cases, I would use Photoshop, but if you need to play with colors, light, contrast, and filters, Lightroom is the way to go." G2 Review.
Get Started With Adobe Lightroom
---
Best organizer and editor combo for anyone on a budget. ($99.99, one-time fee).
Corel PaintShop Pro is the best value organizer and editor for photographers and creatives who need a single tool to streamline their work processes.
It's ideal for anyone who would rather not pay a monthly fee.
The software comes with features for removing unwanted objects from images, filling the space believably, and a variety of other tools for removing blemishes.
Who is Corel PaintShop Pro best for?
This cloud-based digital asset management system is ideal for large teams who manage a high volume of content and require a sophisticated, feature-rich platform to keep their projects organized and on task.
Key Features:
AI-Powered Editing Tools: Corel PaintShop Pro has tools like up-sampling, improving image noise, and removing artifacts.
Plugin Support: You can use PaintShop Pro with 64-bit plugins to dramatically improve the software's versatility.
Sleek User Interface: The UI is simple and easy to navigate which means you can quickly categorize, manage, and search your library.
Pros of Corel PaintShop Pro:
Innovative and useful and features
Plays nicely with Adobe Lightroom plugins
Beginner-friendly user interface
Ideal for digital asset management
In-depth editing features for more experienced users
Pricing:
Corel PaintShop Pro is offered at a convenient one-time fee of $99.99 for those who would rather not tie themselves into a premium subscription.
You can sign up for a free trial on the website to try out the software for 30 days.
What Are People Saying?
"Hard to beat Paintshop Pro for working on graphics. What I like best is the ease of use, ability to tweak coloration/contrast, and you can save images as a large number of graphic formats." – Mike S. Small business owner.
"It is easy to use and has a lot of features that make editing easy and quick. The menu is intuitive and easy to understand. Help features are easy to navigate and support is excellent." Joseph C – Technical Consultant.
"The photographic workspace is the best as well as the "refine" brush. The workspace doesn't distract me as the tools are apart from it. The refining brush makes the work look perfect." Leah H. Office Manager.
Get Started With Corel PaintShop Pro
---
Professional all-in-one software with facial recognition features ($59.95, one-time fee)
ACDSee photo studio is one of the best digital asset management and photo editing tools offered at a one-off purchase.
The photo organizer software is compatible with Windows 7+ and lets you organize photos by date, keyword, location, color labels, ratings, camera used, and even categories such as places, people, and so on.
It has up to 86 different image file formats supported including JPG, GIF, RAW, TIFF, PSD, and more.
Who is ACDSee photo studio best for?
This tool is ideal for creative, marketing, or media departments as well as individuals who want to process multiple images simultaneously and need a single, fast solution for all the tasks of their photography workflow.
Key Features:
Facial Recognition: The software uses AI to identify faces so you can name individuals and find similar images easily.
Location Data: You can mark the location where images were taken and separate or crop multiple images according to the region where you took them.
RAW Support: ACDSee offers RAW support for hundreds of digital camera models.
Pros of ACDSee:
Allows image viewing inside ZIPs without extracting them
Customizable user interface
Wide range of payment options
Robust photo organization features
Search for and delete duplicate image files
Pricing:
ACDSee Photo Studio Professional offers three pricing plans:
Home Plan: $8.90/month.
Lifetime License: $59.95 one-time fee.
Home Pack: $149 one-time fee.
You also have the option of taking out a subscription that comes with 50 GB of cloud storage.
What Are People Saying?
"The photo import process is simple and intuitive. I love all the batch options, and being able to save settings. Photo organization is super simple, and you can tag photos for ease of finding them later on." Andrea S. – Curriculum Developer.
"I like how ACDSEE uses the folder structure and automatically sees what new photos have been added. You never have to upload your photos to it. ACDSEE accesses them in a convenient way. I also feel that the user interface is very logical." G2 Review.
"Photo management and viewing of photos, plus the ultra-speed at which the software works are the great advantages of it. This is an important difference when you're working with large batches of photos." Justin L. – Engineer.
---
A free photo management tool for beginners from a market leader (Starts from free).
Magix Photo Manager is a more advanced photo management software app for editing, sorting, organizing, and managing photos and videos.
It has an optimized interface that allows beginners to directly import photos from cameras, make quick edits, and develop easily shareable image slideshows.
The software also has custom albums and adjustable view modes which helps users quickly locate photos and videos from your library.
Key Features:
Facial Recognition: The free photo management software helps you detect faces to make it easier for you to find a particular person.
Wireless Import: Use wi-fi to upload your entire photo collection and videos to Magix's dashboard directly from your phone or a digital camera
Cloud Import: Import pictures directly from cloud storage services which makes it easy to merge local photo libraries with other images already in the cloud.
Pros of Magix Photo Manager:
Rate and categorize photos for better management
Uses dark-colored background to highlight photos correctly
Share pictures and videos directly from the Magix dashboard to YouTube
Optimize image color, contrast, brightness, etc. in a few clicks
600 MB free disk space is provided for program installation
Pricing:
You can use Magix Photo Manager for free. However, if you require more advanced image editing features for managing and editing your photos, you can sign up for the premium plan, Magix Photostory Deluxe for $34.99 (discounted from $69.99) for a limited time.
What Are People Saying?
"Magix Photo Manager offers ease of use due to its simple and clean UI. Likewise, the program is good for basic photo management with useful features like batch processing, auto sorting, and shortcuts." Mayur S. – Content Writer.
"We can access all the images that we have on our computer, on the other hand, we can also access all the images that we have stored in the cloud, we simply use the tool cloud-import and log in with our user data." Karina Sophia.
"Excellent photo management with some editing options. There are plenty of options for how to organize your photos. Photo management is the strongest point of his program, including the incorporated database." Edo M. – Small Business Owner.
Get Started With Magix Photo Manager
---
Best budget image management software tool with editing features ($3.17/month).
CyberLink PhotoDirector offers advanced features like facial recognition to help you manage your digital assets.
In addition to photo management and editing tools, the software also has a decent video editor, and it works on both Windows and Mac.
Optimizing images is easy based on factors like tags, keywords, star ratings, color labels, and categories.
Who is CyberLink PhotoDirector best for?
This photo editing software is ideal for anyone looking for an affordable solution for organizing and editing images in one place.
Key Features:
User-friendly Interface: This photo organizing software is relatively simple to use which makes it perfect for complete beginners.
Facial Recognition: AI-powered face recognition features allow you to easily categorize photos.
Advanced Features: This tool offers features to rival Lightroom CC from Adobe at a significantly cheaper cost.
Pros of CyberLink PhotoDirector 10 Ultra:
Extremely simple to use, perfect for beginners
Facial recognition features
Cheaper than Adobe CC
Preset filters to improve imported images
Supports RAW, TIFF, JPG, and PNG
Pricing:
Pricing for CyberLink PhotoDirector starts at $37.99, which averages $3.17/month.
The monthly plan for Mac users is $14.99.
What Are People Saying?
"Very feature-rich program. There are a lot of tutorials and videos available to learn how to use the program. A very flexible program packed full of exciting and helpful tools." G. Clendenin.
"I really like CyberLink PhotoDirector. It combines features of Photoshop and LR into one application. The program does have a learning curve but it was not insurmountable." Janet G.
"The general look and feel haven't changed that much from the previous version, and I don't think the differences are that significant. One thing I noticed immediately however is that it does seem to load and run faster than my previous version." Vine Voice.
Get Started With CyberLink PhotoDirector 10 Ultra
---
Memory-focused photo manager with facial recognition ($39.95).
Movavi Photo Manager is a memory-focused photo organizer designed for Windows and Mac. It allows you to effortlessly organize, tag, and improve your images in just a few clicks of the mouse.
Facial recognition makes it simple to categorize images by face and you can also bulk categorize images that are similar or identical.
Who is Movavi Photo Manager best for?
This tool is ideal for someone who usually imports images in bulk from let's say a digital camera and needs to recognize identical images and automatically delete them.
Key Features:
Duplicate Photos: Movavi scans the hard disk on your PC to find and remove all the same images.
Geolocation: The photo manager automatically sorts your images according to the places they were taken.
Automatic Album Creation: The software sorts all your photos and creates albums based on GPS coordinates and dates.
Pros of Movavi Photo Organizer
Easily organize images using facial recognition
Automatically detect and delete duplicate files
Reliable backup feature to ensure the safety of your images
Allows you to edit multiple photos at one time
Add graphics, text, and tags to images
Pricing:
Movavi Photo Manager offers 3 different pricing tiers:
Photo Manager ($39.95): This plan has features that let you quickly organize your images.
Photo Manager + Photo Editor ($59.95): This package allows you to organize and edit your favorite photos.
Photo Manager + Photo Editor + Slideshow Maker ($79.95): With this package, you can organize images, edit them, and create amazing slideshows.
What Are People Saying?
"The Movavi Screen Recorder is very easy to use, but at the same time, it's really powerful. It isn't like your typical screen recorder because it grants you access to many tools." Rodrella1985.
"I've been using the Movavi Photo Editor for many years now. It always helps me edit travel photos. With this program, I learned how to use professional instruments like the background change and retouching." Gustav.
"Wow. Never thought a desktop photo editor could be that good. Like the number of effects and filters. The instruments are smooth, and everything works fast. Tried to edit several pictures from my gallery, and the results are impressive." Jake.
Get Started With Movavi Photo Organizer (Click here for Mac)
---
An affordable alternative to Adobe Lightroom and Photoshop tools ($4.99/month).
Zoner Photo Studio X is an affordable photo management software and editor that comes with a ton of useful features, making it a viable alternative for tools like Adobe Lightroom and Photoshop.
With it, you can catalog images by date, keyword, folder, etc. which makes it easy for you to navigate when you have thousands of photos stored.
Who is Zoner Photo Studio X best for?
This tool is ideal for beginners and professionals who want to handle all photo editing-related tasks, including masking, clones, etc. in one convenient place.
Key Features:
Constant Updates: This platform has consistent developer support with constant updates.
Professional Cataloging: The program lets you catalog and view your images like a pro through factors like keywords, folders, dates, etc.
Image Editor Layer Support: Built-in layer support makes it easy to take care of editing tasks without having to use additional tools.
Pros of Zoner Photo Studio X
Robust photo editing features
Catalog options for optimal photo organization
Dev team offers near-constant updates
Well optimized platform with built-in layer support
The basic plan includes 20 GB of space
Pricing:
What Are People Saying?
"I use Zoner Photo Cloud X for editing my portraits; It lets me breathe life into my visions, and many times that even goes for photos that weren't exactly taken in ideal conditions." Lucie Amulett.
"A film director's task is to tell stories and to have their very own visual world under their command. Zoner Photo Studio X helps me in that mission—the directness in how you edit photos and in its photo archival system suits me." Honza Svatoš.
"The foundation of a good photo is light! But today, it's first-rate post-production too. I fine-tune my photos in Zoner Photo Studio X; I find a lot of the features and the intuitive controls to be convenient." Svatava Vašková.
Get Started With Zoner Photo Studio X
---
Reliable photo organizing software with smart album feature ($39.95, one-time payment).
Phototheca is a popular photo organizing software that allows you to source images from different sources, including drives, network shares, NAS, smartphones, and memory cards.
The tool has all the features you need to organize, view, edit, sort, and share photos and videos from your computer. Not only that, but Phototheca also allows you to quickly and easily share images to Flickr, Twitter, and Google photos.
A nice little perk if you'd like to store them in another place….just in case.
Who is Phototheca best for?
Phototheca is ideal for users who want facial recognition features as well as the ability to create smart albums based on factors such as timelines, calendars, events, and nested folders.
Key Features:
Smart Album Feature: Phototheca has a smart album feature and it can filter photos by camera model and date.
Social Sharing: You can easily share your photos or videos on social networks like Facebook, YouTube, and Instagram directly from your dashboard.
Viewing Capabilities: You can zoom in and out of your images, switch to full-screen mode, and even run slideshows to view photos seamlessly.
Pros of Phototheca
Supports multiple RAW camera formats
Premium plan manages unlimited photos
Email integration directly on the platform
Offers password-protected albums
Duplicate photo detection feature
Pricing:
Phototheca offers three paid plans, each of which is a one-time payment:
Home ($39.95): Manage up to 100,000 photos on one PC without any editing capabilities.
Pro ($49.95): Manage up to 250,000 photos on two PCs with full editing capabilities.
Premium ($54.95): Manage unlimited photos on up to 5 PCs with full editing capabilities and priority support.
What Are People Saying?
"I developed Phototheca for many years and Apple Photos/iPhoto alternatives for Windows, and this is exactly where Phototheca stands out. It has many similar features as iPhoto has and a few more." Megadino.
"Regarding the performance: Phototheca can handle 100K, 200K, and 300K photos in the catalog on the modern PC without freezing or slowing down. It can catalog and organize JPEGs, RAWs, and videos in many formats." DPReviews.
"The software has well-known iPhoto concepts – Events, Albums, Smart Albums. There are Calendar and Timeline features to quickly find photos by a time frame. The program plays nice with all metadata standards – EXIF, IPTC, XMP." DPReviews.
---
Free open-source photo management tool (Free).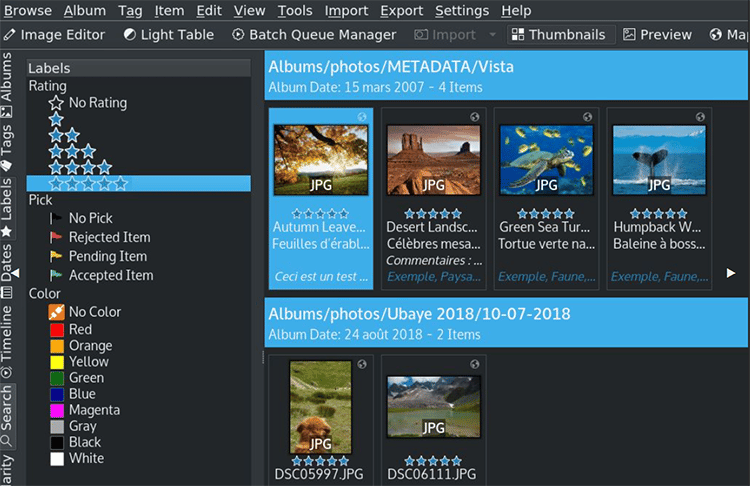 digiKam Photo Manager is a free and open-source tool for organizing photos. It's ideal for anyone who wants to organize a huge collection of images on a budget.
The platform has an extremely active community and they consistently come up with new features, suggestions, and bug fixes.
Who is digiKam Photo Manager best for?
This efficiency-focused open-source tool is ideal for technically minded users and those with security or privacy concerns who need to be able to read through its code to see exactly how this software works.
Key Features:
Open Source Transparency: Open source software can't keep secrets from you if you are technically inclined.
Built for Large Collections: One thing that makes digiKam Photo Manager so popular is that the program handles huge collections well.
Powerful Features: The filter and search options make it extremely easy to navigate mountains of image files.
Pros of digiKam Photo Manager
Free software that is updated regularly
Runs smoothly even with tens of thousands of photos
Efficiency-focused tools for improving your workflow
Anyone with the knowledge can check the source code
Some features outpace a lot of premium apps
Pricing:
You can download and use digiKam Photo Manager for free.
What Are People Saying?
"Looks "feature complete". I booted it up quickly and tried to process a RAW image. The only thing so far is the colors look way off (too bright). Anyway, I'm going to give this more time, but for a FREE app, it looks promising…." DPReview.com.
"I recently started working with DigiKam as a "proper" importing, sorting, tagging, and editing platform. Before this, I was just dumping images into a folder hierarchy and didn't really have a system for sorting good from bad images." Reddit User.
"It is a good non-destructive Raw converter and editor for KDE Plasma desktop on Linux. KDE also offers the excellent video editor KDEnlive. I run Darktable and really like it. It's very easy to use after a bit of video training." DPReview.com.
---
Powerful yet easy-to-use photo and multimedia management software ($49.50)
Smart Pix Manager offers differentiating features, such as wide print templates and slideshows.
The software also has numerous features for organizing photos, as well as sorting video and music files.
Although there is a bit of a learning curve, once you get the hang of it, using this program is a breeze.
Who is Smart Pix Manager best for?
This online file management solution is ideal for small operational teams who are document-focused and need to store a limited number of photos.
Key Features:
Quick Categorization: You can quickly categorize your files and search by keyword, description, or file content.
Image and Multimedia Slideshows: Display slideshows with motion and transition effects.
Detect Duplicates: Automatically detect and delete duplicate images, videos, and audio files on your computer.
Pros of Smart Pix Manager
View a wide range of formats, including images, videos, sound, documents, and Office
Automatically generate keywords from digital photos and sounds
Thumbnail browsing and off-line searching feature
Automatic image resizing and conversion when sending email photos
Software wizard for creating stylish image indexes for your site
Pricing:
You can get Smart Pix Manager for a one-time fee of $49.50.
Alternatively, you can opt for the Xequite Photo Bundle for $79.50.
This package comes with Amaze Screen Saver for creating exciting transitions for your photos, and DVD PixPlay for creating folder slideshow disks for your DVD player.
What Are People Saying?
"Basically, whatever you want to do with your image collection, Smart Pix does it quickly and easily!" In the Loop.
"The everything-you-need solution to media file management!" Australian Computer Trader.
"Smart Pix Manager is a full-featured application that won't stop surprising you for a couple of days, or maybe more. Its trial period of 45 days should be enough for everybody to discover this excellent program, and its comprehensive documentation can help you a lot with this task." Codrut Nistor – Softpedia.com.
Get Started With Smart Pix Manager
---
Awesome tool that comes as a useful AI assistant (Starts from FREE)
Google Photos is a free photo organizer that allows you to organize your images by dates, keywords, or location.
The software offers suggestions on files to archive, and automatically backs up and syncs your image folders. You also have the option of selecting specific catalogs to upload to the cloud.
Thanks to the AI-Assistant function, you can view your photos as a timeline on any device.
Who is Google Photos Best for?
This platform offers a reliable online photo library that is most helpful for everyday users who want to manage personal photo albums.
Key Features:
Public Libraries: The software allows you to quickly and easily share your entire collection.
Albums Page: The AI engine automatically displays the photo together with the albums you create.
Robust Editing Tools: Google Photos has a wide range of filters and editing tools to help you enhance your images.
Pros of Google Photos
Create albums, collages, and more
Free to use with affordable cloud storage options
Gorgeous direct-print photo books
Cross-platform availability
Backup copies automatically created
Pricing:
You can get Google photos for free, but there is optional paid storage, as well as a direct photo printing service where you can get your libraries printed in an album, photo book, or canvas print at your local Walmart or CVS.
What Are People Saying?
"The seamless syncing of important photos to the cloud is super helpful, but the feature that allows you to automatically delete locally stored photos that are safely in the cloud is a must-have for keeping phone storage free." Benjamin W – Operations Director.
"Google Photos is remarkably easy to search by date, keywords, or people. You can quickly find what you are looking for even with years and years of photos being stored." Katherine H. – Navigation Analyst.
"Almost the best cloud photos app. I particularly like the ultra-fast user interface & a minimalist well thought user experience." Hash M. – CEO/Founder.
Get Started With Google Photos
---
Intuitive image organizing program with metadata editing ($19.95/month).
Faststone image viewer is one of the best photo organizing software for Windows and Mac viewers. You can use the basic editing tools as a browser, image editor, or converter.
The software is supplied with a wide range of photo editing tools that allow for basic manipulations as well as precise judgments.
It supports tech creation and EXIF data viewing, among other parameters for you to edit multiple photos simultaneously.
Key Features:
Broad Format Compatibility: This platform offers compatibility with virtually all file-formats including digital camera raw formats, available today.
Robust Importing Features: You can import images from scanners, cameras, etc. directly to your dashboard.
Metadata Editing: There are tons of tools for anyone who wants to read, write, and edit metadata.
Pros of FastStone Image Viewer:
Full-screen viewer for easy image management
Great printing features that are easy to navigate
Batch processing option to make your work easier
Accepts most file formats
Basic viewer is free with optional upgrades
Allows for watermarks, red-eye removal, and other functions often used by photographers
Pricing:
FastStone has different products and packages available to suit the needs of everyone from beginners to professionals.
You can get a lifetime license for the FastStone MaxView for one PC for just a $19.95 one-time fee.
A family license that covers up to five computers costs $49.95.
What Are People Saying?
"The best thing about this software is that it is small software with different packages installed in it. Like Capturing the Full area and the particular selected area. That depends on the user which region they want to capture." Charanjit S. – Web Developer.
"A screenshot of anything, be it an error or a code or an image, can be done very fast with this tool. We can capture beyond what we see on the screen, cut what we need and edit it without using another application." Nairoby D – Consultor TI.
"Simple design that pops up easily and gives you a ton of options to capture screen images or videos. The editing options are also extremely useful when adding notes or highlighting is required." Sean N – Mechanical Designer.
---
Understanding Types of Photo Management Software
There are two main types of photo management software programs to cater to different needs.
Structure and Organization: These are programs that are uniquely designed to manage complex sorting and organizational tasks for image storage. Many of them can replace the need for storage space like a hard drive, DVD, CD, or flashcard.
Editing: These photo management programs are ideal for users who require extensive image editing functionality.
What Features to Look For in Photo Management Software
When choosing the best photo management software for your needs, you need to pick the one with the features you need.
The best photo management software offers the following features:
Image search functionality
Importing and exporting image files in different formats (JPEG, PNG, GIF, etc.)
Creating folders and subfolders
Tagging images and adding image descriptions
Editing and resizing photos
Here are some of the most important features to look for in the right photo organizer:
1. Photo Editing Features: I think we can agree that this is one of the most important features to look for in photo management software since there is no point in storing poor-quality photos that you're not likely to ever use.
With photo editing features, you can correct, improve, resize multiple images and enhance your images and file formats quickly and easily without having to use standalone photo editing software.
2. Search Capability: Another important feature is search capability. When you have a few dozen pictures, this may not seem like such a big issue.
But, when you have large image libraries, you need to be able to quickly find similar images by using different factors, such as tags, locations, ratings, Geotech, and labels.
3. Artificial intelligence (AI): Choosing a photo management tool with AI will give you access to features like facial recognition, object recognition, and more.
Furthermore, the image database software will allow you to quickly sort and search through your images using factors like names, events, objects, etc.
4. Mobile App: Most people these days take photos directly to their smartphones. Having a mobile app makes it easier to streamline the entire process of capturing, storing, editing, and sharing pictures. The app also makes it easier to manage and export images and files.
5. RAW and Wireless Support: The right photo management tool needs RAW support to help you store raw images directly from your camera to the software. You need the capability to store large images without first having to transfer them into your laptop.
Also, it helps if you don't have to deal with wires when transferring data. A wi-fi connection makes the entire process seamless and convenient. if you have a ton of data to transfer over, it may make sense to consider a data pipeline tool, but this won't be an issue for most of you.
How to Use Photo Management Software (An Overview)
Photo management tools from different software providers work in much the same way. Here are the steps to follow to get started:
Step #1: Sign up
Go to the website of your chosen photo management software and click on the "Get Started", "Sign-Up", or "Register".
Sign up with your email to create a new account.
Alternatively, you may simply have to choose between the "Download Now" button and the "Buy Now" button as in the example below from the photo and multimedia management software, Smart Pix Manager.
Step #2: Download the Application
Your next step is to download and install the app. You may be prompted to choose the version you need, between Windows, Mac, etc., as in the image below from Cyberlink PhotoDirector 10 Ultra.
You may also be required to give consent for the app to access your images that are already present on your device.
Follow the rest of the prompts, which may include things such as:
Whether or not you want to upload some of your pictures
Choosing sources of backup
…and so on.
Step #3: Adjust the Settings
Once you've downloaded the application, you can proceed to open it and adjust the settings to ensure the app works exactly how you want it to.
Settings might include:
Default language settings
Image grouping settings
"High-quality" settings to ensure your images are stored in the highest quality
Backup and sync settings so your images are automatically backed up
You'll find everything here pertaining to general settings, capture, editing, projects, etc.
Once you've set up everything the way you wanted to work, then you can get started organizing or editing your photos.
The editing features of your chosen tool will help you enhance image quality. Depending on the features available, you may be able to adjust things such as the color, light, vignette of the image to make it more appealing.
Some tools even have the "auto mode feature" so you can attach images automatically. Furthermore, you may be able to leverage filters to improve the way your photos look and feel.
Your edited images will be saved automatically to your gallery.
Photo Management Software FAQ
What's the best photo management software for PC?
The best photo management software for PC is Adobe Lightroom CC with features for creating transparent folders and file naming systems, as well as implementing metadata management.
Why should I pay for photo management software?
With photo management software, you typically get what you pay for. While free software can help you with basic image management and organization functions, if you require advanced features, then you're better off opting for a premium plan.
Is open-source photo management software good?
There are a lot of top open-source photo management tools that you can choose from, many of which have impressive features to help you store, organize, and manage your photos. These include Nextcloud, Piwigo, DigiKam, and Lightzone.
What are the benefits of digital images?
Digital imaging is also commonly used to aid in the documentation and recording of historical, scientific, and personal life events. Photographs have their own set of advantages. Physical contact with original images will be reduced as a result of digital imaging.
Summary
We've come to the end of this review on the best photo management software.
The tools outlined here are most commonly implemented by creative, marketing, and media departments with ever-growing image collections. Some are particularly suited to individuals, such as professional photographers who have massive volumes of images to sort and organize.
Regardless of what your needs are, you will find the ideal photo management tool on this list.
My number one recommendation is Adobe Bridge.
It offers a powerful way to find, manage, and organize your photos.
The best part is, the software isn't limited to just images, but you can also use it to manage videos, In-Design files, Adobe Illustrator files, and more.
By incorporating this tool into your workflow, you make it easy to manage your photos while removing the need for additional photo editing or graphic design software.
Back to you. What have you found to be the best photo management software and why?