In the days of remote and hybrid work, it's important to host meetings to check in on employee well-being and ensure business operations are running smoothly. But hosting a meeting effectively requires more meeting management tools to increase productivity, maximize time, and keep attendees engaged. To help you host the best meetings, my team and I created this list of the best meeting management software:
Try as you might, you can't avoid meetings. It doesn't matter what your job entails or the position you hold in your company – sooner or later, you'll have to hold or attend a meeting.
And so, rather than dreading your next meeting, you may as well prepare yourself to stay organized, keep track of your everything that's discussed, and strive to increase productivity for all attendees.
To accomplish these goals, however, takes more than just scheduling and planning. It requires the right meeting management systems.
Read the rest of this guide to discover the best meeting management software to use in your business so you can get the most out of your meeting time.
What is the Best Meeting Management Software?
Best Overall Meeting Management Software (Starts from Free)
Microsoft Teams is a powerful tool that will help you get things done at home, work, or school. It allows you to stay connected and to access shared content easily so you can innovate, plan, and learn together with your team.
With this powerful tool, you can connect naturally, call, chat, or share videos from one place, allowing you to stay in the flow with all your information, features, and apps at your fingertips.
Key Features:
Varied Use Cases: Microsoft Teams can be used for home, business, enterprise, education, and many other uses.
Free Plan Available: You can sign up for the free version of the software to get started collaborating with your team for free.
Unlimited Group Meetings: The Microsoft Teams Essentials plan offers you unlimited group meetings for up to 30 hours with up to 300 participants per meeting.
Pricing:
Get started for free by signing up for an account on the website. To remove limitations, you can sign up for the Essentials plan which costs $4/user/month.
---
Best Meeting Management Software for Ease of Use (Starts from Free)
Zoom powers critical connections for millions of businesses and individuals across the world – and video is just the start.
The cloud platform has a simple interface that is easy to navigate and manage. Set up is quick. Users can meet and chat for free, and you can be hosting or joining a meeting within a couple of minutes after signing up.
Key Features:
#1 rankings: Zoom is ranked number one in customer reviews on sites like G2 Crowd, Trust Radius, and Gartner Peer Insights.
Events and Webinars: In addition to video, the platform also offers features for hosting webinars and online events..
Zoom Phone: You can power your voice communications using Zoom's global cloud phone feature with secure call routing.
Pricing:
You can start hosting meetings, chats, webinars, etc., for free. Sign up for an account on the website. To get additional features and remove limitations, you can upgrade to the premium plan, Zoom Pro, which costs $149.90/year/license and is ideal for small businesses and teams.
---
Best Software for Managing Board Meetings ($71.10/month for 10 Users)
If you host board meetings or meetings for executives on a regular basis, then you stand to benefit a lot from a platform like Boardable.
This software for meetings has an intuitive setup with multiple ways to view and share agendas. There's also a clean "meetings" page and discussion methods among other features designed to help simplify mission-critical meetings, and allow you to host better virtual meetings with all your documents just a click away.
Key Features:
All-in-One Web Meeting Portal: Boardable has tools to help you simplify your meeting process and save money, time, and energy.
Between-Meeting Discussions: The platform also offers between-meeting discussion features so board members can schedule events, share documents, plan and prepare for meetings, etc.
Access Control: The documents and other assets on the platform can only be viewed by those who are given access by the administrator.
Pricing:
Boardable offers different plans for different needs. The Grassroots plan allows you to take the first steps in organizing board meetings and collaborating remotely.
Depending on your needs, you can choose higher-priced plans to streamline and centralize all communications, meeting planning, and document storage.
---
Best Meeting Software for Time Management ($12.50/host/month)
If you're wasting too much time on unproductive meetings, this platform can help you reclaim your time, boost productivity, and get more things done.
It has customized features for running successful meetings, such as engagement and retention features, collaboration and cultural alignment features, productivity-enhancing features, and more.
With this platform, you'll be able to give your team a competitive edge and see the results of the change in your business's bottom line.
Key Features:
Free Consultation: Schedule a free call with the platform's team so you can learn how to get the most from this platform.
Engagement Features: You'll find a range of engagement and retention features that will make your meetings more productive.
Unlimited Meetings per Month: All Lucid Meetings plans come with unlimited meetings per month.
Pricing:
To get started with Lucid Meetings, you can schedule a free call with one of the experts on the platform who will explain how this software can help your team succeed.
---
Best Meeting Management Software for Free (Starts from Free)
Skype has a ton of amazing features, such as audio and HD video calling, smart messaging, screen sharing, call recording, and live subtitles.
You can host video or audio conferences with up to 100 people. The program works on all your devices, including phone, desktop, web, tablet, Alexa, and Xbox, allowing you to stay productive no matter where you are.
Key Features:
Online Meetings in One Click: You can create or join meetings online with a single click. There's no need to download the Skype app or sign in.
Connect from Anywhere: Stay connected with colleagues, family, or friends regardless of where you are.
Screen Sharing: This feature makes Skype a great tool for hosting meetings by allowing you to easily share presentations on your screen during Skype calls.
Pricing:
You can use Skype for free. Get access to all the features, including smart messaging, call phones, live subtitles, and more. Simply download Skype and you can start using it to manage your meetings right away.
---
Best Meeting Tool for Project Management ($3/user/month)
nTask will help you get more done with project management software that lets you plan, analyze, collaborate, and manage your meetings.
Used by over 250,000 businesses and teams across the world, including Sony, PayPal, and Google, this powerful platform will simplify all your business operations, including meeting management, project planning, resource allocation, setting milestones, and much more.
Key Features:
Kanban Boards: The platform allows you to organize your workflows using Kanban boards for continuous delivery and increased efficiency.
Task Priorities: Manage your work and focus on the most important tasks by prioritizing them, adding comments, attaching documents, and adding assignees.
Powerful Collaboration Features: Use team chat, task comments, bulk team invite, and dedicated workspace features to make sure everyone is on the same page.
Pricing:
Start with nTask for free. Sign up for an account on the platform with no credit card required. To unlock more features, you can upgrade to the Premium plan which costs $3/user/month, or the Business plan which costs $8 per user per month.
Best Meeting Software for Enterprise Businesses ($25/user/month)
Cisco WebEx provides you with one app to take care of all your meeting needs. From calls to messaging and events, you have all the features you need at your fingertips.
The software caters to teams of all sizes making it ideal for larger organizations. The meeting management tool is flexible and adaptable for all types of work styles, roles, or devices. It provides an equal and secure experience for everyone regardless of language, geography, or communication style.
Key Features:
Easy Cloud Calling: Keep your colleagues and customers close with the complete cloud phone system that allows you to make and receive calls on any device.
Immersive Share: Host virtual meetings that are as good as in-person presentations by layering yourself over the content you are sharing.
Message Instantly: The platform lets you collaborate with anyone and create more efficient workflows with internal and external team messaging features.
Pricing: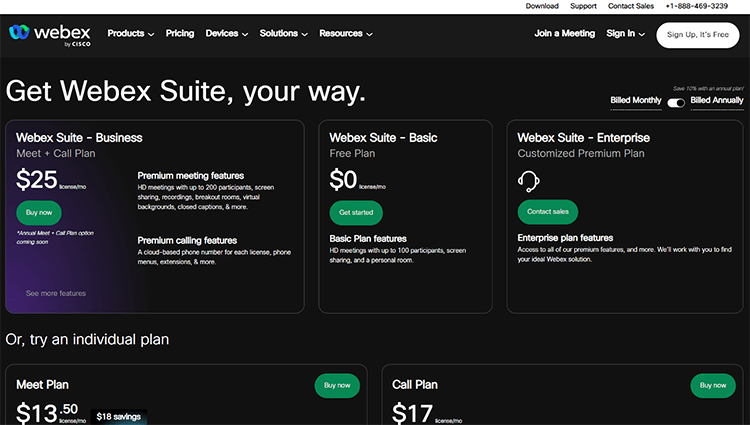 Cisco WebEx pricing starts from $25/month for one license. This comes with premium meeting features such as screen sharing, breakout rooms, virtual backgrounds, etc. – all with up to 200 participants.
---
Best Meeting Management Software to Stay Organized ($149 one-time fee)
Infinity is the single tool you need to organize all your work, your way. At its core, Infinity is a work management tool. But, it has meeting management features that allow you to work seamlessly with your team and store all your documents and other resources in one convenient place.
This way, you'll be able to organize your projects exactly how you want them using tables, calendars, lists, columns, forms, and Gantt charts. You can also structure your meeting data into folders and subfolders in order to reduce clutter.
Key Features:
All-in-One Platform: Infinity provides better organization for improved results by combining all your work apps so you don't have to switch between different tools.
Zapier Integrations: Infinity allows you to streamline your workflows by adding triggers and actions via Zapier.
Customizable Templates: Work smarter and get better results for your meetings and projects by using customizable templates for project planning, business roadmaps, client onboarding, etc.
Pricing:
Infinity costs a $149 one-time payment. This means you'll save up to 72% when you don't have to pay for your meeting management app every year.
---
Best Meeting Software for Round-Robin Scheduling (Starts from Free)
HubSpot offers a free meeting scheduler that allows you to schedule meetings faster so you don't have to go through the hassle of back-and-forth emails with meeting participants.
Everyone can book appointments with you with ease using the software which works with Google Calendar, Office 365 Calendar, HubSpot CRM, and other tools.
You can also send group meeting links to let prospects schedule time for a meeting with more than one person within your team or organization.
Key Features:
Round-Robin Meeting Scheduling: Teams with no designated sales rep can set up a round-robin scheduler so meetings are based on who's available at the time.
Embeddable Calendar: The easy, no-code calendar can be embedded on your website or send an email link so people can schedule meetings more conveniently.
Automate Sales Processes: Use this tool to take the manual work out of scheduling appointments so you can free up your time to close more deals.
Pricing:
HubSpot allows you to get started managing your meetings for free. Simply sign up for an account on the website and you get instant access to meeting scheduling tools.
---
Best Meeting Management Software for Interactivity ($12/organizer/month)
With this platform, you never again have to worry about email or calendar hassles when setting up your meetings.
This meeting management app allows you to simplify meeting scheduling by integrating your calendar so you can fine-tune your availability.
Simply share your personal scheduling page on your website, email tagline, or social media. You can also integrate contacts easily and access meetings via mobile to keep you productive on the go.
Key Features:
Live Communication Tools: Use Skype conference calls, Microsoft Lync calls, Google Hangouts, teleconferencing, and any other online meeting tools using your own link.
Meeting Organization Tools: Track and manage meetings on a visual timeline and view tasks related to your meetings.
Simplify Meeting Management: Upload, view, or comment on meeting materials and edit agendas or action points together.
Pricing:
Pricing for Meetin.gs starts at $12/month/organizer for unlimited meetings and participants. Alternatively, you can opt for the annual subscription which comes with a 10% discount.
---
Best Cloud-Based Meeting Management Software (Pricing on request)
This company's aim is to shape the future of hybrid work and integrated communications. The platform comes with all the tools you need for successful meeting management, including calls, meetings, and call center features.
Enable users with world-class HD video and audio meetings to help you improve cross-functional engagement and boost business productivity.
Enhance customer experience with the platform's cloud contact center that powers modern call queues and more.
Key Features:
Unified Platform: This is an all-in-one application that performs seamlessly across all devices and locations for improved meeting engagement and productivity.
Enterprise-Grade Features: You get superior voice quality as well as uptime through unmetered global calling, making it ideal for enterprises with broader global footprints.
Powerful Integrations: Enhance productivity in your business by removing the need for your team to manually sync data, perform administrative tasks, or navigate between apps.
Pricing:
If you want to know more about the pricing and features of this meeting management tool, simply schedule a live demo on the platform and the support team will get back to you.
---
Best Meeting Management App for Scheduling ($8/user/month).
Vyte is a smart all-in-one scheduling tool that comes packed with features to save time and remove all hassles and headaches from managing meetings.
It comes with smart group scheduling features that allow you to create events with multiple invitees.
There's a booking page that you can set up in a few clicks and customize to match your brand. This allows people to book you via a calendar that they can access with a single click.
There's also a scheduling API that allows you to implement a scheduling system in your product.
Key Features:
Discount for Startups: Startups can receive a 25% discount by reaching out to the customer support team with proof and documentation.
Free Plan: You can get started with personal scheduling for free with no credit card required.
Connect Multiple Calendars: You can connect more than one calendar to a single Vyte account to help streamline your work and manage all your meetings from one place.
Pricing:
Vyte's Pro plan costs $8/month. You can try out all the Pro features by signing up for a free 14-day trial. If you require Enterprise features, you can contact the customer support team for a custom quote.
---
Best Meeting Software for Globally Distributed Teams ($25/month)
If you deal with large or distributed teams, this platform can help you stay connected. It provides you with video conferencing tools and webinar software to run successful online meetings.
Bring your team together for online meetings and collaboration, product demos and marketing, online courses and training sessions, and much more. This browser-based meeting management software platform can do it all.
Key Features:
Business Collaboration Tools: Run your online meetings and share documents and resources on the move.
Scalable Online Events: If you need to run huge online events, you can do so with this platform's features that allow you to reach thousands of people in every country in the world.
Online Training Sessions: Use this platform to share online courses or training sessions with your employees, customers, or students.
Pricing:
You can use ClickMeeting for free by signing up for a 30-day free trial on the website. Afterward, you can upgrade to one of the premium plans which start at $25/month for the Live plan that comes with all the tools you need to run efficient online meetings and live webinars.
---
Best Software with Automated Post-Meeting Emails ($9.95/user/month)
If saving time is important for you, then this software for meetings can help you stop wasting time in meetings. Automate your meeting agenda, meeting minutes, and more.
On the platform, you'll find tools to help you prepare for your meetings, run productive meetings, and automate follow-up by emailing meeting minutes and tracking tasks.
Key Features:
Task Export Feature: This feature allows you to export tasks to dozens of task managers with a single click.
Zapier Integrations: The platform integrates with a wide range of other work tools, including Trello, Google Calendar, Asana, Todoist, etc.
Robust Support: This meeting management tool offers a wide range of support options through email, website resources, video libraries, help and manual pages, and more.
Pricing:
Pricing for Meeting King starts at $9.95/month for the Pro Single plan which includes one user, 1 GB storage space, and unlimited meetings. If you want more users and additional storage, you can upgrade to the higher-priced plans.
---
Best Meeting Management Software for Flexibility ($12/user/month)
This platform lets you manage all your meetings and tasks in one convenient place. It will change the way your organization works by bringing a larger focus and more accountability to each meeting.
You'll be able to stay organized and improve the visibility of your recent and upcoming meetings in one simple list that is easy to manage.
Any actions from your meetings are displayed on the list, as well, allowing you to prioritize and stay on top of all your commitments.
Key Features:
Productivity Features: Make your meetings a lot more productive by creating agendas on the go, capturing meeting notes, using whiteboard sessions, and more.
Reduce Meeting Time: The platform allows you to save time by circulating agendas and uploading reports before the meeting starts so all attendees are well prepared.
Boost Accountability: Make everyone accountable by running a "Follow on Meeting" that includes previous actions so that everything is ready for review.
Pricing:
Magic Minutes has a free plan that attendees can use without an active subscription. They can view or download minutes, upload reports, comment on actions, and more.
In order to create and run meetings, you must subscribe to the premium plan which costs $12/user/month.
---
What are Meeting Management Systems?
Meeting management tools or systems are digital programs designed to help businesses, teams, and individuals plan, organize, and run video or audio meetings.
You can schedule meetings, send invitations, create agendas, take notes, record meeting results.
Share documents, set and prioritize tasks, add assignees, and keep track of all your projects from one place.
Types of Meeting Management Software
There are many different types of meeting management tools available. Some are specifically for managing meetings while others have additional features to streamline your work processes. Some have specific features (like cloud phone systems and screen-sharing options) that you won't find elsewhere.
Some tools only work for specialized types of meetings, such as board meetings, scrums, one-on-ones, etc.
Regardless of the type of tool they are, in order to qualify as meeting management systems, the platforms should allow you to do the following:
Create agendas for your meetings
Record minutes via text or audio
Provide consensus tools that facilitate in-person discussion or decision-making
Outline action items and create tasks according to meeting proceedings
Help to coordinate and schedule meetings
Have undisrupted audio or video communication
Create, search, and store important information
Plug communication gaps between different teams
What Features to Look For in Meeting Management Tools
Running successful meetings comes down to more than just strategy and scheduling. It's about having the right management systems in place.
The tools outlined in this article will help you run better meetings so you and your team can be more productive.
But with so many options on the market, how do you choose the right tool for your business?
Here are some of the features to look for in the best meeting management software:
1. Meeting Check-In: Look for a platform that offers the ability to check into meetings as a way to reduce wasted conference room space. The platform should also alert people when the meeting is about to begin.
2. Move, Cancel, or Update Meetings: Meetings are often moved around or updated according to the availability of participants. Choose a meeting management app that allows you to update your meetings quickly and easily so you can make changes on the fly.
3. Integrated Automated Processes: Choose software for meetings that integrates closely with your current automation technology in order to streamline your work processes and save time.
4. Support for Multiple Media Types: Go for a platform that allows the use of a wide range of file types so you can maximize the use of your meeting management app.
5. Security and Access: You want a platform that has complete security, as well as access oversight so you can customize your meeting platform according to the needs of your business and staff members.
Best Meeting Management Software — Summary & Top Picks
This is the end of this guide on the best meeting management software to help you save time and host more productive meetings.
When selecting meeting management software, there are a few things to consider: meeting check-in functionality, pre-message alerts, ease of use, scheduling features, productivity and time management tools, security features, post-meeting email automation and related integrations, and, of course, the overall costs of the service.

Here Are My Top Picks of the Best Meeting Management Software: