If your business has a website, then having a blog is the next best step to optimizing it.
I know this all too well because I have been there. You may have tried many ways to rank but SERPs just don't seem to like your website.
Luckily I quickly learned that there's a solution to this – guest posting!
Nothing is more frustrating than trying to pitch to website owners to get your post featured and then being turned down. Fortunately, guest posting services do all this hard work for you.
With over 20 billion pages being read monthly by over 400 million readers, you need to make sure your pages are being read too, and blogger outreach gives you this opportunity to leverage other publishers.
Below, we set out to discover which guest posting services can best help your website.
What are the Best Guest Posting Services?
Best for Individuals and Investors To Build Profitable Content Websites ($150/Placement).
These guys understand the pain of having the right guest posts and they have taken it upon themselves to make this process easier.
They work endlessly, hunting down the best websites that permit posts in a given niche, adding new sites to their database daily.
Niche Website Builders are constantly building their own portfolio and they only offer links that they have tested themselves and have used, so you can trust that their links have been vetted thoroughly and that they come from a natural site that is favored by search engines.
They use a unique outreach process that has built relationships and partnerships with hundreds of website owners, giving you the benefits of these partnerships by allowing you to select your own page titles, URLs, content, and anchors.
Key Features:
Vetting: We know the importance of websites with great blogs as compared with poor-quality websites. These service providers have done their homework well in this area and completed thorough vetting.
No Duplicated Links: With backlink profiles being checked, you can be sure that there are no duplicated links on your root domains.
Placement Approval: You can select their placement approval option which allows you pre-approve all your placements.
Pricing:
All of their packages offer links on real websites, pre-approval of all links, and no duplication of links, and you get links placed within four weeks. You pay a bit more if you want your DR higher, from $150.00 for DR30+, from $240.00 for DR45+, and from $310.00 for DR60+.
Their content creation service provides an additional 5% content if you commit to six months, or 10% if you commit to their content creation for twelve months.
Get Started With Niche Website Builders
---
Best Service Provider Offering Many Free Tools for Agencies ($100/Placement).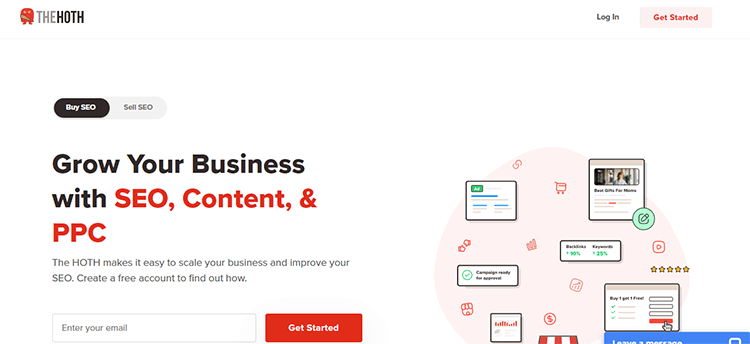 Would you believe it if I told you HOTH is an acronym for Hittem Over The Head? Yup, I didn't believe it either. I guess they hit their targets and goals on the head, like hitting the nail on the head means you got it precisely right.
When they started up in 2010 they wanted to change the game of guest posting services and began offering amazing SEO experiences to clients. They have GuestPost and GuestPost Pro available, with the pricing structure for the popular GuestPost scaled according to what DA authority you would like.
Their services now offer over 20 different free tools such as SEO and PPC which make your SEO research much easier.
Another notable thing to mention is how easy it is to place an order! Just send your URL and anchor text and their team do the rest. They'll review your order, confirm it, and start their research and outreach process.
One of their greatest accomplishments is becoming a Google Certified Partner. This status means they have attained Google Ads skills and expertise, delivered client revenue growth, sustained its own client base and grew it further, and met Google ad spend requirements.
Key Features:
Premium Service: Including valuable tips and tricks about navigating digital marketing. Their support is of matchless standards as this is a big priority for them.
Service Variety: They have developed a suite of different products to suit your needs and access to different strategies and pricing.
White-Label Report: This comes standard after your post is published. It is 100% white-label and made available for you to use. A dedicated Campaign Manager will be allocated to you for your month-to-month needs.
Pricing:

Even though The Hoth has shown superpowers in the service industry, they are gracious enough to offer free accounts to clients. From packages as low as $100 for DA10+ to $447 for DA30+. All packages offer 100% satisfaction guaranteed. Did we mention HOTHX? A service from $500 for their fully managed SEO campaign. Might be worth looking into.
---
Best for Producing Quantity Without Compromising on Quality ($200/Placement).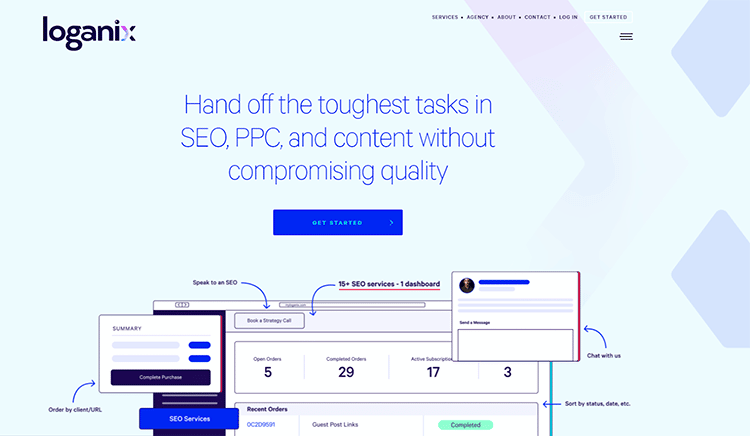 Loganix is another great guest posting service that has been in the marketplace, with over 5000 clients benefiting from their fully managed services and their on-demand SEO, Link Building, and PPC services. Though if you want to manage large PPC campaigns in-house, PPC management software can help.
For people who are concerned about their reputation, Loganix gets their digital marketing done right, with professionalism and profitably.
Simple Loganix sequence: You provide your anchor text and URLs, you will be presented with their crafted list of vetted domains for you to approve, then lastly you sit back and relax while they create your content, do outreach, and send you reports once it is live.
Doesn't that sound like something you could get used to?
Key Features:
Publish, Review, Report: Loganix team manually verifies that your link has been placed as per your order, and then sends you a white-label report.
Accountability: We all need to keep track of our guest posts and having a service provider who you can hold accountable makes a great difference. Not only do they bring quality and stability as a partner, but they also suit your budget!
Unbeatable Value: No need to gamble with your reputation by trying to save a few pennies and hiring a cheaper service, Loganix offers great value for your money.
Pricing:

Two main packages are offered, namely: Guest Post Basic, suitable for younger websites that are still building their authority, and Guest Posts Premium, suitable for most established websites that are steadily growing. You can also opt to add an additional 250 words and have the power to review continent before it is submitted for an extra $25, which sounds fair since most service providers do not give you an option to review content before it's published.
---
Best for Freelancers and Agencies Who Want To Scale SEO and Drive Results ($95/Placement).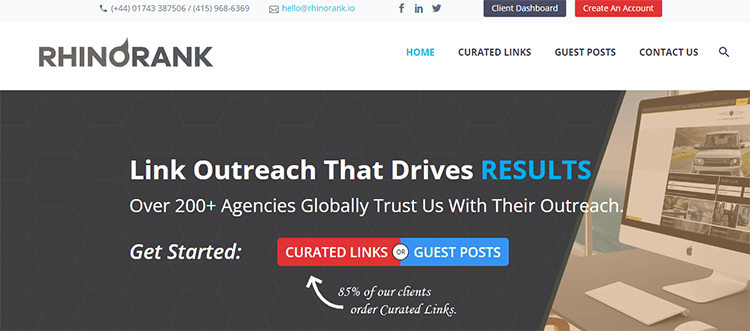 You may have realized that some markets are tougher to penetrate but luckily Rhino Rank is known to drive results in these difficult markets. They give you complete power to decide your own link-building campaign. They also allow you to choose your own anchor text, niches, and even your own URLs that you wish to promote.
No wonder why they are trusted by over 1300 agencies worldwide.
Whether your agency is big or small, this guest posting service is built to grow with you. It prides itself on the quality service they provide at the lowest rate among its competitors.
Key Features:
Manual Outreach: They use this process to achieve high-quality backlinks. You can be sure that your links are tailored to your website, niche, and industry. Over 500 digital agencies have grown to trust their link-building service.
Reports: Full reports are delivered to your email inbox, showing you all the link placements that they have secured for you. You will be happy to see their efforts go beyond your expectations.
Flexibility: You retain the power to choose your anchors and URLs. Once you decide on what link strength you want, along with your desired quality, you go on to choose the URL and anchor text, all while maintaining dominance over the links being built for you.
Pricing:

If you compare Rhino Rank with other services agencies, they come out above with better results at lower rates. Their packages are as low as $95.00, but you can customize your package to best suit your business.
Their email support is top-notch and is available 24/7 if you wish to contact them with any queries, so you will never have to feel like you are paying and being ghosted.
---
Best for Clients Who Want To Grow Their Revenue (Pricing is available on the dashboard).
The first, and most impressive thing to take note of is that they are a small organization with just 23 employees, yet they have managed to build over 3000 links and over 10000 websites.
They boast that they are a relationship-based company and that is how they have managed to grow in the time they have been around. They promise to deliver guest posts that only appear on high-quality blogs, to which they deliver on this premium quality promise.
Sounds great right?
They handle everything from your content creation through to your placement, all while giving weekly reports on progress.
Key Features:
Weekly Updates: If you have ordered multiple posts with them, it's hard to keep track of analytics for each post. But Outreach Mama makes this easy for you by sending reports every Friday on the progress of your orders. Alternatively, you can request an update at any time through your dashboard and have a response within 24 hours.
Dedicated Project Manager: Although they are a small team, they deliver quality service by having your own dedicated manager. You can contact them anytime to request updates. The team is constantly working hard to deliver nothing but the best when creating content, placing, and ranking your projects. ​
Concierge: Consider them your success partners. Your dashboard is user-friendly and any updates or changes are mailed directly to your email inbox so that you are always kept up-to-date without having to log in to your dashboard.
Pricing: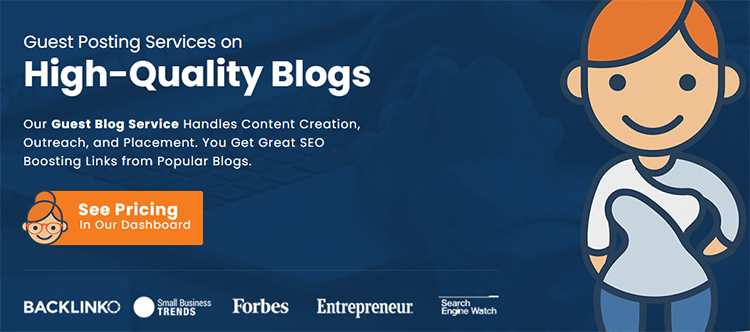 Packages from Outreach Mama are available when you sign up to their dashboard, or you could email a request, this option gets a faster response of roughly ten minutes. There are recurring packages or simply order a one-off package.
Either way, they give you everything from content creation to follow-up, till your link becomes live. You can also customize your order in terms of your specific content length, niche parameters, and content review.
Get Started With Outreach Mama
---
Best On-Demand Service Provider for Digital Marketers ($35/Placement).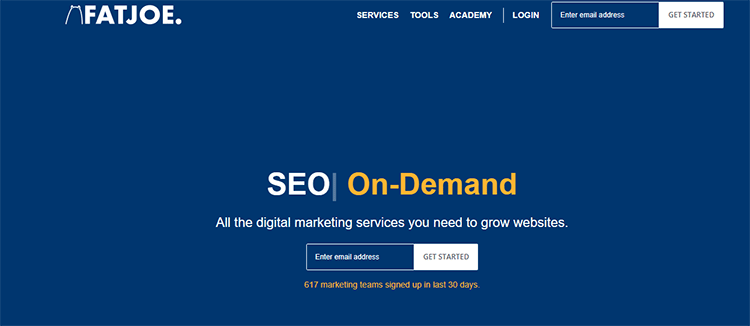 Founded in 2012, Fat Joe escalated to become one of the most recognized in the service industry.
They power several large agencies and their services are designed to be hassle-free, scalable, and resold, catching the attention of many agencies.
Some of the distinguished services they offer are link building, copywriting, SEO services, and design services, to over 5000 agencies across the world including the US, Australia, and the UK.
Unrivaled customer support is a trait they pride themselves in, with a record of attending to over 90% of customer emails within a few hours. We all love a service provider who delivers on time when you need them to.
You will be surprised to know that Fat Joe sometimes takes orders for unconventional content topics such as gambling and pharmaceuticals, whereas most of its competitors stay clear of these.
Key Features:
No Contracts: How nifty is this? They believe that outsourced services should be accessible with ease and absolutely flexible so they do not bind you down with contracts. You control what you need and when you need it.
Orders in Seconds: This ordering process is designed to be simple, intuitive, and user-friendly. You can place an order within seconds, with just a few inputs, and tracking is straightforward and simple.
Fast Turnaround: Because of their refined slick processes, both manual and software-based, they're able to complete services in very short lead times without any compromise on quality.
Pricing: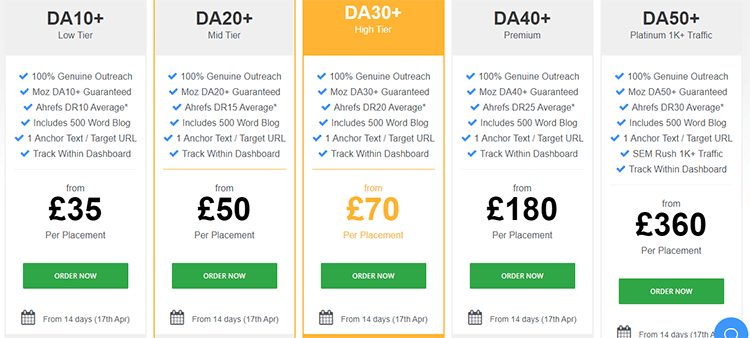 With pricing as low as 35 pounds per placement on the lowest DA sites, and ranging to 360 pounds for the higher DA sites, you can be certain that there is a quality placement package suitable for you!
Not only do they offer a 100% money-back guarantee on their services, but they also have amazing discounts on bulk placements. Now, who doesn't love a good deal like that?
They promise to be the most cost-efficient and scalable service and are prepared to give you your first order totally risk-free. They have taken it a step higher and offered express delivery at checkout!
---
Largest Guest Posting Service Platform at the Cheapest Rates ($58/Placement).

With a customer base of over 15,000 blogger connections spanning over 20 niches, Outreach Z still pays attention to new clients by offering them the opportunity to customize their services by allowing them to choose price, metrics, and so on.
A pioneer in the guest posting service industry, and now with over 10 years of experience and a large workforce, Outreach Z has nurtured thousands of meaningful relationships and connections with top-ranking publishers and bloggers.
Their range of services, competitive prices, and level of quality far exceed their competitors, meaning you get great value for your money with them.
Another strong reason why they could be considered top candidates is that they dig deep into organic keywords and backlinks, combing through publications to weed out low-quality blogs.
Key Features:
Market Access: Because of their age, Outreach Z has built relations with over 2500 blogs for you to choose from in over 20 niches in the marketplace.
Cost-saving: This is music to our ears. They can offer a 50% lower rate than leading providers because of their marketplace structured fees, as a result of their years of experience in the industry.
Invite-Only Platform: A unique yet notable way of providing services exclusive to serious buyers, companies, and digital agencies. This ensures that specific needs are met in the most professional manner.
Pricing: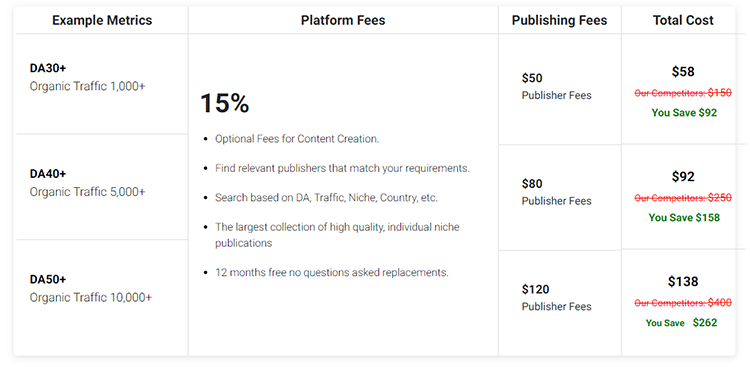 Did someone say free account? Yes, Outreach Z offers free accounts and a 12-month guarantee that promises if your publication is not successful, you get a replacement for free.
Now that's what we are talking about. We have confidently placed them on top of our list because their fees are a fraction of their competitors' and you can save up to $262.00 with their DA50+ option.
---
Best for High-Quality, Relevant Links. $6,000/10 placements).

The reason why BibiBuzz is on our list is that it is a small service provider that really packs a punch. It started off with a lone SEO, giving clients personalized services and helping build their natural link profile.
Many small websites were introduced to client-focused link building through BibiBuzz.
They have an effective step-by-step guide on how to produce the best results for their clients and this has proven successful years over.
Key Features:
Transparency: BibiBuzz believes that transparency and accountability are key features, especially during the outreach process, and link-building clients should be kept up to speed with where links come from and are earned.
Backlink Analyzing: BibiBuzz goes the extra mile by analyzing many of your competitors' backlink profiles. The next step is to filter these on quality and prioritize them.
Run Outreach: Unlike other service providers who send out thousands of copied emails to people, they instead approach people interested in your content. Emails are customized and personalized which increases the chances of collaborations.
Pricing:

Their pricing plan includes everything from content to publishing. Their personalized service has limitations even though their prices are on the higher side. Additional costs are required for bigger campaigns. BibiBuzz generally has 10 live links per month.
---
Best Provider of the Highest Quality White-Hat Link Building & Outreach Service ($195/Placement).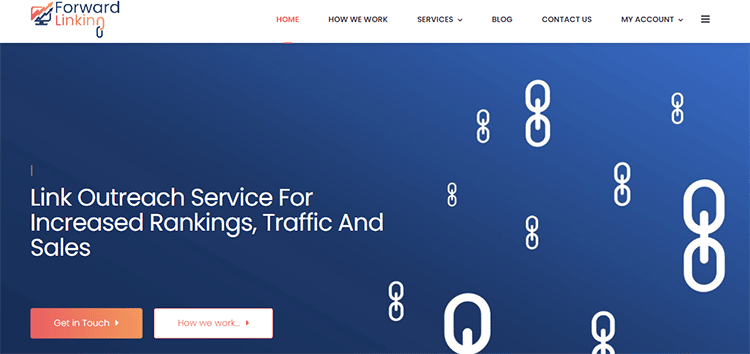 If you need great brand exposure in your niche, then Forward Linking's guest posting services are definitely for you.
Using their white-hat SEO strategy, they have served thousands of clients worldwide, very well, for many years.
It will be hard to ignore their results-based business.
Their renowned bespoke link-building service enables clients to be visible on authoritative and applicable websites.
This encourages an increase in SERP rankings, this also increases targeted organic traffic, which is a goal of every blogger.
Key Features:
Bespoke Service: We can not mention Forward Linking without mentioning their bespoke linking service which is unmatched, and has been bringing great results for years. They value quality over quantity and this is something we admire about them.
Futureproof: Because algorithms are ever-changing, they only build links that will hold through the test of time. They use strict qualifying criteria for targeted sites.
Highly Personalized: Forward Linking's service is known to be very personalized and ROI-focused.
Pricing: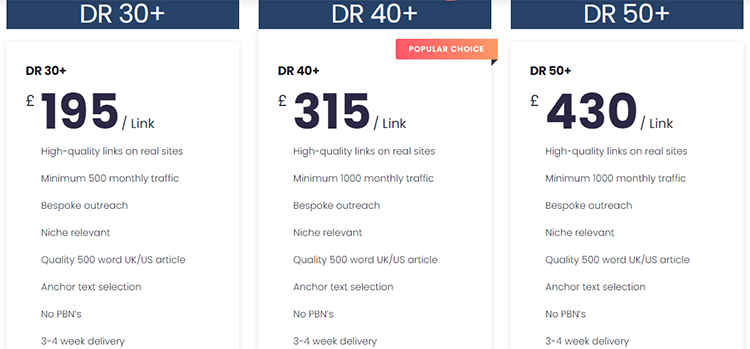 We are happy to see that all of their packages claim to have no PBNs and no database of websites, but genuine outreach to sites with traffic. There are three package options: DR30+, DR40+, and DR50+. Pricing is on the high side, but you are guaranteed positive results, as they are very very close to 'a sure thing'.
Get Started With Forward Linking
---
Best for Being Meticulous and Driving Results ($99/Placement).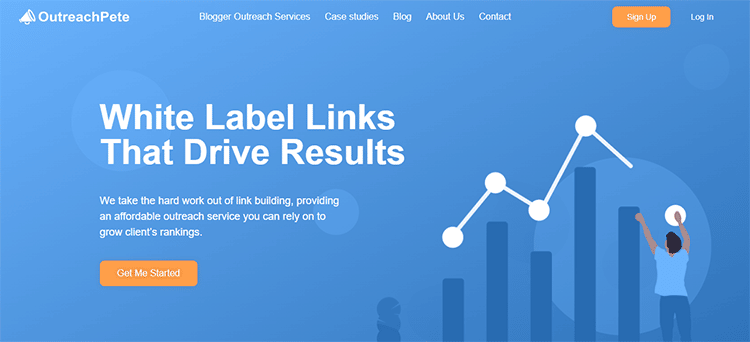 When you need a guest posting service that is meticulous in their work and has very few mistakes, then Outreach Pete is where you need to go.
Its motto is to build links that drive results while keeping clients safe whenever Google updates its algorithms. They are at the forefront of avoiding fierce surprises.
They go the extra mile to vet all the sites they work with for DR, DA and have them audited for their organic traffic and rankings so that clients have real value and not just sites that tick metrics boxes.
Key Features:
Turnaround Time: High turnaround times with solid databases and competitive pricing are some of the principles they follow.
Genuine Websites: Thorough vetting means they only have organic traffic and real sites, no PBNs, and shady sites.
Editorial Posts: Outreach Pete works with bloggers from their own editorial team so no guest post footprints or author bios.
Pricing: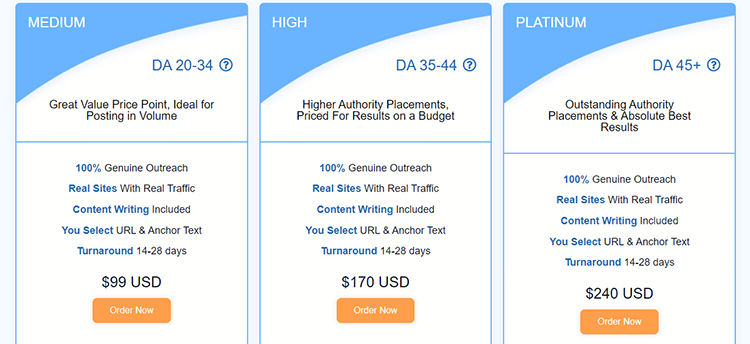 Three packages are offered to ensure that businesses of any size are accommodated. $99.00 for DA20-34 for smaller companies while $240.00 for DA45+ for more established sites. And with a greener take on their business, you will be glad to know that with every site they build, they plant a tree, making the world a better place.
Get Started With Outreach Pete
---
What are Guest Posting Services?
It's generally understood that the oxygen that breathes into your business is web traffic.
This is the reason why it is essential to have guest posting services in order to easily connect with your readers and target audience, but most important – bring traffic back to your website and boost your online presence.
Guest posting is a reputable and legitimate way to get high-quality links to direct users back to your website. It involves publishing your articles on another website, making use of referral backlinks to your own website, and having specific keywords that you want to rank for on SERPs.
Having an online authority is another key factor in online marketing. When readers see your post contribution on reputable websites they credit you as a trusted source and are encouraged to visit your site for more information.
Using these services also gives you the opportunity to connect with like-minded bloggers in your industry or niche.
Why Should You Use Guest Posting Services?
If you want to increase your website ranking effectively, the easiest way is by using a guest posting service.
The reason why website ranking is so important to your site is that it helps users find your page. If web users can not find you online then their content or the service you offer is basically worthless.
In this 21st century, the digital marketing industry has boomed and growth is accelerating continually.
Web ranking and your website SEO are very important to stay on top of this.
We have mentioned a few of the thousands of guest posting services you can consider to improve your online visibility, but the key factor in your final selection should be – RESULTS.
Your SERP ranking boosts your business's authenticity, increasing traffic and leads, as many people often think that the top sites that appear on a SERP are the most authentic businesses.
Let's understand some reasons why guest posting may be beneficial to your new, or existing website:
Backlinks: Sending users back to your website through backlinks in your post on an authoritative website increases your chances of gaining more traffic to your site.
Lead Generation: When you have an engaging and useful post on another website, readers will recognize you as a trusted source and carry on down to your website.
Brand Awareness: Posting your article across many well-recognized websites allows your brand to be seen and brings about awareness to readers, who will trust your blogs and come to your site for more.
What to Look For in Guest Posting Services
Not every guest posting service provider is made equal.
If you want to rank higher on SERPs then you will try different ways till you succeed and we know that guest posting is one solid way of increasing your ranking.
Here are some key features to look for when choosing your preferred guest posting service:
1. Domain Authority is a grading system that measures how well a site is likely to rank on SERPs. Guest posting is an excellent way to increase DA. Research the DA of the sites where you want to publish your guest post.
2. PBNs are a network of domineering websites that are used for building backlinks for a website. Google may catch your site for using PBN backlinks and most bloggers use them just for disposable sites with a short-term goal.
3. Rich Anchor Text put simply, provides context for search engines and users. If a reader clicks on the ink label, they are transferred to your website. A SERP uses anchor text to rank your site. Your ideal guest posting service should offer optimal anchor text without being spammy so that your site gets maximum visibility.
Guest Posting Services Summary & Top Picks
As a blogger, you want traffic on your website and guest posting comes highly recommended in achieving this, but it may be harder than you think to do it on your own, therefore, engage with a guest posting service. There are so many out there and you will need to vet them accordingly.
A perfect service provider will give you good results, have posts live in a short turnaround time, and be available to you whenever you need to chat with them.
Here are my Top Picks:
Niche Website Builders: Best for Individuals and Investors To Build Profitable Content Websites ($150/Placement).
Rhino Rank: Best for Freelancers and Agencies Who Want To Scale SEO and Drive Results. $95.00/Placement.
Outreach Mama: Best for Clients Who Want To Grow Their Revenue (Pricing is available on the dashboard).
Hopefully, this round-up provides you with the information you need to make your choice on a guest posting service that will help increase your website ranking and building.