Once upon a time, DVDs were a huge deal, but those days are long gone. Now, MP4s have taken center stage as the most popular video format used across different operating systems and devices. But many people still have DVDs with personal footage, movies, and other content. The good news is that while DVDs have become obsolete, there are easy ways to convert them into MP4 format.
In this article, we take a look at the best DVD to MP4 converters that you can use to digitize your DVD files and turn them into MP4 format so you can enjoy them on mobile, computer, or TV devices.
Note: It's legal to copy or back up your DVD content for personal use. But, it will be considered piracy if you back up a protected DVD for commercial use.
What are the Best DVD to MP4 Converters?
Best Overall DVD to MP4 Converter ($19.95/year for 1 PC)
VideoProc Converter is one of the best DVD to MP4 converters out there and offers a suite of tools that let you convert, edit, and more. It supports all types of DVDs, including homemade DVDs, new DVDs, and old scratched/damaged DVDs.
Convert DVD to MP4 without worrying about which formats are supported, but for ones that require copyright permission, the proper way of converting those types of DVDs to MP4 is for personal use as it is illegal to rip commercial copyrighted, copy-protected DVDs with the intent to share or resell the videos.
A unique feature of the VideoProc Converter is that it allows you to edit your DVDs while converting. You can transform your DVD into various output formats, including MOV, MP3, WAV, and over 400 others.
Key Features:
Various Input & Output: Support DVD disc, DVD iso image, DVD folder for input. In addition to MP4s, you can also produce 415 other outputs.
Quick Conversion: It's the only video converter that utilizes level-3 hardware acceleration to realize 47x real-time encoding speed.
User Friendly: The interface is very easy to navigate, and the output quality is the closest to the original video quality
Pricing: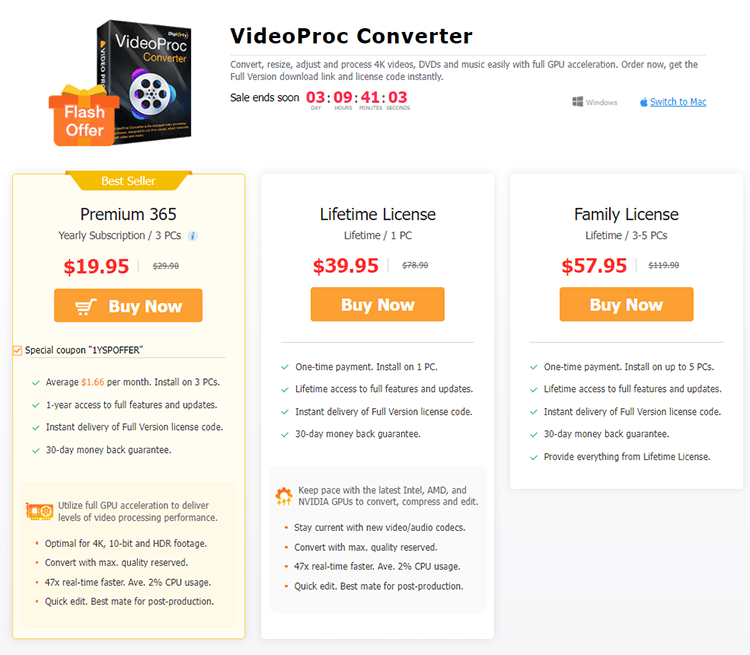 VideoProc Converter is a paid dvd to mp4 converter. However, it offers a trial that has a length limit.
If you plan to try out this robust and powerful all-in-one video tool, you can get it for 49% off with a special discount.
The holiday offer comes with 2 free gifts, including a free video editor and an iPhone manager.
---
Best DVD to MP4 Converter for Windows ($29.95/3 months)
WinX DVD Ripper is a powerful platform that allows you to backup and rip any type of DVD, including read-only DVDs. It's the best DVD Ripper for Windows that allows you to convert videos into MP4 without any time restrictions.
The tool works fast and you get a lot for your money. Other features include handling encrypted disks, as well as region-locked and unplayable disks.
You can create video files on any device, with preset profiles that allow you to watch your videos on phones or tablets.
Key Features:
Simple Interface: WinX DVD Ripper has a very simple and easy-to-use interface that makes it easy to get started, even for complete beginners.
Video Compressor Feature: The platform also has a video compressing feature to help you maximize storage space.
Lossless DVD Copy: This feature allows you to keep your video and audio tracks exactly the same as the original.
Pricing:
WinX DVD Ripper has three pricing plans, the Lite license which is a 3-month subscription for a single PC, the Premium license, which is a one-year subscription for 3 PCs, and the Ultimate license, which is a lifetime plan for one PC.
---
DVD to MP4 Converter with the Best Editing Features ($39.99/year)
UniConverter allows you to transform DVD into MP4 format at superfast speed. The software is incredibly powerful, giving you options for converting videos to multiple format files without sacrificing quality.
It's the perfect tool for anyone who wants to save space on their portable device or hard drive and have the convenience of watching your favorite videos anywhere.
Key Features:
Customize DVD Videos: The software comes with built-in templates that allow you to customize your DVD videos and different themes, such as romantic, ocean, holiday, etc.
Built-In Video Editor: Crop, rotate, trim, and adjust any part of your videos with the platform's intuitive video editing tool.
Back-Up Projects: UniConverter by Wondershare lets you backup all your video content so you have peace of mind regarding any potential loss or accidental erasure.
Pricing:
UniConverter by Wondershare has different pricing plans for individuals, teams, and businesses. Prices start from $39.99 for the annual plan. You can also opt for the two-year plan or the Perpetual plan which is a one-time fee.
---
Best DVD to MP4 Converter With Additional Tools ($54.95/year)
Movavi Video Converter offers you a range of options to convert DVD to MP4 and other formats.
The software works extremely fast and has batch processing options that come in handy for anyone who needs to process a lot of videos.
There are video resolution templates that make it easy to choose the ones that are most compatible with your device's screen size. The software also lets you edit, trim, and merge your videos during the conversion process.
Key Features:
Video Resolution Templates: Easily choose a video resolution template to suit your mobile device size from the many options available on the platform.
Export Files to Mobile: Once the conversion process is complete, you can easily export files to any mobile device directly from the software.
Cut DVD Files: This video conversion tool allows you to cut your video files so you can create stunning footage from your home movies.
Pricing:
Premium plans for Movavi Video Converter start at $54.95 for the Video Converter Premium one year subscription. The Lifetime Videos Suite option costs $94.95.
It's also worth noting that the Movavi Video Converter is part of the Movavi Video Suite which might be useful if you want to do more than just convert videos.
---
Best Free DVD to MP4 Converter (Free)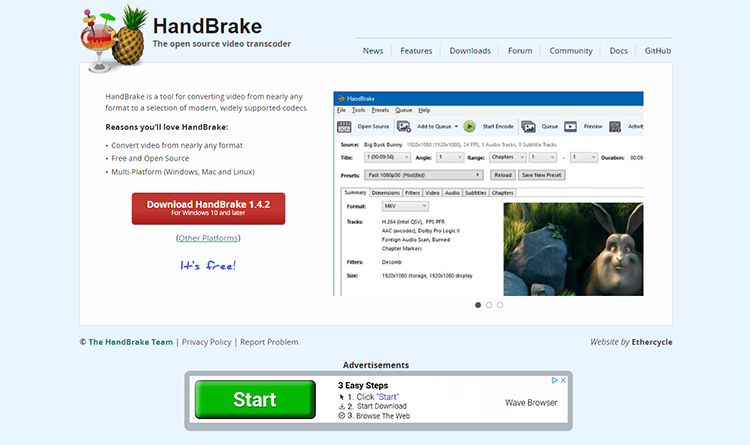 HandBrake is one of the best free DVD converter tools you'll find. It's an open-source tool that you can use to save movies and videos in any format for easy streaming in your home or office.
There are no limits to the length or number of video files you can backup, which makes it perfect for ripping large DVD collections. However, the interface of this tool is not easy to handle, especially if this is your first time using HandBrake to convert DVD to MP4.. And this tool also does not handle DVDs protected by DRM.
Key Features:
Convert to Virtually Any Format: HandBrake allows you to convert your DVDs into virtually any format you choose.
Free and Open Source Tool: This open-source video transcoder can be downloaded and used for free.
Multiplatform Software: HandBrake works on Windows, Mac, and Linux, making it one of the best free multiplatform DVD to MP4 converters.
Pricing:
This free and open-source software (FOSS) can be downloaded and used for free.
---
Best DVD to MP4 Converter for Ease of Use (Free)
Freemake Video Converter is a modern online video converter tool that allows you to convert DVDs to MP4 format quickly and easily.
As the name suggests, the use of the platform is free. A simple download and installation of the software give you access to all its features. You can digitize your DVDs with or without subtitles, save them to a DVD folder, or create ISO.
This is a fast video converter with the simplest conversion process you'll find. You can transform all your DVDs into MP4s in just three clicks.
Key Features:
Superfast Conversion: Tests conducted by Tested.com show that Freemake Video Converter is the fastest among online video converters.
Simple to Use: The platform's simplicity is stunning, which makes it perfect for non-tech-savvy users.
Supports 500+ Formats: You can use the video converter on Windows 7/8/10 and Vista to convert DVDs into 500+ formats.
Pricing: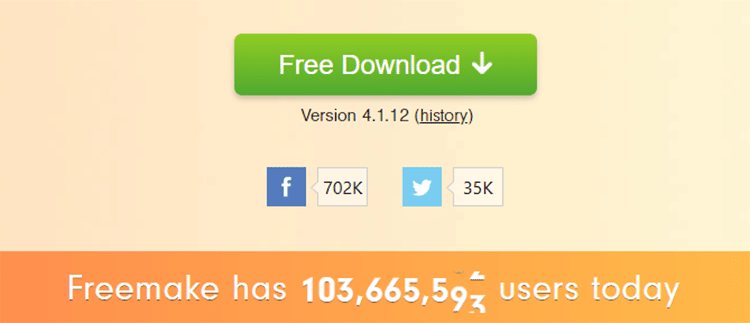 Freemake video converter can be downloaded and used for free.
---
Best AI-powered DVD to MP4 Converter ($39.99/month)
DVD Fab 12 is an AI-powered DVD ripper and converter that will allow you to convert any DVD to a variety of video and audio formats in under 5 minutes.
You'll get seamless playback on all devices, media players, and home theaters. The software is 100% safe and clean and you can download it for free to start converting DVD to MP4.
Key Features:
Remove DVD Protection: DVD Fab 12 allows you to remove any commercial DVD protection to make all types of DVD to digital transformations possible.
Lossless Quality: Easily rip DVDs to either video or audio for home theater without losing quality.
Video Compressor: The platform allows you to compress video size while preserving quality for any mobile device.
Pricing:
DVD Fab 12 premium plans start from $39.99/month. You can opt for a one-year subscription which comes at a significant discount. Alternatively, choose the Lifetime plan which is a one-time payment and offers the best value.
---
A Great All-in-One DVD to MP4 Converter ($33.75/month)
AnyMP4 Video Converter is an all-in-one video converter that allows you to convert DVDs into MP4, as well as 500 other video and audio formats (including 3D) at 70x faster speed.
You can copy DVD to folder or ISO in 1:1 ratio. Convert videos into GIFs. You can also edit and compress videos, as well as play any of your converted video files using the platform's built-in media player.
Key Features:
Super-Fast Conversion Speed: AnyMP4 converts DVDs, videos, and audio files with maximum speed.
Adjust Video Settings: The platform also enables you to adjust your video settings to suit your needs.
Add 3D Effects: You can add 3D effects to your DVD videos to make them more interesting.
Pricing:
You can download the software for Windows or Mac. Pricing starts at $33.75 for the one-month license. The lifetime license course $66.75 one time fee.
---
Best DVD to MP4 Converter for Unprotected Files (Free)
This is yet another free DVD video converter that allows you to digitize your DVDs on your computer.
Transform DVD to MP4, AVI, MKV, and various other formats. Outputs are saved using different quality presets, all of which are optimized for playback on computers, iPhones, Apple TV, Xbox, and various other platforms.
The program is clean and safe, containing no adware or spyware. However, it can only be used to convert unprotected files.
Key Features:
Free Download: This user-friendly DVD video conversion software is free to download and use.
Easy to Use: The intuitive platform doesn't require any special skills to be able to convert DVDs into other formats.
In-Depth Knowledgebase: This free platform provides a ton of documentation to help answer all your questions about video conversion software.
Pricing:
To get started using this software to digitize your DVDs, simply head over to the website and download it for free.
---
DVD to MP4 Converter with Powerful Editing Tools ($29.95/year)
Aimersoft DVD Ripper supports conversion of DVDs into over 200 SD and HD video formats with high-speed and quality results. This includes MP4, MOV, AVI, WNV, FLV, MKV, and even 3D movies.
One of this platform's best features is that it has a great range of in-built presets designed for different devices.
This helps to simplify the process of choosing the output format you want to get. This feature is particularly helpful for anyone who isn't used to handling different video or audio formats.
Key Features:
Straightforward Interface: The platform has a smooth and easy-to-use interface that makes it simple for beginners.
Powerful Editing Tools: Aimersoft DVD Ripper also comes with a range of editing tools that allow you to enhance your videos.
Stream DVD to Online Format: The software supports Windows 10 and Mac OS X and allows you to transform your DVDs to online video format.
Pricing:
The software has three subscription plans, including the 1-year subscription for one PC, Lifetime license for 1 PC, and the Business Lifetime Plan that allows you to use Aimersoft DVD Ripper for commercial use.
---
Best DVD to MP4 Converter with Lifetime License ($29.95/PC)
Video Converter Factory from WonderFox allows you to rip DVD to digital copy in just five minutes with flawless 1:1 quality.
This smart DVD ripping software offers the quickest solution for digitizing large DVD collections to any type of video, audio, or device.
It's a zero-difficulty tool that comes with blazing fast ripping speeds and high original quality output.
Key Features:
Easy to Use: This powerful tool is designed with simplicity and ease of use in mind, making it suitable for both newbies and veterans.
Robust Support: The video conversion tool supports over 300 output file formats, all with lossless quality.
Video Customization Features: The platform also has superb tools for easy video customization.
Pricing:
You can get started with WonderFox's DVD ripper for just $29.95 for a single Lifetime License. If you want to use it on more than one PC, you can get the Family License for use on up to 3 PCs.
---
Best DVD to MP4 Converter for Creating Backups (Free)
The UniConverter tool from iSkysoft allows you to convert DVDs to videos with zero loss of quality. You can also edit, burn, and compress files. Enhance your videos by trimming, cropping, or adding subtitles and effects. You can even add a watermark if you want to.
Adjust settings, including brightness, volume, and contrast. Moreover, the platform allows you to backup your DVD collections to a hard drive and you can convert your files to any device, including streaming video to a TV.
Key Features:
Add New Formats for Free: iSkysoft continues to add new supported formats with each release of a newer version of the software.
Device Presets: The platform supports Apple, Samsung, and Android devices, as well as game consoles, and more.
Built-In Media Player: The software also comes with a built-in media player that lets you play any of your converted files.
Pricing:
You can download and install the iSkysoft DVD video converter for free. It's available for Windows and Mac.
---
Best DVD to MP4 Converter for Mac ($39.95 Lifetime License)
This is an innovative DVD to MP4 converter for Mac users. Use it for converting both homemade and commercial DVDs to a wide range of formats for iPhone, Apple TV, iPod, iPad, and various other devices.
This is an all-in-one DVD ripper with constant updates and fast speed. With it, you'll be able to rip copy-protected DVD movies for personal use. Back up your DVDs with original video/audio quality.
Key Features:
Video Editing Tools: Preview, merge, trim, or crop your videos. Extract audio, change subtitle settings, and much more.
Free Lifetime Upgrade: This platform allows you to upgrade to the latest version for free with no additional charge.
24/7 Service: The support team is available 24/7/365 and can be reached via email or phone.
Pricing:
You can download and use the software for free, but if you want to remove limitations, then you can upgrade to the MacX DVD Ripper Pro which costs $39.95 for a lifetime license.
---
Best DVD to MP4 Converter for File Size Alterations ($49.95 Lifetime License)
This video converter is yet another amazing software option for changing the format of your DVD files.
You can convert your DVDs to MP4 without loss of quality and you have the option of altering the sizes of the files to save space on your hard drive.
The software supports a wide range of inputs and outputs and comes in a free and paid version. The free version is useful on its own, it's a complete tool that you can use to start converting DVD to MP4 right now.
However, the paid version has additional features that make it suitable for businesses.
Key Features:
Fast Video Conversion: Any Video Converter allows you to convert DVD videos to any format up to 30 times faster.
High-Efficiency H.265 Video Coding: You'll be able to enjoy HEVC video coding which offers you the same visual quality as AVC, but with enhanced compression.
Editable Video Codecs: The platform offers you the option to edit and personalize your converted DVD videos.
Pricing:
Any Video Converter has a simple pricing plan which means no surprises. You can purchase a single lifetime license for $49.95.
---
DVD to MP4 Converter with a Simple Interface (Download for Free)
Apowersoft Free Online Video Converter is a free online video conversion tool that you can use to easily transform DVD movies into MP4s.
You can also use it to digitize DVDs into other popular formats, including MOV, AVI, MKV, VOB, and many others.
Conversely, you can convert all these popular formats into DVDs using this online conversion platform. However, before you can use the software, you still need to install the launcher.
Key Features:
Fast Conversion: This is an online tool, which guarantees speedy DVD to MP4 conversions.
Simple Interface: One reason to choose Apowersoft Free Online Video Converter is that it offers a very simple and beginner-friendly user interface.
Customize Videos: You'll find basic and advanced options for customizing converted videos to enrich and personalize the new versions.
Pricing:
This video conversion software is free to download and use.
---
What is a DVD to MP4 Converter?
A DVD to MP4 Converter is a tool that allows you to digitize DVDs to MP4s.
If you have a lot of movies or videos on DVD, you can easily convert them to MP4 for convenient viewing on computers, mobile devices, or other content platforms.
Most tools of this kind also allow you to convert DVDs into various other formats, as well, including MPEG4, AVI, FLV, DivX, and others that can be easily accessed through a variety of devices, such as iPhones, iPods, Apple TV, PSP, PS3, etc.
The best video conversion tools also provide support for technology such as NVIDIA CUDA and AMD APP to deliver rapid processing. Some DVD conversion tools even allow you to split, cut, merge files, etc., with just a few clicks.
How to Convert DVD to MP4?
The specifics of this process are irrelevant to us non-programmers since all we need is to find DVD to MP4 software that will convert it for us. The only thing that we should know about converting DVD to MP4 is finding the best software for our needs.
That's why I've decided to write this guide on DVD to Mp4 converters – to make it easier for you to make the right decision by comparing these tools and figuring out which one is best for you.
Types of DVD to MP4 Converters
There are two main types of DVD to MP4 converters available: downloadable DVD converters and cloud-hosted DVD converters that require no software downloads or installation.
Our list contains both types so you can choose the tool that's best for you.
The collection of DVD rippers contains options with a variety of features, with some platforms better suited for ripping movies and keeping menus, subtitles, and other details intact, while others work best when ripping other data.
What Features to Look For in DVD to MP4 Converters
Regardless of the type of DVD converter you want, there are certain features to look for when choosing the best DVD to MP4 converters.
These include:
1. Conversion Speed: Choose a DVD to MP4 conversion software that expedites the process so that you get your output delivered in the shortest possible time.
2. Output Quality: Speed isn't the only factor to consider. You should also get high output quality, so choose a platform that works fast while retaining the original quality.
3. User-Friendliness: Not everyone has the technical knowledge to navigate complicated interfaces. Make sure you choose a platform that is simple to install and easy to use, with a short learning curve.
4. Affordability: Some of the options on our list are free, but most free DVD converters come with limitations. If you're going to choose a premium plan, make sure it's one that offers all the features you need at an affordable price.
5. Flexibility: Choose a flexible DVD to MP4 conversion tool that offers you a variety of other options for editing, enhancing, personalization, etc., instead of simply converting DVD to MP4 without any type of control.
Best DVD to the MP4 Converters — Summary & Top Picks
With the knowledge you got from reading this guide, you can now choose the best tool to help you convert your DVD videos into MP4 so you can watch them on mobile and other devices, compress them for easy storage without losing quality, create backups, and even edit converted videos.
When selecting a DVD to MP4 converter, there are a few things to consider: conversion speed, ability to produce high-quality conversions, ease of use, overall costs, video editing tools available, multi-video conversion functionality, and the number of other file types you can convert your DVDs to.

Here's a Quick Recap of My Top Picks of the Best DVD to MP4 Converters: