Storing all of your business data in one location for quick access and analysis is crucial. But with good data management, you can learn more about the behavior of your customer, historical sales trends, the effectiveness of past marketing campaigns, and other information that can help you make more money with your data. To help you select the best database software system, my team and I created this list.
It's been said that "data is the new oil," but there's something special about data. While oil is a nonrenewable resource, data can be reused, and its value also grows over time.
Data collected over ten years can better predict the success of sales and marketing strategies than natural resources like oil or other commodities.
While you might be able to sell a barrel of oil once the sale is complete, there's not much you can do except invest the profits and hope for a higher ROI.
But the data about the sale, who you sold to, for how much, past sales in the same area, the distributor of the oil.
Other information can be used with other data to help you better understand when to sell, who to sell to, and how to sell your widget for more money over time.
This is one reason the database management system (DBMS) global market value increased from $39 billion in 2017 to $65 billion in 2020.
DBMSs help manage and manipulate data so that it helps make accurate market predictions and increase your ROI.
But with hundreds of different DBSMs on the market, how do you decide which is the best for you and your business needs?
That's how this post can help you today. My team and I researched the best database software systems to bring you this review.
We examined examining backup/recovery, security, training, access controls, and everything else you want to know about database software for your organization.
What is the Best Database Software?
Database software stores data securely to be easily managed, manipulated, searched, and sorted.
In addition, this data can be stored for future reference or used for customer-facing applications, internal business purposes, etc.
As you've seen, there are many different database types, and each of them is used for a particular purpose. For example, some are used to store specific types of database files.
Others are designed for easy scaling, integration of data models, data processing, and other uses related to the secure storage and use of data.
Best Overall Database Software System ($39/month)
This is no-code development software that anyone can use to create custom, data-focused apps.
It allows you to build CRM/lead managers, membership directories, project managers, inventor managers, order/quote managers, or HIPAA-compliant apps.
The software is designed for both desktop and mobile, and you can embed any apps on your site for a branded experience.
Knack is perfect for all types of businesses, from nonprofits (who may also benefit from a nonprofit website builder) to global enterprises, SMBs, and every kind of business.
This is an invaluable service to choose if you want to transform your data into a robust online database.
Key Features:
Backup and Recovery: The database is restored to its original state if a computer system fails during a complex update process.
Mobile Access: The software can be easily accessed on mobile devices.
Pre-Created Database Templates: Knack has over 40 pre-created database templates based on business types or data processing features.
Multiple Programming Languages: The software supports a wide range of programming languages.
Access Controls/Permissions: The platform restricts unauthorized access and gives different users different levels of privileges.
Pros of Knack
A SaaS-based tool that doesn't require coding knowledge
Vast customer base, including capital one, HP, Spotify, and Intel
Integrates with a wide range of devices like Zapier to extend its functionality
Includes custom equations and formulas
Simple and easy-to-use web-based interface
Pricing
Pricing for this database system starts at $39/month for the Starter version. The Pro package costs $79/month, while the Corporate package costs $179/month.
The Enterprise plan will cost you at least $299/month. Unfortunately, there is no free version, but Knack does offer a 14-day free trial with no credit card required.
---
Best Database Software System for Microsoft (Starts From Free)
This database and analysis software from Microsoft offers a means for rapidly delivering scalable line-of-business and e-commerce solutions.
It's a relational database management system (RDBMS) developed by Microsoft as a database server for relational data.
It is designed to store and handle different requests, and you can select your preferred platform and query languages and start building modern applications creatively.
This technology allows you to take advantage of breakthrough performance and availability to turn raw data into meaningful reports that you can efficiently deliver to any platform or device.
It's ideal for businesses looking for convenient, effective, and affordable database management software.
Key Features:
Excellent Training: Offers in-person, documentation, and webinar training.
Great Support: 24/7 support online and via live rep.
Backup and Recovery: The platform offers robust backup and recovery facilities so you can protect your data from loss.
Free Version: The Express and Developer versions are available free of charge.
Improved Query Processing: Microsoft SQL Server uses adaptive server enterprise query processing to enhance the SQL (Structured Query Language) server and database performance for your data processing.
Pros of Microsoft SQL Server
Very easy to set up a new database server from scratch
Ability to view data and create several designs and tables without syntax
Capability for handling complex queries and easy integration with other programs
Template explorer allows you to identify numerous names within the database system
The Microsoft SQL Server software is more advanced software than Microsoft Access
Cloud databases are offered in addition to on-premises databases, faster than Microsoft Access
Pricing
Pricing for Microsoft SQL Server starts at a one-time payment of $899. The platform offers a free version with limited features, and there is also a free trial. The SQL Server license is available for $3,586, and $13,748.
---
Best Database Software System for Beginners (starts at $2,000/month)
Commercial customers can choose from multiple editions to cater to specific business and technical requirements.
MySQL Enterprise Edition has a comprehensive set of advanced features, technical support, and management tools to help you achieve the highest MySQL scalability, reliability, security, and uptime.
It dramatically reduces the risk, complexity, and cost of developing and deploying, and managing business-critical MySQL applications.
The software is best for customers in eCommerce, technology, government, and social networks, such as Facebook, Twitter, Uber, etc. Many OEMs, ISVs, and VARs depend on MySQL as an embedded database, e.g., Symantec, Cisco, and Sony.
Key Features:
Online Training: Live online training provided, including webinars and documentation
Stellar Support: 24/7 Support, both online and via live rep
Access Controls/Permissions: The software allows for different access privileges for other users.
Multiple Views of Data: This system provides multiple views of your data.
Backup and Recovery: The robust data recovery facilities make it easy to avoid data loss in your business.
Pros of MySQL
It's easy to learn the tool's foundational features even with no programming skills
MySQL is an open-source tool that provides flexibility in customizing data
Its low-cost structure makes the software ideal for small businesses
Easily integrates with Apache web engine
Offers improved data recovery capabilities
Pricing
The price for MySQL starts at $2,000/month for the Standard plan. The Enterprise plan costs $5,000/month, and the Cluster Carrier Grade Edition costs $10,000/month.
You can sign up for a free trial on the website.
---
Most Affordable Database Software System (Start from Free)
This software allows users to operate and scale a database system in the cloud.
In addition, it provides cost-efficient, resizable capacity and automates time-consuming admin tasks such as setup, patching, backups, and hardware provisioning.
Ultimately, it frees you to focus on giving applications the security and performance they need.
Key Features:
Flexible and Scalable: The software offers an option to scale up your database operations using a single API call.
Availability: Available on Amazon RDS database engines – MySQL, PostgreSQL, MariaDB, SQL Server, Oracle Database, and Amazon Aurora.
Easy to Use: Ideal for application developers, system administrators, database administrators, and DevOps engineers.
Multiple Languages: The software supports multiple programming languages
Access Controls/Permissions: Offers access controls and permissions, data migration, and virtualization
Pros of Amazon Relational Database Service (RDS)
Can process extremely heavy workloads in one database system
You only have to pay for the resources you use at any one point in time
Easy access to MySQL, Oracle, and Microsoft SQL database, etc.
Incredible storage through the use of a simple API request
It has tons of features and offers robust and stable performance
Pricing
Pricing for Amazon RDS starts at $0.01. You can sign up for a free version or a free trial to test out the different features of the software.
One of the best things about the pricing of this tool is that it allows you to only pay for the resources you use.
---
Best Reports from a Database Management System ($100 per month)
This is a popular database system ideal for aggregating marketing data in real-time. It's a flexible and scalable software tool that is ideal for businesses of all sizes.
Key Features:
Reporting: This marketing middleware solution offers robust reporting mechanisms that reduce manual reporting by up to 90% of your marketing data.
Integration: Improvado integrates with multiple third-party tools, including Excel, Facebook, Google Ads, Salesforce, MailChimp, etc.
Data Visualization: You can easily send data sets to Google Data Studio, Tableau, Google Sheets, and other visualization tools.
Affordable: Since Improvado doesn't require the need for SQL experts for users to understand how it works, there is no need to hire a developer.
Reduced Downtime: Improvado's database software allows you to maintain and upgrade the grid without experiencing any downtime.
Pros of Improvado
User-friendly interface and navigational control
Constant access to regular updates on various projects
Provides insightful, error-free data analytics
Data recovery and backup software option for users
Clean, well-planned database documentation
Pricing
The business package starts at $100 per month and offers all the features you need to manage your business's data handling needs.
This software tool is perfect for businesses with low budgets as you can get customized pricing when you opt for the Enterprise edition.
If you want to experience the software's features before committing, you can go to the website to schedule a demo version.
---
Best Multi-Model Database Management System (Costs Vary)
Oracle database is a leading enterprise-grade relational database software offering secure data management.
It also has transaction processing, ensuring data stays consistent and valid, even when multiple users update the same information.
The software is ideal for organizations with enterprise-scale database technology stored on-premises or in the cloud.
Founded in 1977 in the United States, this is a popular tool with tons of impressive features, including data migration, data operations, database conversion, performance analysis, and visualization.
Key Features:
Cost-Effective: With Oracle RDBMS, you don't need the help of SQL experts to understand the software's functionality, which means that there is no need to hire a developer.
Pluggable Databases: This feature offers independent backup and recovery, reduces resource consumption, and allows you to lower the risk of data consolidation.
Flexibility: The software can be run with the same efficiency on any computer regardless of its simplicity or sophistication. It has a highly compatible referential system triggered by its active design.
High-Efficiency: The latest version of Oracle RDBMS provides a more advanced database and captures less space with high-speed data processing and a robust reporting mechanism to help you in managing data operations and storing data.
Performance: The tool concurrently executes union branches to lessen query execution time.
Pros of Oracle RDBMS
Oracle RDBMS offers a smooth transactional process and enhanced security data
Users can build partitions to achieve better administrative control
Oracle autonomous database offers efficient optimization of all complex queries
It also provides dynamic support for seamless integrations
Smart suggestions help developers work more efficiently
Pricing
Oracle's pricing varies widely based on a business's size and type and the existing basic or custom software solutions you currently use in your IT infrastructure.
To find out more about the pricing structure, you must get in touch with the platform's customer support executives, and they will be able to provide you with exact pricing information.
---
Best Database Software for the Internet of Things (starts at $1,250)
IBM Informix is an industry-leading solution known for its Online Transactional Processing (OLTP) performance offered at cost-effective prices.
This database tool manages and secures business-critical data. With it, you get unlimited scalability and a broad range of features that allow you to harness the power of your data.
Key Features:
Robust Real-Time Analytics: The software helps businesses get actionable insights from real-time analytics.
Development Agility: IBM Informix offers enhanced support for data through hybrid DBMS systems that ensure natural development and flexibility.
Reduced Downtime: The database gives businesses the capability to maintain and upgrade the grid without downtime.
Fewer Hassles: The software offers automation features that allow you to free up resources and focus more on core business activities.
Cutting-Edge Performance: IBM Informix offers enhanced performance through the warehouse accelerator module and the basic engine.
Pros of IBM Informix
The software can be embedded a lot more efficiently than other relational DBMS systems
It offers high compatibility and scalability with a wide range of systems
Users can merge relational data with other unconventional data types
Ideal for enterprises with a desire to leverage multithreaded and parallel processing of data in export data analytics and importing raw data
It comes with an intuitive dashboard for monitoring server performance with easy to use user interface
Advanced capability for data compression capability increases input-output (I/O) speed
Pricing
Pricing for IBM Informix starts at $1,250 for the Small plan. The Medium, Large, and Extra Large plans cost $2,000 dollars, $4,000, and $8,000 respectively.
---
Best AI-driven Data Management Solution (starts at $1,850)
IBM DB2 is a single database management system designed for businesses with demanding data workloads.
It's an effective data server designed to help firms minimize the time and effort required for handling their information.
In addition, it allows them to use XML data to reduce development costs and improve business agility.
The software is ideal for various solutions, including Fast Data, Data Warehouse, Operational Database, and Data Lake.
Key Features:
Task Scheduler: The software allows you to gather statistics and organize indexes and tables without user interaction.
XML Support allows businesses to minimize the time required to leverage their XML data.
High Uptime Ratio: The database management system leverages SYNC HADR, ASYNC, and NEARSYNC models to ensure high availability.
Supports Legacy Software: IBM DB2 uses its mainframe technology to meet the requirements for supporting legacy Java tools.
Data Segregation: The tool allows easy partitioning thanks to its tablespace usage and automatic data storage.
Pros of IBM DB2
Offers smooth administration through command interface and control center
Provides support to both cloud and private environments
The software comes with dedicated capabilities to structure and manage data
It can be easily integrated with a variety of platforms
It's a highly stable platform that requires minimal maintenance
Pricing
IBM DB2 has a community version that you can download and use. The Standard edition costs $1,850, and the Advanced version costs $7,800 for each VPC (virtual processor core) for 90 days.
---
Best Free Alternative to Oracle RDBMS (FREE)
This database software securely connects with many database technologies. In addition, it provides a great deal of flexibility and a variety of database applications that can be used for any purpose.
Furthermore, it helps simplify the development and management of the Oracle database in both cloud and traditional deployments.
Overall, this software provides excellent performance for businesses with huge amounts of data to process, and it has a great scalability model for an affordable database management system.
Key Features:
Super Efficient: The SQL Developer database tool allows users to generate queries in a variety of data formats and takes less time to execute multiple queries while you transform raw data.
Broad Range of Features: This feature-rich tool with an easy-to-use user interface allows free access to all the company's other databases.
Query Reusability: It allows users to reuse queries to create report definitions and different layouts and renders the output in HTML or PDF format.
Robust Integration Capabilities: SQL Developer offers tighter integration with a variety of other products and databases.
Prominent Support: This database management system has one of the best support systems on the market right now.
Pros of SQL Developer
The software is flexible and allows users to simplify data management
Free access to many different database technologies
It has an intuitive user interface for all basic functionalities
No need to install any software. Copy the folder onto your operating system
The platform provides excellent support for resolving any bugs or more functions
Pricing
The software is entirely free for anyone to use.
---
Best Open-Source, Enterprise-Grade RDBMS (FREE)
Altibase is one of the high-performance relational databases among the world's most trusted and proven in-memory DBMS database solutions and database business.
It has hybrid architecture and outstanding support and has been servicing clients for over 19 years.
With this software, you can enjoy the benefits of both a disk-resident database and an in-memory database portion in one unified engine, unlike other database management systems.
Like many relational database management systems, you can also economize and optimize your scale-out and database objects without experiencing any coordinator-related performance degradation.
Key Features:
Sharding: The software has large-scale sharding-out abilities that enable linear performance enhancements without coordinator-related bottlenecks. This means you will experience no performance degradation while scaling up your database
High Performance: Altibase supports highly partitioned tables that transfer data from the disk to a memory tablespace and vice versa. However, other data pipeline tools can help with this as well.
Flexible Deployment: The software provides three different types of deployment modes, namely, on-disk, in-memory only, and hybrid mode (memory and disk).
In-Memory Database (IMDB): Alta base offers user-friendly and superfast architecture and user interface. It's efficient for use cases that require very high throughput and low latency.
Wide Accessibility: The software offers a wide range of accessibility across various industries, including finance, manufacturing, telecom, and public service.
Pros of Altibase
The software has a unified engine that supports in-memory and disc resident database
It offers a wide range of tools and relational databases capabilities for enterprise-grade applications
The database system supports various SQLs provided by other systems, including ANSI SQL-92
It supports multiple programming languages, including Java, C, C+, and more
The platform provides regular preventative health checkups for reliable performance and maximum availability
Pricing
This is an open-source database software with no processing charges or subscription fees.
---
Best Object-Relational Database Management System (FREE)
This database software has an emphasis on standards compliance and extensibility.
It's designed to handle a wide range of workloads, including single-machine learning applications, Web services, and data warehousing with multiple concurrent users.
Developed by PostgreSQL Global Development Group, a group of companies and individual contributors, this free and open-source software offers many features to help SMBs, midrange businesses, and large enterprises manage their data.
Key Features:
Cross-Platform Software: PostgreSQL is a cross-platform software that runs many operating systems, including Linux, Solaris, Microsoft Windows, Mac OS, and FreeBSD.
Handles Heavy Workloads: The software is designed to handle heavy workloads from concurrent users.
Database Replication: Recent versions of PostgreSQL are designed to replicate the actual database itself for scalability and security.
High Availability: The relational database management system supports SQL/MED and ANSI SQL standards for any SQL server like Microsoft SQL server for data integration.
Multiple Programming Languages: PostgreSQL also supports 12 procedural languages, including Python and JSON
Pros of PostgreSQL
The software gets periodical updates throughout the year
It's ideal for a wide range of users, including edge servers, midrange, and large enterprises
The platform offers physical, on-premise services as well as subscription cloud services
The software is ACID-compliant and transactional
It offers spatial data support, as well as multiple NoSQL-similar features for key value-based and document applications
Pricing
PostgreSQL is free for anyone to download and use, and there are no fees associated with it.
---
Best DBMS for Customizability (Starts at $49/month)
TeamDesk is a popular database solution that makes it easy for businesses to manage their data.
It provides the tools required to quickly create a custom database, even without technical knowledge or skill.
One of the software's best features is that it runs through its own secure servers on the cloud.
This means that you don't need to get your own hardware.
The company boasts a 99.96 uptime record for the past six years, making it a reliable choice.
Thanks to the different pricing plans available, this software is perfect for businesses of all sizes, and you can add functionalities as your business grows.
Key Features:
Easy to Use: The features of this database software make it easy for tech-challenged users.
Customizable: Database solutions are easily customizable and allow you to create new databases quickly.
Mobile Optimized: This is undoubtedly an important feature these days, and TeamDesk has a well-configured mobile database.
Robust Customer Support: All the different packages come with stellar customer support to answer your questions and help you hit the ground running.
Secure Servers: TeamDesk runs on the cloud using its own secure servers.
Pros of TeamDesk
Impressive 99.96% uptime record
No need to invest in your own hardware
Easy to use even for beginners
Simple pricing plans for businesses of all sizes
It comes with a library of predefined database templates
Pricing
The Starter edition for TeamDesk costs $49/month. The Team edition is priced at $99/month, and the Enterprise edition is $249/month.
TeamDesk database also offers a 14-day free trial, and you can cancel your subscription anytime.
---
Best Database Software System for SQL Backups (FREE)
This software allows you to create various data analytics components in one dashboard.
In addition, it has robust vendor support capable of catering to each and every one of your online database needs.
With this powerful software, you get high-performance database administration and development tools.
Moreover, it's easy to use and has a graphical interface to create objects straightforwardly.
This tool allows you to design databases visually and import and export database data and all SQL scripts, among its many features.
It's an excellent software for businesses looking for easy MySQL management.
Key Features:
SQL Administrator: This software helps to simplify the SQL server administration process, as well as the maintenance of performance statistics analysis, server permissions management, and various other tasks.
SQL Backup: This software allows you to save up to 95% of your disk space and time during the backup process.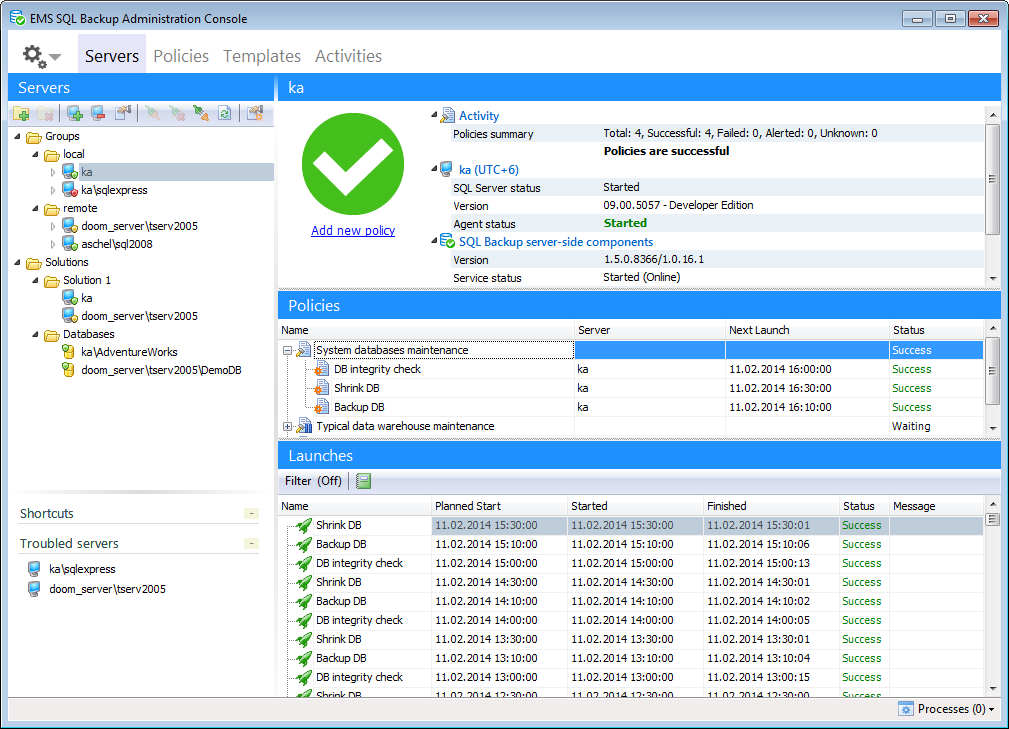 Maintenance Automation: EMS SQL Manager also supports automation of the database maintenance to enhance data availability.
Robust Support: This database management system software supports MySQL versions 4.12 and 5.7, and it can sequentially control objects.
Database Conversion: EMS SQL Manager allows for easy and flexible exporting and importing of data files in various data formats.
Pros of EMS SQL Manager
It comes with a powerful, intuitive visual database designer
The software facilitates users who simply want to monitor their existing database system
The database simplifies the execution of multiple SQL queries
EMS SQL Manager allows access to the PostgreSQL server using the HTTP protocol
It has significant complex data import and export data capabilities
Pricing
You can download and use EMS SQL Manager for free.
---
Best Cloud-Based Database and Analytics Solution (Pricing Not Provided)
Teradata leverages all your data all the time. This means you can analyze anything and deploy it anywhere, which allows you to deliver analytics that matter the most in helping you achieve your business goals and managing large databases.
In short, Teradata, as one of the best database management systems, transforms the way your business works through the power of data.
This is called "pervasive data intelligence," and it's among the best ways to deal with the cost, complexity, and inadequacy of other approaches to analytics.
This data and analytics software is perfect for businesses in industries, including financial services, communication, media, technology, healthcare, retail, and manufacturing.
Key Features:
Super Efficient: Teradata is fast and efficient. It can handle multiple queries simultaneously and churn out outputs at a high-speed rate.
High Scalability: The software provides enhanced options for scalability and comes fully equipped with prebuilt functionalities.
Parallel Processing: Teradata also has parallel processing capabilities that give it an advantage over various other database software in the same data integration and analytics category.
Highly Flexible: With Teradata, you can analyze anything and deploy it anywhere. You can analyze business data all the time, so the analytics you need are always on hand.
Permission Controls: The database software leverages well-designed permission controls to help you collect and check data.
Pros of Teradata
Access controls/permissions
Supports multiple programming languages
The software includes virtualization
24/7 support from a live rep
Teradata offers a free trial
Pricing
The vendor does not provide pricing, but you can contact Teradata on their website to find out more.
In addition, they offer a free trial, so you can test out the software to determine if it's the right fit for your business.
---
Best NoSQL Database for Startups (Start for Free)
MongoDB is among the most popular NoSQL databases currently available in the market.
It's a database for big ideas designed to support scalability and agility to enhance the operations of businesses from startups to large enterprises and manage data effortlessly.
It offers the best of all worlds with flexibility and agility and the scale and performance required by today's applications for enterprise data.
With it, innovators can deploy apps as large as they need.
This database management system is ideal for small businesses, industry-leading organizations, Fortune 500 companies, government agencies, etc.
Key Features:
Robust Training: MongoDB offers in-person and live online training, thorough documentation, and webinars.
Stellar Support: You can find help at any time of day or night with a 24/7 live rep and online support.
Deployment: Installed in Windows, installed in Mac, web-based cloud SaaS
Backup and Recovery: The software offers reliable backup and recovery methods to protect your data.
Access Controls: MongoDB restricts unauthorized access and allows you to give different accessing privileges to different users.
Pros of MongoDB
Horizontally scalable database
Allows you to distribute large amounts of data to several machines
MongoDB query performance is much quicker
Schema-less by design
It offers great performance, simplicity, and flexibility
Pricing
You can try MongoDB for free. The software is free forever for MO clusters, and the Dedicated plan costs $57/month. They also have a multi-region plan that costs upwards of $95/month.
---
In addition to these database management software services, dozens of others are worthy competitors.
Other DBSMs worth mentioning include SAP, Maria DB, SQLite, Mongo DB, Filemaker, and Redis.
Types of Database Software
There are many different types of database software; each caters to a specific set of needs.
Below, we take a look at each of them in a bit more detail:
Analytical Database Software: This type of database allows users to pull data from multiple databases for analysis to assess performance quantitatively.
This same data analytics tool can be anything such as employee performance or departmental business performance, and so on.
Data Warehouse Software: This software allows users to access critical data from a range of databases and store it in one central location so users can derive essential insights and create reports.
Data warehousing immediately identifies inconsistencies which help to ensure data integrity.
Distributed Database Software: This database model involves a centralized management system for controlling information stored in various locations (such as the cloud, network server, or company LAN).
Because of this natural data redundancy, it's often considered the safest database model for structured and unstructured data.
End-User Database Software: An end-user database stores information for use primarily by a single person.
The spreadsheets in Microsoft Excel are an excellent example of end-user database software.
When used in companies and data storage, these types of database software allow users outside the company to enter and retrieve data.
Although simple, the software can include a variety of functionalities, such as storing and accessing data, building models from data sets, and automating specific time-consuming processes.
External Database Software: This type of software compiles information to be accessed by multiple users (often online).
External database software is designed to manage information gathered by different individuals or organizations, either freely or via subscription.
Operational Database Software: With this database software, users can modify data in real-time. This type of software is ideal for expense management, customer relationship management, etc.
---
What Features are Important in Database Software?
There are tons of reasons why companies use database software. A lot of them are specific to the business's purpose or industry.
There are certain technical specifications required for a potential database solution, and these depend largely on what the software will be used for.
Unfortunately, this means that a single database may not be able to perform equally well in different cases.
But, once you know the intended purpose and all the likely future use cases of database software, it becomes easy to determine the requirements and narrow down your search.
Listed below are some of the important features to look for in the best database software:
Data Security on the Database Management System
The best database management software offer multiple layers of data security of database management tools to keep a company's information safe and secure both with complex data and other multiple data types for structured and unstructured data.
There is the data security of restricted authorized access, regular load, capacity testing, etc., to prevent the database from crashing and regular fixes for vulnerabilities (both known and unknown).
Cloud computing services and platforms also complicate data breaches since servers cannot be accessed physically.
Supports Multiple Views of Data
A database should support multiple views of data. Views are simply subsets of the database defined and assigned to particular system users.
This means that different users might have different views of the same system, with each view containing only the information that is relevant to that specific user.
Multi-User Access Control and Data Sharing
Current database software is designed for multiple users.
Therefore, you need to choose a multi-user system that allows many users to access the system simultaneously. This helps to enhance collaboration.
The systems allow different users to access the same database simultaneously – something that is achieved through concurrency control strategies that help ensure that data integrity is maintained.
Data Redundancy
The best database systems offer control of data redundancy to help improve the system's performance.
The redundancy is controlled using application programming and kept to a minimum by introducing the least redundancy possible during the database design process.
These are among the most important features and characteristics to consider when choosing the best database software for your company.
---
How do Companies Use Database Software?
As previously mentioned, businesses generate large amounts of data, and database software provides them with an efficient way to organize, store, and use big data.
There are three main ways companies use database software:
Analytics and presentation
Applications
Organization
Analytics and Presentation
Databases are most commonly used as a source of information for many analytics purposes.
Businesses with databases store data and all kinds of complex data records ranging from financial dealings to performance metrics and everything in between to sift through the data.
You can gain insights from their in-depth analysis, and present the data efficiently in a visually engaging manner easy-to-understand.
Applications of Database Management Software
Integrating top database management software for applications is an effective way to boost the functionality of a company's offerings.
This can be done through simple and easy access to information or by providing users and employees with real-time data.
This type of multi-user access capability enhances collaboration among teams.
It helps in handling multiple database objects and structured data to create custom databases and access data from cloud computing, database solutions, and the business' existing software solutions.
Organization
Companies often use database software to centralize data and manage databases for all sorts of data types and data reports in one dedicated repository to make it easy for users to retrieve relevant information.
This helps to create backend support for applications that are easy to query and is also compatible with the developer's code.
By employing a single source of information, database software can also improve specific business processes and information exchange within the organization.
Best Database Software Systems — Summary and Top Picks
You probably understand why database software is so important for your business.
The right database management system (DBMS) will offer you an efficient system for collecting, handling, and accessing multiple types of data to make informed decisions quicker.
When selecting database software systems, there are a few things to consider, including the total costs of the software, the quality of reports generated by the software, the number of platforms from which the software can gather data, and whether the storage is on-site or on the cloud, who has access to any stored data, the security features of the software, and how well the database software can scale with your business growth.
Here are My Top Picks of the Best Database Software Systems: